Malcolm X Review (BFI Film on Film)

Malcolm X (Warner Bros. Pictures)
30 years on, Spike Lee's ambitious biographical epic Malcolm X still has not lost its educational, entertaining and emotional power.
---

One of the biggest draws of the inaugural BFI Film on Film Festival, taking place at BFI Southbank, London on 8-11 June, is the presentation of a new 35mm print of Spike Lee's 1992 masterpiece Malcolm X, overseen by the great director himself. The festival will include the first UK screenings in over a decade of nitrate prints (including original prints of Mildred Pierce and Blood and Sand), 70mm screenings (most notably Far and Away), some shorts programmes, on-stage appearances by Melvyn Bragg, Samantha Morton and Mark Jenkin, and the 50th screening of The Afterlight, Charlie Shackleton's collage of deceased film stars, which only exists on a single print and is intentionally designed to be lost to time. Now, let me tell you why you should see Malcolm X this weekend.
Denzel Washington (The Tragedy of Macbeth) and Angela Bassett (Black Panther) are absolutely outstanding as Malcolm X and Betty Shabazz, his wife, in this extraordinary cinematic achievement. Washington's performance authentically represents Malcolm X as an assertive, driven and intelligent leader who is not without his flaws. Malcolm X is a comprehensive account which follows him from childhood to his assassination in 1965, and serves as a shining example of what makes Spike Lee such an important filmmaker.
James Baldwin was the first to have a screenplay commissioned for a biopic in the late 1960s, but the project was shelved. When producers finally got serious about making a biopic on Malcolm X, Norman Jewison (Moonstruck) was originally tasked with bringing it to life. After some consideration, the Canadian 'gracefully' (in Lee's words) decided to step away, feeling that it was better off in the hands of a younger black filmmaker. It was the right move, as nobody else could have made the film Lee did.
Malcolm X's views (he was a black nationalist, meaning he sought self-sufficiency for African-Americans) have always been frowned upon by the American state, though Lee wisely chooses never to condemn him for his beliefs, presenting a more fact-based rather than ideological approach to the subject matter, allowing one to make their own mind up about Malcolm X's advocacy without being preached at. As such, it's not only a moving and entertaining film, but one with immense educational value that deftly tells the story of this incredible life in a very short period of time and allows us to see the context of the society Malcolm X was brought up in, so that we can understand his frustrations and his desire to pursue change. While Martin Luther King sought equality under the law, Malcolm X wanted separation and for black Americans to be led by their own leaders and institutions.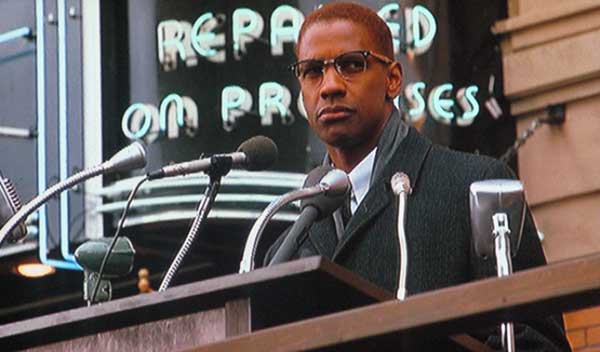 Washington's performance of Malcolm X is consistent with how he depicts himself in his autobiography – as a confident, assertive individual with a strong desire to see justice from an early age – but also with an honesty, meaning that we can see his underlying vulnerability and susceptibility to making mistakes. A particularly memorable scene is one where he sternly rejects a liberal white university student's plea to let her 'help' him in any way she can; an incident in which he would later say he regretted the way in which he responded. It is these moments that remind us that any leader, or anybody with influence and charisma, is still susceptible to making the wrong decision at times, but it is his humility that makes Malcolm X so sympathetic. Lee doesn't deify Malcolm X, and shows that he, like us all, is in constant flux.
Lee's use of editing is also impeccable, and his style is loud, bombastic and thoroughly effective. Combining real stock footage and acknowledging personal testimonies with a faithfully acted portrayal of X's life, its sometimes collage-like presentation works so well because it forces us to recognise that X was a controversial figure who split Americans of all colours, and allows us to tune into contemporary reactions to his actions and words at the time. I'd actually argue it's even more daring than Reds (1981), an expensive epic about a Russophile American journalist who sought to bring 'red' politics to the USA, and JFK (1991), which follows a 'conspiracy theorist' who exposes holes in the 'official' JFK assassination story, because of its constant recognition that race relations have not cooled down since – even featuring footage of Rodney King being beaten up by police. Lee asks 'what has changed?' nearly 30 years on.
The film's biggest flaw is its score. It's too overbearing and does not enrich the images we see. The scenes we see simply speak for themselves, and the soap opera melodrama of the original score prod at you when the events we are witnessing are already intense. Other than that though, the film is impeccable and demonstrates that even something as apparently straightforward as a biopic needs to have the right talent to tell the story, with a reverence yet honesty about the subject at hand. In Lee, Washington, Bassett, editor Barry Alexander Brown and a huge supporting cast, everyone is aware that while this man was controversial, we can all agree he was brilliant.
See Also

At 200 minutes, Malcolm X is a confident, sprawling epic which gives its events enough time to breathe while still moving at an understandably fast pace. There are many cameos – including Black Panther Party co-founder Bobby Seale, future South African leader Nelson Mandela, 8-year-old John David Washington (Tenet) and even a short glimpse of indie icons John Sayles (Matewan) and Martin Donovan (BlackBerry) playing surveilling FBI agents – though they all feel right.
When I saw him give a talk in February, Lee said he sees a 'body of work' rather than small individual episodes in his career, and Malcolm X is a classic example of his ambitious, socially conscious and intelligent approach to filmmaking. This film is not just about one man, but about the institutions that tried to keep him down, the friends and enemies he made along the way, the pursuit of justice and the power of community. You should watch it by any means necessary.
Malcolm X is being screened on a brand new 35mm print at BFI Southbank, London on 10th June as part of their inaugural BFI Film on Film Festival.
---
Malcolm X is being screened on a brand new 35mm print at BFI Southbank, London on 10 June, 2023 as part of their inaugural BFI Film on Film Festival, the first film festival dedicated to screening works solely on celluloid.