Our Favourite Father Figures in Film and TV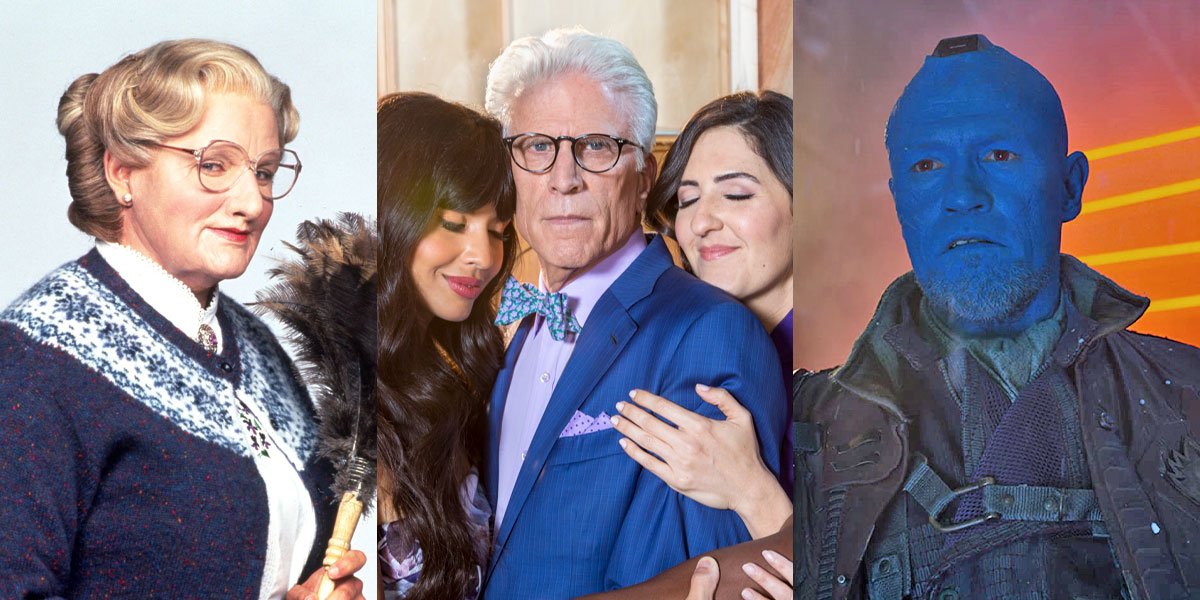 Mrs Doubtfire, The Good Place, Guardian of the Galaxy Vol. 2 (Getty/NBC/Walt Disney Studios)
To celebrate Father's Day, we've put together a list of our favourite father figures from film and TV. From The Good Place's Michael to Mrs Doubtfire, here are our picks.
Films and TV have given us so many memorable, unique father figures that we've decided to celebrate Father's Day by asking some of our writers to pick their favourite fictional dads and share them with us. From To Kill A Mockingbird's Atticus Finch to Guardian of the Galaxy's Yondu, here are some of the most beloved, unconventional, wonderfully human father figures from film and TV.
---
ATTICUS FINCH
(TO KILL A MOCKINGBIRD)
ISOBEL
Played by: Gregory Peck
Director: Robert Mulligan
Year: 1962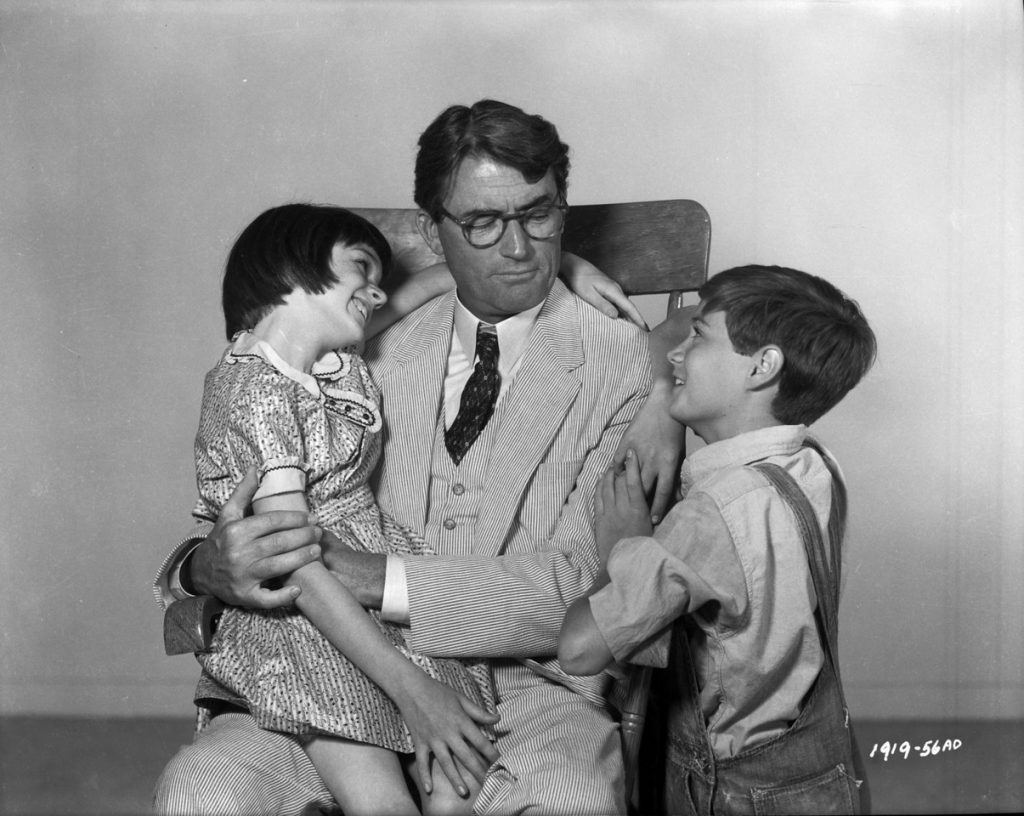 Old, but most definitely gold, the film adaptation of Harper Lee's beloved novel To Kill a Mockingbird features one of film's most cherished father figures – Atticus Finch (Gregory Peck). Set in 1932, in the aftermath of the stock market crash, this 1962 classic is, in part, a tender illustration of childhood, when time 'moved more slowly' and life was an endless summer, filled with treehouses and tyre swings. However, it's not all sunshine and rainbows. Told through the eyes of six-year-old Jean-Louise Finch (Mary Badham), or Scout, as she prefers to be known, To Kill a Mockingbird addresses themes of prejudice, inequality and institutionalised injustice. Scout's father, Atticus Finch, the town's lawyer, acts as a beacon of hope, a remedy to the deep-rooted hatred sewn into the very fabric of Maycomb County. A pillar of righteousness and decency, Atticus Finch teaches his children to respect and value others, regardless of race or class, and to understand that one's reputation should never take precedent over the promotion of equality and justice.
Nominated for Best Picture at the 1963 Academy Awards, the film was incredibly well received at a time when the civil rights movement gripped the United States. Watch this film and you'll be greeted with the glaringly obvious truth that, sadly, very little has changed, and the modern world is still awash with prejudice and hate. Perhaps, we all need to learn from Atticus Finch and to remember, 'It's a sin to Kill a Mockingbird'.
Stream To Kill a Mockingbird:
---
HARRY STAMPER
(ARMAGEDDON)
BERNARD
Played by: Bruce Willis
Director: Michael Bay
Year: 1998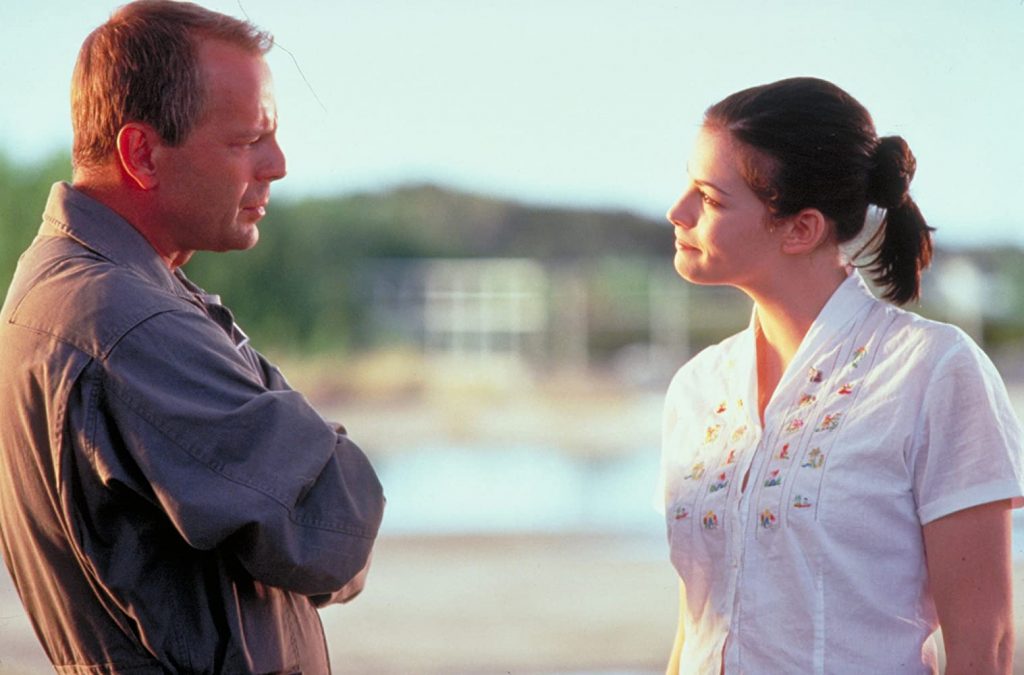 No one has ever accused Michael Bay of being a director of great subtlety or nuance. Nevertheless, Bay, perhaps our finest modern vulgar auteur, does have one unique ability: he can create a focused, over-the-top, distillation of human emotion like nobody else. Usually he sets that gear towards trying to wow an audience, but in Armageddon his lens focuses on paternal love. There is nothing realistic, or sane, about Bruce Willis' Harry Stamper chasing Ben Affleck around an oil rig with a shotgun for having the audacity to date his daughter, but in Bay's hypermasculine universe those are the extremes to which fathers go to protect their daughters.
Was Stamper the perfect father? No, one should probably not raise a daughter on oil rigs. Yet, it is clear he worked hard to give his daughter the best life he could muster. And when the call to risk his life to save the world from a "planet killer" asteroid beckons, Stamper's first thoughts are of his daughter's safety. Perhaps dealing with some of his own demons, the film's ending sees Stamper sacrifice himself to destroy the asteroid aimed at Earth, and Willis give one of the best performance of his career. When Stamper apologizes that he will not be able to walk his daughter down the aisle, it is perhaps the most human, and humane, moment of Willis' entire career. Willis managed to find the soul of fatherhood despite the Bayhem surrounding him.
Stream Armageddon:
---
MARK DAY
(EIGHTH GRADE)
ASHLEIGH
Played by: Josh Hamilton
Director: Bo Burnham
Year: 2018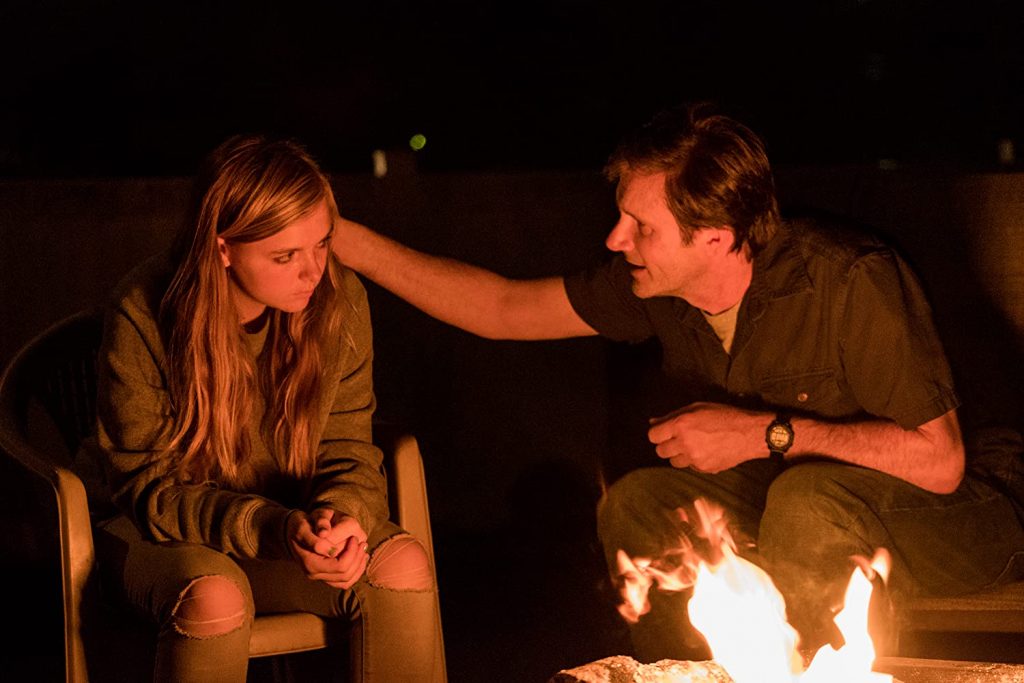 Bo Burnham's understated and authentic debut resonates with viewers do to his paninstaking attention to detail – in his realistic (in the most cringe-inducing way) scenarios and dialogue, and his wonderful cast of characters. Not only does he write his main character, Kayla (Elsie Fisher), in a meticulous way that allows nearly everyone watching to connect with her in some way, but he also surrounds her with equally interesting and real people. Among these characters, the most influential on Kayla would be her father, Mark (Josh Hamilton), who is especially captivating because he is a rare sort of character within the realm of fictional fathers: he is imperfect. Too often parent characters are written too far on one side of the spectrum: they're either far too perfect or far too evil. While those sorts of people can exist, it's refreshing to see Eighth Grade create a character that doesn't exactly fall on one side, managing to still be quite positive and feel real.
We watch as this man struggles with just how to parent his daughter, wondering if he should give her some independence or if he should put his foot down, and we see him eventually finding a balance and discovering way to speak his feelings without being too overbearing. The talks between the two of them are by far some of the best and most emotionally potent within the film, and they establish just the sort of man that he is. Mark may not succeed in all of his attempts to connect with his little girl, but he cares enough to try. He cares enough to take a step back and realize that maybe he's doing too much, that maybe he's doing too little, that maybe he could've approached the scenario differently. It's his care, mixed with this trial and error, that makes him just as relatable as our protagonist, and a legitimate portrait of a father who really does love his daughter and is willing to look after her in any way he can.
Stream Eighth Grade:
---
MICHAEL
(THE GOOD PLACE)
SERENA
Played by: Ted Danson
Series creator: Michael Schur
Year: 2016-2020
Where to watch it: Netflix
Related article: After death: The Beyond as Seen On TV
Alright, you got me. Not only is Michael (Ted Danson) not really a father, but he's also a Demon and the mastermind behind the most ingenious (and ineffective) method to torture humans in NBC's incredibly popular comedy drama The Good Place. Yet, if you really think about it, you'll start to notice that Michael wouldn't make a terrible father, after all. Even if he lives by "Jeremy Bearimy" timeline rules and doesn't always deal with problems in the most conventional ways, the architect of our favourite fictional town is wise, resourceful and more than capable of handling the many demands of Eleanor Shellstrop (Kristen Bell) and the rest of the "Good Place" gang. Yes, he might experience the odd mid-life crisis, once in a while, and yes, he might also be a 6,000-foot-tall Fire Squid, underneath his "human suit". But he's also immortal, he'd do anything for his family and, most of all, he's absolutely in love with humanity. Which, if you ask me, is a pretty rare quality to find, these days.
Stream The Good Place:
---
MRS. DOUBTFIRE
ADELE
Played by: Robin Williams
Director: Chris Columbus
Year: 1993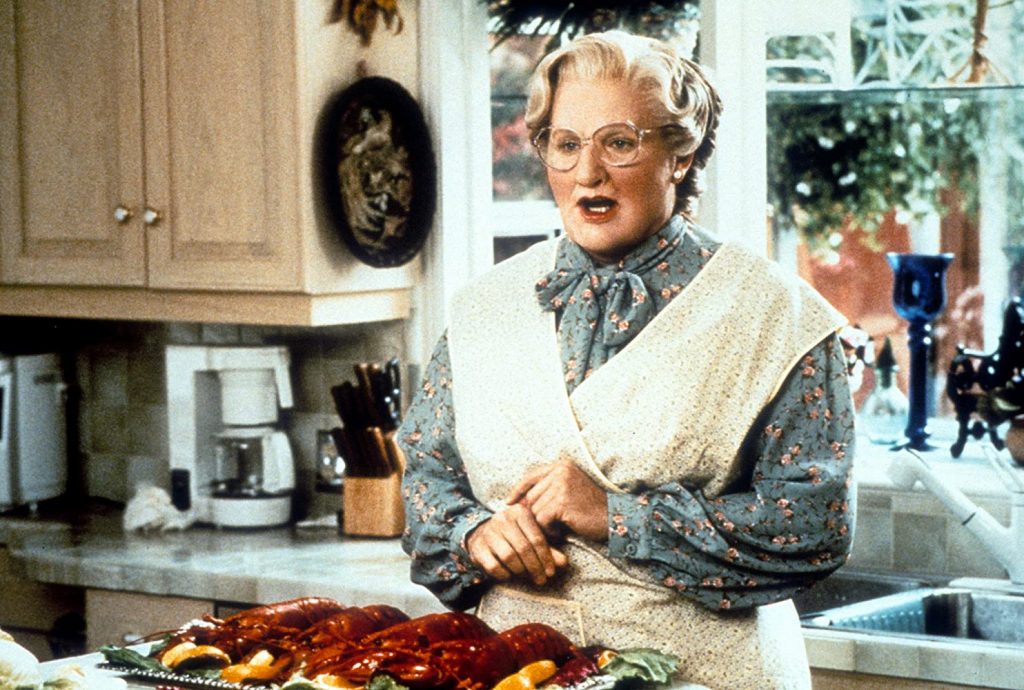 Adapted from Anne Fine's novel Alias Madame Doubtfire, Mrs Doubtfire became a huge movie hit in 1993, grossing about 441 million worldwide, and is still one of the most enjoyable family classics of all time. This is the film that made me fall in love with (the very much missed and ever so funny) Robin Williams, when I first watched it as a kid, almost 30 years ago (ouch!), and that almost made me dislike Sally Field (I said "almost", calm down). Robin Williams plays Daniel Hillard, an out of job actor who got recently divorced by his wife Miranda (the above mentioned Sally Field): in order to spend more time with his children, he decides to disguise himself as a Scottish middle-aged nanny called Mrs Doubtfire.
If you haven't watched the movie, you can just imagine the carousel of fun and emotional depth that the script has in store for you. At first, Mrs Doubtfire might look like another "light" comedy with witty dialogues, comedic clichés and a script that seems to have been solely written for the purpose of having Robin Williams delivering his histrionic signature performance. But watching it again now, as a grown up, I can also fully appreciate its layers, depths and beauty. Mrs Doubtfire is ultimately a story about the struggle of two parents who are trying to navigate their life after divorce whilst doing their best for their kids. Even more so, it's the story of a loving father who would resort to almost anything to be present in his children's life. If you miss Robin Williams and you've always wished for your own Mrs Doubtfire, get on the sofa and re-discover this movie treasure.
Stream Mrs Doubtfire:
---
YONDU
(GUARDIANS OF THE GALAXY VOL.2)
ZACH
Played by: Michael Rooker
Director: James Gunn
Year: 2017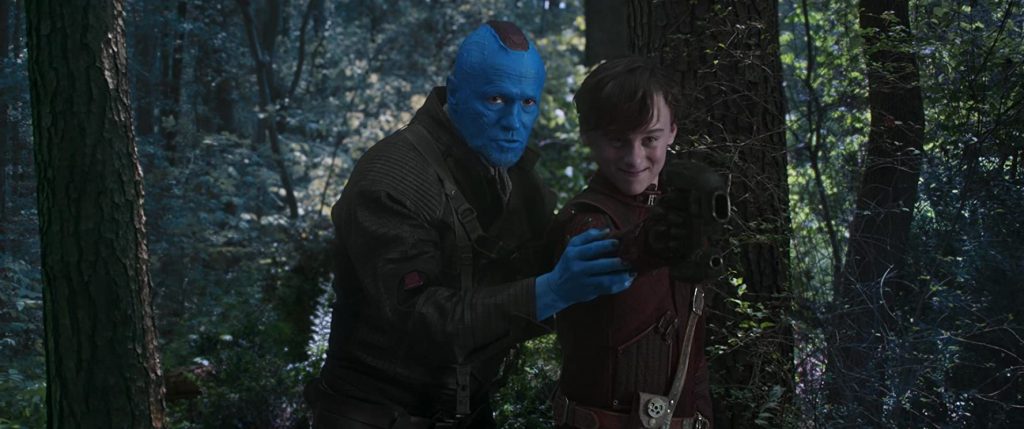 "He may have been your father, boy, but he wasn't your daddy."
How is it that one simple statement can release such torrential tears in a split second?
Over the course of James Gunn's glorious Guardians of the Galaxy Vol. 2, the writer-director of the fan-favorite franchise works overtime to fervently flesh out the character of Yondu Udonta, the blue-skinned buccaneer who evolves from the secondary antagonist of sorts of the first film to the heart and soul of this spectacular sequel. Though he is undoubtably imperfect, throughout this follow-up, we slowly start to realize that actions formerly interpreted by Chris Pratt's Peter Quill (and by viewers) as afflictive were merely misguided efforts on Yondu's part to either protect Peter or demonstrate some old fashioned "tough love". When the terrifying truth about Peter's beastly birth father, Kurt Russel's Ego, comes to light, the true intent behind Yondu's purposeful resistance to reuniting Peter and his father is revealed as well, and Peter is forced to form a whole new idea of "family"– a central theme of this entire series. Although he and Yondu may not be bound by blood, and although Yondu "didn't do none of it right," he truly loved Peter through and through, and he risked life and limb to keep him safe in the otherwise grim galaxy. And, in the end, Yondu demonstrates this undying love for his surrogate son with a sacrifice, driving home his devotion to Peter and breaking the hearts of audiences around the world.
To this day, Michael Rooker's Yondu is one of the greatest depictions of a "found" father in cinema, offering comfort and consolation to those of us, like Peter, who are not blessed with benevolent birth fathers to look up to or to those who are not fortunate to have a birth father in their lives at all. Even if those we count on to always be reliable and/or respectable are absent, Yondu serves as a representation of relief and reassurance, and his tenderness transcends the silver screen.
Stream Guardians of the Galaxy Vol. 2:
---
JOIN US!
Be among the first to receive our monthly updates with film news, movie-inspired recipes and exclusive content! You'll only hear from us once a month. #nospam