A Rainy Day In New York: a tiresome, miscast drama that grows on you at the end
(Review)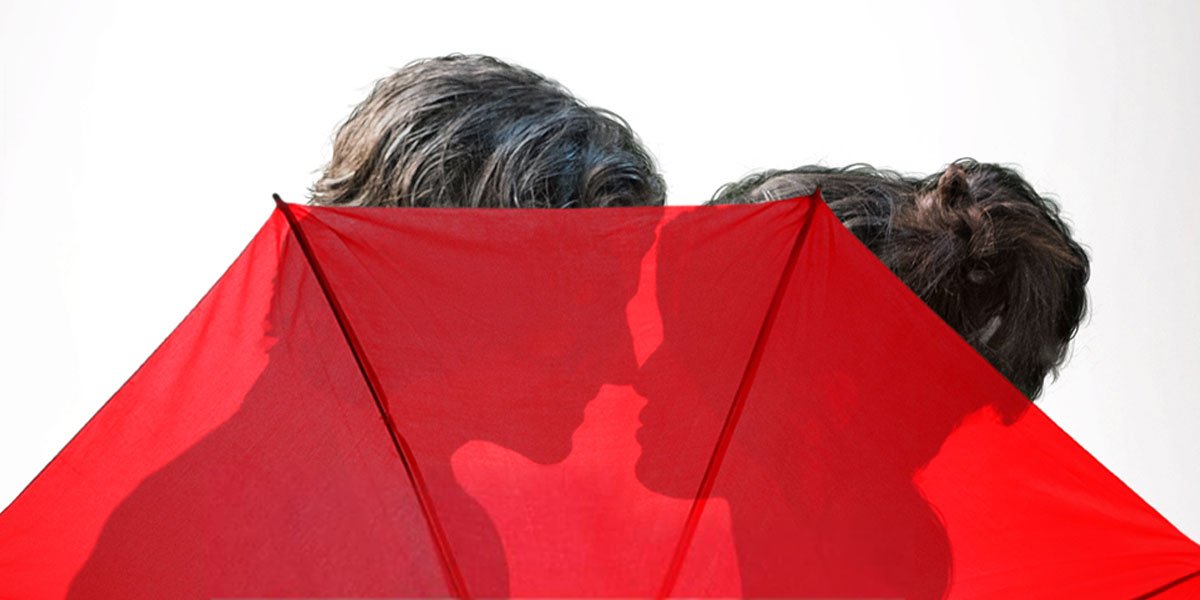 A Rainy Day in New York (Signature Entertainment)
A Rainy Day in New York is not a rom-com, but a nostalgic drama about privilege, sadness, and a Manhattan that doesn't exist anymore.
---

In 2017, Amazon ended a four-picture deal with Woody Allen, further to renewed allegations of sexual abuse coming from the filmmaker's adoptive daughter, Dylan Farrow. Having denied these allegations, the director sued the streaming giant, which set in motion a series of events that resulted in the case being dismissed without prejudice in November 2019. However, since the deal with Amazon fell through, the release of the first completed movie was still affected by the $68 million lawsuit. A Rainy Day in New York never premiered in the US: it was released in Poland last July, it officially premiered at the Deauville Film Festival in September and it is currently available to buy only in select European countries. News about its UK release came over a year after its originally planned release: Signature Entertainment will make the film available on Home Premiere on 15th June.
But let's talk about the movie. The poster of A Rainy Day in New York shows a couple behind a red umbrella, which might remind you of Woody Allen's recent work, like Vicky Cristina Barcelona and Midnight in Paris, both hugely successful romantic comedies that charmed audiences with the Manhattan director's trademark witty banter, as well as featuring charismatic leads of the likes of Scarlett Johansson, Penelope Cruz and Owen Wilson. Yet, despite the romantic vibes coming from its promotional materials, A Rainy Day in New York is not a rom-com. In fact, it couldn't be further from it.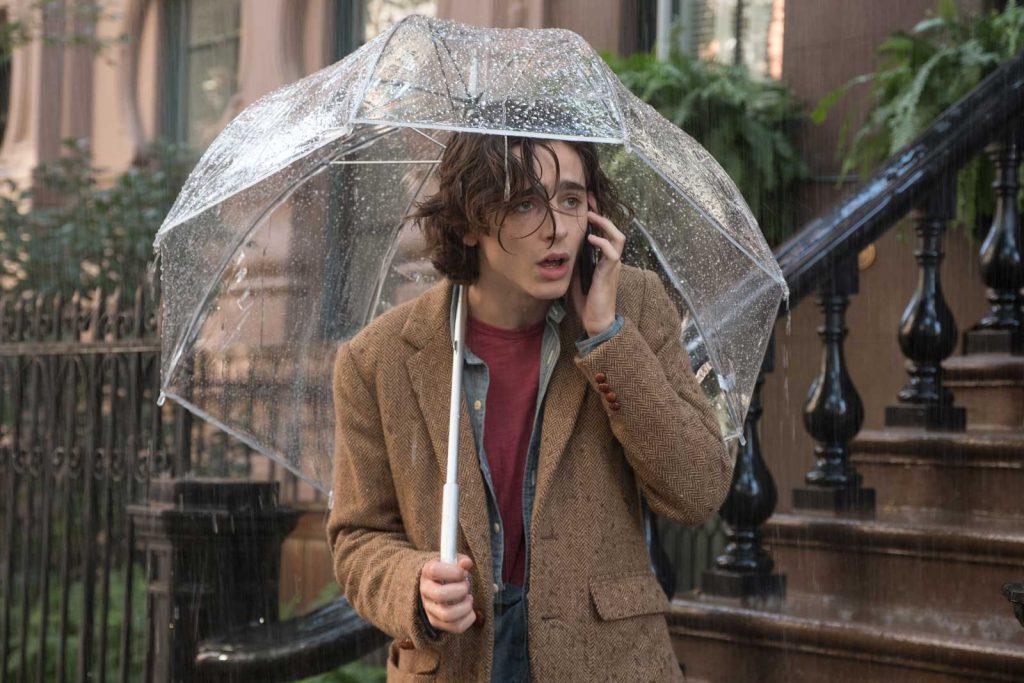 A Rainy Day in New York is a film that tries really hard to replicate the hits of Woody Allen's Golden Era, but never quite manages to grasp Annie Hall's irony, Midnight in Paris's rhythm and Crimes and Misdemeanours's clever moral conundrums. Instead, we get a leading character whose status as a "Woody Allen persona" completely replaces the role he is supposed to have in the movie. Like many Allen alter-egos before him, New York-born college graduate Gatsby (Timothée Chalamet) is a neurotic genius whose fastidious pretentiousness hides a perennial dissatisfaction with life. Yet, unlike most of his predecessors, he's also a character that doesn't interest us in the slightest, and one that immediately disappears under the weight of a tiresome screenplay.
It needs to be said that Timothée Chalamet does his best to pour life into poor Gatsby (who might as well have been called Holden), but there's only so much that the Call Me By Your Name actor could have done to prevent his twenty-something character from sounding more like a much older (eighty-four years old, to be exact) man who's stuck in a fantasy world that does not exist anymore. A Rainy Day in New York makes it painfully clear that the kind of Allen persona that used to make us ponder life's big questions in the Eighties does not have the same effect on us in 2020, especially in a film that also features an uninspired, failed Hollywood director that goes by the name of Roland Pollard (Liev Schreiber), and an Allenesque protagonist reciting lines such as "What is it about older guys that's so appealing to women?".
Cringy lines, bad casting choices and a screenplay that is not up to Allen's usual standard are what make A Rainy Day in New York's charm partly disappear under too many ineffective existential puns and too little substance, which is a shame, since the film really does change for the better towards the end.
The first hour of the movie treats us to a long account of the New York disadventures of college sweethearts Gatsby (Chalamet) and Ashleigh (Elle Fanning), when their romantic weekend is hijacked by a series of unforeseen factors. As the couple separates for a few hours and the sunlight turns into a whole lot of rain, Gatsby runs into a series of acquaintances (including his ex-girlfriend's younger sister, a talkative though not entirely needed character masterfully played by Selena Gomez), while Ashleigh's interview with a celebrated film director – the reason that brought them to New York in the first place – soon turns into a series of chance encounters with even bigger movie stars, played by even more famous actors (Jude Law, among others). One of those movie stars is Francisco Vega (Diego Luna), whose appearance happens to coincide with the moment in which the movie suddenly starts to improve.
Part of the credit needs to be given to Diego Luna, whose natural charm often makes it very easy to be captivated by the characters he plays, but it might well be the case that Francisco Vega, a secondary character with limited screentime, also happens to be one of the few well-cast roles in the film. The others are preppy, naive journalist Ashleigh, played by Fanning with the right dose of charm, Gatsby's sister-in-law (Masters of Sex's Annaleigh Ashford) and Gatsby's mother (Ocean's Twelve's Cherry Jones), who has a key role in one of the most well-written scenes of the film, which gives new meaning to Gatsby's "acts of rebellion".
See Also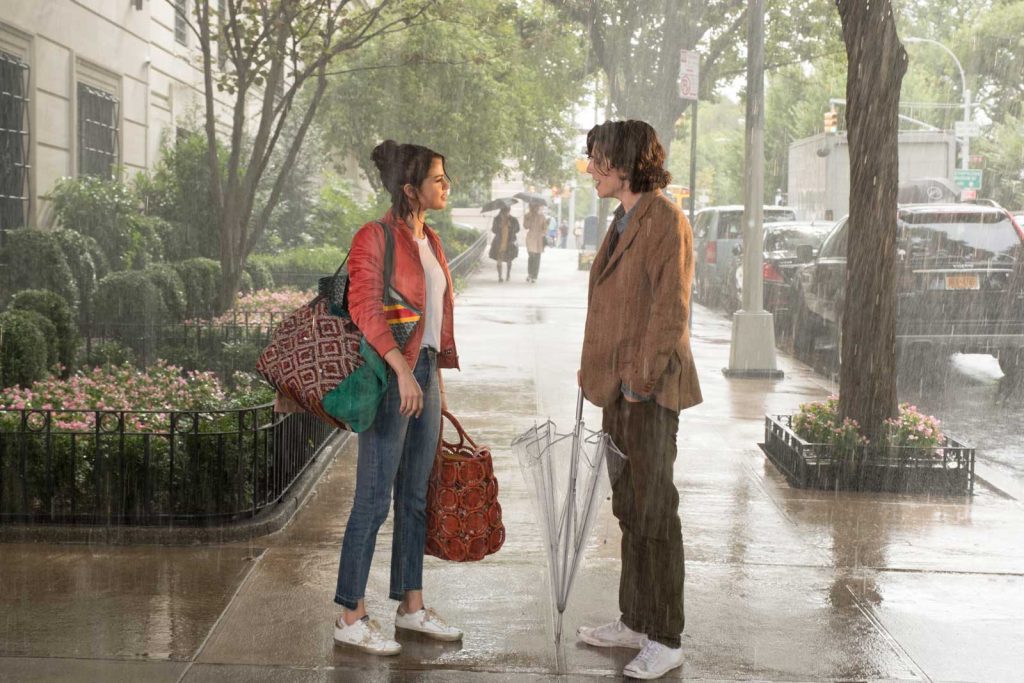 In Gatsby's own words, his rebellion is against a life of "pretentious appropriateness", which is a perfect way to describe not only this movie's leading character, but also the movie itself. A Rainy Day in New York is about creative people who talk a lot and know very little, no matter if they are celebrities who are accustomed to be adored and try to impart their (little) knowledge on others, or youngsters attempting to appear experienced and disillusioned about life. It's about those privileged, bored, perennially dissatisfied people who make decisions on a whim, chasing faraway dreams without thinking them through and putting their own egoes before everyone else's. And we don't have to have the same privileges, money and power as the characters in the movie to have come across this kind of "pretentious appropriateness" before: we're familiar with it, because it's everywhere.
In light of this, it doesn't really matter if A Rainy Day in New York is not really a rom-com, or if some of the adventures involving its leading characters are not so comical after all. Even with all the positive turns of events, the romantic music and the picturesque shots in the rain, what Allen's latest drama ultimately leaves you with is a sense of nostalgic sadness. Nostalgia for the people we'd like to be, and the word we'd like to live in. Nostalgia for a world that doesn't exist anymore. Nostalgia for a world that, perhaps, never really existed at all.
---
A Rainy Day in New York is available to watch in select European countries, and will be released in the U.K. on Home Premiere on 5th June.
---
STREAM A RAINY DAY IN NEW YORK:
---
JOIN US!
Be among the first to receive our monthly updates with film news, movie-inspired recipes and exclusive content! You'll only hear from us once a month. #nospam