Misbehaviour (Review): A story with Many Sides & an Invitation to Kindness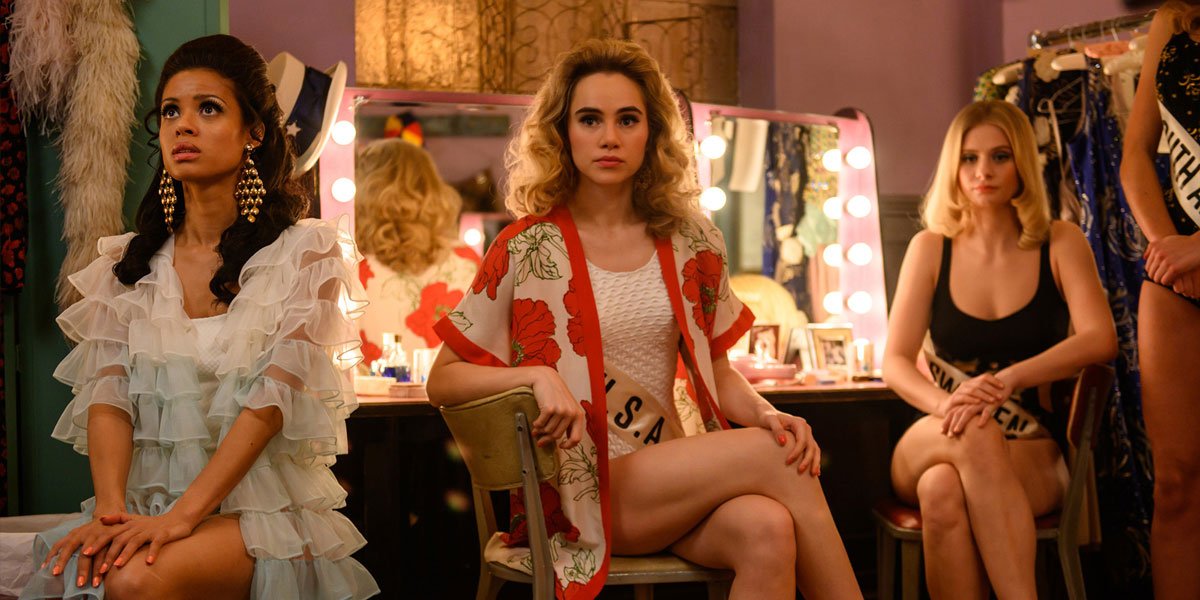 Gugu Mbatha-Raw, Suki Waterhouse and Clara Rosager in Misbehaviour (Pathé/BBC)
Misbehaviour is a meaningful drama that tells the many sides of the true story of the women activists who disrupted the 1970 Miss World competition.
---

In the post-#MeToo era, it's not unusual to find films that tackle gender equality issues. In the past three years alone, not only did we get remakes with gender-swapped protagonists (Ghostbusters, What Men Want, After the Wedding), new releases with all-female casts (Ocean's Eight, Charlie's Angels) and strong female led-dramas (Little Women, The Favourite, Hustlers, The Kindergarden Teacher, Late Night, to name a few), but we also saw the release of movies that celebrate women by telling the true stories of real female figures that made history. In Hidden Figures, Taraj P. Henson, Octavia Spencer and Janelle Monaé played the three African-American mathematicians who helped NASA launch its U.S. space program. Then came docu-films like Bombshell, the multi-Oscar-nominated drama about the women who filed sexual assault charges against Fox News top manager Roger Ailes, ultimately determining his exit from the company. Yet, if movies like Bombshell certainly help bring much-needed attention to issues of gender equality, it's also true that they do it in a way that favours entertaining plot twists and big dramatic moments over historical accuracy, resulting in a film that is certainly engaging enough, but often comes across at being one-sided and overly didactic.
Misbehaviour is not that movie. Inspired by the true story of a group of women activists who managed to disrupt the live broadcast of the 1970 Miss World competition, Philippa Lowthorpe's (The Crown) compelling drama tells its tale with intelligence and compassion, and does it by showing the point of view of all women who were affected by the event. There is no leading lady in Misbehaviour, as all parties involved are given enough screentime to tell their story, adding another piece of history to the puzzle that did so much more than put the Women's Liberation Movement on the map. By giving attention not only to the activists but also to the beauty pageant contestants, each with their own hopes and struggles, as well as generations of mothers, daughters and conflicted wives, Misbehaviour tells a complex story with incredible simplicity, with multi-faceted characters delivering a powerful message in a surprisingly engaging way.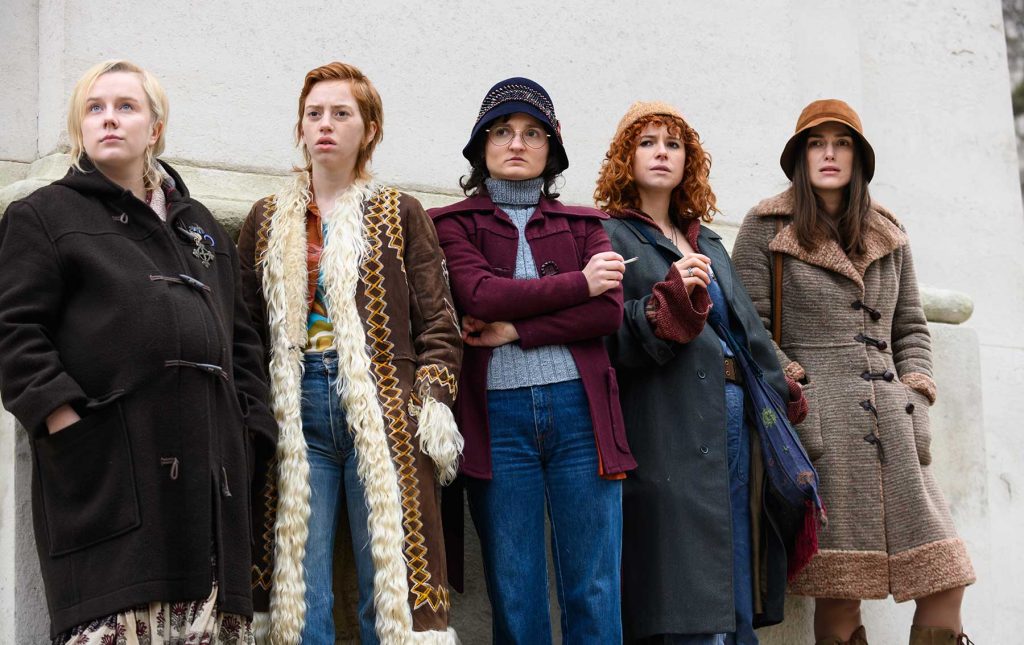 Misbehaviour is the story of Sally Alexander, (Keira Knightley), a single mother/mature history student who is constantly struggling to be heard at University College London, in an all-male university environment. One day, Sally witnesses the negative image conveyed by beauty pageants firsthand, when a TV report on the upcoming Miss World competition prompts her small daughter to mimic the contestants, to the delight of Sally's conservative mother (Phyllis Logan). This inspires Sally to attend the first meeting of the newly founded Women's Liberation Movement, where she meets the outspoken Jo Robinson (superbly played by Jessie Buckley) and her group of spray-painting activist friends. Meeting after meeting, the group grows, and it's thanks to Sally's contributions that the women manage to get the attention of the media – first by appearing on TV and ultimately by putting their plan of disrupting the live televised event into action.
But there are many sides to this inspiring story, and one of them is told by the young women taking part in the beauty pageant – each with her own background, hopes and reasons for being in the contest. Among the favourites are the confident "Miss United States" – Sandra Anne Wolsfeld (Suki Waterhouse) and the frustrated "Miss Sweden" – Maj Christel Johannson (Clara Rosager), though the two contestants are not what grabs the media's attention the most, on the eve of this specific edition of the Miss World competition. The real 1970 beauty pageant marked the first year of a "Miss Grenada" being selected for the show, and the wise yet anxious contestant, Jennifer Hosten, is masterfully portrayed by Gugu Mbatha-Raw. The 1970 Miss World pageant also saw the inclusion of two South African contestants, with a white "Miss South Africa" (Jillian Jessup, played by Emma Corrin) joined at the last minute by a black "Miss Africa South" (Pearl Jansen, played by the excellent Loreece Harrison), a last-minute addition to the line-up that only happened when competition organiser Eric Morley (Rhys Ifans) was called out by a journalist for being racist.
Whether or not they have been selected purely for publicity reasons, each and every single one of the 1970 Miss World contestants comes with an important backstory and very different, non-stereotypical aspirations for the future. One wishes to become a journalist, and hopes to use the money to get an education. Another is happy to be in the contest, not for the competition itself but because of the opportunities it will open up in her home country, when little girls will see her on TV and learn that, sometimes, dreams can come true. And then there's the girls who have been selected to avoid controversy, and who have been forbidden from even mentioning their home countries. No matter their background and aspirations, what all these young women have in common is that their participation to the competition has nothing to do with their beauty, but with bigger hopes and dreams.
See Also

What happens when the personal battles of several young women are threatened by a new series of young women who are fighting for the same cause but with a different aim? Should change happen a little at a time, one compromise after the other, or should it happen suddenly and with a roar? These are some of the many questions approached by Lowthorpe and screenwriters Rebecca Frayn (Killing Me Softly, The Lady) and Gaby Chiappe (Their Finest) in Misbehaviour, a well-crafted drama that shows us that there are many sides to every story. And this specific story is not just about a group of female activists, just like it isn't only about the contestants.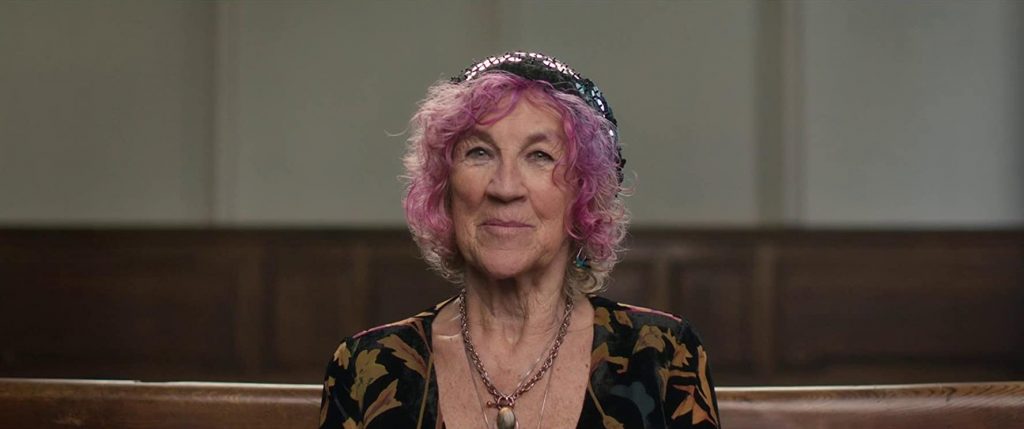 Carefully constructed around its well-rounded characters, Misbehaviour is about a woman who is ahead of its time and two groups of remarkable young women – the beauty pageant contestants and the activists. At the same time, it's also about a mother and a daughter with different ideas on how a granddaughter should be raised, an incredibly supporting husband and the long-suffering wife of a famous TV presenter who is painfully aware of her husband's affairs. Every single story is important in Misbehaviour, starting with Sally Alexander's and ending with the real-life "leading ladies" of this story, who appear at the very end of the movie, looking straight into the camera, exchanging an affectionate look with their fictional counterparts and, at the same time, with every single woman watching the film. It's in this moving ending that Misbehaviour's message comes across, as an invitation to past and future generations of "fighters" to be kind to one another.
---