June 2023: New Movies In Theaters This Month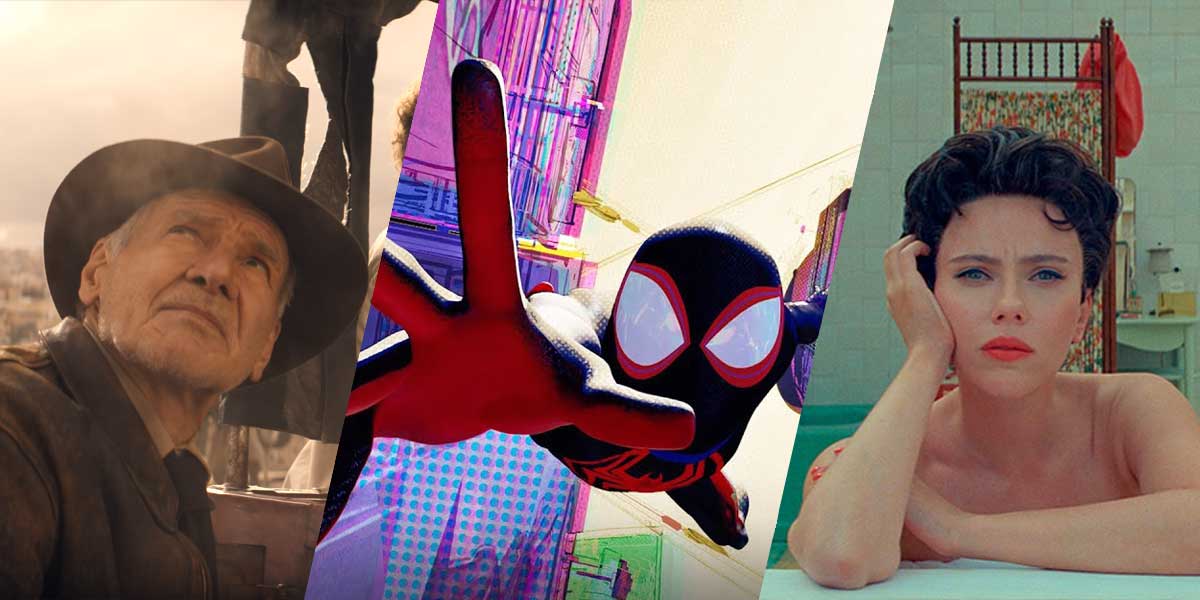 June 2023: all the new movies in US theaters and UK cinemas this month, from Asteroid City and Elemental to The Flash, Spider-Verse and more!
June 2023 will be a great month for film lovers! So many new movies will be out in theaters this month, including some highly anticipated releases. Elemental, Indiana Jones 5, Asteroid City, Spider-Man: Across the Spider-Verse, The Flash, Blue Jean: you name it! But June will also give us some hidden gems and might have a few surprises in store for us. If you're wondering which movies to watch this month, you've come to the right place!
Let's take a look at all the upcoming releases in June 2023, with a list that will help help you decide what to watch first! You'll find all the films below, in order of release and divided by movies to watch in U.S. theaters and in U.K. cinemas, and we've also included global release dates where available. Scroll till the end for other events happening this month, read our list of most anticipated movies of 2023, and happy watching!
---
JUNE 2023 MOVIES: IN U.S. THEATERS & GLOBAL
ANONYMOUS SISTER (LIMITED)
Directors: Jamie Boyle
U.S. Release: June 2 in New York, June 16 in LA
U.K. Release: TBA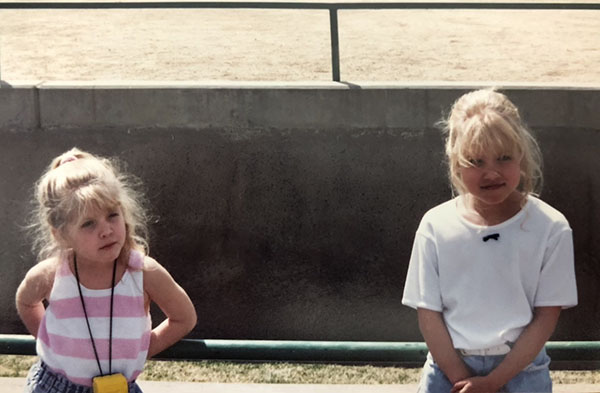 Official synopsis: When a young woman turns to the camera for refuge, she ends up with a firsthand account of what will become the deadliest man-made epidemic in United States history. Thirty years in the making, Anonymous Sister is Emmy Award®-winning director, Jamie Boyle's chronicle of her family's collision with the opioid epidemic.
---
THE BOOGEYMAN
Director: Rob Savage
Global Release: June 2
Official synopsis: "The Boogeyman," a horror-thriller from the mind of best-selling author Stephen King, opens June 2, 2023, in theaters nationwide. High school student Sadie Harper and her younger sister Sawyer are reeling from the recent death of their mother and aren't getting much support from their father, Will, a therapist who is dealing with his own pain. When a desperate patient unexpectedly shows up at their home seeking help, he leaves behind a terrifying supernatural entity that preys on families and feeds on the suffering of its victims.
---
CONCERNED CITIZEN (LIMITED)
Director: Idan Haguel
U.S. Release: June 2
U.K. Release: out now on digital and on demand! Watch Concerned Citizen!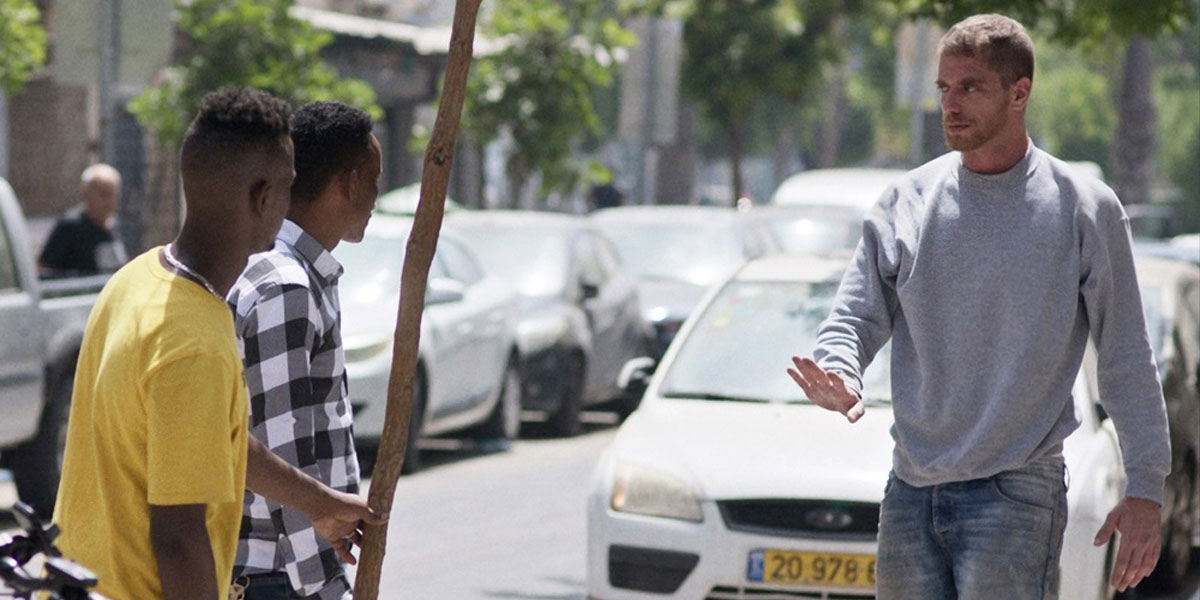 Official synopsis: A dark comedy about gentrification in which a socially progressive man's attempt to improve his Tel Aviv neighborhood goes unexpectedly awry. A satirical parable about the insidious ways in which privilege can unleash prejudice within.
---
FALCON LAKE (LIMITED)
Director: Charlotte Le Bon
U.S. Release: June 2
U.K. Release: TBA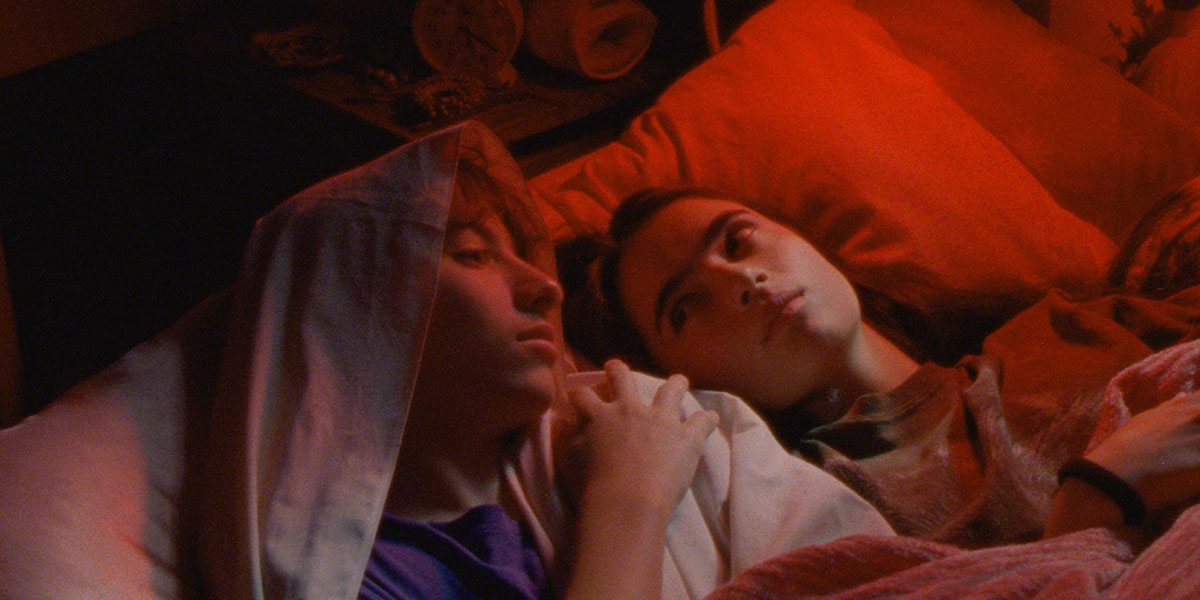 Official synopsis: A shy teenager on a summer vacation experiences the joy and pain of young adulthood when he forges an unlikely bond with an older girl.
---
FOLLOW HER (LIMITED)
Director: Sylvia Caminer
U.S. Release: June 2
U.K. Release: TBA
Official synopsis: Jess (Dani Barker) has finally found her hook: secretly filming creepy interactions she encounters via online job listings, and using the kinks of others to fuel her streaming success. For her next episode, she's been hired by Tom (Luke Cook) to write the ending of a screenplay in a remote, lavish cabin. Once there, the alluring self-proclaimed screenwriter hands her a script in which the two of them are the main characters. This client isn't what he seems, and even though the money's great… the real payment here could cost her life. Follow Her is a psycho-sexual thriller which questions the ethical boundaries of social media.
---
HORSEPLAY
Directors: Marco Berger
U.S. Release: June 2
U.K. Release: TBA
Official synopsis: In the hot Argentine summer a group of friends get together to enjoy the holiday. They drink, party hard and make videos together. A rare mix of homophobia and horseplay comes together, however under the surface jealousy and violence begin to emerge. A twisted triangle of friends between a repressed gay, a secret bisexual boy and a homophobe will push tensions to the limit.
---
MONTREAL GIRLS
Director: Patricia Chica
U.S. Release: June 2
U.K. Release: TBA
Official synopsis: A young Middle-Eastern aspiring poet moves to Montréal and is forever changed by the city and the young women who reveal him to his destiny.
---
PADRE PIO
Director: Abel Ferrara
U.S. Release: June 2
U.K. Release: TBA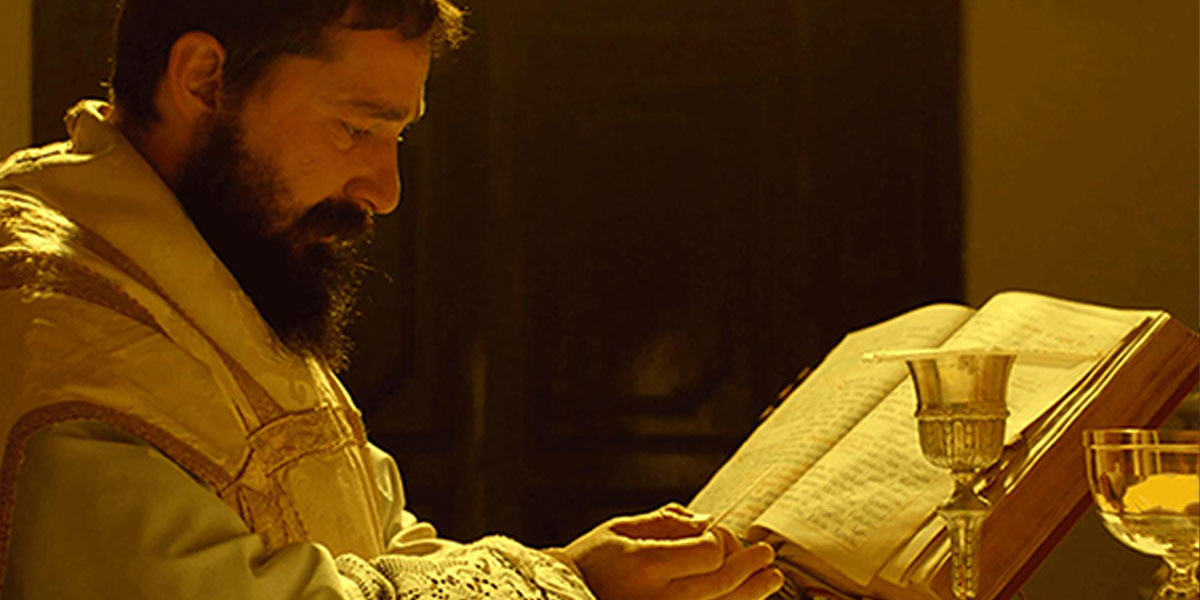 Full Review: Padre Pio (2023): Ferrara's Anti-Fascist Prayer
---
PAST LIVES
Director: Celine Song
U.S. Release: June 2 (limited), June 23 (nationwide)
U.K. & Ireland Release: September 8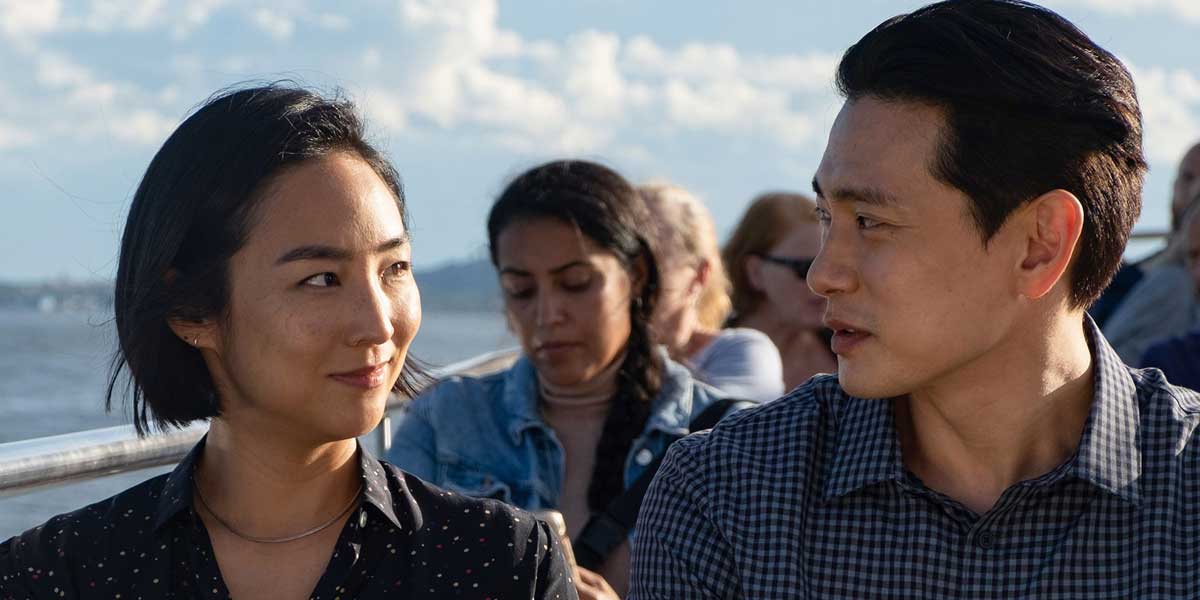 Official synopsis: Nora (Greta Lee) and Hae Sung (Teo Yoo), two deeply connected childhood friends, are wrest apart after Nora's family emigrates from South Korea. Two decades later, they are reunited in New York for one fateful week as they confront notions of destiny, love, and the choices that make a life, in this heartrending modern romance.
---
RISE
Directors: Cédric Klapisch
U.S. Release: June 2
U.K. Release: TBA
Official synopsis: Elise thought she had a perfect life: an ideal boyfriend and a promising career as a ballet dancer. It all falls apart the day she catches him cheating on her with her stage backup; and after she suffers an injury on stage, it seems like she might not be able to dance ever again. The path to physical and emotional recovery will lead her away from Paris to a picturesque location in Brittany- where her friends, a new love and freedom of contemporary dance will help her reconnect with her father and most importantly, herself. A heartwarming and inspiring story that tells us how sometimes, the worst thing that could happen may turn out to be the best.
---
THE ROUNDUP: NO WAY OUT
Director: Sang-yong Lee
U.S. Release: June 2
U.K. Release: TBA
Official synopsis: Seven years after the roundup in Vietnam, Ma Seok-do (Don Lee) joins a new squad to investigate a murder case. Soon, he finds out this case involves busting a synthetic drug and starts to dig deeper… Meanwhile, the guy behind it all–Joo Sung-chul (Lee Jun-hyuk)–doesn't stop looking for trouble, and the Japanese drug distributors, Ricky (Munetaka Aoki) and his gang, come to Korea to join the chaos. Things are just about to get out of hand.
---
SANCTUARY
Director: Zachary Wigon
U.S. Release: June 2
U.K. Release: TBA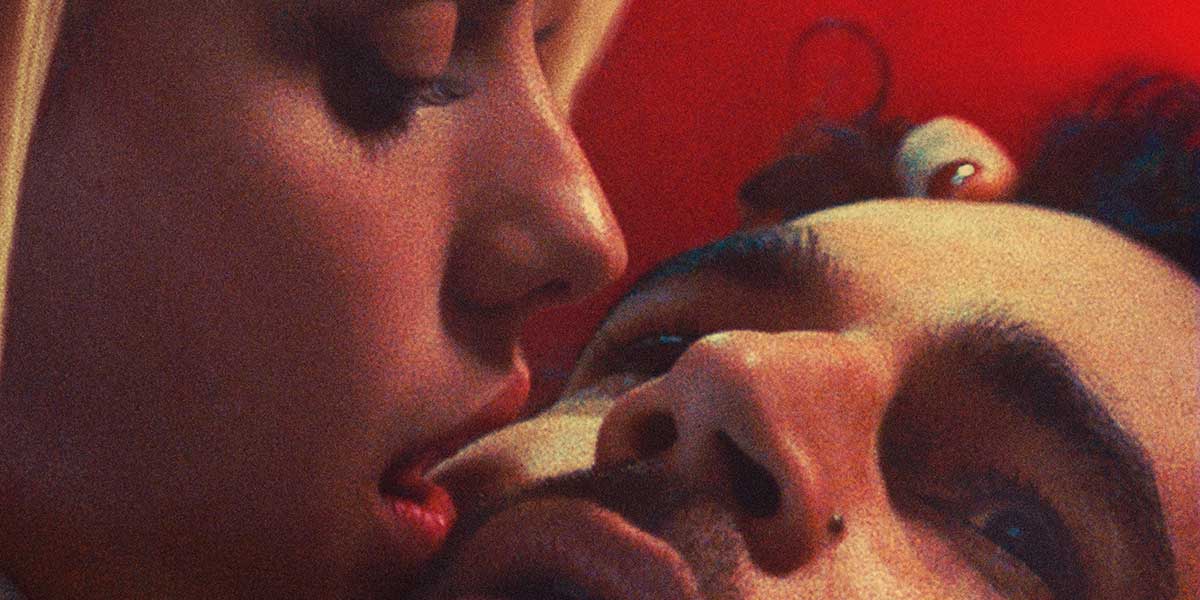 Official synopsis: A wickedly dark comedy follows dominatrix, Rebecca (Emmy Award® nominee Margaret Qualley), and her wealthy client, Hal (Christopher Abbott), as they engage in a high stakes role playing game for power and control. In the wake of inheriting his father's hotel chain, Hal attempts to end his long and secret relationship with Rebecca. A battle of wills ensues over the course of one incredibly fraught night, with both Rebecca and Hal struggling to keep the upper hand as the power dynamics swing wildly back and forth.
---
SPIDER-MAN: ACROSS THE SPIDER-VERSE
Directors: Joaquim Dos Santos, Kemp Powers & Justin K. Thompson
Global Release: June 2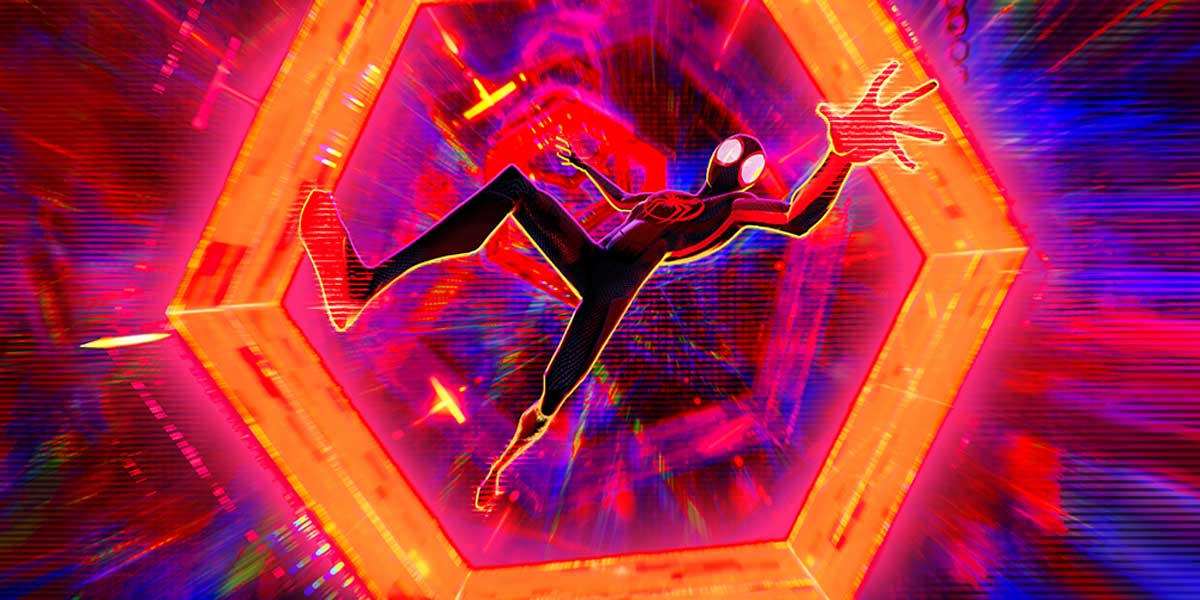 Official synopsis: Miles Morales returns for the next chapter of the Oscar®-winning Spider-Verse saga, Spider-Man™: Across the Spider-Verse. After reuniting with Gwen Stacy, Brooklyn's full-time, friendly neighborhood Spider-Man is catapulted across the Multiverse, where he encounters a team of Spider-People charged with protecting its very existence. But when the heroes clash on how to handle a new threat, Miles finds himself pitted against the other Spiders and must redefine what it means to be a hero so he can save the people he loves most.
---
ALL MAN: THE INTERNATIONAL MALE STORY (LIMITED)
Director: Peter Jones
U.S. Release: June 6
U.K. Release: TBA
Official synopsis: ALL MAN: The International Male Story tells the remarkable journey of how an unlikely band of outsiders designed one of the most sought-after mail-order catalogs of the 70s and 80s, forever changing the way men look at themselves, at each other, and how the world would look at them.Featuring Matt Bomer, Simon Doonan, Carson Kressley and more.
---
AMERICONNED (LIMITED)
Director: Sean Claffey
U.S. Release: June 9, with a nationwide VOD release to follow in the US and Canada on June 13.
U.K. Release: TBA
Official synopsis: AMERICONNED is a film about income inequality in the US and the tragic destabilizing effects to Americans. Radical inequality has led to radicalization at every level of society, and this powerful documentary depicts what happens when America hits its tipping point by looking back through our history at similar critical moments of instability. The labor movement of the past was born in times like these. We must restore the path to the once great middle class that now suffers in silence.
---
THE ANGRY BLACK GIRL AND HER MONSTER (LIMITED)
Director: Bomani J. Story
U.S. Release: June 9
U.K. Release: TBA
Official synopsis: Vicaria is a brilliant teenager who believes death is a disease that can be cured. After the brutal and sudden murder of her brother, she embarks on a dangerous journey to bring him back to life. Inspired by Mary Shelley's Frankenstein, "The Angry Black Girl and Her Monster" thematically challenges our ideas of life and death. Writer and director Bomani J. Story crafts a thrilling tale about a family that, despite the terrors of systemic pressure, will survive and be reborn again.
---
BLUE JEAN
Director: Georgia Oakley
U.S. Release: June 9 NY, June 16 LA
U.K. Release: out now on digital and on demand!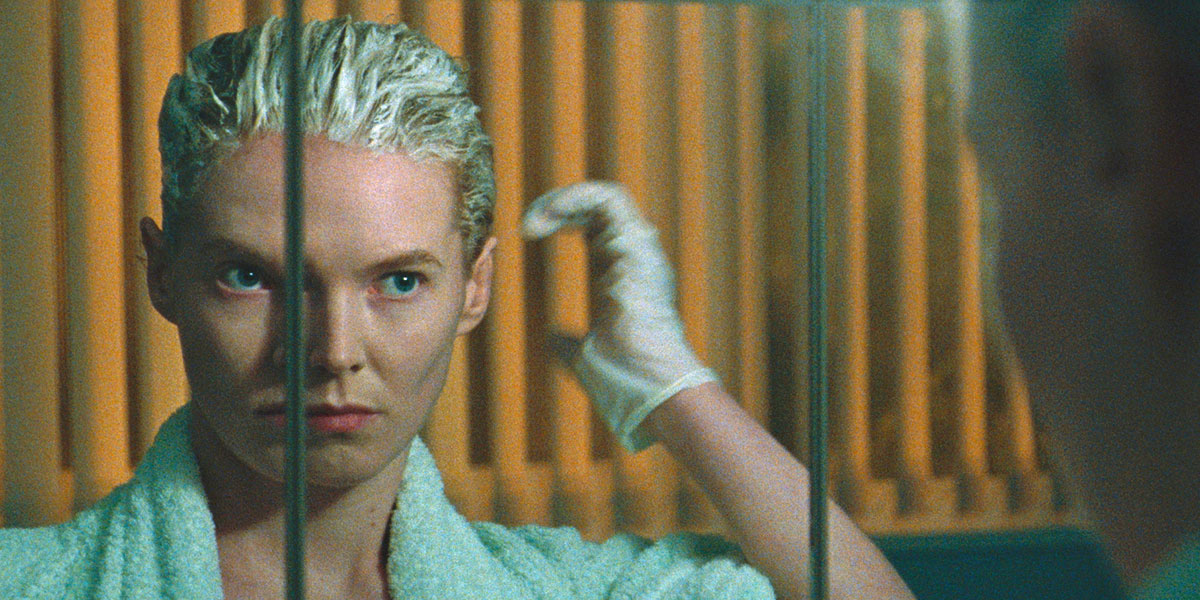 Official synopsis: In Georgia Oakley's stunning directorial debut Blue Jean, it's 1988 England and Margaret Thatcher's Conservative government is about to pass a law stigmatizing gays and lesbians, forcing Jean (Rosy McEwen, in a powerhouse performance), a gym teacher, to live a double life. As pressure mounts from all sides, the arrival of a new student catalyzes a crisis that will challenge Jean to her core. The BAFTA-nominated film won the Venice Film Festival's People's Choice Award, as well as four British Independent Film Awards.
---
DALÍLAND
Director: Mary Harron
U.S. Release: June 9
U.K. Release: TBA
Official synopsis: Directed by acclaimed filmmaker Mary Harron (I SHOT ANDY WARHOL, AMERICAN PSYCHO), DALÍLAND stars Sir Ben Kingsley as the titular Salvador Dalí, one of the most world-renowned artists of the 20th century and focuses on the later years of the strange and fascinating marriage between Dalí and his wife, Gala (Barbara Sukowa), as their seemingly unshakable bond begins to stress and fracture. Set in New York and Spain in 1974, the film is told through the eyes of James (Christopher Briney), a young assistant keen to make his name in the art world, who helps the eccentric and mercurial Dalí prepare for a big gallery show. Rupert Graves, Suki Waterhouse, Andreja Pejic and Ezra Miller also star.
---
MENDING THE LINE
Director: Joshua Caldwell
U.S. Release: June 9
U.K. Release: TBA
Official synopsis: Mending the Line is a story about finding something to make living worthwhile. John Cotler, a wounded veteran, returns to the States still carrying the demons of war, hauntingly disturbed by the everyday expectations of friendships and love interests. In Livingston, Montana, he meets Ike, a surly, headstrong fly-fisherman more than twice his age, and Lucy, a talented photographer turned librarian who reads aloud to veterans, both struggling in their own way. While getting treatment for his wounds, both physical and psychological, Colter wants only to re-enlist, to have something to die for. But the real challenge is finding something to live for.
---
PERSIAN LESSONS
Director: Vadim Perelman
U.S. Release: June 9
U.K. Release: out now on digital and on demand!
Official synopsis: Occupied France, 1942. Gilles (Nahuel Pérez Biscayart) is arrested by SS soldiers alongside other Jews and sent to a camp in Germany. En route to the camp, he narrowly avoids sudden execution by swearing to the guards that he is not Jewish, but Persian. This lie temporarily saves him, as one of the soldiers' superior officers is "looking for a Persian," and has promised additional rations to the soldier who delivers.
Gilles is then assigned a literal life-or-death mission: to teach Farsi to Head of Camp Koch (Lars Eidinger), who dreams of opening a restaurant in Iran once the war is over.
---
SCARLET (L'ENVOL)
Director: Pietro Marcello
U.S. Release: June 9
U.K. Release: TBA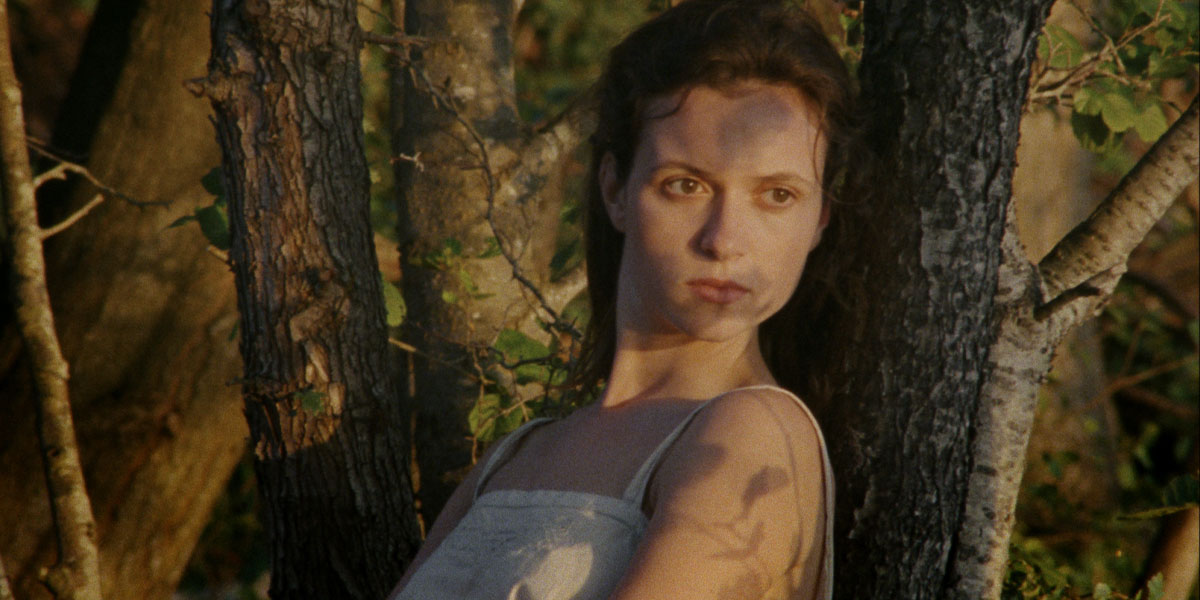 Official synopsis: Shortly after World War I, veteran Raphaël (Raphaël Thiéry) returns home from the frontlines to find himself a widower, and father to an infant daughter. Raised by her father in rural Normandy, the child Juliette (Juliette Jouan) grows into a lonely young girl who is passionate about singing and music and dreams of greater possibilities. She seeks refuge in the nearby woods, where she meets a witch who promises scarlet sails will one day take her away from her village.
Reckoning with her future and swept away by a rakish young pilot (Louis Garrel) who literally falls from the sky, Juliette never stops believing in the witch's prophecy. Tracing Juliette's journey throughout the twenty years of great invention between the world wars, Scarlet delicately weaves together music and fantasy, history and folklore, realist drama and ethereal romance, to craft a timeless story of a young woman's emancipation.
---
THE SECRET KINGDOM
Director: Matt Drummond
U.S. Release: June 9
U.K. Release: July 21
Official synopsis: Join siblings Peter and Verity on a magical journey to The Secret Kingdom! Hidden beneath their bedroom floor lies a land of enchantment, which must be protected from an ancient enemy – the evil Shroud. As they embark on their quest to unite five mystical treasures and save the Kingdom, Peter and Verity must face epic challenges that will test their bravery to the limit.
---
TRANSFORMERS: RISE OF THE BEASTS
Director: Steven Caple Jr.
Global Release: June 9
Official synopsis: Returning to the action and spectacle that have captured moviegoers around the world, Transformers: Rise of the Beasts will take audiences on a '90s globetrotting adventure with the Autobots and introduce a whole new breed of Transformer – the Maximals – to the existing battle on earth between Autobots and Decepticons. Directed by Steven Caple Jr. and starring Anthony Ramos and Dominique Fishback.
---
USERS (LIMITED)
Director: Natalia Almada
U.S. Release: June 9 at BAM (NYC), June 16 at Laemmle Glendale (LA)
U.K. Release: TBA
Official synopsis: Users explores the unintended and often dehumanizing consequences of our society's embedded belief that technological progress will lead to the betterment of humanity. Is technological progress inevitable? Are we all increasingly isolated? Do we really have agency to direct its course? Is technology an expression of our humanity or is technology destroying our humanity?
---
ANCHORAGE (LIMITED)
Director: Scott Monahan
U.S. Release: June 16
U.K. Release: TBA
Official synopsis: Two brothers attempt to drive a trunk full of stolen opioids from Florida to Alaska to cash in big in the Land of Gold. A split-second act of violence somewhere in the California desert derails their trip and sets them on a crash course with tragedy.
---
ASTEROID CITY
Director: Wes Anderson
U.S. Release: June 16 in NY/LA, June 23 everywhere
Official synopsis: The itinerary of a Junior Stargazer/Space Cadet convention (organized to bring together students and parents from across the country for fellowship and scholarly competition) is spectacularly disrupted by world-changing events.
---
THE BLACKENING
Director: Tim Story
U.S. Release: June 16
U.K. Release: August 25
Official synopsis: The Blackening centers around a group of Black friends who reunite for a Juneteenth weekend getaway only to find themselves trapped in a remote cabin with a twisted killer. Forced to play by his rules, the friends soon realize this ain't no motherf****** game. Directed by Tim Story (Ride Along, Think Like A Man, Barbershop) and screenplay and screen story by Tracy Oliver (Girls Trip, Harlem) & Dewayne Perkins (The Amber Ruffin Show, Brooklyn Nine-Nine), The Blackening skewers genre tropes and poses the sardonic question: if the entire cast of a horror movie is Black, who dies first?
---
ELEMENTAL
Director: Peter Sohn
Global Release: June 16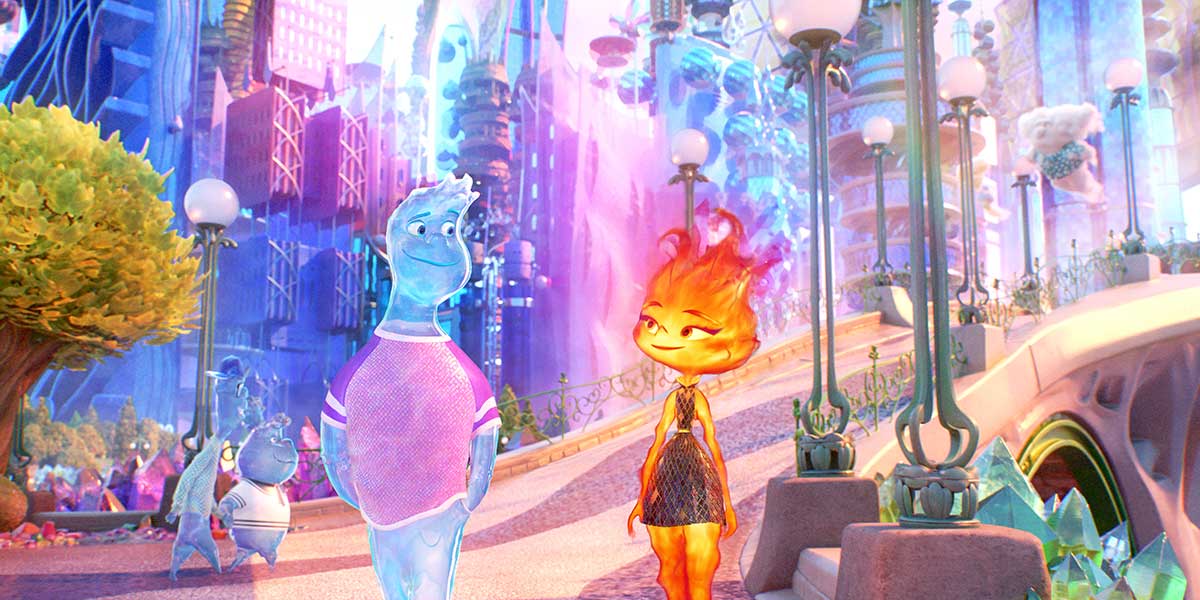 Official synopsis: Disney and Pixar's Elemental is an all-new, original feature film set in Element City, where fire-, water-, land- and air-residents live together. The story introduces Ember, a tough, quick-witted and fiery young woman, whose friendship with a fun, sappy, go-with-the-flow guy named Wade challenges her beliefs about the world they live in. Directed by Peter Sohn, produced by Denise Ream, and featuring the voices of Leah Lewis and Mamoudou Athie as Ember and Wade.
---
THE FLASH
Director: Andy Muschietti
Global Release: June 16
Official synopsis: Worlds collide in "The Flash" when Barry uses his superpowers to travel back in time in order to change the events of the past. But when his attempt to save his family inadvertently alters the future, Barry becomes trapped in a reality in which General Zod has returned, threatening annihilation, and there are no Super Heroes to turn to. That is, unless Barry can coax a very different Batman out of retirement and rescue an imprisoned Kryptonian… albeit not the one he's looking for. Ultimately, to save the world that he is in and return to the future that he knows, Barry's only hope is to race for his life. But will making the ultimate sacrifice be enough to reset the universe?
---
MAD HEIDI (ONE NIGHT ONLY)
Directors: Johannes Hartmann and Sandro Klopfstein
U.S. Release: June 21 for one night only
Details on the event: Fathom Events, Raven Banner Releasing and Swissploitation Films are excited to present the premiere of the modern grindhouse epic Mad Heidi coming to theaters nationwide for a special one-night engagement on Wednesday, June 21 at 7:00 p.m. local time. More information at Fathom Events!
---
MAGGIE MOORE(S) (LIMITED)
Director: John Slattery
U.S. Release: June 16
U.K. Release: TBA
Official synopsis: When two women with the same name are murdered days apart, small-town police chief Jordan Sanders (Hamm) finds himself wading through an unlikely collection of cheating husbands, lonely hearts, nosy neighbors and contract killers in an effort to put the pieces of the case, and his life, together. The film is inspired by actual events.
---
DESPERATE SOULS, DARK CITY AND THE LEGEND OF MIDNIGHT COWBOY (LIMITED)
Director: Nancy Buirski
U.S. Release: June 23
U.K. Release: TBA
Official synopsis: A half century after its release, Midnight Cowboy remains one of the most original and groundbreaking movies of the modern era. With beguiling performances from Jon Voight and Dustin Hoffman as two loners who join forces out of desperation, black list survivor Waldo Salt's brilliant screenplay, and John Schlesinger's fearless direction, the 1969 film became the only X- rated film to ever win the Academy Award for Best Picture. Its vivid and compassionate depiction of a more realistic, unsanitized New York City and its inhabitants paved the way for a generation's worth of gritty movies with complex characters and adult themes.
But this is not a documentary about the making of Midnight Cowboy: it is about the deeply gifted and flawed people behind a dark and difficult masterpiece; New York City in a troubled time of cultural ferment; and the era that made a movie and the movie that made an era. Featuring extensive archival material and compelling new interviews, director Nancy Buirski illuminates how one film captured the essence of a time and a place, reflecting a rapidly changing society with striking clarity.
---
GOD IS A BULLET
Director: Nick Cassavetes
U.S. Release: June 23
U.K. Release: TBA
Official synopsis: When detective Bob Hightower finds his ex-wife murdered and daughter kidnapped by a satanic cult, he quits the police force, gets tattoos, and infiltrates the cult to hunt down the charismatic cult leader, Cyrus, with the help of the cult's only female escapee, Case Hardin. Bob is led down the rabbit hole to save his daughter while Case seizes the opportunity to claim back her power.
---
HERE. IS. BETTER (LIMITED)
Director: Jack Youngelson
U.S. Release: June 23
U.K. Release: TBA
Official synopsis: HERE. IS. BETTER. follows four of these Veterans, each with diverse backgrounds and service experience, as they undergo the most clinically effective, evidence-based trauma psychotherapies for PTSD. Individuals featured in the film include former presidential hopeful Jason Kander, who shocked many when he left the Kansas City mayoral race in 2018 to seek treatment; a Vietnam War Veteran still haunted by events that occurred over 50 years ago; and the voices of so often overlooked women Veterans, all seeking the keys to unlock their places of hurt and pain.
---
I'LL SHOW YOU MINE (LIMITED)
Director: Megan Griffiths
U.S. Release: June 23
U.K. Release: TBA
Official synopsis: I'll Show You Mine tells the story of Priya Sura, an author who found breakout success when she wrote a memoir about her abusive father. She has since made a career of exploring her own trauma through a feminist lens. Recently, however, she has been finding it harder and harder to have an emotional connection in her writing. So she's now mining someone else's trauma by interviewing Nic, her nephew by marriage, about his history of exploitation as a gender nonconforming model and pansexual poster boy. But Nic won't engage without a quid pro quo, so to get to the most hidden parts of his story, she must dig into areas she has scrupulously managed to avoid in her own.
---
LOREN AND ROSE
Director: Russell Brown
U.S. Release: June 23
U.K. Release: TBA
Official synopsis: Rose is a legendary actress trying to revive her career. Loren is a promising filmmaker. Over the course of their many encounters, a deep friendship evolves as their love of art, understanding of grief, and faith in life's potential guide them through personal and creative transformations. Kelly Blatz and Jacqueline Bisset star with a chemistry that is at once authentic and intoxicating.
---
THE LAST RIDER
Director: Alex Holmes
U.S. Release: June 23
U.K. Release: TBA
Official synopsis: The heroic true story of American cyclist Greg LeMond, considered to be one of the greatest cyclists of all time, who defied the odds for one of the most triumphant comeback stories in sporting history. The first, and only, American to win the Tour de France, LeMond came back from the brink of death to beat his famed rivals in the historic and nail-biting race at the 1989 Tour de France. Directed by Alex Holmes and featuring exclusive interviews with LeMond and his wife Kathy as well as, never before seen footage, The Last Rider is an exhilarating portrait of one of the greatest athletes of our time.
---
LOVE GETS A ROOM (LIMITED)
Director: Rodrigo Cortes
U.S. Release: June 23
U.K. Release: TBA
Official synopsis: Inspired by true events during the 1942 Nazi occupation of Poland, LOVE GETS A ROOM is the story of a Jewish stage actress who must make the gut-wrenching decision to follow her heart or escape the Warsaw ghetto. Told in real-time like Cortés' critically-acclaimed BURIED, the film is a romantic tale of love and survival in the face of harrowing circumstances.
---
NO HARD FEELINGS
Director: Gene Stupnitsky
Global Release: June 23
Official synopsis: Maddie (Lawrence) thinks she's found the answer to her financial troubles when she discovers an intriguing job listing: wealthy helicopter parents looking for someone to "date" their introverted 19-year-old son, Percy, and bring him out of his shell before he leaves for college. But awkward Percy proves to be more of a challenge than she expected, and time is running out. She has one summer to make him a man or lose it all.
---
REVOIR PARIS (LIMITED)
Director: Alice Winocour
U.S. Release: June 23 in New York, June 30 in LA
U.K. Release: August 4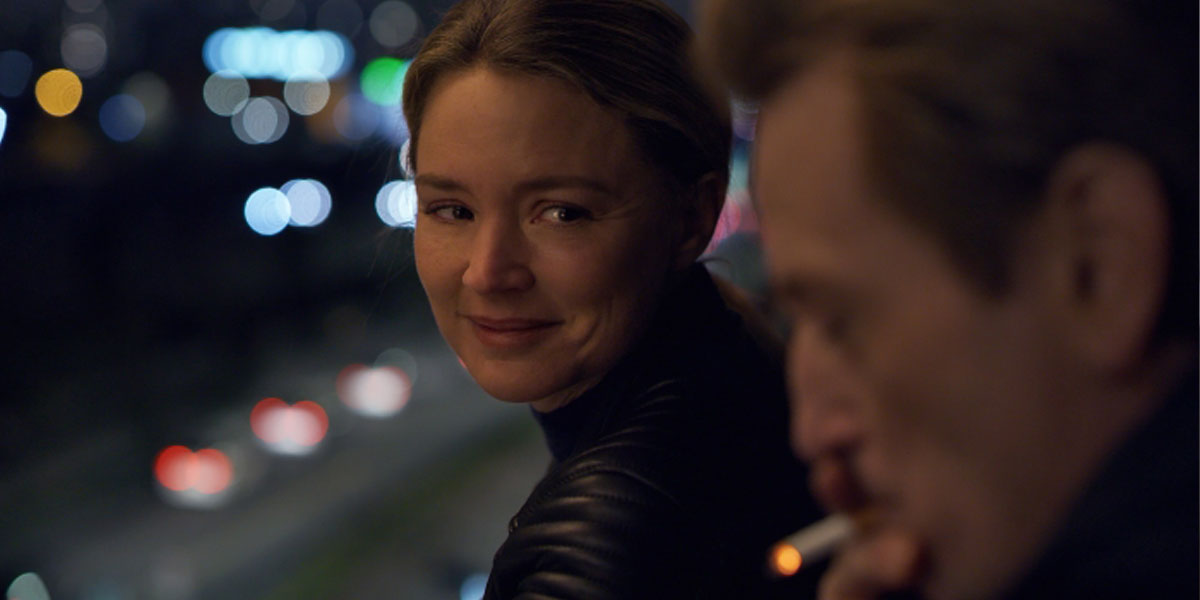 Official synopsis: After surviving a mass shooting in a Paris restaurant, Mia (Virginie Efira) is haunted, unable to resume life as usual, and left with a total blackout where her memories of the traumatic incident should be. Determined to reconstruct the sequence of events and reestablish a sense of normalcy, Mia finds herself repeatedly returning to the bistro where the shooting happened.
In the process, she forms bonds with fellow survivors, including banker Thomas (Benoît Magimel) and teenager Félicia (Nastya Golubeva). Apoignant, emotional and ultimately hopeful tale on grief and healing, REVOIR PARIS is anchored by a career-best performance by Efira who earned the 2023 César for Best Actress. Although fictional, the film was inspired by Winocour's own brother's experiences as a survivor of the Bataclan concert hall 2015 attacks.
---
SHEROES (LIMITED)
Director: Jordan Gertner
U.S. Release: June 23
U.K. Release: TBA
Official synopsis: Isabelle Fuhrman, Sasha Luss, Wallis Day, and Skai Jackson star in Sheroes – the ultimate adrenaline-fueled thrill ride from a producer of Spring Breakers. When four thick-as-thieves friends arrive in Thailand for a hedonistic adventure, they quickly find themselves in over their heads when one of them is kidnapped by a notorious drug lord. As they fight to stay alive and protect each other, they'll employ their unique set of skills and unleash their fierce loyalty in a heart-pumping battle for survival.
---
CONFIDENTIAL INFORMANT
Director: Michael Oblowitz
U.S. Release: June 30
U.K. Release: TBA
Official synopsis: This gritty crime thriller starring Mel Gibson tells the tale of two narcotics agents hunting for a cop killer during a crack epidemic. Hoping for leads, Moran (Dominic Purcell, "Prison Break") and Thorton (Nick Stahl, Sin City) pay off a junkie informant. To provide for his wife (Kate Bosworth, Superman Returns) and son, Moran involves the stool pigeon in a deadly scheme. This causes the partners to come under the scrutiny of a suspicious internal affairs agent, leading to an explosive finale…
---
EVERY BODY
Director: Julie Cohen
U.S. Release: June 30
U.K. Release: TBA
Official synopsis: Every Body is a revelatory investigation of the lives of intersex people. The film tells the stories of three individuals who have moved from childhoods marked by shame, secrecy, and non-consensual surgeries to thriving adulthoods after each decided to set aside medical advice to keep their bodies a secret and instead came out as their authentic selves. Actor and screenwriter River Gallo (they/them), political consultant Alicia Roth Weigel (she/they), and Ph.D. student Sean Saifa Wall (he/him) are now leaders in a fast-growing global movement advocating for greater understanding of the intersex community and an end to unnecessary surgeries. Woven into the story is a stranger-than-fiction case of medical abuse, featuring exclusive footage from the NBC News archives, which helps explain the modern-day treatment of intersex people.
---
PRISONER'S DAUGHTER
Director: Catherine Hardwicke
U.S. Release: June 30
U.K. Release: July 4 (digital)
Official synopsis: Released from prison with terminal cancer, Max tries to reconnect with his estranged daughter and the grandson he's never known. When his daughter's abusive, drug-addicted ex-husband reappears, Max's violent past comes back to haunt them all.
---
INDIANA JONES AND THE DIAL OF DESTINY
Director: James Mangold
Global Release: June 30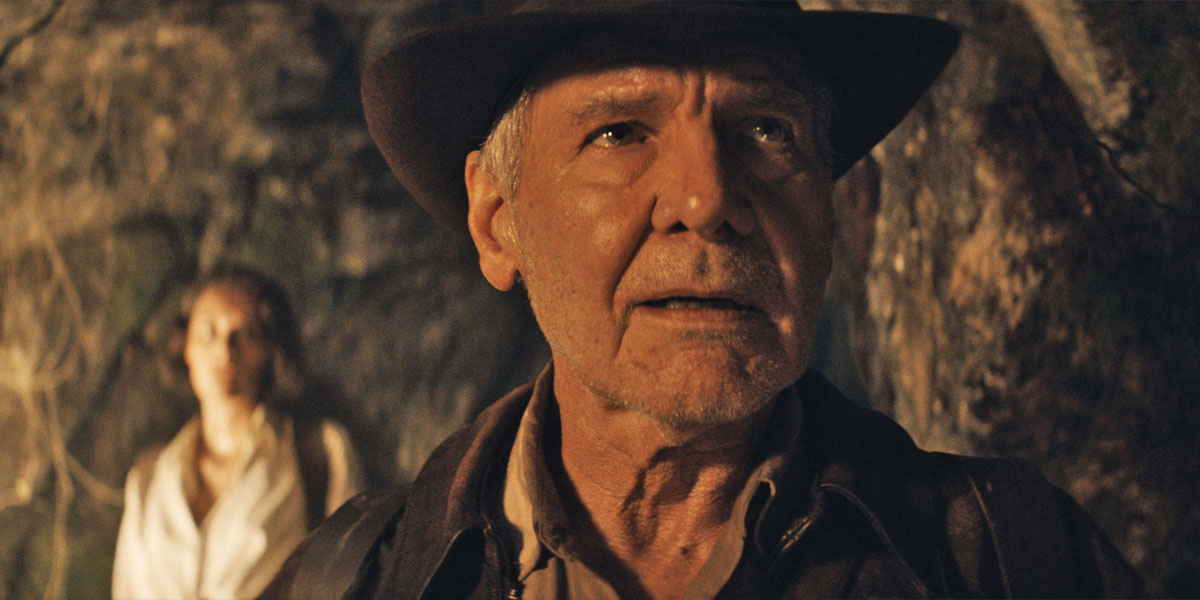 Official synopsis: Harrison Ford returns as the legendary hero archaeologist in the highly anticipated fifth installment of the iconic "Indiana Jones" franchise, which is directed by James Mangold (Ford v Ferrari). Starring along with Ford are Phoebe Waller-Bridge ("Fleabag"), Antonio Banderas (Pain and Glory), John Rhys-Davies (Raiders of the Lost Ark), Shaunette Renee Wilson (Black Panther), Thomas Kretschmann, Toby Jones, Boyd Holbrook (Logan), Oliver Richters (Black Widow), Ethann Isidore and Mads Mikkelsen (Fantastic Beasts: The Secrets of Dumbledore).
---
RUBY GILLMAN TEENAGE KRAKEN
Director: Kirk DeMicco
Global Release: June 30
Official synopsis: Sweet, awkward 16-year-old Ruby Gillman (Lana Condor, To All the Boys franchise) is desperate to fit in at Oceanside High, but she mostly just feels invisible. She's math-tutoring her skater-boy crush (Jaboukie Young-White, Ralph Breaks the Internet), who only seems to admire her for her fractals, and she's prevented from hanging out with the cool kids at the beach because her over-protective supermom (Toni Collette, Knives Out), has forbade Ruby from ever getting in the water.
But when she breaks her mom's #1 rule, Ruby will discover that she is a direct descendant of the warrior Kraken queens and is destined to inherit the throne from her commanding grandmother (Jane Fonda), the Warrior Queen of the Seven Seas.
The Kraken are sworn to protect the oceans of the world against the vain, power-hungry mermaids who have been battling with the Kraken for eons. There's one major, and immediate, problem with that: The school's beautiful, popular new girl, Chelsea (Annie Murphy) just happens to be a mermaid. Ruby will ultimately need to embrace who she is and go big to protect those she loves most.
---
WARHORSE ONE (LIMITED)
Directors: Johnny Strong & William Kaufman
U.S. Release: June 30
U.K. Release: TBA
Official synopsis: After a SEAL team helicopter is downed during a rescue mission in Afghanistan, the lone surviving operator must evade hostile insurgents and navigate rough terrain to guide the one living civilian—a traumatized child—to safety.
---
JUNE 2023 MOVIES: IN U.K. CINEMAS
BREAKING INFINITY
Director: Marianna Dean
U.K. Release: June 1
U.S. Release: TBA
Official synopsis: Breaking Infinity is a time-bending thriller about Liam, a research scientist who has become unstuck in time. The only people Liam can count on for help are the doctor treating him, Emma, who's convinced he's suffering from delusions, and his lab assistant Garret.
As Liam's episodes become more intense, and his jumps through time more extreme, Liam travels from the distant past where he's guided by a mysterious Old Man, to the future where he witnesses the end of the world – an apocalypse he may have caused.
---
AMANDA
Director: Carolina Cavalli
U.K. Release: June 2 in cinemas and on Curzon Home Cinema
U.S. Release: July 7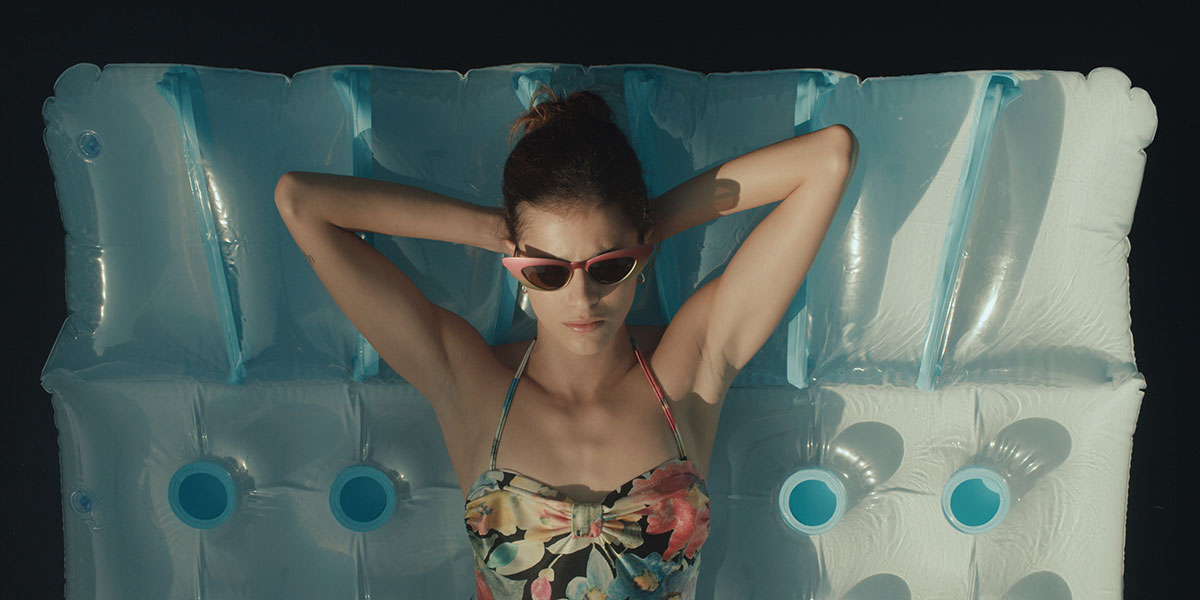 Official synopsis: Amanda (Benedetta Porcaroli) has returned home to Italy and her family after a few years studying in Paris. It's her first summer back and it's clear the long weeks ahead of her are devoid of any plans. She has no friends (the housekeeper is her closest thing to a confidante), doesn't get along with her family and generally doesn't seem to fit in. Her mother reminds her of a friend's daughter whom Amanda was close with as a child. And so, with little else to do and no one to entertain her, Amanda decides to seek her out. Rebecca (Galatéa Belluggi) has not only stayed at home since they were last in contact, her agoraphobia has kept her mostly inside it. The combination of both women's neuroses only accentuates Amanda's desire to rekindle the friendship, even if it's a situation that no one seems likely to profit from.
---
MAD ABOUT THE BOY – THE NOËL COWARD STORY
Director: Barnaby Thompson
U.K. & Irish Release: June 2
U.S. Release: TBA
Official synopsis: Noël Coward grew up in poverty and left school when he was only nine years old. He was queer in a very straight world. And yet by the age of 30, he was the highest paid writer in the world, and a star on the Broadway stage.
One of the most important figures of the 20th Century. Noël Coward wrote, directed and acted in some of the finest plays and movies of all time, including Private Lives, Blithe Spirit, Brief Encounter and In Which We Serve, also discovering great talents such as John Gielgud, Laurence Olivier and David Lean. He became a world renowned songwriter and performer, of whom Frank Sinatra said, 'If you want to hear how a song should be sung, go see Mr Noël Coward'.
The film features Laurence Olivier, Maggie Smith, Peter O'Toole, Harold Pinter, Frank Sinatra, Lauren Bacall, Michael Caine and Lucille Ball.
---
THE OLD MAN MOVIE: LACTOPALYSE
Directors: Oskar Lehemaa & Mikk Mägi
U.K. Release: June 2
Official synopsis: An outrageous road movie about The Old Man and his grandkids in a 24 hour race against time to stop a milky madman hell-bent on killing his prized cow to save the world.
---
REALITY
Director: Tina Satter
U.K. Release: June 2
U.S. Release: out now on Max!
Full Review: Reality (2023) Film Review
Official synopsis: Tina Satter's gripping directorial debut REALITY was a critically acclaimed breakout at the Berlin Film Festival and will be released in UK & Irish cinemas 2nd June. In an enlightening snapshot of recent U.S. history, Emmy Award nominee Sydney Sweeney (Euphoria, The White Lotus) stars in the incredible true story of a young woman who stirred up a media storm when she leaked a classified report about Russian interference in U.S. elections to the press.
---
WAIT FOR ME
Director: Keith Farrell
U.K. Release: June 2
U.S. Release: TBA
Official synopsis: Wait for Me is the story of Alison trapped in a life of crime but looking to escape. When she meets Sam, a damaged man with a troubled past, he opens Alison's eyes to the fact that life can be a beautiful thing if you meet it halfway. They hit the road in search of the child she abandoned with her sister Karen. Plagued by regret Alison tries to reconnect with her child. Her demons come back to haunt her, as pimp Max tracks them down. Alison realises she must confront Max to protect her family from the sins of her past.
---
WOOLF WOMEN
Directors: Marchella De Angelis.& Jennifer Schauerte
U.K. Release: June 8
U.S. Release: TBA
Official synopsis: Woolf Women: Now or Never is a self-filmed diary about a group of five downhill boarders who take to the open road and skate wherever they find opportunity. Their destination is Sumela – an ancient monastery perched high in the Pontic Mountains, where no skateboarder has ventured before.
---
MEDUSA DELUXE
Director: Thomas Hardiman
U.K. Release: June 9 in cinemas, August 4 on MUBI
U.S. Release: TBA
Official synopsis: After a stylist is found dead, the remaining competitors try to uncover the killer over the course of an evening, Rivalry and mistrust build as the remaining group of determined contestants suspect that someone may be trying to rig the competition, by gruesomely picking off its entrants.
---
LOVE WITHOUT WALLS
Director: Jane Gull
U.K. Release: June 9
U.S. Release: TBA
Official synopsis: Sophie and Paul (an aspiring musician) can't pay their London rent and turn to friends and family for support. Over the course of a summer, things go from bad to worse: The couple lose everything and find themselves lost in the underbelly of life on the streets. Though frustrated, their good humour and positivity land them odd jobs and a temporary shelter. A story of love, hope and survival in the darkest of times.
---
INLAND
Director: Fridtjof Ryder
U.K. Release: June 16
U.S. Release: TBA
Official synopsis: INLAND is a modern folktale that explores the fractured identity of a young man after the mysterious disappearance of his mother. Guided by a father figure and old friends who care deeply, his journey through the dreamlike spaces of rural England brings him face to face with the loss that haunts him in ways he could never have expected.
---
PRETTY RED DRESS
Director: Dionne Edwards
U.K. & Ireland Release: June 16
U.S. Release: TBA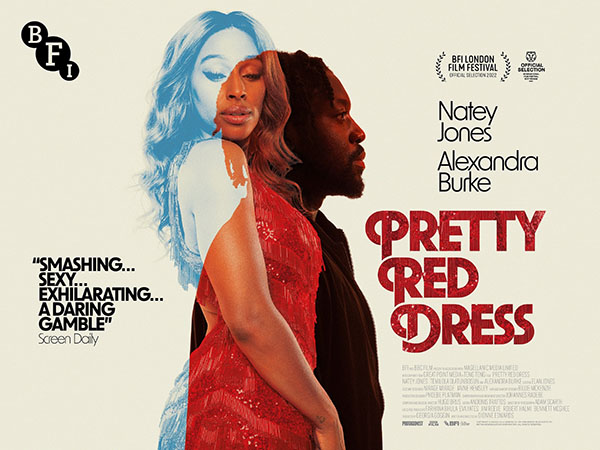 Official synopsis: Travis (Natey Jones) has just been released from prison and it quickly becomes apparent that everything's changed while he's been gone. While girlfriend Candice (Alexandra Burke) is on the up and auditioning to star in a musical, teenage daughter Kenisha is struggling in school and her relationship with her mum is tense. When Travis buys Candice her dream dress for an audition, rather than smoothing over the family's problems, it ends up creating even more… As secrets and desires left unsaid threaten to spill out, Travis is forced to re-examine who he is and how he wants to be perceived in the world.
---
SUNLIGHT (LIMITED)
Director: Claire Dix
U.K. & Ireland Release: June 16
U.S. Release: TBA
Official synopsis: Former-addict Leon (Ward) loves his best friend Iver (Carney) more than anything else in the world. Iver's the reason he's clean and romping about the place like a wild pinball. So when Iver gets a terminal diagnosis and decides to leave this earth early, Leon's not about to let him go without a fight, even if it means being a royal pain in the arse. He forces Iver to agree to one last day in Dublin, hoping to convince him to live. Will he succeed? The outcome knocks both of them off course: some things are so wrong they're right….
---
THE SUPER 8 YEARS
Director: Shô Miyake
U.K. Release: June 23 in cinemas and on Curzon Home Cinema
U.S. Release: out now on digital and on demand!
Official synopsis: Nobel Laureate and internationally acclaimed writer Annie Ernaux transforms her home movies into a fascinating exploration of self and family life.
---
HELLO, BOOKSTORE
Director: A.B.Zax
U.K. Release: June 30
U.S. Release: out now on digital and on demand!
Official synopsis: In the shadow of the pandemic, a small town rallies to protect a beloved local bookstore. A landmark in Lenox, Massachusetts, The Bookstore is a magical, beatnik gem thanks to its owner Matt Tannenbaum, whose passion for stories runs deep. This intimate portrait of The Bookstore and the family at its heart offers a journey through good times, hard times, and the stories hidden on the shelves.
---
LA SYNDICALISTE
Director: Jean-Paul Salomé
U.K. Release: June 30
U.S. Release: TBA
Official synopsis: Maureen Kearney (Isabelle Huppert) was the head union representative of a French multinational nuclear powerhouse. She became a whistleblower, denouncing top-secret deals that shook the French nuclear sector. Alone against the world, she fought government ministers and industry leaders tooth and nail to bring the scandal to light and to defend more than 50,000 jobs. Her life was turned upside down when she was violently assaulted in her own home. The investigation was carried out under pressure: the subject was sensitive. Suddenly, new elements created doubt in the minds of the investigators, and at first a victim, Maureen became a suspect.
---
SMALL, SLOW BUT STEADY
Director: Shô Miyake
U.K. Release: June 30 in cinemas and on Curzon Home Cinema
U.S. Release: TBA
Official synopsis: Keiko is a young pro boxer with a hearing impairment. Although boxing is a real challenge for her, the club she belongs to is like a second home. After surprising everyone by winning her first two professional fights, she soon learns that the club chairman, the only person who had believed in her as a boxer, is plagued by health issues and the gym is about to shut its doors for good. Confused about what the future holds, Keiko prepares for her third professional bout but perhaps the biggest challenge she faces is trying to understand the true nature of her will to fight.
---
READ ALSO: