(Clem Onojeghuo, Pexels)
---
Movies possess the incredible ability to transport us into different worlds, evoking many different emotions thanks to their immersive nature and the captivating stories they tell. Each genre brings something different, keeping our eyes glued to the screen as we follow the film's characters and forget about everything else around us. But within the realm of cinema lies a category that's even more captivating: that of films about cinema, which pay tribute to the medium's own enchanting nature.
In these movies, film serves as both subject and object for celebration, exploration, and analysis alike. Filmmakers get to show us the exact moment in which they fell in love with cinema, and this often produces highly personal films: last year alone, Steven Spielberg, Damien Chazelle and Sam Mendes gave us three unforgettable gems, The Fabelmans, Babylon, and Empire of Light, each looking at a different side of cinema but all of them deeply affecting nonetheless.
Ranging from timeless masterpieces to modern gems in their own right, these movies offer distinct insights into our beloved medium of expression. So get your movie clapper ready and join us for a journey through 5 exceptional films about cinema!
---
1. Singin' in the Rain (1952)
Gene Kelly & Stanley Donen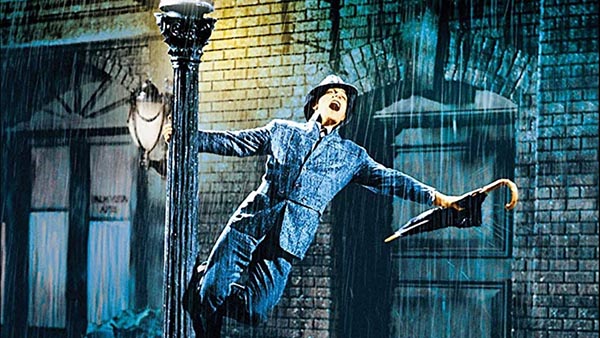 There wouldn't be a better film to start with than Singin' in the Rain, not only one of the most referenced and beloved musicals to have ever been made, but an absolute gem of a movie that's considered to be one of the best films of all time.
The film is set in the 1920s, during the decline of Hollywood's silent movie era, when films went from silent to sound – or, as they were known back then, "talking pictures," or "talkies". At the center of it all are Don Lockwood (Gene Kelly) and Lina Lamont (Jean Hagen), two incredibly successful movie stars who struggle to adapt to "talkies," mainly due to the fact that the latter's voice clearly doesn't match her public persona. And so, Don devises a plan that involves his latest crush, studio singer Kathy Selden (Debbie Reynolds), secretly dubbing the oblivious Lina. Of course, things don't go exactly as planned, and chaos ensues.
Singin' in the Rain pretty much has it all. If you haven't seen it yet and you think you have an idea of what it might be like, think again: this timeless classic was made in 1952, but it hasn't aged a day. Not only is it jam-packed with sensational, hypnotic musical numbers, but it is absolutely hilarious, thanks to a flawless script, superb acting, impeccable choreographies. But as well as being all of these things, it's also a lesson about an era of cinema that was hugely important, giving us insight into the time that shaped the industry as we know it while keeping us entertained with its charm and endearing characters.
---
2. La La Land (2016)
Damien Chazelle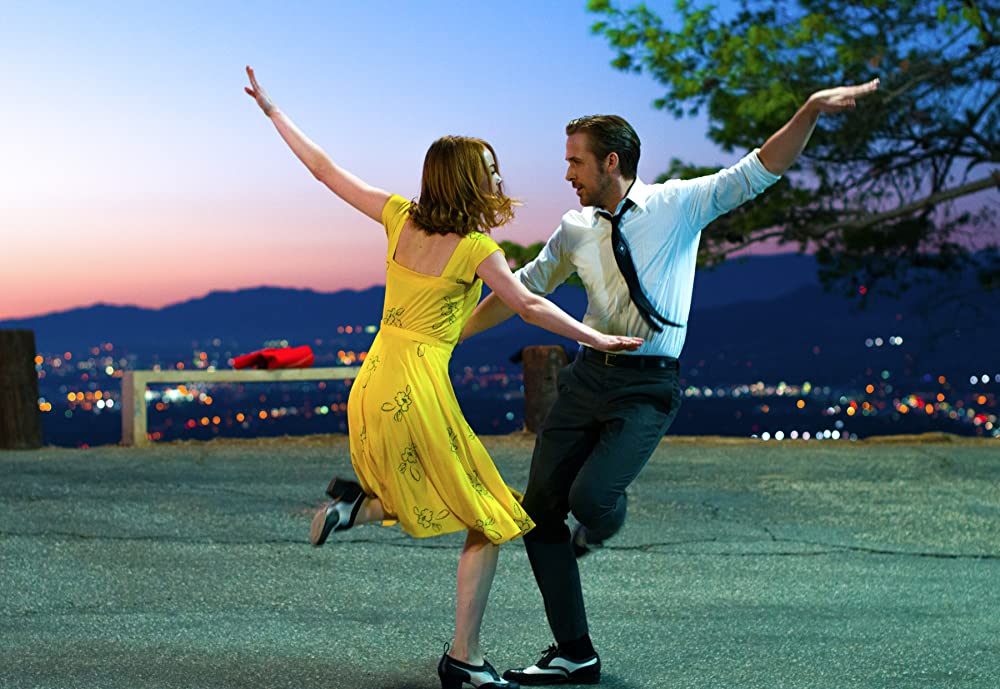 If Singin' in the Rain was highly influential for the genre of musicals as a whole, La La Land also marked an achievement for director Damien Chazelle, who managed to bring the charm of spectacular musicals of the past back on the big screen, while also adding meaningful commentary on the current state of the industry. But more than that, La La Land is the film that really manages to convey Damien Chazelle's views on sacrifices and dreams: the filmmaker depicts the American Dream as an ideal that can be achieved, but that will also deprive you of the experiences and desires that define us as humans.
La La Land's main characters are Sebastian (Ryan Gosling) and Mia (Emma Stone), two strangers who happen to meet one another and immediately realize that they are both driven by their desire to achieve their dreams – the former to open a jazz bar, and the latter to become a successful actress. But as they get closer to these dreams, they are also slowly torn apart by them, a little at a time, until the time comes to make a choice that will affect their lives forever.
Both a love story and a film about the nature of success, this dazzling musical has two leads with stellar chemistry and a brilliant score, and it also serves as a tribute to the vibrant city of Los Angeles, unfolding in all its vivid splendor.
---
3. Sunset Blvd. (1950)
Billy Wilder
Here's another all-time classic that might just be the most notorious film about cinema ever made. Not unlike Singin in the Rain, Billy Wilder's 1950 masterpiece revolves around a silent film star who struggles to adapt to the times. But the origin of Norma Desmond's (Gloria Swanson) problems is not the advent of "talkies", but the fact that she's simply not relevant anymore. But Norma refuses to accept that her career is over and is determined to get back in the spotlight. How? With a very bad script she has written for a film about Salome, that she is determined to bring to the screen.
And so begins one of the greatest black comedies of all time, which also happens to be a very clever analysis of fame as well as the character study of a manipulative but very human protagonist. You absolutely won't be able to predict where Sunset Blvd. is going, and the genuine charm of its hilarious script, combined with excellent acting, will keep you hooked from start to finish.
---
Boogie Nights (1997)
Paul Thomas Anderson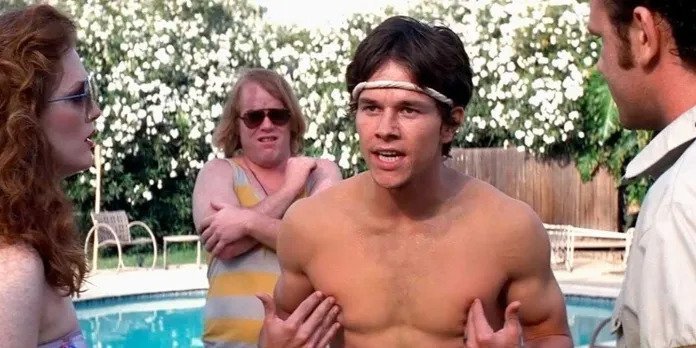 Writer-director Paul Thomas Anderson's most popular and beloved film is set in the 1970s, and explores a very specific side of filmmaking: that of the pornographic industry. At the center of it all is a young man named Eddie (Mark Wahlberg) who is discovered by a adult film director (Burt Reynolds) who turns him into the next big porn star. Boogie Nights revolves around Eddie – or "Dirk Diggler," to use his professional name – and his group of friends, showing us the rise and fall of our unwitting protagonist and giving us a lesson about the dangers of success and excess.
See Also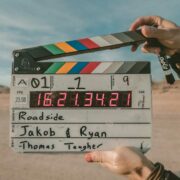 Boogie Nights is a film that shouldn't work and yet it does, due to the creative talent of a director who was just starting out, and who would go on to make even more iconic hits. Not only did it put both PTA and star Mark Wahlberg on the map, but it also boasts an all-star cast including Julianne Moore, Don Cheadle, John C. Reilly, Burt Reynolds, and Heather Graham. It's a film that needs to be seen to be believed, and that you'll end up revisiting over and over again.
---
5. Hugo (2011)
Martin Scorsese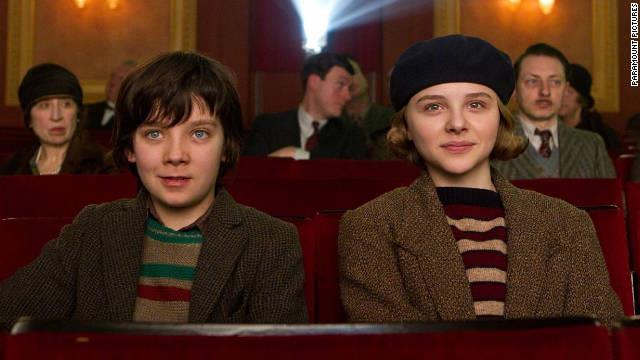 When one thinks about Martin Scorsese's filmography, Hugo hardly ever comes up, as it's often overshadowed by a filmography of masterpieces that pretty much defined cinema as we know it. But this 2011 flick from the Taxi Driver director absolutely deserves to be on this list, as it's an absolute gem of a movie.
Set in 1930, the film revolves around the titular Hugo Cabret (a very young Asa Butterfield), who lives in the walls of a train station in Paris, looking after its many clocks in the absence of his uncle, whose job it was to maintain them before he mysteriously disappeared. But what Hugo cares about the most is a broken automaton that his father (Jude Law) and he found together, years prior, and tried to repair, documenting their efforts in a notebook. When his father died in a fire, that task was left to Hugo, who thinks the automaton might even reveal a hidden message if fixed.
One day, the boy is caught trying to steal parts for his automaton from a toy store, whose owner, Georges (Ben Kingsley), takes his notebook as a punishment. But it's from that incident that Hugo's life begins to change, as he meets Georges' daughter Isabelle (Chloë Grace Moretz), and together they embark on a journey to solve the mystery of the automaton.
To say much more would ruin your experience, as Hugo's mystery becomes clearer a little at a time, and it's in that discovery that lies the real beauty of this poetic, heartwarming film, Suffices it to say that Georges Méliès, a real-life French illusionist and director who lived in the 1900s and had a huge influence on cinema, becomes a player in the film, too, and that's when we really start to grasp its real message. Not to be missed.
---
Runners Up: More Films About Cinema
All About Eve
The Artist
Being John Malkovich
Crimes and Misdemeanors
Hail Caesar
Last Tango in Paris
Lost in Translation
Man with a Movie Camera
The Nice Guys
Saving Mr. Banks