Zola: Social Media-Inspired Stripper Saga Is a Riotous Ride (Review)

Riley Keough and Taylour Paige in ZOLA, an A24 Films release. (Anna Kooris / A24 Films)
Zola is the defining dark comedy of the digital age, thanks to Janicza Bravo's daring direction and peerless performances from Taylour Paige and Riley Keough.
---

Given the staggering sway that social media holds over our society today, it was only a matter of time before we saw the first movie completely centered around a Twitter thread. You may have watched a movie based on a book or a motion picture adapted from a play, but Janicza Bravo's (Lemon) Zola holds the distinction of being the first film solely structured around a string of tweets, and if you think that sentence sounds absurd, you obviously haven't read Aziah "Zola" King's account of her wild weekend in Florida while on a "hoe trip" with a fellow stripper named Jessica – a weekend punctuated by prostitution, murder, and all other sorts of madness. It was a tale that seemed too screwy to be true, but alas, King's "Thotyssey" – as it was lovingly titled by "Black Twitter" – was no work of fiction, even receiving a deep dive analysis by Rolling Stone's David Kushner after it first caught fire, with Kushner verifying most of the adventure's authenticity. Naturally, such a larger-than-life story lent itself to a recreation on the big screen, and with Zola, Bravo has brilliantly turned this tumultuous stripper saga into classic cinematic entertainment with her stimulating style and supplemental spunk to spare, delivering what very well may be one of the must-see movies of 2021.
Like the Twitter thread that inspired it, Zola begins with that same instantly iconic question – "Y'all wanna hear a story about why me and this bitch here fell out?" – before immediately immersing audiences into Zola's (a terrific Taylour Paige, previously best known for Ma Rainey's Black Bottom) world of impending anarchy. The "bitch" in question is none other than the riotous Riley Keough's (Mad Max: Fury Road, The Devil All the Time) Stefani, a stripper Zola meets at the restaurant where she works and befriends almost at once, with the two quickly establishing a convincing chemistry and bonding over their passion for pole dancing. After dancing together at a club for one night, Zola thinks that's the last she'll ever hear from Stefani, but lo and behold, the next day, the gabby party girl is hitting her up again and trying to coax her into joining her, her boyfriend Derrek (Nicholas Braun, of Succession and Sky High), and her "roommate" X (Colman Domingo, of If Beale Street Could Talk and Euphoria) on a cross country road trip to Florida, where they could make major money at a number of high-end strip clubs. Intrigued by Stefani's intensity, Zola agrees, and soon, this foursome is on the road. Unfortunately, it quickly becomes clear that Stefani didn't disclose all of the details about this trip in her invitation, and over the next 48 hours, the girls will have to deal with pushy pimps, ghoulish gangs, and a whole lot more lunacy.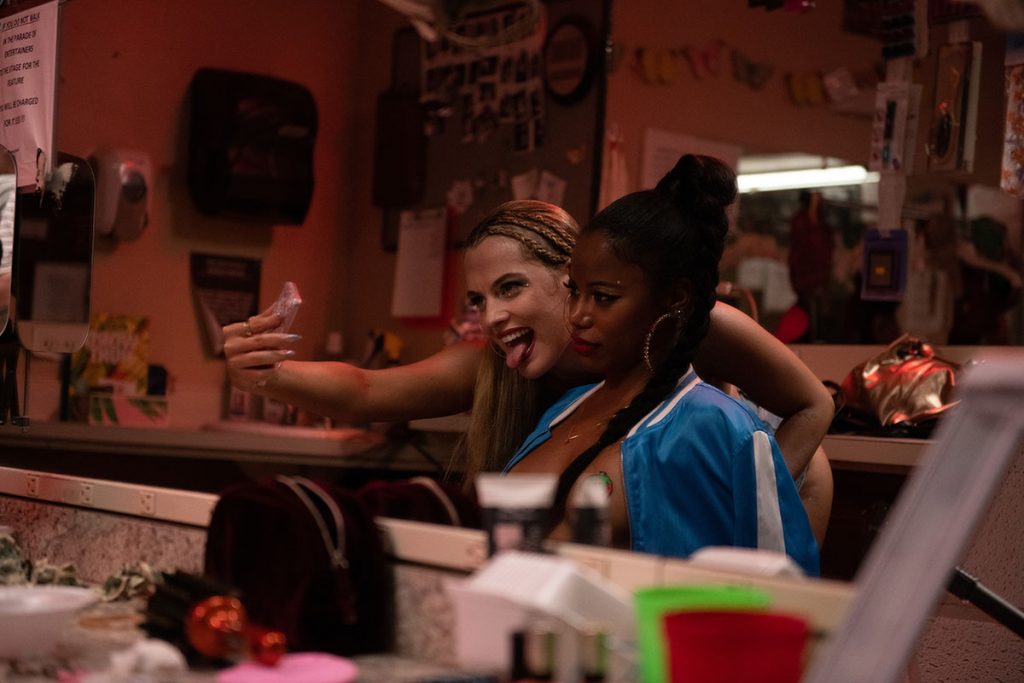 With a story this scattered, it's easy to see how Zola could have come apart at the seams, hopping from one outrageous scene to the next with little rhyme or reason. Thankfully, within mere seconds, Bravo proves herself to be a master of the film medium in the making, captivating audiences with her consuming – and singular – style where every filmmaking choice is carefully calibrated in order to maintain her movie's forward momentum and never let this wild ride run away from her. The way in which Bravo so quickly establishes control behind the camera is almost otherworldly; it's as if she's trapped us in a trance from the film's first scene, and that hypnotic aura she so considerately curates from the start is always present, conserving our concentration the whole way through. In an industry inundated with anonymous filmmakers, Bravo hastily asserts herself as a name to be known with her soon-to-be signature cinematic sensibilities, in a way not unlike the Safdie brothers in Good Time or Ari Aster in Hereditary. Her authoritative dynamism as a director assures that you won't be watching Zola absent-mindedly – and that you'll surely remember her talent until the end of time.
Equally as engrossing is the sensitive but still sensual approach Bravo takes to shooting the film's strip club scenes. Similar to Lorene Scafaria's perceptive yet provocative work in 2019's Hustlers, Bravo frames Paige and Keough in a way that prioritizes their power above all else throughout their routines, luxuriating in the sumptuousness of their sexual prowess but refraining from objectifying their actions by always emphasizing the allure of their talent instead of the individual appeal of certain parts of their body. For Bravo, it's all about the comprehensive command of her characters, and that concept is capably conveyed to her audience through her compassionate camerawork. This empathy extends itself to her screenwriting as well, as while Zola's script – co-written by Slave Play's Jeremy O. Harris – never shies away from the absurdity of this group's struggles, it simultaneously (mostly) refrains from turning the cast into caricatures, honing in on the humanity of even the most preposterous personalities. It takes little effort to envision how Zola could have become a poor-quality parody that exploited King's experiences and positioned her as a figure to poke fun at, but Bravo and Harris balance the disparate tones of this crime caper comedy beautifully.
Of course, Zola would be nothing without actors able to wholly inhabit these idiosyncratic individuals, and Bravo is blessed with the compelling commitment of Paige, Keough, Braun, and Domingo. Paige may have made the most of her small role in last year's Ma Rainey's Black Bottom, but Zola is truly her moment to shine, and she makes the most of it, grounding these erratic exploits with her spellbinding sincerity and ensuring that this epic escapade doesn't fly off the rails. Keough meanwhile damn near runs away with the whole film, submitting herself to Stefani's senselessness with such delirious devotion that it's statistically impossible to not be awestruck by the actress's transformation here. In dialing her manic mannerisms up to an 11, Keough leans so far into foolishness that she strikes at something real, accomplishing the seemingly impossible task of providing this part with actual depth and dimension. As for the men, Braun is a delight as the dopey but decent-hearted Derrek, while Domingo is formidably frightening as the domineering and dictatorial X, a true terror for our two leads with a surplus of secrets up his sleeve.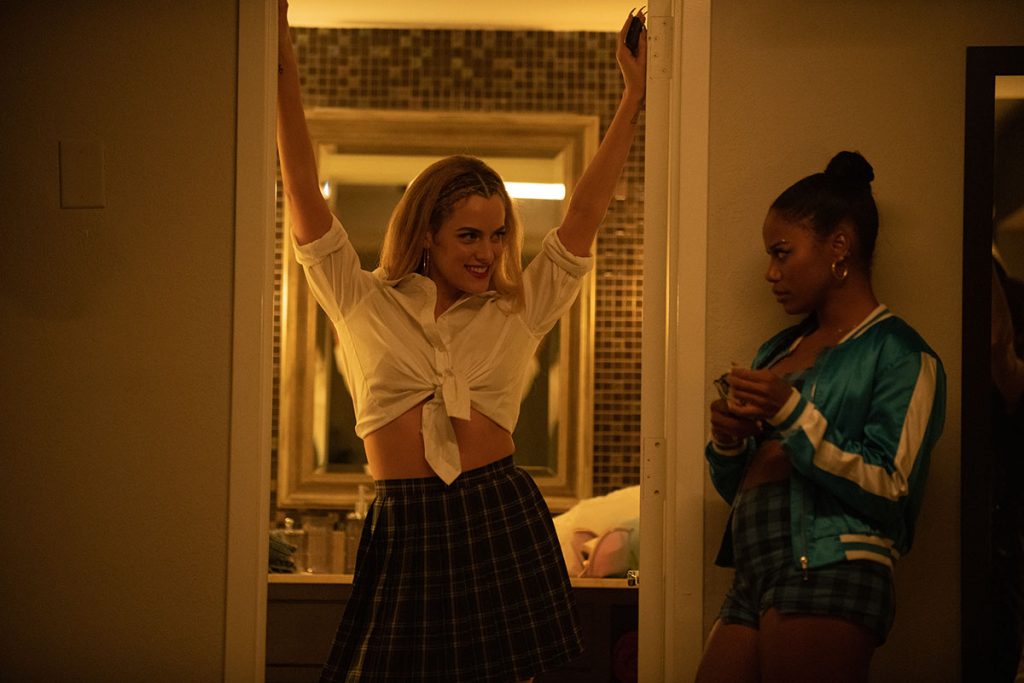 Additional shoutouts must be afforded to Zola's sound team, who shape a stunningly immersive sonic atmosphere for the film and ingeniously integrate tones such as tweet notifications into Mica Levi's (Under the Skin, Jackie) sensational score to make it truly feel as if we are living a Twitter thread come to life. Levi's compositions complement these additions attractively, with her melodic musicality making the film feel almost like a fairy tale, creating a curious contrast with the more anarchistic aesthetic. While she may not have many credits to her name yet, Levi is swiftly climbing the ranks regardless, and with her winning work in Zola, it's not hard to see why – there's no other current composer who can craft such uniquely alluring and unconventionally arresting scores for such a wide range of genres, and we wait with bated breath to see which project she pursues next.
In the end, some may be disappointed that Zola doesn't have much to "say" about social media or sex work (aside from the importance of preserving one's agency in these professions), and it does end rather abruptly (even leaving some chunks of the Twitter thread out of its conclusion), but the turbulent trip up until that point is far too engrossing and exciting to leave many – if any – filmgoers feeling frustrated. As a filmmaking flex for director Janicza Bravo, it's fantastic. As a showcase for the acting talents of up-and-comers like Taylour Paige and Riley Keough, it's sensational. And as pure old-fashioned original cinematic entertainment, Zola is extraordinary.
---
Zola will be released in US theaters on June 30, 2021.
---
JOIN US!
Don't miss our monthly updates with film news, movie-inspired recipes and exclusive content! You'll only hear from us once a month. #nospam