Euphoria: A Deep Dive into the Darkness of American Adolescence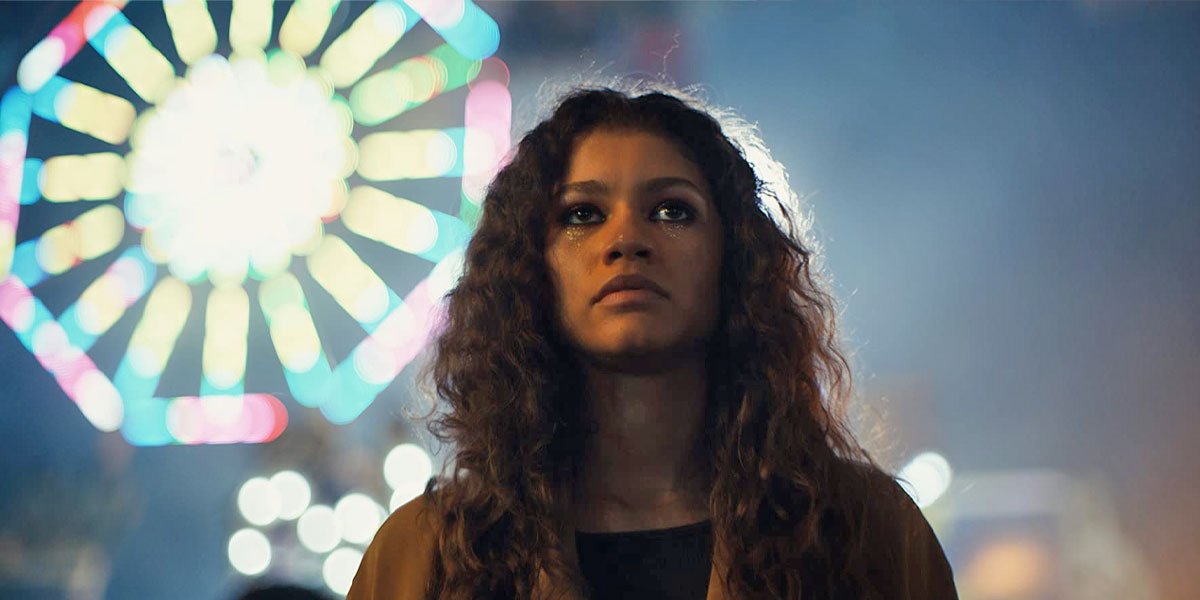 Zendaya in Euphoria (HBO)
Euphoria unflinchingly uncovers the terrors thrust upon today's teens with raw realism, requiring its audience's rapt attention.
---

Released at the start of summer 2019, HBO and A24's Euphoria instantly took the world by storm by audaciously approaching shocking subject matter and timely topics formerly labeled as "taboo" without hesitation. In sharp contrast with teen dramas of the past (think The Secret Life of the American Teenager, Gossip Girl, Glee, etc.), Euphoria didn't "sanitize" its story in the slightest, authentically analyzing the anarchy of adolescence and investigating the injurious ills of this generation that other shows – and society at large – had formerly ignored. While Euphoria's explicit expression of salacious sexual activity and unrelenting drug use threatened to turn off more easily offended onlookers, those who dug beneath the debauchery discovered a riveting and realistic representation of today's chaotic culture and the yearning of youth who wish to escape their excruciating existences.
With an expansive ensemble cast of characters all staving off their own singular struggles, it would seem like Euphoria could quickly become a disorganized disaster with too little time to allocate to each actor, but writer-director Sam Levinson's specific and structured scripts explore each high schooler's experiences as extensively and efficiently as possible. Right off the bat, Zendaya (Spider-Man: Homecoming, The Greatest Showman)'s Rue is our initial entry point into all of this pandemonium. As a recovering drug addict attempting to rebuild her relationships with her mother and sister and fashion a fresh start for herself amongst her peers post-rehab, Rue and her strains first come to symbolize the more sweeping societal strife of teens who find themselves embroiled in the endless enchantment of seductive self-medication, but she soon evolves into so much more than a mere means to a motif.
For all of the larger lessons that can be learned from Rue's ruination, Levinson adds considerable context to her characterization to prevent her from appearing as a tacky age-old "addict" trope; while her impulsive identity is continually constant, she also has a wondrous wit and a courageous commitment to her closest confidantes. Zendaya juggles both Rue's listlessness towards life and her inspiring intentions to improve quite well, as she never allows herself to completely concentrate on Rue's cynicism or exclusively exude enthusiasm either. Perhaps no statement better speaks for this stability than when Rue states, "I had a therapist once who said that these states will wax and wane, which gave my mother relief, because it meant that in the bad times, there would be good times. But it also gave her anxiety, because it meant that in the good times, there would be bad times."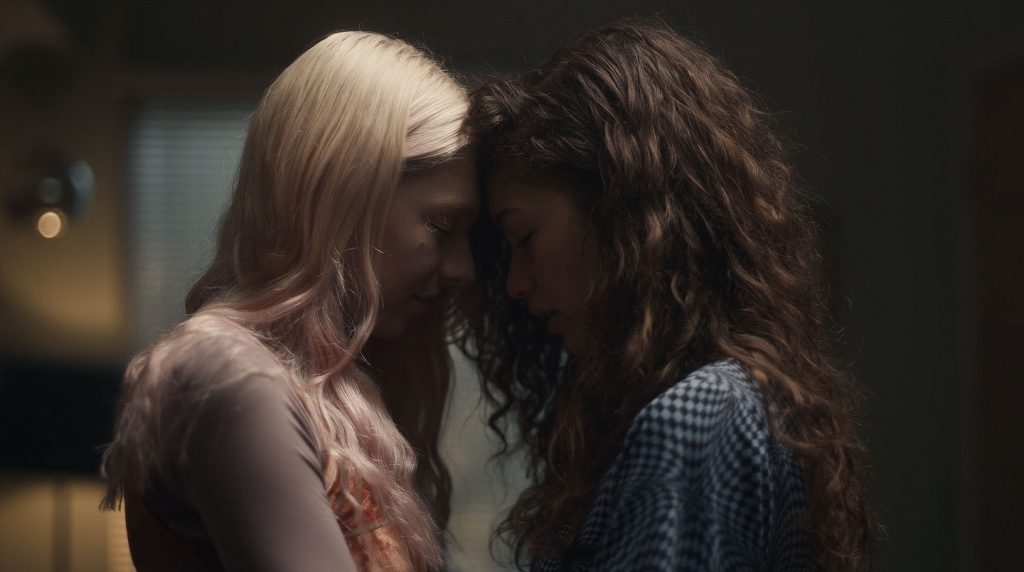 Every episode from then on out begins with an agonizing anecdote that accentuates the afflictions that every lead at the show's central high school setting has had to endure – with Alexa Demie's Maddy trapped in a toxic relationship, Barbie Ferreira's Kat battling her body-consciousness, and Sydney Sweeney's Cassie seeking to shy away from the "scandalous" sexual exploits of her past – before proceeding with the main plot, in which all of these characters clash with one another while individually attempting to attain "euphoria" via their pernicious pursuits. Even though Rue so sincerely states "Every time I feel good, I think it'll last forever – but it doesn't," this never stops anyone from trying.
Each teen is able to tell their own tempestuous truth, with Levinson's caustic commentary slicing through societal stigma left and right. The line "I know your generation relied on flowers and father's permission, but it's 2019, and unless you're Amish, nudes are the currency of love – so stop shaming us" catches our attention with its comedic candidness on slut shaming, while Rue's objective observation of Maddy's relationship ("It wasn't the violence that scared her. It was the fact that she knew no matter what he did, she'd still love him") slashes so sharply that it leaves a scar.
However, aside from the regularly radiant Rue, we most often find ourselves focusing on the feats of Hunter Schafer's Jules and Jacob Elordi's Nate as well – the two surefire standouts of the supporting cast.
Schafer, a transgender teen model making her acting debut, shines as soon as she shows up onscreen and seems as if she's been preparing for her shot at stardom her entire life. As the yin to Rue's yang, Jules is a joyful and jubilant ray of radiance, portraying the peace that Rue so passionately pines for, and though Jules' joviality does revitalize Rue's rush towards recovery, she stands on her own outside of Rue's story too as she tussles with her own troubles throughout the series. Most prominently, in spite of Jules' effervescent exterior, she still secretly aches for acceptance as a part of the residual pains from her pre-pubescent life (caused by her grim gender dysphoria, which is summed up in Rue's narration of her cheerless childhood in Episode 4), and she longs for love, which she mistakenly believes can be acquired in an array of anonymous hook-ups. Nevertheless, in spite of her sometimes scattered emotional state, Schafer plays Jules with perky poise and compelling confidence, refusing to let her be a part of any "tragic" trans plots that have been performed to death by this point, and her self-assuredness is nothing short of stunning.
As for Elordi's Nate, Euphoria uses this monstrosity of a man to tackle themes of "toxic masculinity" in its intricate and innovative inspection of these storied stereotypes. Nate adheres to common conventions of this kind of character (he's a star quarterback, he's dating a cheerleader, he's gloriously good-looking), and he has familiar faults (he drinks too much, he has anger issues, he's routinely rough in his relationship), but instead of being satisfied with the "same old, same old," Levinson and Elordi fully flesh out his flaws and build up a brutal backstory that partially explains – while never excusing – his evil, and they even leave a little of his madness to mystery, just as we lack certain insights into these individuals in our real lives. In lesser hands, Nate's amplified aggression (especially towards Demie's Maddy, his abused on-again/off-again girlfriend) and his manic-depressive mood swings might come across as artificial or absurd, but Levinson's sharp, sensitive scripts and Elordi's assertive acting allow him to come off as a convincing and credible creation – sometimes, spookily so.
Though Levinson's skill at shuffling so many stormy storylines is quite stupendous, his direction is just as deliriously dynamic, and it comprehensively captures the chaos of his characters' complications. Son of the brilliant Barry Levinson (Rain Man), Levinson had only directed two feature films (2011's Another Happy Day and 2018's acclaimed Assassination Nation) before taking on this HBO odyssey, but each experience helped him handle dark drama and sharpen his stylistic savviness prior to engaging in his most expansive effort yet, and that preparedness is palpable. With a camera that constantly seems to have a mind of its own, tumultuously tracking through throngs of people to trail each teen throughout their trials and tribulations, Euphoria maintains a mesmerizing momentum, but Levinson never misses a beat, knowing exactly when to increase the intensity and exactly when to pull back and provide a (brief) reprieve to the restlessness. His commanding control consumes you, and for every one-hour episode, you're unable to flee from his fascinating forcefulness as a filmmaker.
Levinson admittedly receives astounding assists from cinematographers Marcell Rév (Assassination Nation), Drew Daniels (Waves), Adam Newport-Berra (The Last Black Man in San Francisco), and André Chemetoff (IO) – who all film the show's spectacle with a ferocious fervor – and editors Julio Perez IV (It Follows), Harry Yoon (The Best of Enemies), and Laura Zempel (Room 104) – who cleverly cut between character to character with chutzpah and piece together the past and the present in a satisfying style – but this whole crew is only as outstanding as it is because they coordinate their creative contributions so competently. This commendable collaboration is perhaps best presented in Episode 4 – entitled, "Shook Ones, Pt. II" – in which a plethora of plotlines converge at a cacophonous city carnival, and riotous revelations coincide with and clash with the extravagant event at hand in frantic but fulfilling form. Set to Labrinth's stimulating score, this staggering sequence is a spectacular symphony showcasing coherent collective craftsmanship at its finest, in which every worker equally pulls their weight to produce a wondrous whole that is greater than the sum of its parts.
Euphoria will be an extreme experience for many – either due to its controversial content or to its frenetic filmmaking – and its sporadic storytelling may turn off those looking for a more "straightforward" series, but by riding with Euphoria until the bitter end, one will see that there is a reason for all its rowdy raucousness. This clamorous chronicle, told so turbulently, could not have conveyed the truth of today's teens in a "cleaner" or more "comprehensible" construction, as it would have then given up its genuineness. As it stands, Euphoria is the definitive depiction of the difficulty and darkness of American adolescence at this present moment, and this illuminative illustration should not be brushed aside.
---