The Tragedy of Macbeth (Review): Shakespeare Adaptation Stuns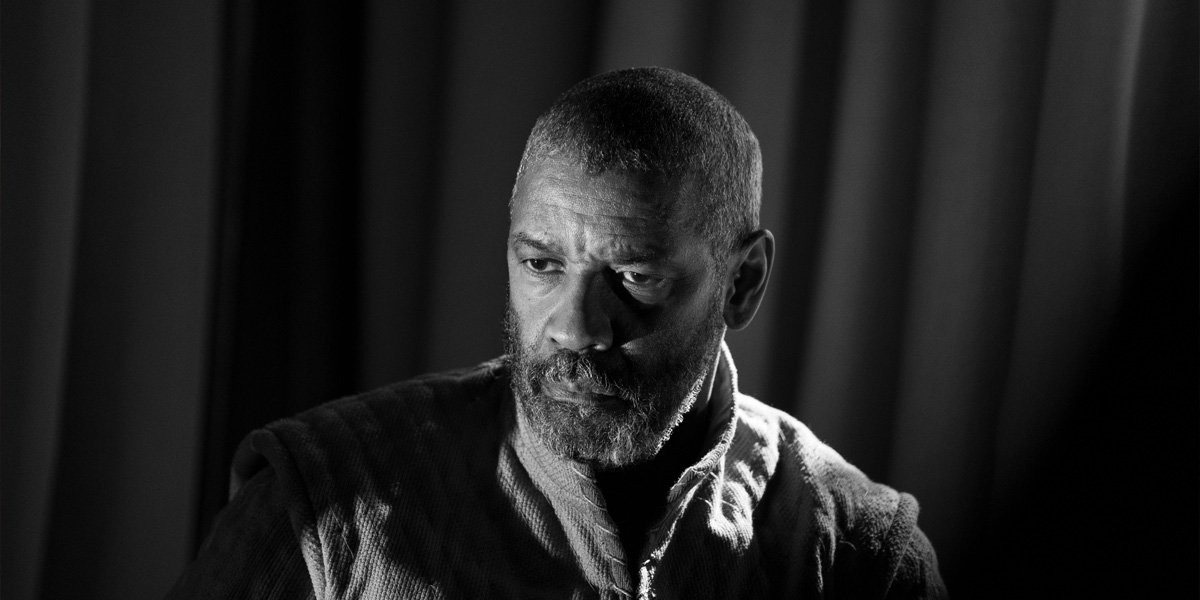 Denzel Washington in The Tragedy of Macbeth (A24)
The Tragedy of Macbeth is a near-flawless piece of filmmaking, powered by towering turns from Denzel Washington and Frances McDormand.
---

Shakespeare film adaptations are a dime a dozen, and you'd be forgiven if you found it hard to differentiate one from another – if you're not familiar with the Bard's prose, it can feel like a foreign language, causing all his works to blend together after a while. However, every now and then a true auteur enters this cinematic space and makes the material their own, suffusing it with a style that surprises even the most ardent Shakespeare admirers, who think they've seen it all. Therefore, when it was announced that Joel Coen – of No Country for Old Men and Fargo fame – would be adapting one of Bard's most acclaimed plays, "The Tragedy of Macbeth", anticipation among cinephiles was understandably through the roof. Though Coen and his brother Ethan first made their mark in the industry with a crop of celebrated black comedies (the aforementioned Fargo, The Big Lebowski, etc.) they've excelled equally when they dare to dive into darker fare as well, winning their Oscars for No Country and reimagining Western classic True Grit in similarly riveting fashion. Given Macbeth's stark and somber subject matter, Coen's cool and consummate command behind the camera seemed like a perfect fit – but few could've ever imagined such an intricately constructed and hauntingly compelling take on the timeless tale as this.
For those who have not been exposed to Shakespeare's epic tragedy over the past four centuries, the story is as follows: upon returning from war, the mighty Macbeth (Denzel Washington, of Training Day and Malcolm X), the Thane of Glamis and a general of the daring King Duncan, receives a prophecy from a petrifying trio of witches, who proclaim that he is destined to one day be the King of Scotland himself, succeeding Duncan. Though initially skeptical of their statements, his wickedly conniving wife, the lively Lady Macbeth (Frances McDormand, of Three Billboards Outside Ebbing, Missouri and Nomadland) urges him to act on his ambitions and propel himself into this regal position sooner rather than later. Together, the two produce a plan to murder Duncan and take this power for themselves, succeeding and subsequently supporting claims that the slaying was carried out by his two sons, Malcolm (Harry Melling, of Harry Potter and The Queen's Gambit) and Donalbain (Matt Helm, of Greyhound and The Kitchen). However, the two's triumph is short-lived, as they begin to succumb to the guilt surrounding their gory schemes, forced to commit more murders to keep their transgressions secret, which only intensifies their inner anguish. And, as Macbeth goes mad, another Thane – the Lord Macduff (Corey Hawkins, of BlacKkKlansman and In the Heights) works to stage a civil war to save Scotland from his tyranny.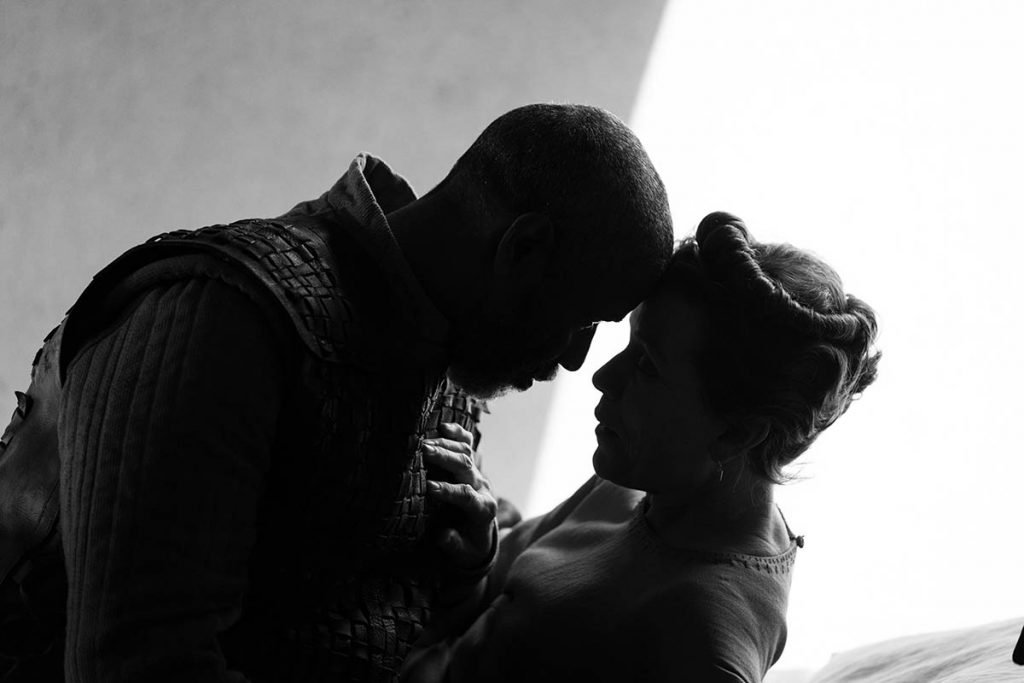 For the most part, Coen offers a straight adaptation of Shakespeare's words with The Tragedy of Macbeth, refraining from adding any of his signature devilishly dark dialogue and instead merely excising certain scenes and subplots from the source material to speed up the story ever-so-slightly. While the first act certainly could've used a bit more time to breathe (Macbeth's descent into madness is a tad too accelerated at the start), the second and third acts are so skillfully saturated with suspense regarding Macbeth's ever-escalating rage and the rising rebellion that we're able to mostly forgive this subtle stumble, given how powerfully the film lands its final punches.
And, thankfully, the timeless themes remain intact and as relevant as ever, probing Macbeth's psyche to peek at the corruptive cost of political power grabs and coaxing us to consider that age-old question, "Does Macbeth act as a pawn of fate or on his own freewill?" To this day, scholars squabble over the answer, and while Coen too leaves The Tragedy of Macbeth appealingly ambiguous, there's enthralling evidence here to support the claim that, while the Witches' prophecy may have always manifested eventually, the manner in which it manifests was up to Macbeth himself, rendering him wholly responsible for the chaos that unfolds (and, as in any time period in which Macbeth is performed, it's hard not to see the parallels between this despot and today's petulant political figures).
Elevating The Tragedy of Macbeth tremendously are the talents of the two Oscar winners anchoring the affair. It's no surprise to state that Washington and McDormand are undeniably stellar at inhabiting such incredibly iconic Shakespeare characters, but the dynamic depth they bring to these roles is utterly ravishing nonetheless. These classic monologues – "Tomorrow and tomorrow and tomorrow," "Out, damned spot!" etc. – are made new again in the mouths of two of the most gifted thespians of our time, somehow mined for novel meaning even after being performed in productions for centuries. As Macbeth, Washington wisely withholds his fervor and ferocity until his final act, shocking those who might say he's "underplaying" it at the start with such a deft and disturbing depiction of delirium. Expectedly, McDormand is very much his equal, making her Lady Macbeth more multidimensional than past incarnations by expanding on her emotional response to their perilous plots. Sure, her sinister spirit is still intact as she meticulously puts their plans in motion, but there's an affecting anguish that materializes after the fact that only an actress of McDormand's caliber could conjure up, tempting us to feel for a figure who has been otherwise been often reduced to the "insidious antagonist" in lesser interpretations. Here, McDormand – and Coen – cherish her complications.
And, though they take part in the plot in supporting capacities – sometimes limited to a single scene – Kathryn Hunter (as the wildly cryptic witches who first send Macbeth down this precarious path), Alex Hassell (as the ever-enigmatic Ross, a Thane of Macbeth's who continually keeps audiences guessing regarding his true allegiance), and Moses Ingram (as the miserious Lady Macduff, caught between the battle of her husband and Macbeth) all easily hold their own alongside Washington and McDormand, sometimes even threatening to steal the show. However, perhaps above all else, The Tragedy of Macbeth is a technical treat from top-to-bottom, starting with Bruno Delbonnel's (Harry Potter and the Half-Blood Prince, Inside Llewyn Davis) consuming cinematography, which offers the best photography in cinema that you'll see this year. Practically every frame could be a painting, with each composition captivating crowds aesthetically and thematically, permeated with true purpose. Simply put, it's a perfect complement for Coen's deliberate and distinguished direction, with the two in constant communication about the atmosphere and ambiance of any given scene. Lastly, one would be remiss not to steadfastly praise the stunning sound work on display, bringing those infamous "knocks" that cloud Macbeth's conscious to life and often brilliantly blending them with the noises of drops of blood falling to the floor or swords slashing, making for a comprehensively chilling sonic climate.
If you've never been a fan of Shakespeare before, it's unlikely The Tragedy of Macbeth will change your mind – the language is left unaltered, and there's no time offered to bring "newbies" up to speed – but there's so much sumptuous visual and aural splendor being showcased here that it's hard to imagine not finding something to appreciate with Joel Coen's audacious adaptation regardless. And for those who do already count themselves among the Bard's devotees, well, you're in for a feast, with the Academy Award-winning auteur's stark style proving to be a perfect fit for the fierceness of this fable. It may be an acquired taste, but The Tragedy of Macbeth is still certainly one of the most engrossing cinematic experiences of the entire year.
---
The Tragedy of Macbeth will be released in theaters on December 25, 2021, and on Apple TV+ on January 14, 2022.