Ted Lasso Season 3 Episode 9 Review

Brett Goldstein, Brendan Hunt and Jason Sudeikis in "Ted Lasso" Season 3 episode 9, now streaming on Apple TV+. (Apple TV+)
Season 3 Episode 9 of Ted Lasso saves the best for last, with three epic moments that embody the Apple TV+ series' entire philosophy.
---
This review contains minor spoilers for Season 3 Episode 9 of Apple TV+'s Ted Lasso.
Over the course of Season 3, Ted Lasso delivered many different kinds of episodes. Some were hilarious, some predictable, others emotionally charged. And then there were those that made us dream, got our hopes up, and even completely took us by surprise. With only a few episodes left, it's easy to see where the show might be headed, and yet, each week, we can't wait to spend more time with AFC Richmond.
We've grown so accustomed to Ted Lasso's signature humour and heart that we're not just in it for the twists and laughs anymore. We keep watching the show because we've gotten to know these characters so well that they kind of feel like family. But then comes episode 9 and changes everything, reminding us of what's so good about the Apple TV+ show and proving that the series isn't done surprising us yet.
Episode 9 begins with a match: the team's change of strategy proved to be – to use Roy's (Brett Goldstein) words, "f*cking great," and AFC Richmond is more united than ever. But the same cannot be said of Keeley (Juno Temple) and Jack (Jodi Balfour), as our PR manager's boss-turned-girlfriend would appear to be ghosting her. And some relationship trouble might be in order for Nate (Nick Mohammed) too, as the "Wonder Kid" introduces his girlfriend Jade (Edyta Budnik) to Rupert (Anthony Head), who acts as his sleazy, patronising self right before he ominously asks Nate to join him for a "boys' night out".
But the main event of this week's episode is AFC Richmond's match against Chelsea, where the show addresses the Colin (Billy Harris)/ Isaac (Kola Bokinni) situation. After last week's celebrity footage leak, Isaac instructed everyone to delete all compromising pictures from their phones and insisted on double checking them himself, which is how he found out that Colin is gay. He reaction by shutting his friend out completely, which is exactly what he does in episode 9 too. But this shift of dynamics between the former best friends is affecting the team, even more so since an angry fan keeps yelling homophobic slurs from the bleachers, triggering Isaac even more.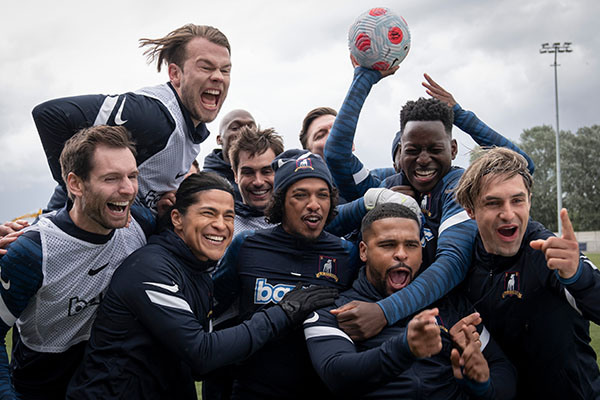 So, what exactly is going on with Isaac? Up till now, Ted Lasso hasn't given us much insight as to what the AFC Richmond captain might be thinking about his newfound discovery. And if you're worried about the character Isaac might be about to become, do not dispair. Episode 9 handles the Colin/Isaac situation extremely well, developing both characters' arcs in a clever way while also using Trent's (James Lance) presence to add more depth to the subject. Not only that, but it also educates us on how to "not not care" about the people we love when they trust us with their biggest secrets.
But Isaac and Colin aren't the only characters who surprise us in episode 9. This week also marks a new phase for Nate, who has finally acquired enough confidence to set up some much-needed boundaries. Not only that, but he has also finally learned to be vulnerable, which makes for an incredibly rewarding watch. Nick Mohammed absolutely shines as he gets to show us a completely new side of the West Ham coach, and one scene in particular will have you crying uncontrollably and letting out the biggest cheer of support, at the same time.
But the Ted Lasso writers also want us to know that they haven't forgotten about the show's key characters, starting from Roy Kent. Earlier in season 3, we got a beautiful speech from the former captain, who reminisced about his last matches with Chelsea and wished he hadn't stopped playing, back then. This week, it's time to find out what Roy's purpose really is, as Rebecca (Hannah Waddingham) tires of letting the coach "be Roy" and asks him the most frightening question of all: "what do you want?".
And so, our anger expert starts putting his skills to use, and what we get as a result is a much more mature and responsible human being, who's capable of giving the best advice and handling difficult situations while still remaining his wonderful, sarcastic self. And what we get in the end is one of the most memorable scenes of Season 3, which comes in the form of a lesson on how to treat others with respect, giving them the benefit of the doubt instead of judging them or yelling "abusive sh*t".
It's ultimately a lesson on love that Ted Lasso gives us in episode 9, through three different, equally powerful dynamics, and it feels more timely than ever. This week, I didn't laugh as much as I did when I first met Zava, nor was I as shocked as when Sam nearly lost his restaurant, or profoundly affected by anything that happened in it. Instead, I found myself cheering and smiling like a crazy person as I watched several characters say exactly the right thing, and realised how much they've all grown – and us with them. Next week couldn't come any sooner.
---
Ted Lasso's Season 3 Episode 9 is now streaming on Apple TV+.