Ted Lasso Season 3 Episode 3 Review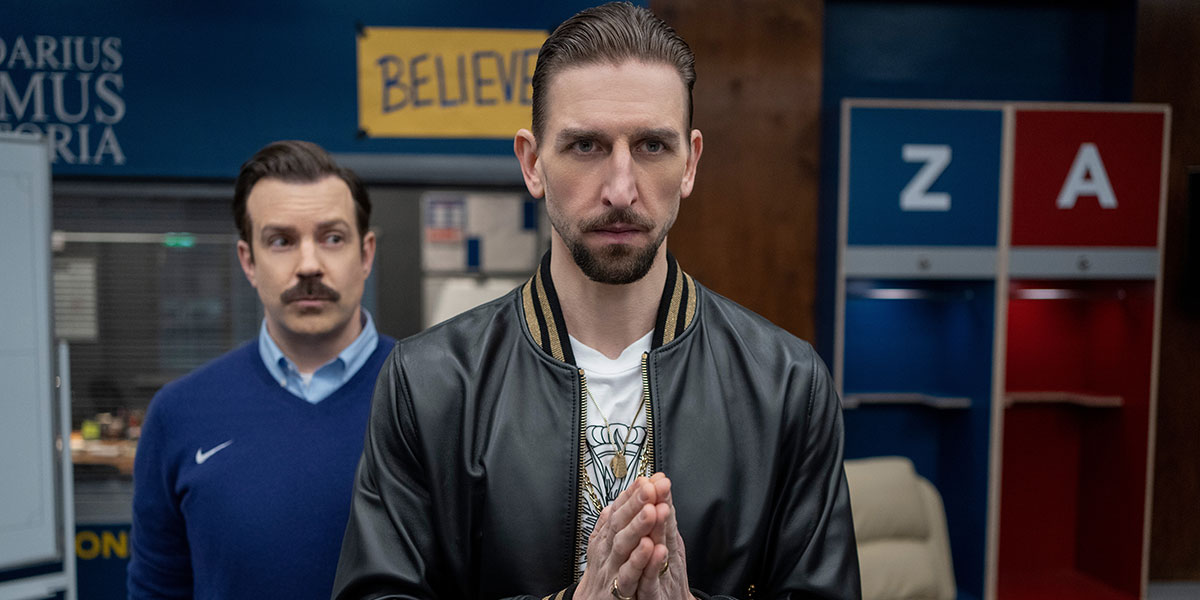 Jason Sudeikis and Maximilian Osinski in "Ted Lasso" Season 3 Episode 3, now streaming on Apple TV+. (Apple TV+)
Ted Lasso 's Season 3 Episode 3 gives us the character we didn't know we needed, confirming that changes are in order for AFC Richmond.
---
This review contains minor spoilers for Season 3 Episode 3 of Ted Lasso.
Who knew that what we were missing in Ted Lasso was a yoga-enthused, avocado loving shaman/Jesus with hilarious t-shirts, improbable advice, no personal boundaries and a talent for acrobatic poses, and who can't help but be adored by most of the people he meets? After the revelation at the end of last week's episode, we expected that changes would take place in Episode 3, with the arrival of a new player, but we did not expect this. Zava (Maximilian Osinski) is a walking, talking meme, and if all remaining episodes of Season 3 consisted of him being his hilarious, obnoxious self, I would be satisfied.
Season 3 Episode 3 of Ted Lasso is a great episode, and it's not only because of our new favourite player (who vaguely reminds us of someone, but that is another story). "4-5-1" gives us more of what we've always loved in the Apple TV+ series and also brings in something new. For example, we get hilarious, quotable one-liners from Ted (Jason Sudeikis), Beard (Brendan Hunt) and Leslie (Jeremy Swift), but also from Trent (James Lance), who immediately becomes our new hero after quoting the one film we were all thinking about — and the pear-loving fictional country where it's set — and making us feel all the feels. But we also get new, important developments between some of the players, more examples of healthy masculinity, mature discussions instead of conflicts, and (at last!) a queer relationship.
Let's start from the latter. The lack of LGBTQIA+ representation (besides a hint in Season 1 about Juno Temple's Keeley's possible bisexuality) in the show garnered criticism in the past, even more so since Ted Lasso is considered to be a groundbreaking series for its depiction of healthy relationships in a setting that's usually associated with toxic masculinity and homophobia. Many of us were wating for the Apple TV+ show to address this matter, and in episode 3, we get what we wanted, as it turns out that Colin (Billy Harris) is gay.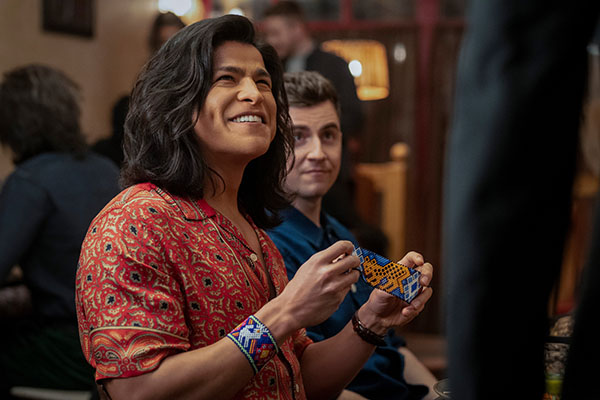 What Ted Lasso does really well in episode 3 is show us genuine affection between Colin and his boyfriend Michael (Sam Liu), with whom he interacts at several points throughout the episode. We also get some wonderful moments of vulnerability from a character who, up till now, has never been in the spotlight. As we watch him begin his day with the words "I am a strong and capable man," we realise just how strong he really is, for the courage he gathers up each day. We also get a beautiful moment between Colin and AFC Richmond captain Isaac (Kola Bokinni), who gives us another example of a healthy display of emotion between men.
At the same time, it's kind of a shame that Colin appears to be closeted. My first thought upon watching the episode was that it's 2023, and we have grown tired of the "coming out" trope. So many closeted gay men have been depicted on screen in the past, and what we want to see now are openly queer characters who love themselves for who they are and are accepted by the people around them, and whose narrative arcs don't have to be defined by them having to break the news to their friends and family.
On the other hand, even if there are finally starting to be openly gay footballers, homophobia in football is still very much an issue, and I can't blame Ted Lasso for showing us a situation — a young player bringing his "friend" to a public event with his teammates, who may or may not be aware that he's actually more than that — that may actually represent the majority of queer footballers, instead of the homophobia and fear-free scenario we'd like to see in an ideal world.
Colin's storyline will certainly be inspirational to many, and It's also too soon to tell what kind of narrative arc Colin will be given, especially given what happens at the end of the episode and Ted Lasso 's writers' talent for subverting our expectations. Who knows, we might even get to have an openly queer character by the end of Season 3, as judging by the direction in which one character in particular seems to be headed, we might be in for a surprise soon.
Episode 3 also shows us that Jamie (Phil Dunster) has grown a great deal throughout the series, and is much more mature than the stubborn "prima donna" we met in Season 1 of Ted Lasso. Though Zava's arrival doesn't please him, he shows much restraint and even the ability of calmly discussing the situation with Ted, Beard and Roy, which is a sign of great maturity. Since Roy no longer plays in AFC Richmond, Jamie might just become the new Roy Kent when the Zava hype blows over, as it's bound to do so eventually.
But changes are in order for Ted and Rebecca (Hannah Waddingham) too. The former makes a phone call that reveals a piece of information he previously ignored, which will definitely affect him in the future. And our AFC Richmond owner might re-evaluate her priorities soon too, as a visit to her mother's psychic and an interaction with former love interest Sam (Toheeb Jimoh) might affect her approach to her own life too.
With Zava on the team, the possibility of a friendship between Jamie and Roy, potential future crises for both Ted and Rebecca, and more attention on Colin, Sam and other players, it feels like Season 3 of Ted Lasso is just getting started. Bring on next week's episode!
---
Ted Lasso's Season 3 Episode 3 is now streaming on Apple TV+. Read our list of best rated shows on Apple TV+ according to Imdb!