Best Rated Apple TV+ Shows on Imdb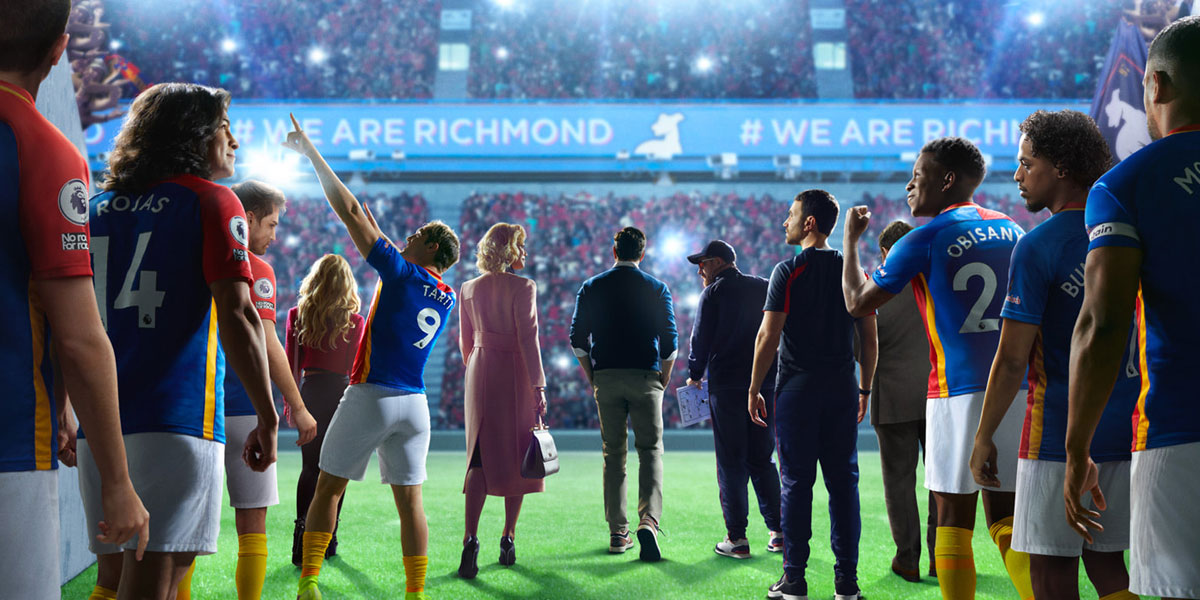 Ted Lasso Season 3 (Apple TV+)
A list of the best rated Apple TV+ shows on Imdb, from Ted Lasso to great sci-fi and comedy series out in the US, UK and worldwide!
If you ask anyone for a recommendation of a series to watch on Apple TV+, chances are your friends will pick Ted Lasso. But there are tons of great Apple TV+ shows to binge watch on the streaming provider, from new sci-fi and comedy series to beloved hits. We made a list of the best rated Apple TV+ shows on Imdb! You'll be able to stream them in the US, UK, and worldwide! Enjoy!
---
APPLE TV+ SHOWS: BEST RATED SERIES ON IMDB
20. 1971: THE YEAR THAT MUSIC CHANGED EVERYTHING
Rated on Imdb: 7.6
Official synopsis: In a tumultuous era, 1971 was a year of musical innovation and rebirth fueled by the political and cultural upheaval of the time. Stars reached new heights, fresh talent exploded onto the scene and boundaries expanded like never before.
---
19. TEHRAN
Starring: Niv Sultan, Glenn Close, Shaun Toub, Shervin Alenabi
Rated on Imdb: 7.6
Official synopsis: Tamar is a Mossad hacker-agent who infiltrates Tehran under a false identity to help destroy Iran's nuclear reactor. But when her mission fails, Tamar must plan an operation that will place everyone dear to her in jeopardy.
---
18. LITTLE AMERICA
Rated on Imdb: 7.6
Official synopsis: Inspired by the true stories featured in Epic Magazine, "Little America" will go beyond the headlines to look at the funny, romantic, heartfelt, inspiring and surprising stories of immigrants in America, when they're more relevant now than ever.
---
17. ACAPULCO
Starring: Eugenio Derbez, Enrique Arrizon, Raphael Alejandro, Camila Perez
Rated on Imdb: 7.7
Official synopsis: "Acapulco" tells the story of twenty-something Máximo Gallardo (Enrique Arrizon), whose dream comes true when he gets the job of a lifetime as a cabana boy at the hottest resort in Acapulco. He soon realizes the job is far more complicated than he ever imagined and in order to succeed, he must learn to navigate a demanding clientele, a mercurial mentor, and a complicated home life, without losing his way to shortcuts or temptations.
---
16. CALLS
Starring: Aaron Taylor-Johnson, Aubrey Plaza, Ben Schwartz, Clancy Brown, Rosario Dawson, Pedro Pascal
Rated on Imdb: 7.7
Official synopsis: "Calls" is a groundbreaking, immersive television experience based on the buzzy French series of the same name, masterfully using audio and minimal abstract visuals to tell nine bone-chilling, short-form stories. Directed by Fede Álvarez (Don't Breathe), each episode follows a darkly dramatic mystery that unfolds through a series of seemingly average, unconnected phone conversations that quickly become surreal as the characters lives are thrown into growing disarray.
Featuring Lily Collins, Rosario Dawson, Pedro Pascal, Aubrey Plaza and more, "Calls" proves that the real terror lies in one's interpretation of what they cannot see on the screen and the unsettling places one's imagination can take them.
---
15. MYTHIC QUEST
Starring: Rob McElhenney, Charlotte Nicdao, Danny Pudi, David Hornsby
Rated on Imdb: 7.7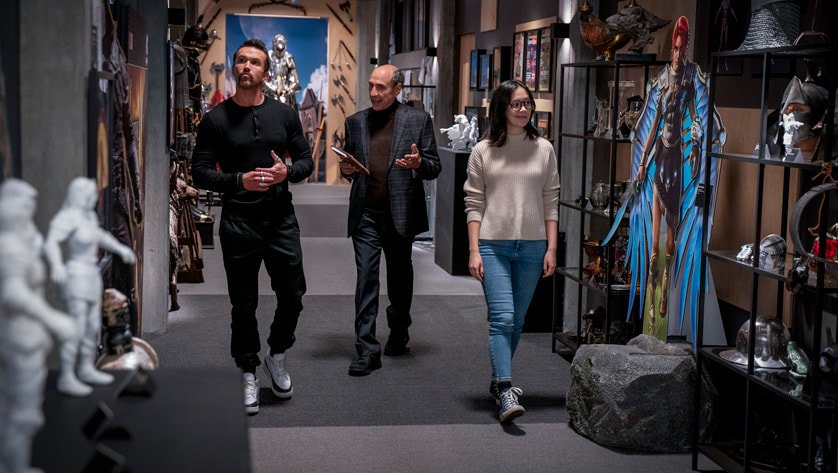 Official synopsis: "Mythic Quest" follows a group of video game developers tasked with building worlds, molding heroes and creating legends, but the most hard-fought battles don't occur in the game — they happen in the office. In season three, as Ian and Poppy navigate the gaming world and their partnership at the newly formed GrimPop Studios, Dana is forced to play mediator to her bosses' incessant bickering.
Back at Mythic Quest, David settles into his new role as the boss where he truly finds himself in charge for the first time with Jo returning as his assistant — more loyal and militant than ever; and Carol attempts to figure out where she fits in after a new promotion. At Berkeley, Rachel struggles to balance her morals with capitalism, while a post-prison Brad tries to return to society as a reformed man.
---
14. FIVE DAYS AT MEMORIAL
Starring: Vera Farmiga, Cherry Jones, Robert Pine
Rated on Imdb: 7.7
Official synopsis: Based on actual events and adapted from the book by Pulitzer Prize-winning journalist Sheri Fink, "Five Days at Memorial" chronicles the impact of Hurricane Katrina and its aftermath on a local hospital. When the floodwaters rose, power failed and heat soared, exhausted caregivers at a New Orleans hospital were forced to make decisions that would follow them for years to come.
---
13. THE LAST DAYS OF PTOLEMY GRAY
Starring: Samuel L. Jackson, Dominique Fishback, Cynthia Kaye McWilliams, Damon Gupton
Rated on Imdb: 7.8
Official synopsis: "The Last Days of Ptolemy Grey" stars Samuel L. Jackson as Ptolemy Grey, an ailing man forgotten by his family, by his friends, and by even himself. Suddenly left without his trusted caretaker and on the brink of sinking even deeper into a lonely dementia, Ptolemy is assigned to the care of orphaned teenager Robyn, played by Dominique Fishback. When they learn about a treatment that can restore Ptolemy's dementia-addled memories, it begins a journey toward shocking truths about the past, present and future.
---
12. DEFENDING JACOB
Starring: Chris Evans, Michelle Dockery, Jaeden Martell
Rated on Imdb: 7.8
Official synopsis: A family's lives are irreparably disrupted when the son is accused of murdering a fellow classmate in this dramatic legal thriller. Chris Evans, Michelle Dockery, and Jaeden Martell star in the adaptation of William Landay's bestselling novel.
---
11. SLOW HORSES
Starring: Gary Oldman, Kristin Scott Thomas, Jack Lowden, Jonathan Pryce
Rated on Imdb: 7.9
Our Reviews: Slow Horses Reviews
Official synopsis: This darkly funny espionage drama follows a team of British intelligence agents who serve in a dumping ground department of MI5 due to their career-ending mistakes. Led by their brilliant but irascible leader, the notorious Jackson Lamb, they navigate the espionage world's smoke and mirrors to defend England from sinister forces.
---
10. TRYING
Starring: Esther Smith, Rafe Spall, Oliver Chris, Sian Brooke, Darren Boyd, Robyn Cara
Rated on Imdb: 7.9
Official synopsis: All Nikki and Jason want is a baby—the one thing they can't have. So they decide to adopt. With their dysfunctional friends, dramatic relatives, and chaotic lives, will the couple succeed in building the family of their dreams?
---
9. FOR ALL MANKIND
Starring: Joel Kinnaman, Shantel VanSanten, Jodi Balfour, Sonya Walger
Rated on Imdb: 8
Official synopsis: Imagine a world where the global space race never ended. This thrilling "what if" take on history from Ronald D. Moore (Outlander, Battlestar Galactica) spotlights the high-stakes lives of NASA astronauts and their families.
---
8. BLACK BIRD
Starring: Taron Egerton, Paul Walter Hauser, Sepideh Moafi, Greg Kinnear, Ray Liotta
Rated on Imdb: 8.1
Our Reviews: Black Bird Reviews
Official synopsis: Inspired by actual events, when high school football hero and decorated policeman's son Jimmy Keene (Taron Egerton) is sentenced to 10 years in a minimum security prison, he is given the choice of a lifetime — enter a maximum-security prison for the criminally insane and befriend suspected serial killer Larry Hall (Paul Walter Hauser), or stay where he is and serve his full sentence with no possibility of parole. Keene quickly realizes his only way out is to elicit a confession and find out where the bodies of several young girls are buried before Hall's appeal goes through. But is this suspected killer telling the truth? Or is it just another tale from a serial liar? This dramatic and captivating story subverts the crime genre by enlisting the help of the very people put behind bars to solve its mysteries.
---
7. SHRINKING
Starring: Jason Segel, Harrison Ford, Christa Miller, Jessica Williams, Michael Urie, Luke Tennie, Lukita Maxwell
Rated on Imdb: 8.1
Our Reviews: Shrinking Reviews
Official synopsis: "Shrinking" follows a grieving therapist who starts to break the rules and tell his clients exactly what he thinks. Ignoring his training and ethics, he finds himself making huge, tumultuous changes to people's lives … including his own.
---
6. THE MORNING SHOW
Starring: Jennifer Aniston, Reese Witherspoon
Rated on Imdb: 8.2
Read our Review:The Morning Show: A Tremendous Take on Today's #MeToo Movement (Review)
Official synopsis: "The Morning Show" explores the cutthroat world of morning news and the lives of the people who help America wake up in the morning. Told through the lens of two complicated women working to navigate the minefield of high-octane jobs while facing crises in both their personal and professional lives, "The Morning Show" is an unapologetically candid drama that looks at the power dynamics between women and men, and women and women, in the workplace.
---
5. BAD SISTERS
Starring: Sharon Horgan, Anne-Marie Duff, Eva Birthistle, Sarah Greene, Eve Hewson
Rated on Imdb: 8.3
Official synopsis: A delicious blend of both dark comedy and thriller, "Bad Sisters" follows the lives of the Garvey sisters, who are bound together by the premature death of their parents and a promise to always protect one another.
---
4. VISIBLE: OUT ON TELEVISION
Starring: Janet Mock, Margaret Cho, Asia Kate Dillon, Neil Patrick Harris, Lena Waithe
Rated on Imdb: 8.3
Official synopsis: "Visible: Out on Television" investigates the importance of TV as an intimate medium that has shaped the American conscience, and how the LGBTQ movement has shaped television. Each hour-long episode explores themes such as invisibility, homophobia, the evolution of the LGBTQ character, and coming out in the television industry.
---
3. PACHINKO
Starring: Lee Min-Ho, Soji Arai, Jin Ha
Rated on Imdb: 8.4
Official synopsis: Based on the New York Times bestseller, this sweeping saga chronicles the hopes and dreams of a Korean immigrant family across four generations as they leave their homeland in an indomitable quest to survive and thrive.
---
2. SEVERANCE
Starring: Patricia Arquette, Adam Scott, John Turturro, Britt Lower, Christopher Walken
Rated on Imdb: 8.6
Our review: Severance Season 1 Review: The You You Are
Official synopsis: From director and executive producer Ben Stiller and creator Dan Erickson comes "Severance." Mark Scout (Adam Scott) leads a team at Lumon Industries, whose employees have undergone a severance procedure, which surgically divides their memories between their work and personal lives. This daring experiment in "work-life balance" is called into question as Mark finds himself at the center of an unraveling mystery that will force him to confront the true nature of his work… and of himself.
---
1. TED LASSO
Starring: Jason Sudeikis, Hannah Waddingham, Brendan Hunt, Brett Goldstein, Juno Temple, Jeremy Swift, Nick Mohammed, Sarah Niles
Rated on Imdb: 8.7
Our Reviews: Ted Lasso Reviews
Read Also: All Episodes of Ted Lasso Season 1 Ranked from Worst to Best
Official synopsis: Jason Sudeikis plays Ted Lasso, a small-time college football coach from Kansas hired to coach a professional soccer team in England, despite having no experience coaching soccer.
d:
BEST RATED SHOWS ON IMDB: RUNNERS-UP
7.6 Imdb Rating: Dickinson, The Reluctant Traveler, See
7.5 Imdb Rating: Home Before Dark, Shantaram
7.4 Imdb Rating: Foundation, My Kind of Country, Servant, Shining Girls
7.3 Imdb Rating: Physical, Schmigadoon!, WeCrashed
7.6 Imdb Rating: The Afterparty, Boom! Boom!: The World vs. Boris Becker, Swagger
7.1 Imdb Rating: Truth Be Told
7 Imdb Rating: Dear…
6.9 Imdb Rating: Central Park
6.8 Imdb Rating: The Mosquito Coast
6.7 Imdb Rating: Dr. Brain, Loot
6.6 Imdb Rating: Losing Alice
6.5 and Lower: The Big Door Prize, Echo 3, Liaison, The Essex Serpent, Hello Tomorrow!, Suspicion
---
READ ALSO: