Guillermo del Toro's The Shape of Water (Review): Pure Visual Poetry

The Shape of Water (Searchlight Pictures)
Guillermo del Toro's The Shape of Water is a dark fairy tale: a beautiful and sensual masterpiece that touches the heart through the power of silence.
---

Arriving in Hollywood in 2017 with 13 Oscar nominations, Guillermo del Toro's film won four statuettes: Best Picture, Best Director, Best Screenplay and Best Original Score. The Shape of Water is a powerful and emotional movie, a fairy tale, a visionary story that easily remains in the heart of those who watch it. Even if the storyline refers also to the famous European fairy tale "Beauty and the Beast", in one of his interviews, del Toro claims to have been inspired by a movie which he recalls watching when he was 7 years old, Jack Arnold's The Creature from the Black Lagoon (1954), in which an amphibian creature falls in love for the female protagonist, but they end up separated.
The Shape of Water is the story of a mute woman named Eliza (Sally Hawkins), who works as a cleaner at a US government experiment facility. The film takes place in 1962, Baltimore, Maryland, during the civil rights movement and the Cold War, when the fear of the strange was especially high. Eliza is an orphan: she was found by the river, in the water. Only a scar on her neck remains from her past, and though it is almost imperceptible, it's likely the cause of her muteness. She lives her life with a very specific routine, but she is neither alone nor sad; deep in her heart, she knows that she doesn't fit in a world that views her as an outsider, due to her inability to express herself vocally.
Every day, Eliza returns to her comfortable wooden house, located above the Orpheum cinema, where she watches old black-and-white movies with her emotional neighbour Giles (Richard Jenkins). Giles is a gay man and an artist who also feels very unfulfilled and can't seem to find his place in life, forced into hiding and discriminated against at work. He spends his days watching Bill "Bojangles" Robinson and Betty Grable on TV replicas. Eliza also has a close friend, a colleague named Zelda (Octavia Spencer) who's a brilliant, intelligent, courageous and resourceful woman.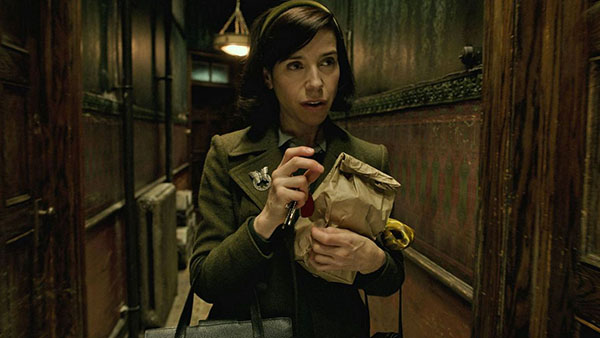 Eliza and Zelda work under the orders of Colonel Richard Strickland (Michael Shannon). Richard is the perfect classic image of post-war America: the white, Cadillac-driving, elegant, confident family man who becomes a sexist and racist bad guy with his employees. One day, Eliza discovers a top-secret experiment: the US government has captured a man-fish hybrid (Doug Jones) in South America, and they are running tests to determine if the creature's unique physiology could have some uses for humans, especially for astronauts. The mute woman becomes attached to the mysterious creature and forms a unique bond with the Amazonian river monster, with whom she will develop a very peculiar relationship. The creature doesn't know that she's mute and they learn to communicate through sign language: the river monster will be the first living being who doesn't look at her as an incomplete person anymore. With the support of her friends, Eliza does everything she can do to free the creature from his captivity, but there are many obstacles to overcome… Will they live happily ever after in the end?
I honestly think that when The Shape of Water was released back in 2017, it was misunderstood by the majority of the mainstream audience. It was summed up as the "movie where a lady falls in love with a fish guy", but in reality there is so much more than that. The beauty of The Shape of Water lies in the contrast between the character of Eliza, a loving and sweet woman with a giant heart and a delicate elegance, and the toughness of the amphibious man. The Shape of Water was originally conceived as a black-and-white film, but del Toro changed his mind and created an incredibly accurate colour palette with shades of brown and emerald green to recall the colours of the sea, realizing a visual masterwork. All the sets appear as an otherworldly environment, creating an unsettling mood.
See Also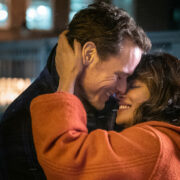 It's a gorgeous movie, with an ethereal, romantic score (Alexandre Desplat) that is a treat for the ears and filled with emotion. It's a sweet deliberately orchestrated melody that gives the film a bit of mystery. The actors' performances are mind-blowing, but one of the movie's standouts is Doug Jones as the mysterious sea creature. Under a mask of silicone and makeup, Jones is able to make people feel real emotion, communicating not with words but with movement. Every project in which Guillermo del Toro has been involved has been deeply personal to him. He has always had an affinity with fantasy and fairy tales that are a little bit fantastic and a little bit horrific, and The Shape of Water pursues the director's passion with monsters and his obsession for unconventional love stories.
In Guillermo del Toro's masterful storytelling, there's this sort of disarming sensitivity and rejection of cynicism that shines through each time, with humanity and empathy. In all his films, actual monsters are present, but the real monsters are a metaphor to describe our dark side. On the contrary, del Toro's monsters are wonderful creatures, miracles to be admired and loved. The real "monsters" are quite different: they roam among us, and it is impossible to recognize them until they manifest themselves. Real monsters don't have scales or sharp teeth. They aren't vampires or ghosts, and they don't breathe underwater, but they walk amongst us every day. They are normal people, possessing a frightening essence that they hide under a pretty mask. The Shape of Water is a challenge that goes beyond appearances and digs deep, to the point where viewers have to wonder if they, too, belong to the category of monsters. Nothing is impossible not Guillermo del Toro, and it is no coincidence that Eliza lives above a movie theatre; it's to remind us that we still have to dream and believe that even the impossible is actually achievable.
---
The Shape of Water is now available to watch on digital and on demand.