Cyrano (Review): Peter Dinklage Delights with Best Part to Date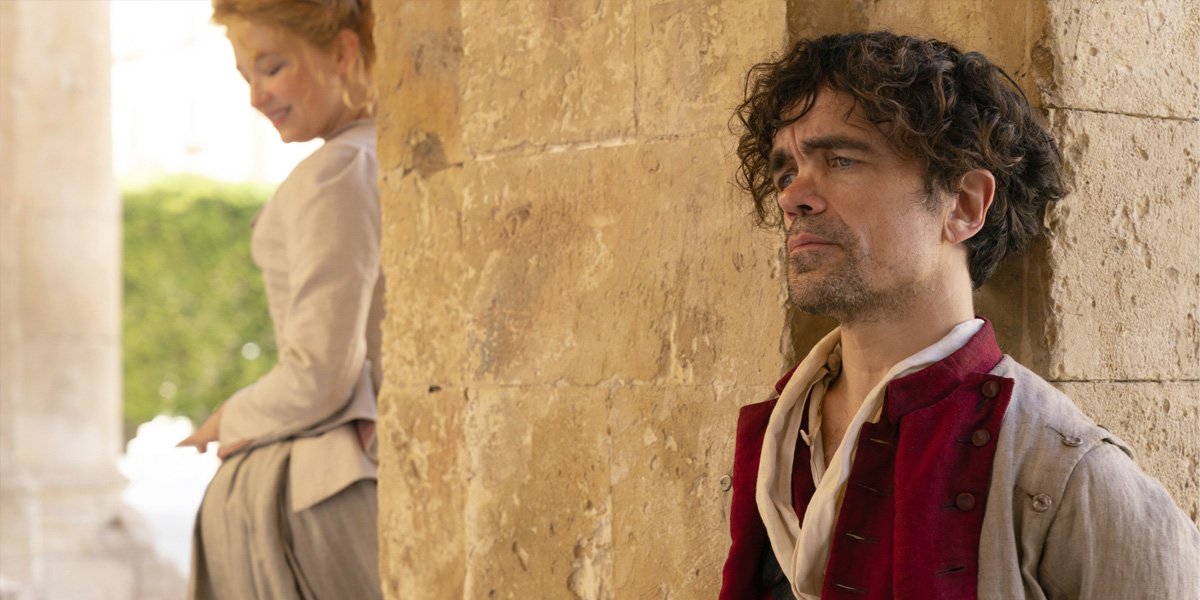 Haley Bennett and Peter Dinklage in Joe Wright's CYRANO (Peter Mountain © 2021 MGM Pictures Inc..)
Cyrano is an openhearted ode to life and love, strengthened by a sensationally stirring soundtrack and passionately persuasive performances.
---

Joe Wright's Cyrano is far from the first film adaptation of this classic story. In the 124 years since Edmond Rostand's play premiered, there have been several straight interpretations (the 1950 film starring José Ferrer, for which he won an Oscar, and the 1990 feature starring Gérard Depardieu, for which he was nominated for an Oscar) and countless more creative takes on the tale (1987's Roxanne, a contemporary comedy version starring Steve Martin, and 2020's The Half of It, which retold Rostand's famous fable through the lens of a lesbian Chinese-American teenager), so one wouldn't be blamed for wondering what makes Wright's depiction any different. Haven't we seen this all before? Haven't we analyzed almost every angle at which you can possibly approach this particular plot? Astoundingly, Wright and screenwriter Erica Schmidt answer that question with a resounding "no."
Based on Schmidt's stage musical of the same name, Cyrano first sets itself apart with the addition of a soundtrack stuffed with sweeping songs that entertain and evoke intense emotion in equal measure, adding more life to this period lark than ever before. However, the other main deviation from the source material is the fact that the traditional "large nose" that triggers Cyrano's discomfort is done away with here, as this Cyrano – portrayed by the oft-praised Peter Dinklage, of Game of Thrones and X-Men Days of Future Past – is instead self-conscious about his short stature (a concern that rings more realistic, given how preposterously Cyrano's sizable schnoz has been portrayed in the past).
Other than that, the story mostly remains the same: Cyrano, a cadet in the French Army and distinguished duelist (who doubles as a perceptive poet) desperately yearns for the love of his lifelong devoted friend Roxanne (Haley Bennett, of The Devil All the Time and Hillbilly Elegy) but is too fearful to confess his feelings for her, on account of his insecurities. And yet, when Roxanne falls for a new recruit in Cyrano's regiment named Christian (Kelvin Harrison Jr., of Luce and Waves), Cyrano finds a secret way to express his sentiment – through writing love letters to Roxanne on behalf of the dazzling but dimwitted Christian, who enlists his help on wooing the young woman.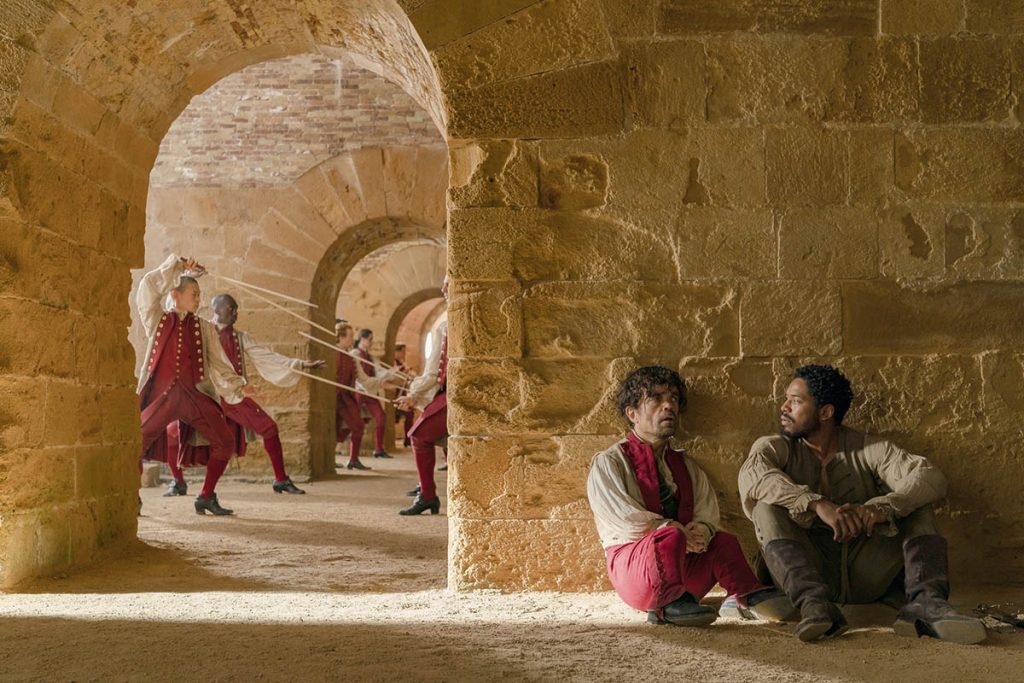 If you're a fan of the classic Cyrano narrative, all the key plot beats are preserved perfectly – Christian and Roxanne's captivating courtship, the riveting revelations relating to Christian and Cyrano's schemes, that beautifully staged balcony scene, and so on and so forth. Schmidt's adaptation is straightforward structurally, refraining from altering the text to a dramatic degree aside from some consolidation of certain scenes here or there, but so affectionately assembled nonetheless, brimming with wit and wonder that makes this period piece still stupendously appealing to a modern audience. And while it may initially seem unnecessary to make this story into a musical, the songs – whimsically written by The National – all compassionately complement the arcs of our core characters, emphasizing their emotions and adding new dimensions to the drama we all know so well.
"Someone To Say" provides the film with a stirring start as Roxanne opens the story with an unabashed sentimentality, "I Need More" offers a painfully relatable pining for the devotion from a partner we all deserve, while the original "Every Letter" sumptuously captures the sensuality associated with writing a love letter with alluring authenticity. The musical performances themselves aren't quite as energetically executed as those found in this year's In the Heights or West Side Story, but they're so passionately performed that they prove to be profusely beguiling nonetheless.
Speaking of these performances, Cyrano no doubt succeeds most of all due to the stellar casting of its three leads, with Dinklage, Bennett, and Harrison shining in all aspects of their stagecraft. Dinklage – rightfully receiving the lion's share of the raves so far – delights in what very well may be his best part to date, exhibiting a ravishing emotional range that he's perhaps never been able to explore as in depth before as he does here. His Cyrano is a lively lover and a fierce fighter, and Dinklage fleshes out both parts of his personality ferociously, wearing his heart on his sleeve and letting every beat linger to see Cyrano's romanticism through to its natural resolution. It's impossible to not be moved by his masterfully executed mannerisms and his intensely involving journey – one which the surely-soon-to-be-Oscar-nominated Dinklage makes us feel tenderly the whole way through.
See Also

Bennett, for her part, is equally entrancing, affording her Roxanne more agency than past iterations (supported by Schmidt's screenwriting) and refusing to be ashamed of her amorous desires and significant standards. It helps that her vocals are by far the most vibrant in the film, with her musicality adding majesty to the movie's most magical moments. As Christian, Harrison is saddled with one of the simpler characters in this story, but he effectively emits such an engrossing charm that he comes to be quite compelling nonetheless, investing us in his infatuation with Roxanne, even as it pales in comparison to Cyrano's passion.
The picture does suffer from poor pacing here or there, with the momentum stagnating severely at the start of the third act before picking up for a deeply felt finale that sends the historical drama out on a high, but the consistent commitment from the cast always keeps things absorbing, as Dinklage, Bennett, and Harrison work overtime to make us care for their individual outcomes and wish to see how these relationships resolve. Also of note is the striking state of the production itself, from Massimo Cantini Parrini's (Pinocchio, Ophelia) classy, colorful costuming to Sarah Greenwood and Katie Spencer's (Pride & Prejudice, Beauty and the Beast) swanky set design, enhancing our enthrallment with this environment overall. Still, at the end of the day, despite all the new bells and whistles (and subtle scriptural alterations here or there), this is the classic Cyrano story simply shared again for a new generation through and through, so after years of exposure, most audiences will already know if they want to take another trip with this tale or if the supplementation of a soundtrack makes any difference in their interest. However, if you are going to commit to retelling Cyrano, you couldn't find a better cast to work with, as these three leads make the fable feel fresh again with fun performances of oft-portrayed characters, and it's their exciting enthusiasm that gives this adaptation its appealing and effervescent energy.
---
Cyrano will have an exclusive one-week theater run in Los Angeles on December 17, followed by a nationwide limited release on January 21, 2022. The film fill be released in the UK and Europe on January 14, 2022.