Loot (Review): Maya Rudolph & Michaela Jaé Rodriguez are Powerhouses
Maya Rudolph in "Loot," premiering globally June 24, 2022 on Apple TV+. (Apple TV+)
Maya Rudolph excels in the lead role of her newest show Loot, which revolves around a billionaire whose 20 year marriage comes crashing down.
---

Loot is Apple TV+'s latest comedy series that centres around billionaire Molly Novak (Maya Rudolph) as she tries to navigate her life again after finding out her husband has cheated on her. Novak's lifestyle is everything a woman could dream of. She has a mansion, a personal chef, and unlimited amounts of money. Who wouldn't want to be her? But, her life comes crumbling down right before her eyes when she discovers her husband of 20 years has been having fun elsewhere with a younger woman. Despite having a breakdown in the public eye and her divorce being broadcast on live television, her positivity keeps her going. Novak realises that she owns a charity foundation that slowly but surely becomes her pride and joy. She begins to work alongside a team of incredible people that she gradually begins to befriend. With a cast that gels together so naturally, Loot has become an instant favourite that has left me wanting to rewatch again already.
Maya Rudolph is a complete standout in her role as Novak and deserves every bit of praise. Rudolph's roles are often comedy driven and she's built up a strong persona of being a genuinely funny person to cast in comedy roles. Loot is by far one of her best performances to date, and not only portrays an authentically funny character, but an extremely likeable one too. Novak's character development from being someone who's heavily influenced by her husband, John Novak (Adam Scott), to becoming a strong independent woman who knows what she wants is incredible to witness on screen. Her sometimes silly mistakes make her reflect on her life and she learns a great deal from no longer being under the influence of someone else.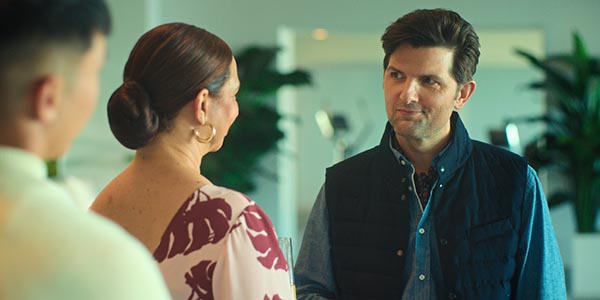 Molly Novak's passion for working at her charity foundation is what drives her to become the best version of herself. Her team of workers, including Sofia (Michaela Jaé Rodriguez), Howard (Ron Funches) and Arthur (Nat Faxon), don't necessarily take the strongest liking to Novak at first, but end up loving every minute of her company. Nicholas (Joel Kim Booster), Novak's assistant, takes a fondness to her whole team too, befriending everyone that he crosses paths with. Novak's generosity never goes unnoticed, but sometimes is a little too over the top for her co-worker Sofia. Sofia is a headstrong and driven individual who, at times, clashes with Novak. Sofia is the rational one of the group, and has to make the tough decisions which makes her seem like she doesn't like to have fun. But, as we get to know Sofia's character, she becomes just as likeable as Novak. Rodriguez as Sofia seems like a role destined for her. There is so much raw talent that merits just as much love as Rudolph's performance.
Writers and executive producers Matt Hubbard and Alan Yang have managed to create such a witty new series. Granted, it's nothing new that we haven't really seen before from a comedy series, but something about it really does feel unique. With the likes of Ted Lasso and Mythic Quest (a personal favourite) being Loot's predecessors, many would think it'd be hard to compete to create something just as good or even better. Essentially the series is all about a billionaire flaunting her money around. However, she's empathetic to those around her and actually gives to those in need. The likability of Maya Rudolph and the rest of the ensemble makes it a remarkable show. A comedy series needs good writers and a good cast. With purely just a good cast with not so good writing it's hard to enjoy. Loot manages to perfectly combine the two.
What stands out the most is the chemistry between the entire ensemble. Each and every character looks like they're having genuine fun with their roles. I found myself rooting for friendships between the unlikeliest of people as they had such strong bonds. All I wanted was for Novak to feel herself again, and be empowered by the wonderful team of people she surrounded herself with. Having a confident set of female leads is compelling, and I can't wait to see more of both Rudolph and Rodriguez in their future projects. Loot is definitely a show you cannot miss.
---
WATCH LOOT:
---
Loot will be released globally on Apple TV+ on June 24, 2022.