2019 Venice Film Festival: 25 films you need to watch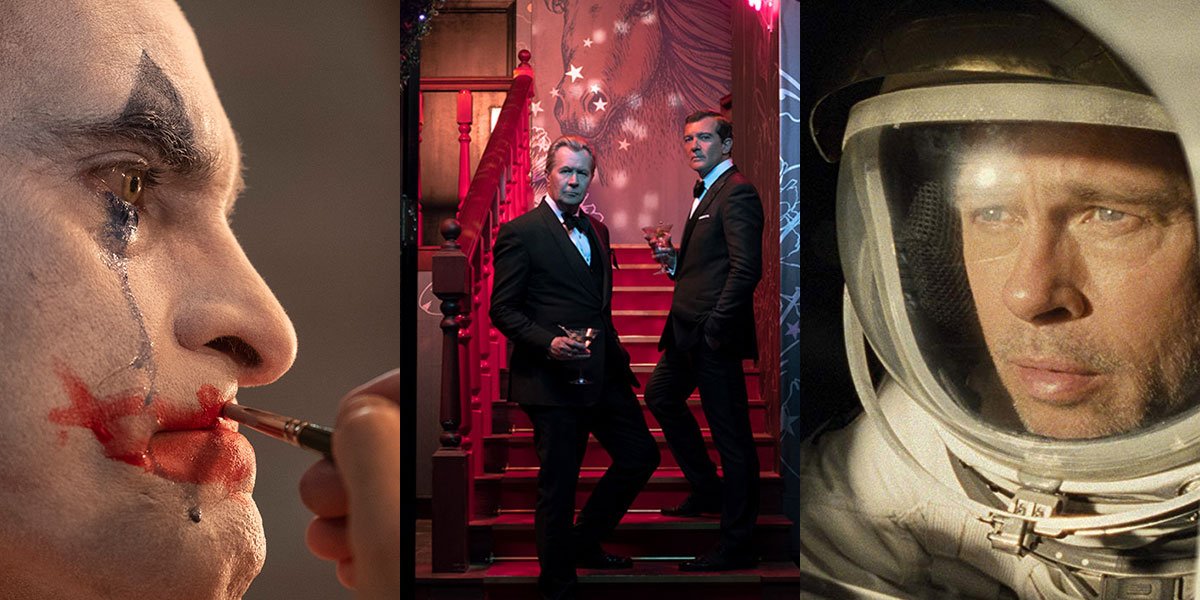 Joker, The Laundromat and Ad Astra (Warner Bros/Anonymous Content/Fox)
The 76th Venice Film Festival is about to start, and we've got you covered. Here are 25 films and TV shows you absolutely need to watch at Venezia76 (yes, we added a list of attending cast members too).
---
It's almost time for "Venezia76", and you know what that means. It's time to look at this year's programme, marvel as you go through its impressive list, make a list of all the films you want to watch and… Panic! Because you'll soon realise that there's no way you're going to be able to see them all. Because not only does this programme include 63 feature-length films, 18 shorts, 20 restored movies, 2 TV shows and 36 Virtual Reality installations, but the quality of every single project that has been selected for the festival is truly undeniable.
Artistic Director Alberto Barbera and La Biennale chairman Paolo Baratta have outdone themselves this year, as some of the most anticipated movies of the year are not only part of the list, but in the competition. This includes James Gray's Ad Astra (starring Brad Pitt), Todd Phillips's Joker (with Joaquin Phoenix and Robert De Niro) as well as Steven Soderbergh's The Laundromat (with Meryl Streep, Gary Oldman and Antonio Banderas) and Oscar nominated (for Shoplifter) director Kore-eda Hirokazu's La Vérité, which will also open the festival.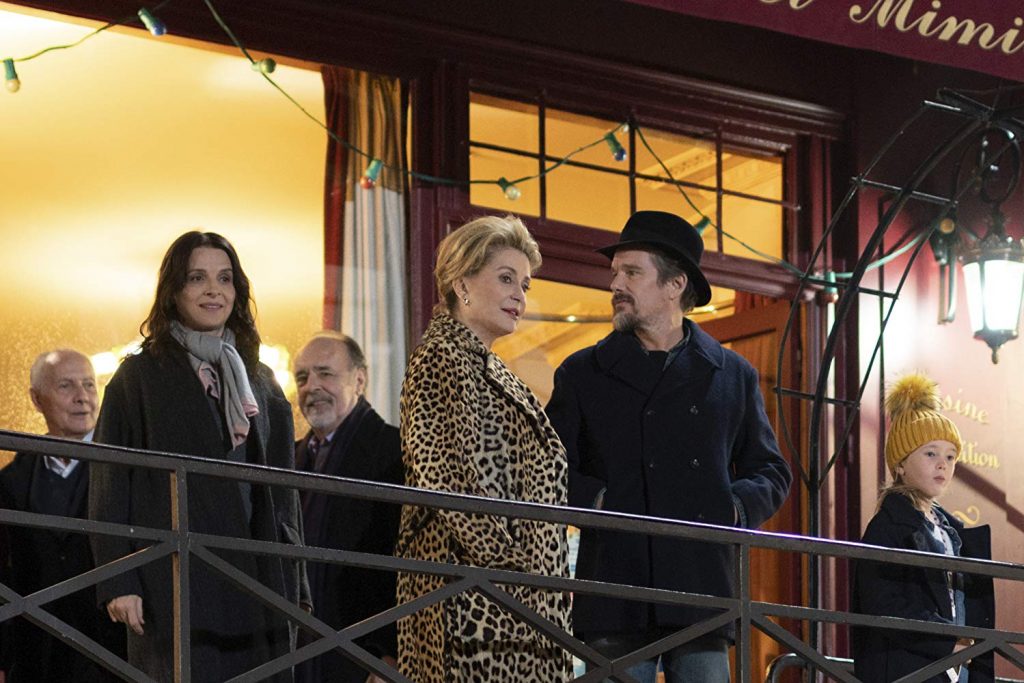 But that's not all. Some daring choices have been made, from Roman Polanski's Dreyfus affair drama J'Accuse to Olivier Assayas's Wasp Network, which focuses on Cuban politics. Two music icons will be at the Lido, as Pink Floyd's Roger Waters made a film (Us + Them) and Rolling Stone Mick Jagger starred in one (Giuseppe Capotondi's The Burnt Orange Heresy, alongside Donald Sutherland).
And, if you're still not impressed, wait until you read the list of cast members whose attendance has been confirmed – that is (brace yourself!), Johnny Depp, Scarlett Johansson, Jude Law, Joaquin Phoenix, Brad Pitt, Adam Driver, Gael Garcia Bernal, John Malkovich, Juliette Binoche, David Thewlis, Lily-Rose Depp, Donald Sutherland, Gary Oldman, Joel Edgerton, Catherine Deneuve, Kristen Stewart, Dane DeHaan, Edgar Ramirez, Adele Exarchopoulos, Liv Tyler, Laura Dern, Roger Waters, Ethan Hawke, Louis Garrel, Antonio Banderas, David Thewlis, Alfredo Castro, Luca Marinelli and Claudio Santamaria.
The Festival will be happening at Venice's Lido from August 28th to September 7th, and we will be there to keep you posted on the most exciting releases and events. In the meantime, to get you in the Festival mood, here is a list of films and TV shows (we'll talk about Virtual Reality soon!) projects you absolutely need to keep an eye on.

---

VENEZIA76: IN COMPETITION

AD ASTRA
Director: James Gray
Cast: Brad Pitt, Tommy Lee Jones, Ruth Negga, Liv Tyler, Donald Sutherland
Country: U.S.A.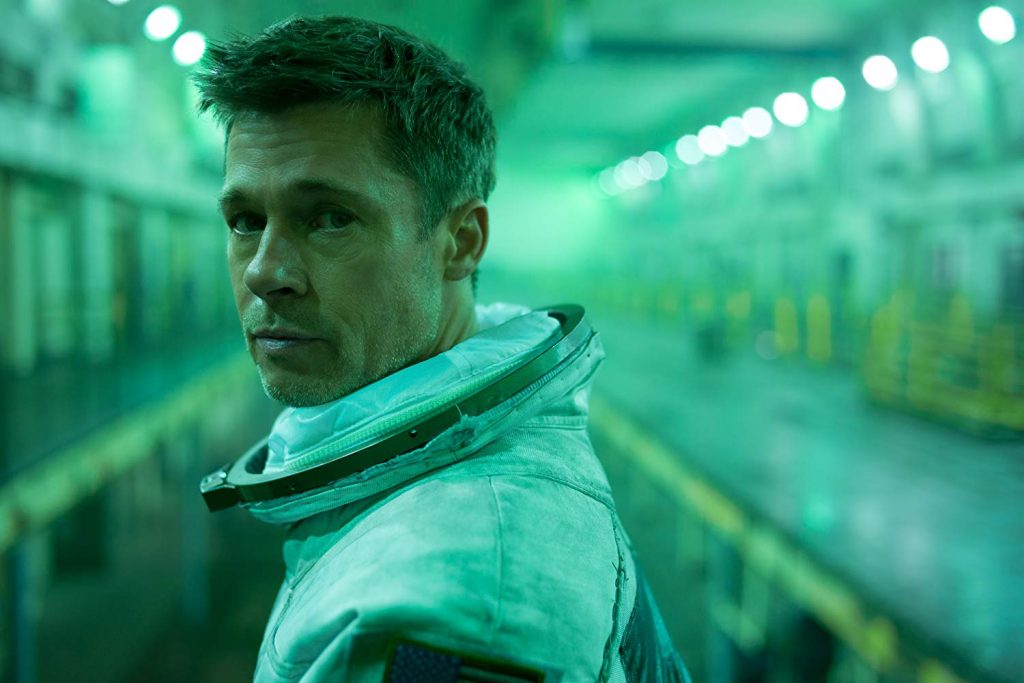 Official Synopsis:
Astronaut Roy McBride (Brad Pitt) travels to the outer edges of the solar system to find his missing father and unravel a mystery that threatens the survival of our planet. His journey will uncover secrets that challenge the nature of human existence and our place in the cosmos. (more)
We like it because:
Its stellar cast and compelling story make it both one of the most anticipated films of the season and a potential Oscar contender. The mystery around what Roy discovers in the solar system might just turn it into the unpredictable sci-fi drama we have been looking for.
---

BABYTEETH
Director: Shannon Murphy
Cast: Eliza Scanlen, Toby Wallace, Emily Barclay, Eugene Gilfedder, Essie Davis, Ben Mendelsohn
Country: Australia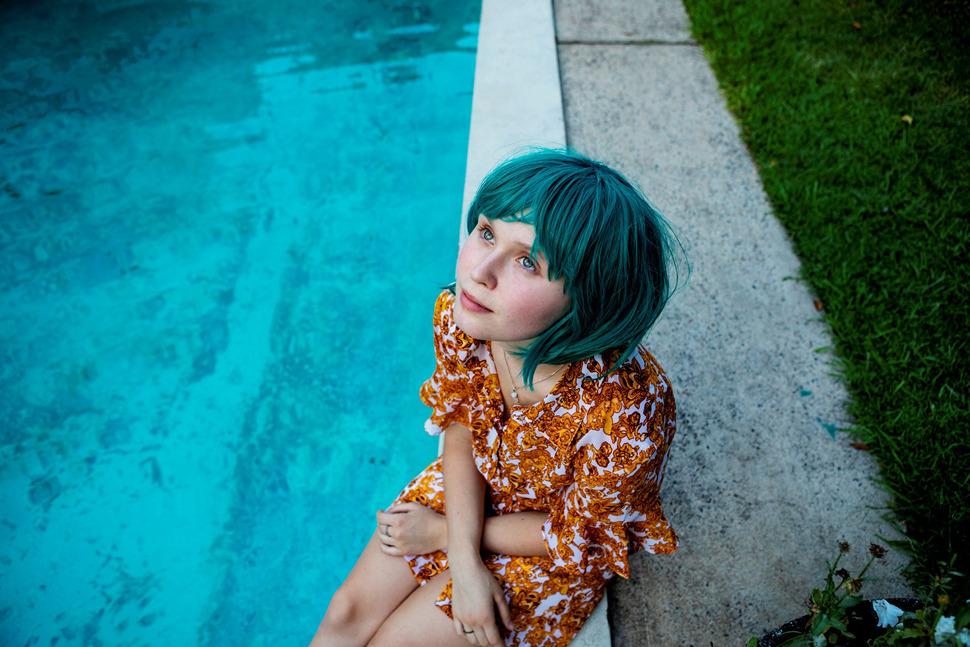 Official Synopsis: N/A
We like it because:
Based on Rita Kalnejais's play, Shannon Murphy's first feature-length film as a director is a love story which is also a coming-of-age comedy/drama that invites us all to live life to the fullest. We can't wait to see it.
---

EMA
Director: Pablo Larraín
Cast: Mariana Di Girolamo, Gael García Bernal
Country: Chile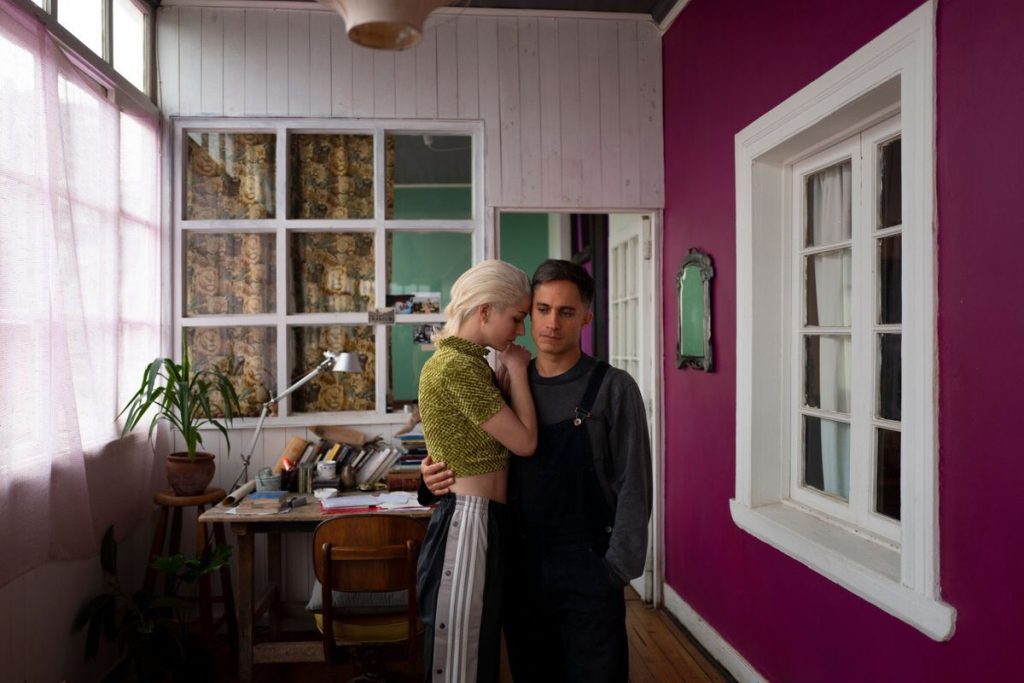 Official Synopsis: N/A
We like it because:
Pablo Larraín is the mind behind Jackie, No and Neruda and certainly a director to keep an eye on. Ema is about two dancers expressing their feelings through dance, and we are looking forward to seeing Bernal (Mozart in the Jungle's "Maestro) back in the world of music. In Barbera's words, Ema is also an "incendiary" film about female persecution to the extreme, which certainly sounds both fascinating and extremely relevant.
---
GUEST OF HONOUR
Director: Atom Egoyan
Cast: David Thewlis, Laysla De Oliveira, Luke Wilson, Rossif Sutherland
Country: Canada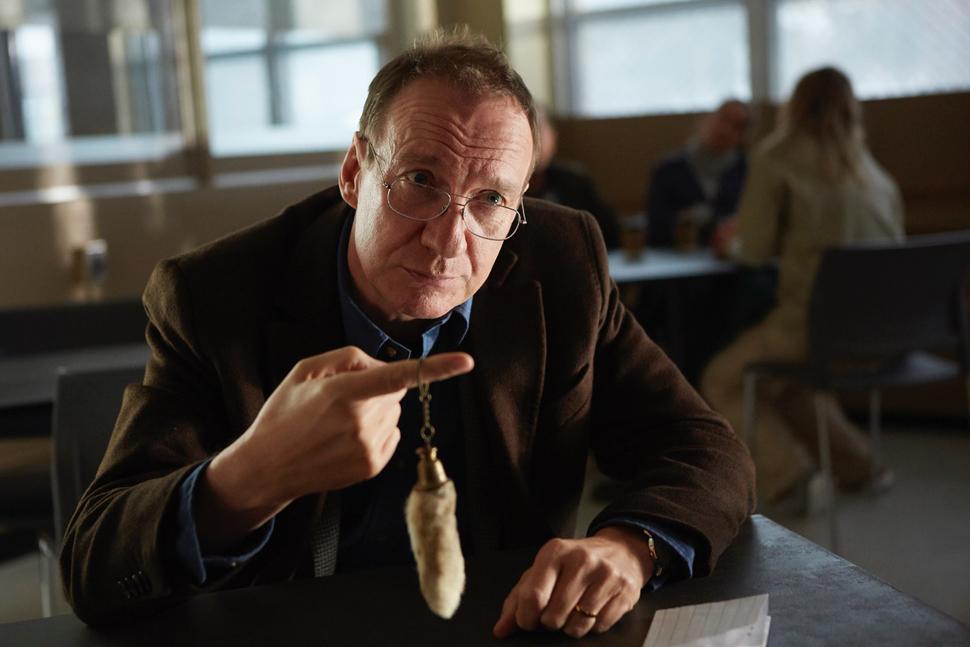 Official Synopsis: N/A
We like it because:
Oscar nominated (for The Sweet Hereafter) director Atom Egoyan comes back to Venice after his insightful drama Remember (2015), starring Christopher Plummer as an Auschwitz survivor. This time, he brings us a psychological drama about another complex subject, as David Thewlis plays a food inspector who is also a father whose 20-year old daughter is in jail for a crime she hasn't committed. The crime is sexual assault, and the daughter (played by Laysla De Oliveira) doesn't want to be released. We are intrigued.
---

J'ACCUSE (AN OFFICER AND A SPY)
Director: Roman Polanski
Cast: Jean Dujardin, Louis Garrel, Emmanuelle Seigner, Grégory Gadebois
Country: France, Italy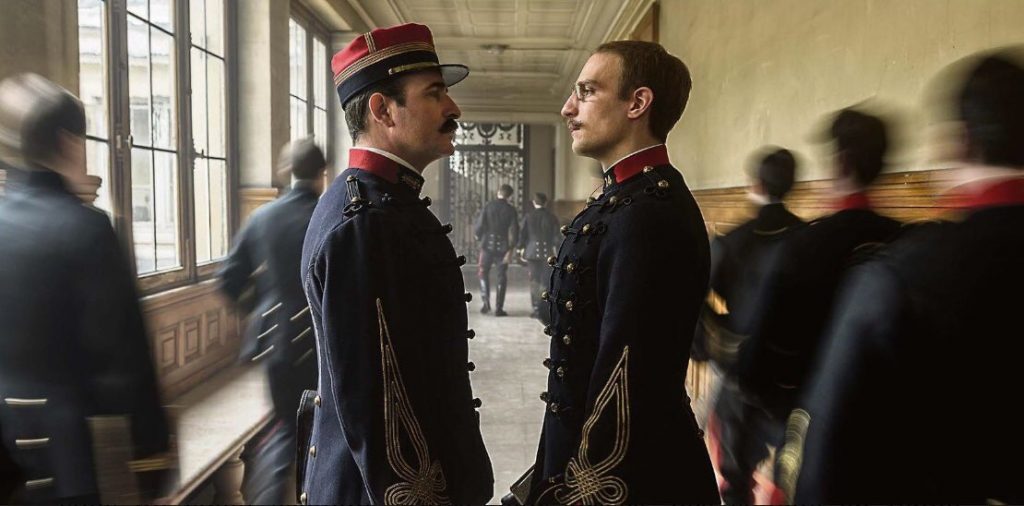 Official Synopsis: N/A
We like it because:
Ever since it started filming in 2012, J'Accuse has been receiving much criticism because of its subject matter. But, while Polanski's new drama might not be for everyone, we are looking forward to seeing how Robert Harris's novel The Dreyfus Affair has been adapted for the screen. J'Accuse is the second adaptation Polanski brings to the Venice Film Festival, as his hugely entertaining comedy Carnage (taken from Yasmina Reza's play Le Dieu du Carnage) premiered at the festival back in 2011.
---

JOKER
Director: Todd Phillips
Cast: Joaquin Phoenix, Robert De Niro
Country: U.S.A.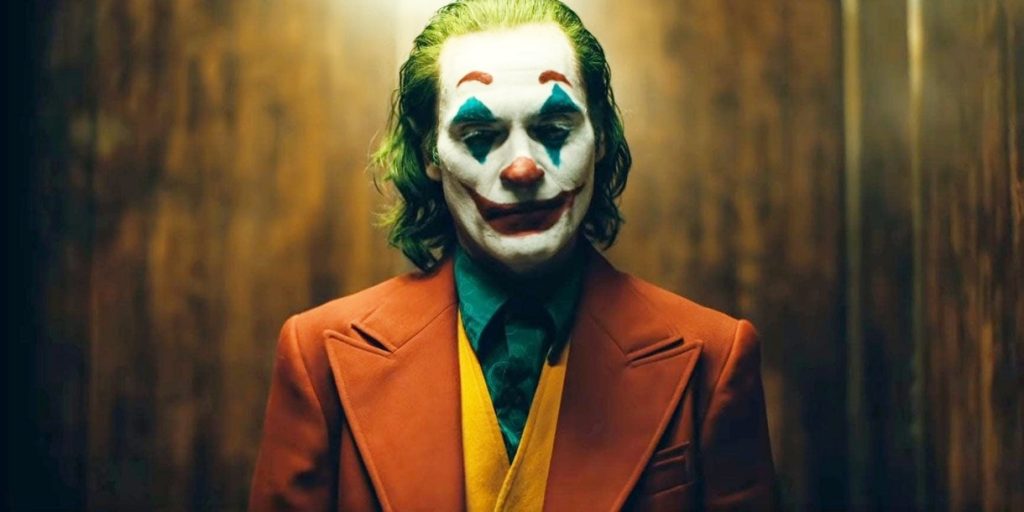 Official Synopsis:
Joker centers around the iconic arch-nemesis and is an original, standalone story not seen before on the big screen. The exploration of Arthur Fleck (Joaquin Phoenix), a man disregarded by society, is not only a gritty character study but also a broader cautionary tale.
We like it because:
It's Joaquin Phoenix and Robert De Niro in a one of the most anticipated films of the year. Joker has been described as a "gritty character study" and is about one of the most fascinating villains in both graphic novel and movie history. We still have no idea how the Biennale managed to get it to compete at the festival, but we are in awe.
---

THE LAUNDROMAT
Director: Steven Soderbergh
Cast: Meryl Streep, Gary Oldman, Antonio Banderas, Jeffrey Wright, Matthias Schoenaerts, James Cromwell, Sharon Stone
Country: U.S.A.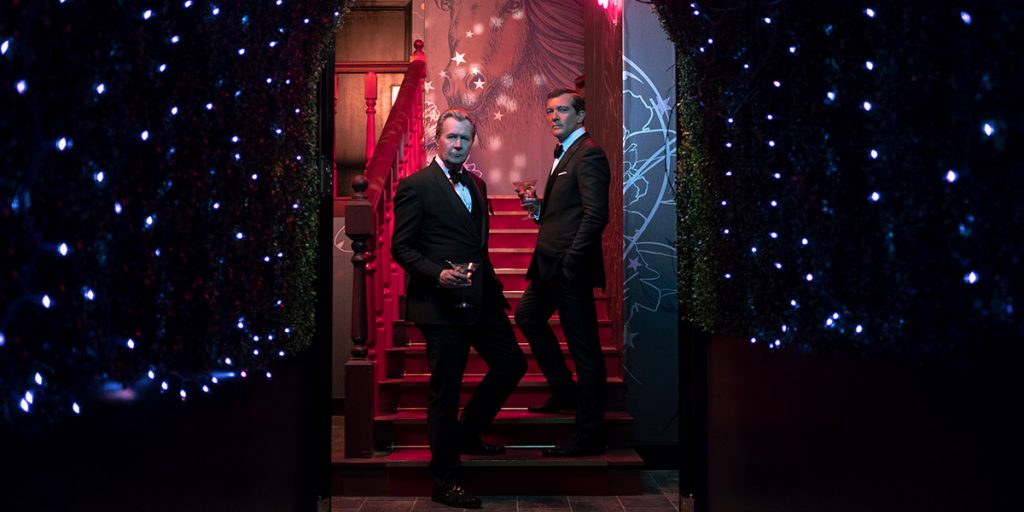 Official Synopsis:
When her idyllic vacation takes an unthinkable turn, Ellen Martin (Academy Award winner Meryl Streep) begins investigating a fake insurance policy, only to find herself down a rabbit hole of questionable dealings that can be linked to a Panama City law firm and its vested interest in helping the world's wealthiest citizens amass even larger fortunes. The charming — and very well-dressed — founding partners Jürgen Mossack (Gary Oldman) and Ramón Fonseca (Antonio Banderas) are experts in the seductive ways shell companies and offshore accounts help the rich and powerful prosper. They are about to show us that Ellen's predicament only hints at the tax evasion, bribery and other illicit absurdities that the super wealthy indulge in to support the world's corrupt financial system.
We like it because:
What do Meryl Streep, Gary Oldman, Antonio Banderas, Matthias Schoenaerts and Sharon Stone have in common? They all took part in Steven Soderbergh's new, compelling drama. The Oscar winning director (Traffic) is back to the Venice Film Festival (Contagion, 2011) after eight years. 2019 is an important year for Soderbergh, as Sundance favourite The Report (which he produced) is also about to come out. Judging by the latest trend, The Laundromat promises to be a success, and might earn Meryl Streep her 22nd Oscar nomination.
---

MARRIAGE STORY
Director: Noah Baumbach
Cast: Scarlett Johansson, Adam Driver, Laura Dern, Alan Alda, Ray Liotta
Country: U.S.A.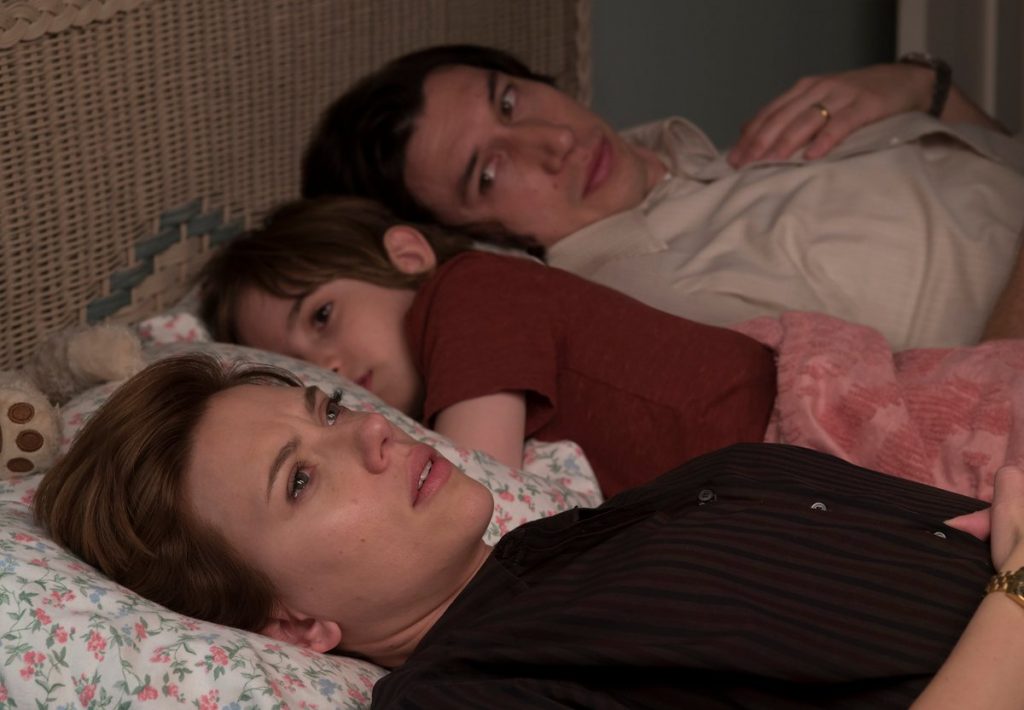 Official Synopsis:
Marriage Story is Academy Award nominated filmmaker Noah Baumbach's incisive and compassionate portrait of a marriage breaking up and a family staying together.
We like it because:
Known for both his work as a director (The Squid and the Whale) and as a writer (The Life Aquatic with Steve Zissou, starring Bill Murray), Baumbach has already been to the Festival with the very first film of his career (Kicking & Screaming). It's been twenty-four years since then, and we can't wait to See Adam Driver and Scarlett Johansson as the two protagonist of his new drama, and we wouldn't be surprised if Marriage Story found its way to the Oscars.
---
OM DET OÄNDLIGA (ABOUT ENDLESSNESS)
Director: Roy Andersson
Cast: Jane-Ege Ferling, Martin Serner, Bengt Bergius, Tatiana Delaunay, Anders Hellström, Thore Flygel
Country: Sweden, Germany, Norway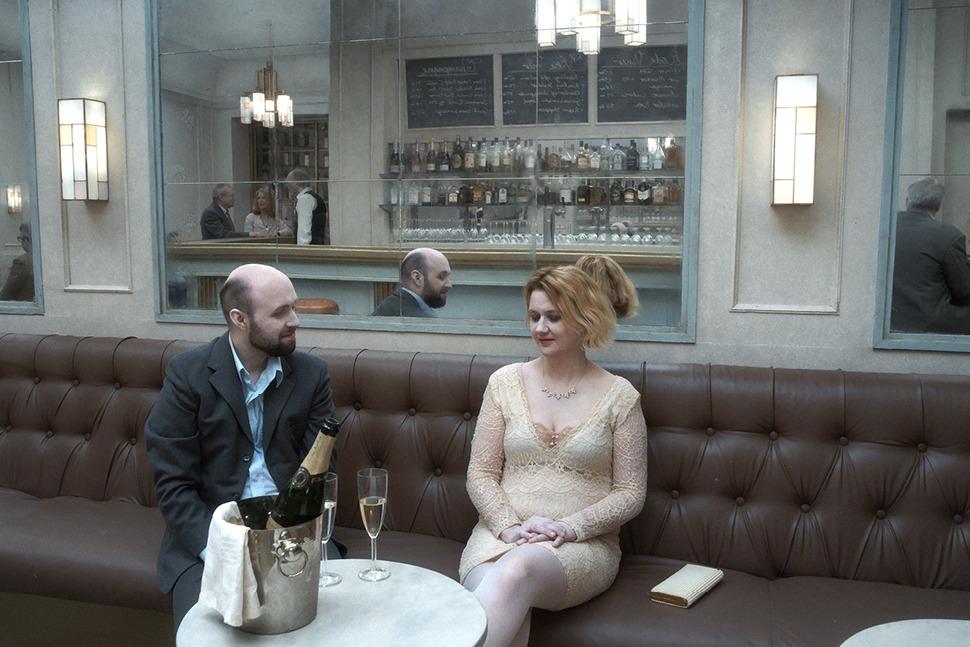 Official Synopsis:
Roy Andersson adds to his cinematic oeuvre with a reflection on human life in all its beauty and cruelty, its splendour and banality. We wander, dreamlike, gently guided by our Scheherezade-esque narrator. Inconsequential moments take on the same significance as historical events: a couple floats over a war-torn Cologne; on the way to a birthday party, a father stops to tie his daughter's shoelaces in the pouring rain; teenage girls dance outside a afe; a defeated army marches to a prisoner of war camp. Simultaneously an ode and a lament, About Endlessness presents a kaleidoscope of all that is eternally human, an infinite story of the vulnerability of existence. (more)
We like it because:
Those who have been to the Venice Film Festival before will certainly remember the director's 2014 Golden Lion winner, A Pigeon Sat on a Branch Reflecting on Existance. Andersson's directing style is so unique that his films are definitely not going to be everyone's "cup of tea", and his much-debated "Pigeon" was praised as much as it was criticised, back in 2014. We happen to love the original, sometimes absurd way he approaches life's big questions, and we can't wait to see his next work.
---

WAITING FOR THE BARBARIANS
Director: Ciro Guerra
Cast: Mark Rylance, Johnny Depp, Robert Pattinson, Gana Bayarsaikhan, Greta Scacchi
Country: Italy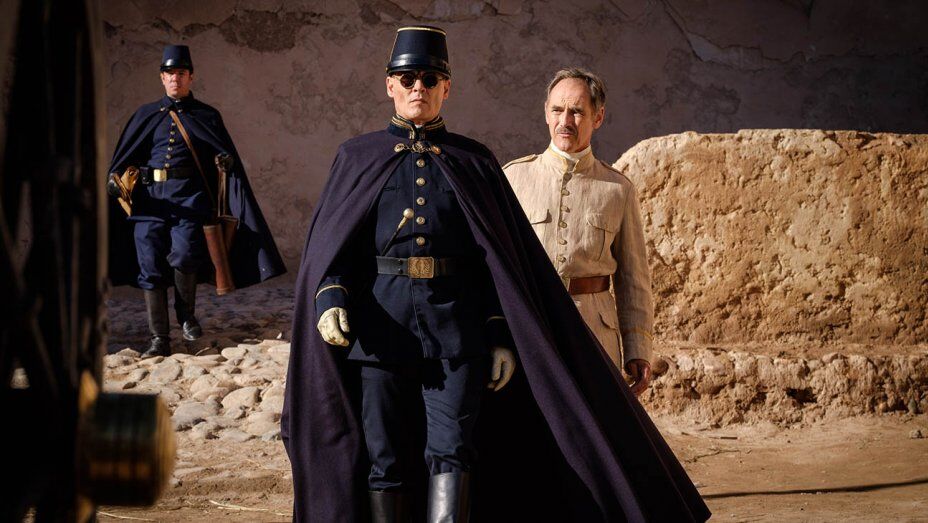 Official Synopsis:
Inspired by the novel Waiting for the Barbarians by J.M. Coetzee, Nobel Prize for Literature in 2003, the film is based on the identity crisis of the "Magistrate" – a faithful servant of the Empire who works in a small border town, doing his best to ignore an inevitable war with the "barbarians". After witnessing
the cruel and unjust treatment of prisoners of war, he reconsiders his role in the regime and completes a quixotic act of rebellion. (more)
We like it because:
Here's another very promising adaptation! We have great hopes for Waiting for the Barbarians, as not only has it been directed by the very same person who gave us Embrace of the Serpent (the first Colombian film in history to get an Oscar nomination), but its screenplay has been written by Nobel Prize winner J.M. Coetzee himself. We expect a compelling, well-written story that approaches important themes with the help of a stellar cast led by Oscar, BAFTA and Tony Award winner Mark Rylance and the incredible Johnny Depp.
---

WASP NETWORK
Director: Olivier Assayas
Cast: Penélope Cruz, Edgar Ramírez, Gael García Bernal, Wagner Moura, Ana de Armas, Leonardo Sbaraglia
Country: Brazil, France, Spain, Belgium
Official Synopsis:
After Carlos, Olivier Assayas returns with a breathtakingly suspenseful thriller set in the world of 90s Cuban counter espionage, between Havana and Miami. Based on the book The Last Soldiers of the Cold War: The Story of the Cuban Five by Fernando Morais, published by Companhia das Letras edition. (more)
We like it because: Fernando Morais's "real-life spy thriller" shed light on the true story of twelve men and two women (the so-called "Wasp Network") who were sent by the Cuban government to infiltrate anti-Castro groups in Florida. These Cuban spies that nobody knew about were held as political prisoners by the United States for over twenty years, and their trial was more about Cold War dynamics than actual justice. This makes Assayas' thriller one of those stories that needed to be told, and we can't wait to find out more about this important historical event.
---
OUT OF COMPETITION: FICTION

ADULTS IN THE ROOM
Director: Costa-Gavras
Cast: Christos Loulis, Alexandros Bourdoumis, Ulrich Tukur, Daan Schuurmans, Josiane Pinson, Aurelien Recoing
Country: France, Greece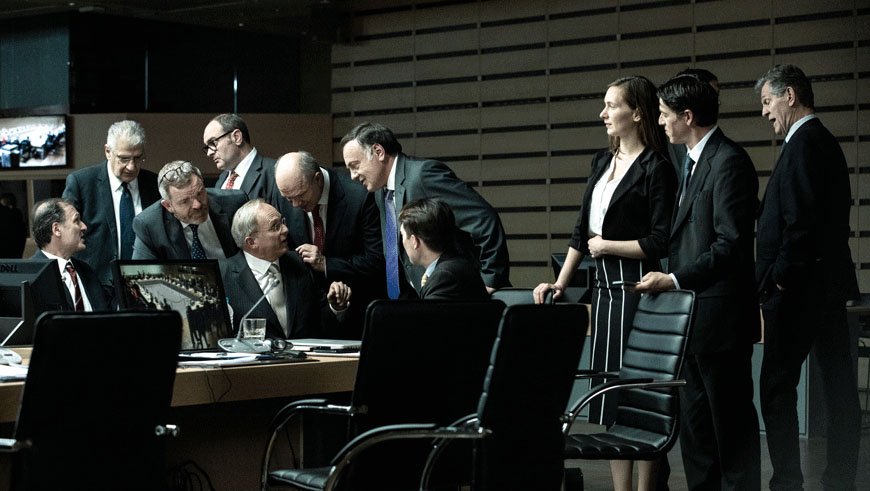 Official Synopsis: N/A
We like it because:
Based on economist Yanis Varoufakis's clever book (and Sunday Times Number 1 Bestseller), Adults in the Room is another incredibly important political story. This time, it directs our attention to the relationship between Greece and Europe to ultimately make us think about democracy. Varoufaki used to be Greece's Minister of Finance, and this is the true (and almost unknown) story of what happened when he challenged "Europe's Deep Establishment". We wouldn't miss it for the world.
---

THE BURNT ORANGE HERESY
Director: Giuseppe Capotondi
Cast: Claes Bang, Elizabeth Debicki, Donald Sutherland, Mick Jagger
Country: U.K., Italy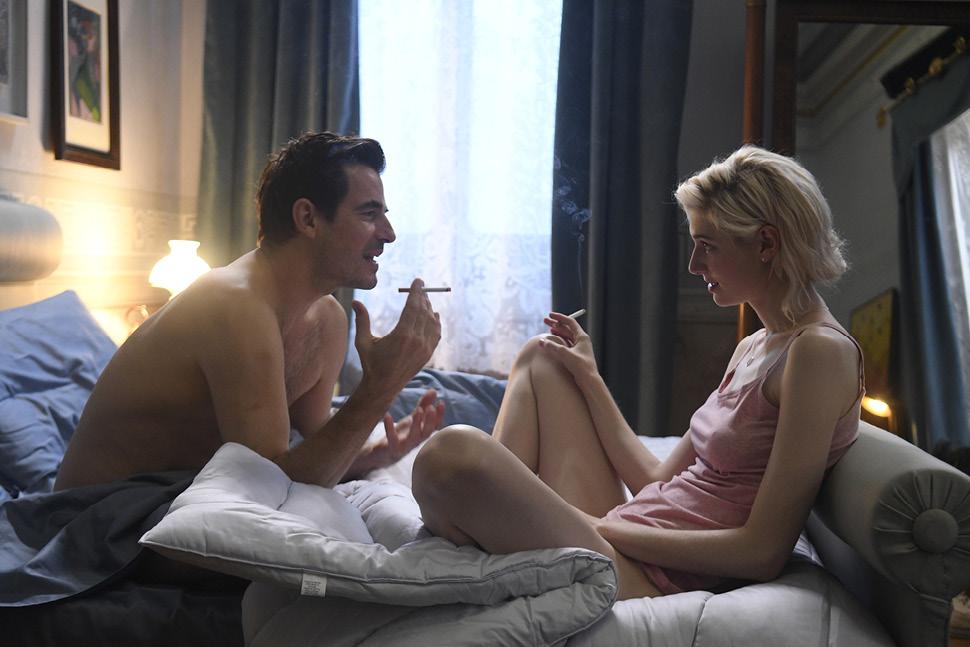 Official Synopsis:
Hired to steal a rare painting from one of most enigmatic painters of all time, an ambitious art dealer becomes consumed by his own greed and insecurity as the operation spins out of control. (more)
We like it because:
Not is this fascinating story closing the Festival, but it also stars two legends: Donald Sutherland and Mick Jagger. We can't wait to see them in action alongside the incredible Elizabeth Debicki (The Night Manager) and Claes Bang (The Square), and we predict The Burnt Orange Heresy will be one of the highlights of the Festival.
---
THE KING
Director: David Michôd
Cast: Timothée Chalamet, Joel Edgerton, Sean Harris, Tom Glynn-Carney, Lily-Rose Depp, Thomasin McKenzie, Robert Pattinson, Ben Mendelsohn
Country: U.K., Hungary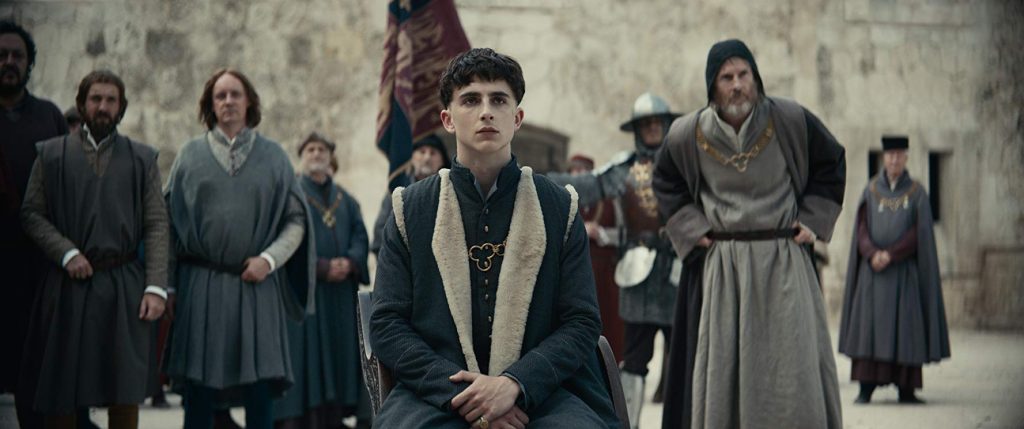 Official Synopsis:
Hal (Timothée Chalamet), wayward prince and reluctant heir to the English throne, has turned his back on royal life and is living among the people. But when his tyrannical father dies, Hal is crowned King Henry V and is forced to embrace the life he had previously tried to escape. Now the young king must navigate the palace politics, chaos and war his father left behind, and the emotional strings of his past life — including his relationship with his closest friend and mentor, the ageing alcoholic knight, John Falstaff (Joel Edgerton). Directed by David Michôd and co-written by Michôd and Edgerton, THE KING co-stars Sean Harris, Ben Mendelsohn, Robert Pattinson, and Lily-Rose Depp.
We like it because: Last year, Netflix brought Roma to the Venice Film Festival. This year, the streaming company is back with more than one compelling projects, and The King is the one we're looking forward to seeing the most. After all, it's Timothée Chalamet, Joel Edgerton, Lily-Rose Depp and Robert Pattinson in a costume drama written and directed by the mind behind Animal Kingdom and War Machine.
---
SEBERG
Director: Benedict Andrews
Cast: Kristen Stewart, Jack O'Connell, Anthony Mackie, Vince Vaughn
Country: U.S.A.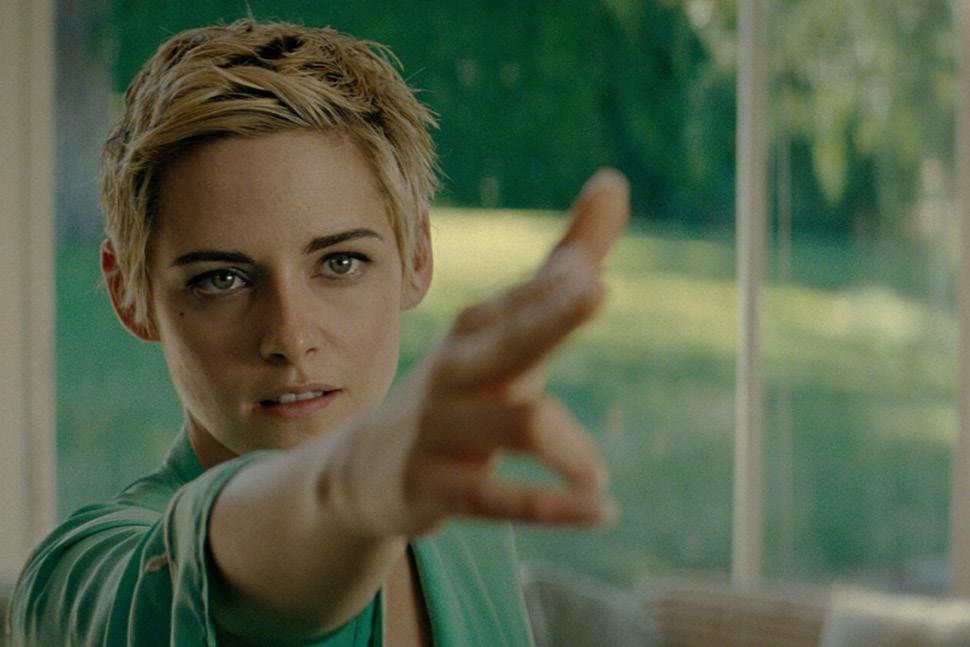 Official Synopsis:
An ambitious young F.B.I. Agent is assigned to investigate iconic actress Jean Seberg when she becomes embroiled in the tumultuous civil rights movement in late 1960s Los Angeles, California. (more)
We like it because:
Kristen Stewart is Jean Seberg in a biographical thriller that tells the story of how the actress got closer to the Black Panther movement only to be put under surveillance by the F.B.I.. Seberg is going to be one of those movies that asks just the right questions, and we can't wait to see it.
---
OUT OF COMPETITION: NON FICTION

45 SECONDS OF LAUGHTER
Director: Tim Robbins
Country: U.S.A.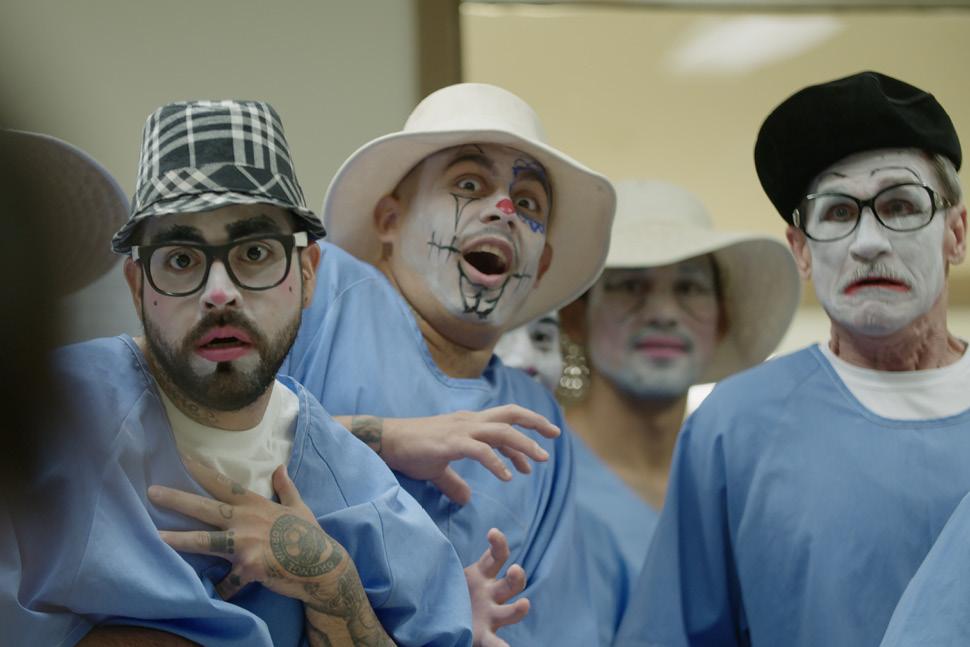 Official Synopsis: N/A
We like it because:
Tim Robbins made a film about his own experience doing improv classes in prisons! The subject is fascinating to say the list, and we're not going to miss this!
---

COLECTIV
Director: Alexander Nanau
Country: Romania, Luxembourg
Official Synopsis: N/A
We like it because:
We don't know much about Nanau's latest documentary on Romania's politics and health system, but we know it's "as engaging as a detective story" (according to Barbera), and that's enough to make us interested.
---

ROGER WATERS: US + THEM (with Q&A)
Director: Sean Evans, Roger Waters
Country: U.S.A.
Official Synopsis:
Roger Waters, co-founder, creative force and songwriter behind Pink Floyd, presents his highly anticipated film, Us + Them, featuring state-of- the-art visual production and breath-taking sound in this unmissable cinema event.
Filmed in Amsterdam on the European leg of his 2017 – 2018 Us + Them tour which saw Waters perform to over two million people worldwide, the film features songs from his legendary Pink Floyd albums (The Dark Side of the Moon, The Wall, Animals, Wish You Were Here) and from his last album, Is This The Life We Really Want?
Waters collaborates once more with Sean Evans, visionary director of the highly acclaimed movie, Roger Waters The Wall, to deliver this creatively pioneering film that inspires with its powerful music and message of human rights, liberty and love. (more)
We like it because:
Not only will Us + Them have incredible visual and sound and almost feel like a concert in itself, but Roger Waters himself already confirmed his presence at the Venice Film Festival! But there's even more: he has requested for a special Q&A to happen after the screening! Who are we kidding? It's going to be epic.
---
OUT OF COMPETITION: SPECIAL EVENTS
THE NEW POPE (Episodes 2 and 7)
Director: Paolo Sorrentino
Cast: Jude Law, John Malkovich, Silvio Orlando, Cécile de France, Javier Cámara, Ludivine Sagnier, Marilyn Manson
Country: Italy, France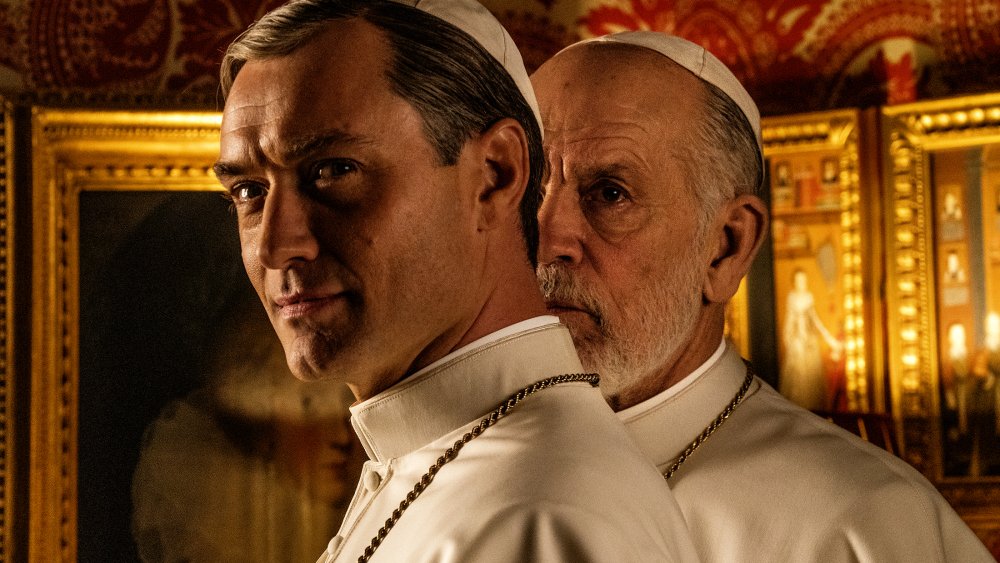 Official Synopsis: N/A
We like it because:
The much anticipated sequel to Sorrentino's hugely successful The Young Pope is finally here and, just like its predecessor, it will premiere at the Venice Film Festival! The New Pope already appears to be as intriguing and wonderfully controversial as the first series, and we are intrigued to see the new cast members (including John Malkovich and Marilyn Manson!) in action.
---

NEVER JUST A DREAM: STANLEY KUBRICK AND EYES WIDE SHUT
Director: Matt Wells
Country: U.K.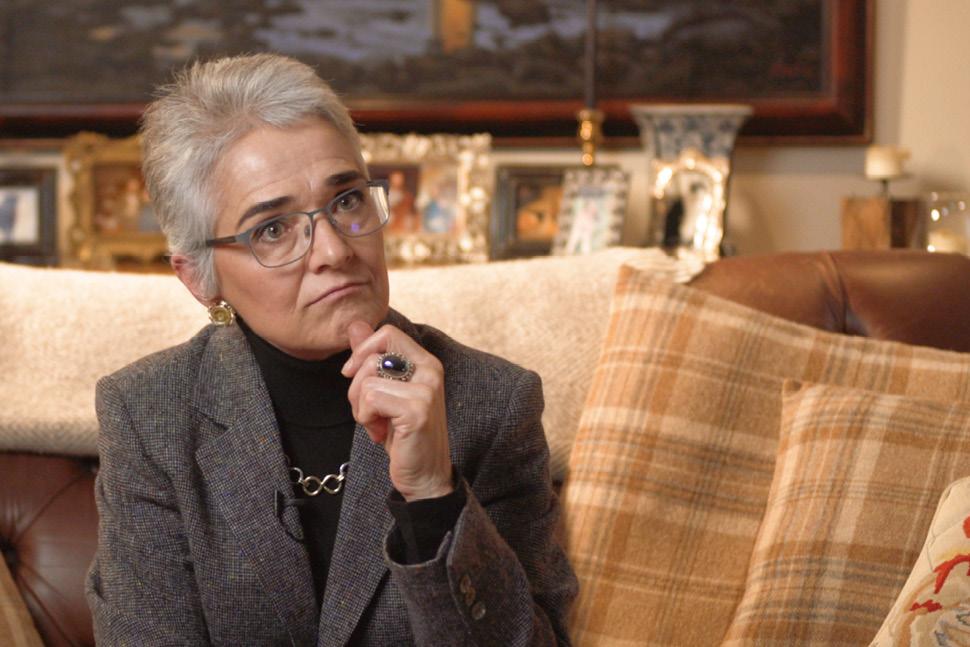 Official Synopsis:
Never Just a Dream: Stanley Kubrick and Eyes Wide Shut is a short documentary in which those who knew Kubrick best tell the story of the project and recall the final chapter of his career in moving detail.
We like it because:
It's been 20 years since Eyes Wide Shut premiered at the 56th Venice Film Festival, and Kubrick's final feature has been added to this year's programme as a Special Event, but that's not all. Matt Wells's brand-new short documentary film Never Just a Dream: Stanley Kubrick and Eyes Wide Shut will be screened too, and we are not going to miss this event.
---
ORIZZONTI

GIANTS BEING LONELY
Director: Grear Patterson
Cast: Jack Irving, Ben Irving, Lily Gavin, Amalia Culp, Gabe Fazio
Country: U.S.A.
Official Tagline:
Life is a misery and I do not know when death may come. Play Ball! (more)
We like it because:
Produced by Julian Schnabel's son, Giants Being Lonely is a coming-of-age sport drama about a group of friends, and Barbera praised it for the quality of its screenplay.
---

REVENIR
Director: Jessica Palud
Cast: Niels Schneider, Adèle Exarchopoulos, Patrick d'Assumçao, Hélène Vincent, Franck Falise, Jonathan Couzinié
Country: France
Official Synopsis: N/A
We like it because:
It's The White Crow's Adèle Exarchopoulos in a film that is all about family dynamics, and it's also Jessica Palud's second feature-length film as a director, in a festival where most of the directors are male. We predict excellent acting and interesting developments.
---

SCONFINI
AMERICAN SKIN
Director: Nate Parker
Cast: Omari Hardwick, Theo Rossi, Beau Knapp
Country: U.S.A.
Official Synopsis: N/A
We like it because:
Written and directed by Nate Parker (The Birth of a Nation), who also stars in it, American Skin has just been added to the Festival's program and is already turning out to be one of the most interesting films of Venezia76. Not only is it about hugely relevant themes for our society (such as police violence and racism in modern day America), but it stars Sons of Anarchy's Theo Rossi and Southpaw's Beau Knapp and… Spike Lee himself will be introducing this screening! You don't want to miss it.
---
GIORNATE DEGLI AUTORI (VENICE DAYS)
5 IS THE PERFECT NUMBER
Director: Igort
Country: Italy, Belgium, France
Official Synopsis:
Peppino, a retired hitman for the Camorra, has now fully passed on his job and know-how to his single son, Nino. But when Nino is brutally assassinated, the old man is back in business to take revenge. Aside his everlasting love Rita and his longtime henchman Totò, Peppino will go to any lengths, even if it means bringing the Camorra down.
We like it because:
Giornate degli Autori is a collateral section of the Venice Film Festival to keep an eye on, as it often surprises us with insightful, quality films. 5 Is The Perfect Number promises to be just that: not only is it the adaptation of a hugely successful graphic novel, but the trailer already has us hooked to this compelling story.

---
SETTIMANA DELLA CRITICA (FILM CRITICS WEEK)
PSYKOSIA
Director: Marie Grahtø
Country: Denmark
Official Synopsis:
Viktoria is an odd and extremely self-disciplined researcher in the field of suicide. She is invited to a psychiatric ward to treat the suicidal patient Jenny. Through intimate night conversations, they form a tight bond. Viktoria slowly opens up to experience closeness with another person for the first time in her life, but the closer the two women get, the more it becomes clear that something is not as it seems. (more)
We like it because:
Settimana della Critica is another interesting collateral section of the Venice Film Festival, and, though Psykosia certainly doesn't seem to be a light film in terms of content, it certainly is both relevant and fascinating in terms of its psychological elements.