Winning Time: The Rise of the Lakers Dynasty Season 2 Finale Review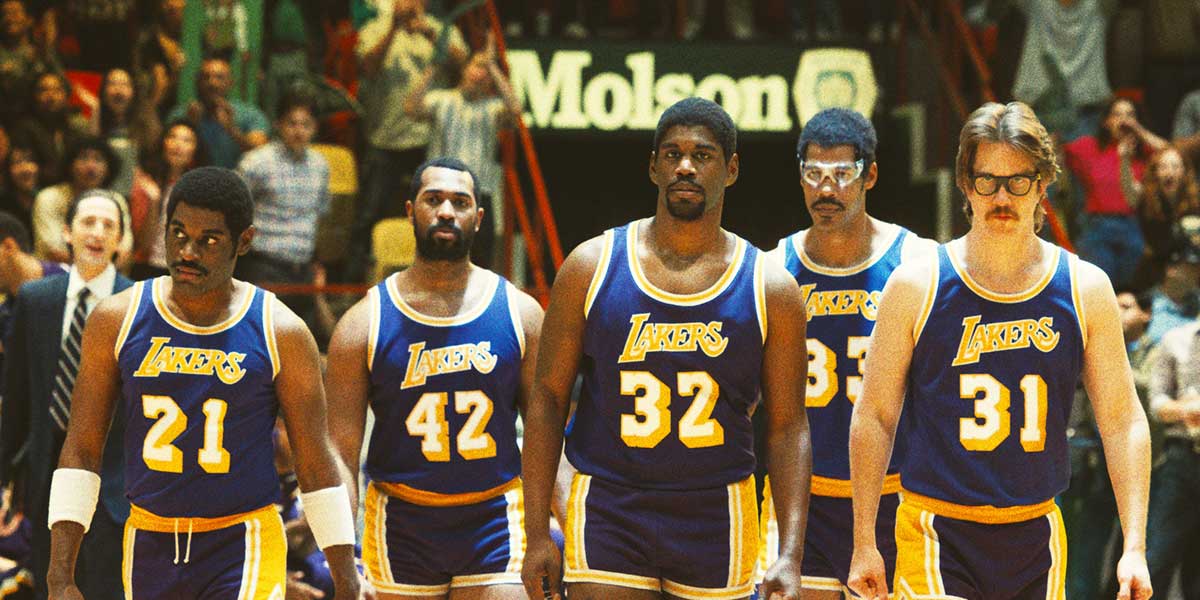 Winning Time: The Rise of the Lakers Dynasty Season 2 Finale (Warrick Page/HBO)
The Season 2 finale of HBO's Winning Time: The Rise of the Lakers Dynasty is an extraordinary hour of television with the most jarring conclusion of all time.
---
We have arrived at the moment that everyone has been waiting for: the first true showdown between Magic Johnson's (Quincy Isaiah) Los Angeles Lakers and Larry Bird's (Sean Patrick Small) Boston Celtics with a championship on the line. Two seasons worth of buildup and drama have led to this one matchup between rivals and what an incredible watch this was. I am not going to waste any time here, let's dive right into the Winning Time Season 2 Finale.
The Season 2 Finale of Winning Time is almost entirely set during the 1984 NBA Finals between the Los Angeles Lakers and the Boston Celtics. Audiences have finally reached the point that was teased in the opening scene of the season, and the rivalry between LA and Boston is renewed at last. We will see all the action both on and off the court as this chapter comes to a thrilling end.
Two seasons worth of television have led to this moment, and it was all worth it. Every plot point is wrapped up, save for a few things. The creative team have done a tremendous job recreating the 1984 NBA Finals and the same can be said of the actors. You can feel the intensity of the Lakers/Celtics rivalry through the screen during the Winning Time Season 2 Finale. What undoubtedly helps with that, as I indicated it would in my review of Episode 3, is the fact that we have spent time with Magic Johnson and Larry Bird. We have seen both sides and now it is time for them to go at it for the championship.
What is remarkable about this finale is how much you feel as if you were there in the moment. This is something you cannot get in a documentary, which is all archive footage. Here, you are seeing real actors, all of whom basically embody their real-life counterparts, recreate such pivotal moments. It is quite a sight, and I must applaud everyone involved in the making of the Winning Time Season 2 finale for making this happen.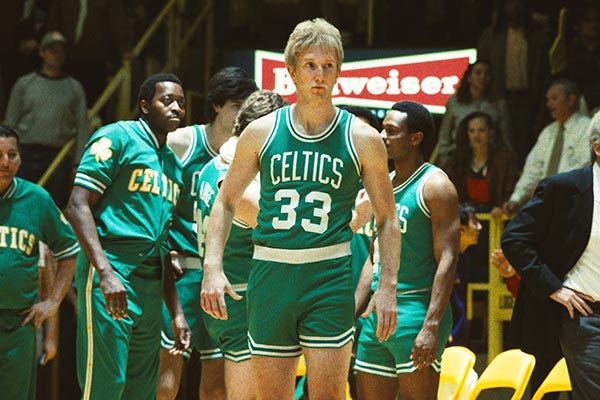 The excellent montage of Season 2 Episode 5 has been taken and stretched it out over the course of an entire episode. Everything on the court looks amazing and visually provides an escape from the off-the-court drama that takes place. We also get brief recreations of how the 1984 NBA Finals looked on television during the finale, which is quite cool as well. It gives us the chance to not only feel like we are there inside the arena, but also gives us a taste of how things appeared to the folks at home.
Speaking of off the court, there is a bit of focus on the issues surrounding Dr. Jerry Buss (John C. Reilly). He was of course served with divorce papers by Honey (Ari Graynor) last week and naturally, that comes with a ton of chaos. There is once again a real possibility that everything he has built with the Lakers and beyond comes crashing down. Everything that occurs in the Winning Time Season 2 Finale, at least when it comes to Dr. Buss, is a direct result of his own actions throughout the season. Let us just say that the man has not made the smartest choices and he is finally seeing some sort of consequence for that.
What I loved most about the scenes involving Dr. Buss this week is that he finally shares the screen with Hadley Robinson as Jeanie Buss for a good bit. Their scenes are one of the many highlights of this week's episode. The father and daughter relationship seen in Season 1 was basically nonexistent in Season 2 until now, largely due to the actions of Dr. Buss. It is nice to see the duo finally be given a moment to hash everything out and perhaps begin to repair their relationship.
All of the performances in the Winning Time Season 2 Finale are on another level, but once again, I cannot help but signal out Adrien Brody as Pat Riley as player of the game this week. I felt like I was watching Riley on some old footage, it was uncanny. The swagger, the passion, the nerves bursting through, it was all Riles, none of what I watched felt like acting. I do not think I have ever seen anything like what Brody does here outside of Margot Robbie in I, Tonya (2018). He is the overall most valuable player for Season 2 and has made this show worth watching every single week. Brody's Riley has plenty to pick from in terms of highlights in the finale, but his speeches are enough to send absolute chills through your body.
Quincy Isaiah and Sean Patrick Small deserve a lot of love this week as well for their work as Magic and Bird. You can see and feel the rivalry between their characters, but Isaiah and Small manage to remind audiences of the humanity that both these titans of their sport possess. They are battling to reach the top of the mountain in their profession, but that is just it, as much as Magic and Larry want to beat each other, both are just doing a job at the end of the day. What makes them stand out compared to their peers, aside from their talents, is the fact that both men put aside everything and have this endless drive to win it all.
Of course, as the old saying goes, "There can only be one," and the Winning Time Season 2 finale excels at capturing what they are like when focused on nothing but winning and the sobering bits of humanity they feel in the aftermath of each game. Depending on who you are pulling for, you will be overwhelmed by their emotions, for better or worse. There is a winner and a loser, and audiences will feel whatever comes with both thanks to the outstanding work of Quincy Isaiah and Sean Patrick Small.
I should also mention that I got the amount of Kareem Abdul-Jabbar (Solomon Hughes) that I wanted as well and he is finally feeling like one pillar of a fantastic duo with Magic that he was in real life.
This week's pacing was on point, not one moment felt too rushed or too slow. This finale feels very much like the conclusion of a chapter. Viewers will get the sense that there is more story to be told here and yet, Season 2 ends in incredibly bizarre fashion. The ending does not fit with the rest of the episode at all. To be incredibly frank, it feels like a slap in the face to audiences. It does not make sense to end the series here, and given how the episode ends, there's really no coming back from this.
In short, the ending is one of the laziest attempts at closure that I have ever seen and it feels completely unearned. The entire season and even the finale has been planting seeds for things to come and now the rug has been pulled out from under everyone out of nowhere. This series established itself as one of the most unique things not only on HBO, but all of television. Despite that fact, audiences are left with something deeply unsatisfying by the time the credits roll and everything comes to an end.
The Winning Time Season 2 Finale, to borrow a phrase from late Lakers announcer Chick Hearn, is sensational, it is dazzling, it is showtime. You will be left in awe at multiple points. Despite that, when everything comes to a head, you will feel nothing but crushing disappointment. It does not matter what the circumstances are, to finish this season, and likely the series off in this way is a massive shame. This taints all the remarkable things that the cast and crew did throughout Winning Time but at the end of the day, what has happened is not their fault. I am going to end by thanking them for all their hard work throughout Season 1 and Season 2, I genuinely appreciated this show as a Los Angeles Lakers and a basketball fan and really wish that things could have been different.
---
The Season 2 Finale of Winning Time: The Rise of the Lakers Dynasty is now available to watch on Max.