Passing: Well-made Directorial Debut for Rebecca Hall (Sundance Review)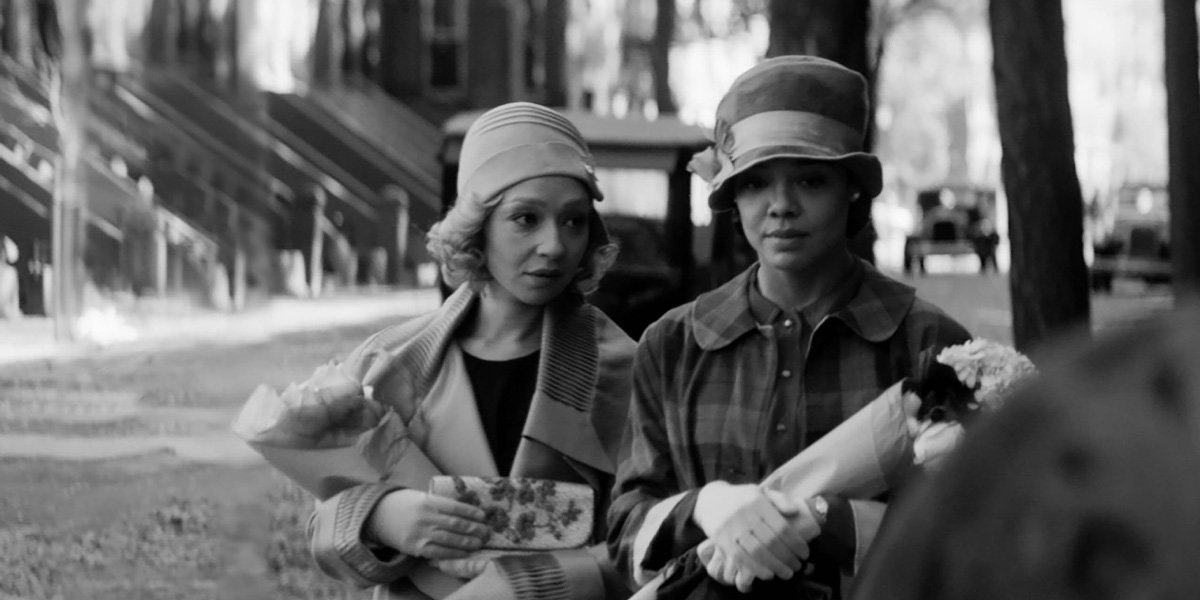 Ruth Negga and Tessa Thompson appear in Passing by Rebecca Hall (Sundance Institute | Edu Grau)
Passing is a gorgeously made film, but the story's eventual descent in pulpier trappings mars what is an otherwise compelling slice of life drama.
---

Passing is the story of two light skinned black women in the Twenties. One (played by Tessa Thompson) has chosen a life in Harlem and a dedication to advocacy for black issues. The other (played by Ruth Negga) has chosen to integrate in white society marrying a bigoted white man and living a life of social and financial privilege. Rebecca Hall (Christine) makes her directorial debuting adapting the novella of the same name. It's a complex, ambitious work for a first-time director, and Hall is largely successful.
The film has a gorgeous sense of style. Filmed in lush black and white, Hall crafts lovely imagery. Her choice to use a 4:3 aspect ratio helps ratchet up the tension on a story that gradually becomes more and more of a thriller. From superb period costume designs to elegant lighting, Passing is a beautiful film.
One of my struggles with the film is that the way Hall sets up these different downtown and uptown worlds of 1920s New York is so interesting that I cannot help but feel like the story is dragged down by its soapier trappings. What starts as a simpler story of two women reconnecting and learning about each other's radically different lives eventually succumbs to trashier, more lurid plotting, as one woman eventually becomes enamored with the other's husband. The film simply works better in its moments of tease and restraint than in its bigger swings.
The film has a stupendous cast. Tessa Thompson (Dear White People) is always a charismatic and deeply emotional performer. Here she seems somewhat uncomfortable with the dated dialect the characters employ, but she remains a welcome presence. Alexander Skarsgård (Big Little Lies) and especially Andre Holland (The Knick) manage to make the most of relatively limited roles as the husbands of our two lead women. The great Bill Camp (The Queen's Gambit) shows up to give his usual burst of gruff life to Passing.
Ruth Negga remains one of the most underrated actresses around. Her work in Loving helped elevate one of the most touching romantic dramas of the last decade. Even in genre TV work like Agents of S.H.I.E.L.D. and Preacher, both shows that are more focused on plot and spectacle, she has been a burst of humanity. Here, she has the more difficult role as the of the woman who chooses to pass. She manages to bring simultaneous notes of displacement, privilege, and yearning to what could have been a villain role in the hands of a lesser performer.
See Also

One key sequence sees the two women attend a jazz club with Thompson's character's husband. The scene is a vibrant, energized slice of life showcasing a sort of energy and propulsive quality the film is never quite able to recapture. As Negga dances with various men and Thompson gossips with Bill Camp, Passing feels so incredibly alive and the 1920s setting so real. It's a standout moment in the film that speaks to what I suspect will be a strong directorial future for Hall.
---
Passing premiered online, at the 2021 Sundance Film Festival, on Saturday, January 30, 2021. The film will be screened again on February 1st: Click here for more information.
---
---
JOIN US!
Don't miss our monthly updates with film news, movie-inspired recipes and exclusive content! You'll only hear from us once a month. #nospam