9 Tim Burton Movies You should watch this Halloween

Beetlejuice, Frankenweenie, Sleepy Hollow (Warner Bros. Pictures, Walt Disney Studios, Paramount Pictures)
We brush up on the 9 scariest Tim Burton movies you should watch this Halloween 2022, while waiting for the director's new animated series Wednesday.
---
Throughout his career, Tim Burton has become one of Hollywood's most visionary directors. Burton has a special emotional relationship with his characters: it's as if he had entrusted part of his soul to each of them. With a unique vision and a macabre sense of humour, his characters are frightening and usually outcasts, and his settings are distinguished by spooky aesthetics: just think of Jack Skellington's Halloween Town in The Nightmare Before Christmas (1993). Halloween 2022 is approaching, so here are the 9 Tim Burton movies you should watch on the scariest month of the year! Let the film marathon begin!
---
1. THE NIGHTMARE BEFORE CHRISTMAS
(1993)
Cast: Danny Elfman, Chris Sarandon, Catherine O'Hara, Edward Ivory, Ken Page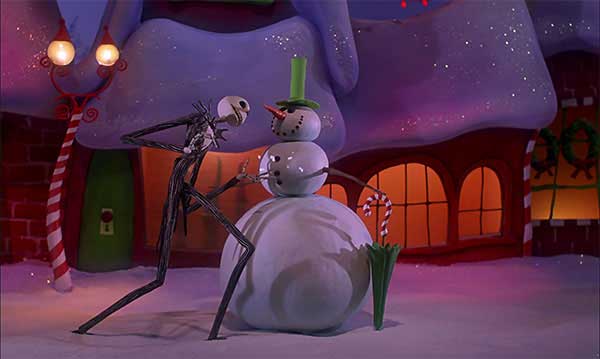 "Did you ever wonder where holidays come from?" So begins the 1993 animated, stop-motion film directed by Henry Selick, conceived and co-produced by Tim Burton. Don't be fooled by the word "Christmas" in the title: the film is the essence of Halloween! Jack Skellington (Chris Sarandon/Danny Elfman) will take you on a dual journey: on one hand, an inner journey of self-discovery, on the other hand, a trip between Christmas Town and his own Halloweenland.
The Nightmare Before Christmas is the story of Halloween Town's Pumpkin King, a skeleton named Jack, who has become bored of following the same routine every year, which consists of conjuring up new ways of scaring people in the real world. One day, Jack stumbles upon a place named Christmas Town, and is immediately fascinated by Christmas: he decides to celebrate this strange holiday himself, but uses the wrong approach to bring home the festive spirit, as his plan to kidnap Santa Clause (Edward Ivory) doesn't exactly work out. Among the other characters you'll encounter, besides the genius of terror with a gentle heart, are his loyal dog Zero, an animated rag doll named Sally (Catherine O'Hara), and Oogie Boogie (Ken Page), a huge burlap sack bulging with spiders, snakes, creepy-crawlies, and more and more spooky characters.
Sprung forth from Tim Burton's dark imagination, The Nightmare Before Christmas is genuinely creepy at times. Like all the characters in the film, The Pumpkin King is scary and bizarre, but at the same time he's also full of fun, humour, charm and a little hint of spookiness. The scariest character in the film is undoubtedly the obnoxious Oogie Boogie, a sadistic character who, enjoys mocking his captives before adding them to his snake and spider stew and feasting on their remains. Music is definitely one of The Nightmare Before Christmas's strong points: the movie's brilliant score was written by the genius of Danny Elfman. It's worth seeing the movie just for the wonderful songs such as "This Is Halloween", "Sally's Song" or perhaps the most famous one, "Jack's Lament" with clear references to Shakespeare's "Hamlet".
---
2. BEETLEJUICE
(1998)
Cast: Michael Keaton, Winona Ryder, Geena Davis, Alec Baldwin, Catherine O'Hara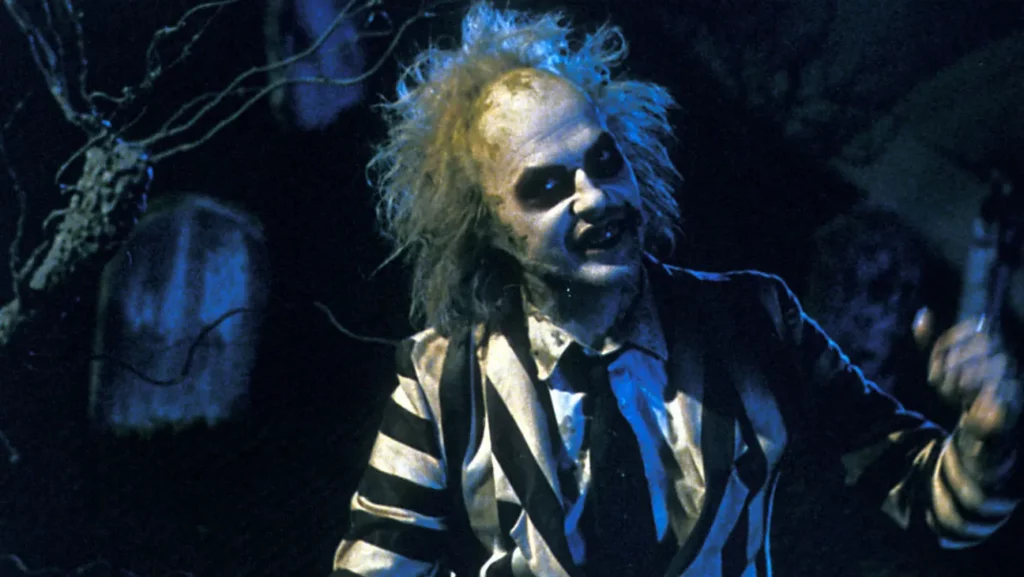 1988 American horror movie Beetlejuice is full of the iconic atmospheres in Burton's cinema, but it is also a hilarious comedy composed of a cast of great actors, where every situation, no matter how grotesque or terrifying, is able to elicit genuine laughter. It is not a coincidence that the American Film Institute ranked this film eighty-eighth on its list of the one hundred best U.S. comedies of all time.
The film follows the adventures of Mr. and Mrs. Adam (Alec Baldwin) and Barbara Maitland (Geena Davis). One day, returning home after a violent car accident, the two realize that they have died and become two ghosts. Their house, as a result of the terrible accident, is sold to the unsuspecting Deetz family, and the couple discover that the new tenants' daughter, the gothic Lydia (Winona Ryder), is able to sense their presence. But Adam and Barbara are ordered to spend another one hundred and twenty-five years in the old mansion and learn how to frighten humans by studying the "Handbook of the Deceased Newcomer" in depth. Since husband and wife are still unable to use their supernatural powers against the Deetz, the two contact the dreaded Beetlejuice (Michael Keaton), a slimy, bizarre, lecherous, green-haired filth spirit. Beetlejuice, professes to be a "bio-exorcist" – that is, the opposite of an exorcist: a ghost who gets rid of humans to give other spirits peace.
The movie is iconic: how can we forget Catherine O'Hara dancing and singing the famous Jamaican song "The Banana Boat Song"? Beetlejuice, is a sweet paranormal story that's perfect for Halloween. Also impossible to forget is a very young Winona Ryder floating! A little trivia for curious fans: "Ghosts House" and "Scared Sheetless" were considered as alternative titles!
---
3. EDWARD SCISSORHANDS
(1990)
Cast: Winona Ryder, Johnny Depp, Dianne Wiest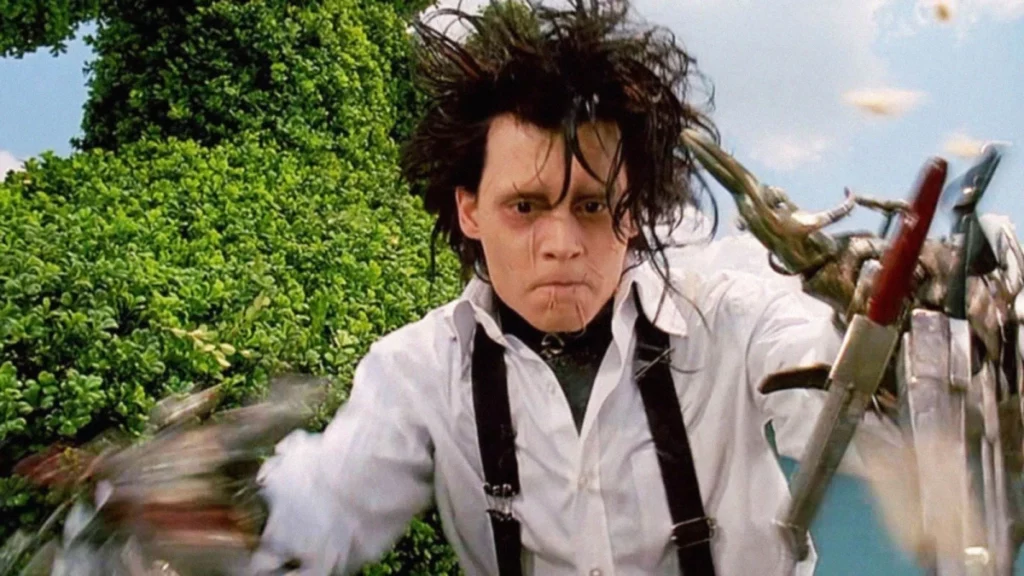 Edward Scissorhands is a gothic fairy tale, a timeless tale of friendship perfect for the Halloween season. A modern fable about the tragedy of social diversity, Edward Scissorhands is perhaps one of the highest achievements of Tim Burton's visionary cinema. Released in theaters in 1990, just a few years after the success of Beetlejuice, Edward's sad story enshrines the director's establishment among the general public, as well as the beginning of a long collaboration with star Johnny Depp, screenwriter Caroline Thompson, and composer Danny Elfman.
The film begins with an old woman telling her granddaughter the story of Edward (Johnny Depp), a seemingly normal boy, were it not for his pronounced pallor, face full of scratches, and scissors instead of hands. Edward was created in the 1930s by a scientist (Vincent Price) who died shortly before finishing building the poor boy. Long after Edward is created, Peggy Boggs (Dienne West), an Avon cosmetics representative, visits the Gothic mansion located at the top of the town's hill, where she finds the strange boy, frightened and alone. Intrigued by Edward's diversity, she decides to take him home. Despite his intimidating appearance, Edward befriends Peggy's youngest son, Kevin (Robert Olivieri), and her husband, Bill (Alan Arkin). But Edward Scissorhands is also and above all a love story. Edward immediately falls in love with Kim (Winona Ryder), Peggy's teenage daughter, the only one who really loves him for what he is, who does not want to try to change him, and who sees his hidden self. The colourful, bizarre villagers are intrigued by the scissor-handed boy' strange figure, but their curiosity soon turns to rejection of the different.
As always, Burton loves to tell stories of outcasts, of people who are different to society, and Edward Scissorhands is the essence of this: a gothic story and a touching tale that will make young and old viewers fall in love. Edward Scissorhands is a very special work since it is also an autobiographical film. Tim Burton has often said how, as a child, he had a lot of trouble making friends. Everyone avoided him, he felt different and isolated. And from this sad memory, the character of Edward was born, a shy man unable to approach other people without risking hurting them, but at the same time endowed with a great soul, and a great desire to love. Many of the themes in Edward Scissorhands recall Mary Shelley's English gothic novel "Frankenstein," but also the French fairy tale of "Beauty and the Beast."
---
4. ED WOOD
(1994)
Cast: Johnny Depp, Sarah Jessica Parker, Martin Landau, Bill Murray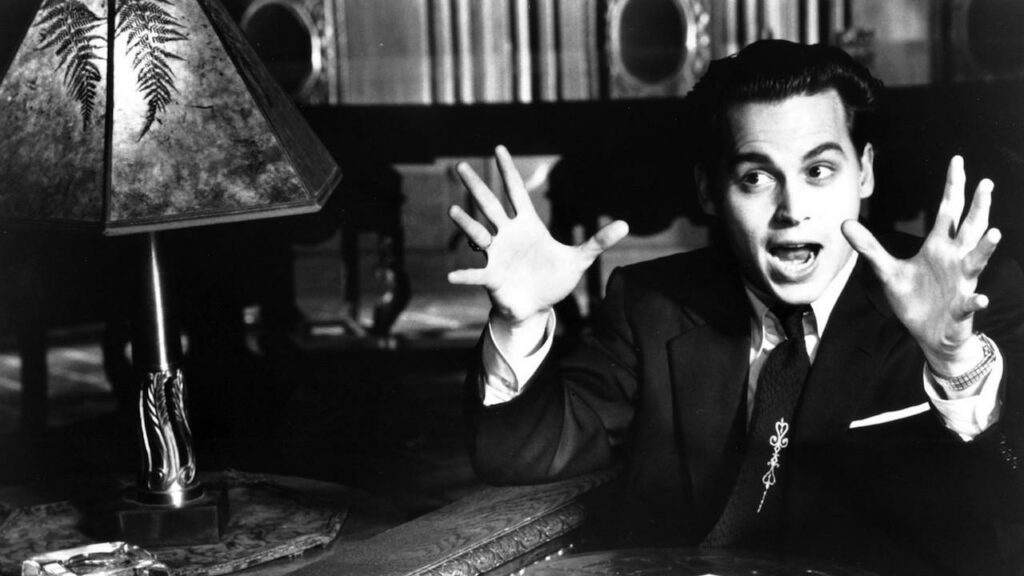 Ed Wood is certainly not Tim Burton's scariest film, but if you like black-and-white horror movies, particularly from the 1950s, you need to catch up on this little masterpiece of cinematography. The film won 21 awards, including two Oscars and a Golden Globe. Ed Wood is a biopic about the life of filmmaker Edward D. Wood Jr., who was called "the worst director of all time," played (like most of Burton's films) by a histrionic Johnny Depp.
The movie follows the infamous director's life from childhood until his death, and through the narrative we understand his love for cinema, art, and the essence of beauty. Ed Wood (Johnny Depp) is a penniless and untalented aspiring director who has just landed in Hollywood. That his talent is not overpowering is clear right from the start, when the excerpt from one of his plays goes on stage. The protagonist, moreover, has a habit of dressing as a woman, even though he is absolutely heterosexual. This passion of his is the pretext that opens the world of cinema to him; in fact, he proposes to a shabby B-movie producer that he makes a film inspired by the true story of a boy who had a sex change. To gain leverage over the producer, he exploits his friendship with star Bela Lugosi (Martin Landau), the disgraced historical Dracula and victim of destitution and morphine.
Ed Wood is a bitter, sometimes grim, and at certain moments almost overtly funereal film. it is the portrayal of a group of losers who do not want to give in to this realization, a portrait of the other side of Hollywood that's deeper than it looks, and one in which dreaming can be dangerous. The magazine Cahiers du cinema wrote in 1967: "Ed Wood never had any ambition other than to become an honest filmmaker." Despite that, he became one of the most influential directors of all the time. Ed wood is a delightful work that is worth seeing just for the scene in which Lugosi arrives drunkenly on the set and engages in a furious fight with an inert octopus in mid-water while Ed Wood watches enraptured.
---
5. SLEEPY HOLLOW
(1999)
Cast: Johnny Depp, Christina Ricci, Christopher Walken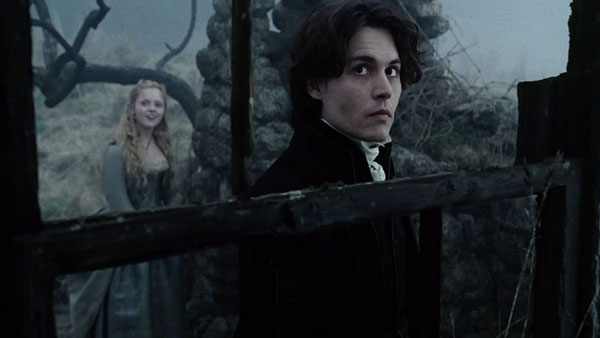 What could be more frightening than a ghostly knight cutting off heads in a small town with ghoulish overtones? Sleepy Hollow is a gothic supernatural horror, an adaptation based on Washington Irving's 1820 short story "The Legend of Sleepy Hollow", starring a very young Christina Ricci.
The story is about a quirky British Intelligence agent, Ichabod Crane (Johnny Depp), who is sent to New York by his superiors in 1799, to the village of Sleepy Hollow where mysterious murders have occurred. The victims, all decapitated, were allegedly killed by a mysterious Headless Horseman (Christopher Walken), a ghost from the Revolutionary War and the terror of all the town's inhabitants. Crane, who refuses to believe what he judges to be a silly folk legend, begins to investigate the murders, soon finding himself catapulted into a kind of nightmare that his "enlightenment" methods will not suffice to explain. Aided by the beautiful and disturbing Katrina Van Tassel (Christina Ricci), the policeman will unearth the mysteries and secrets of an enchanted world.
Between hallucinations, dream and murders, the agent will manage to discover the truth about the knight, and much more than that! Again, Tim Burton creates a fairy tale, a town that hides a secret, a headless horseman who roams around in the night executing the wretched, and a redemption-seeking protagonist destined to unravel the intrigue. What is most striking about the film is the great scenic treatment and the fairy space inhabited by witches and evil knights. Tim Burton's passion for gothic atmospheres emerges more than ever from the evocative settings of this film in which the director reintroduces the themes dear to him: the relationship with the afterlife, the confrontation with the monstrous and the different, and the constant presence of an elsewhere that's either frightening or full of wonder, giving the whole story the magic and complete feeling of being in a suspended time – a feeling that we only experience only in dreams.
---
6. CORPSE BRIDE
(2005)
Cast: Emily Watson, Johnny Depp, Christopher Lee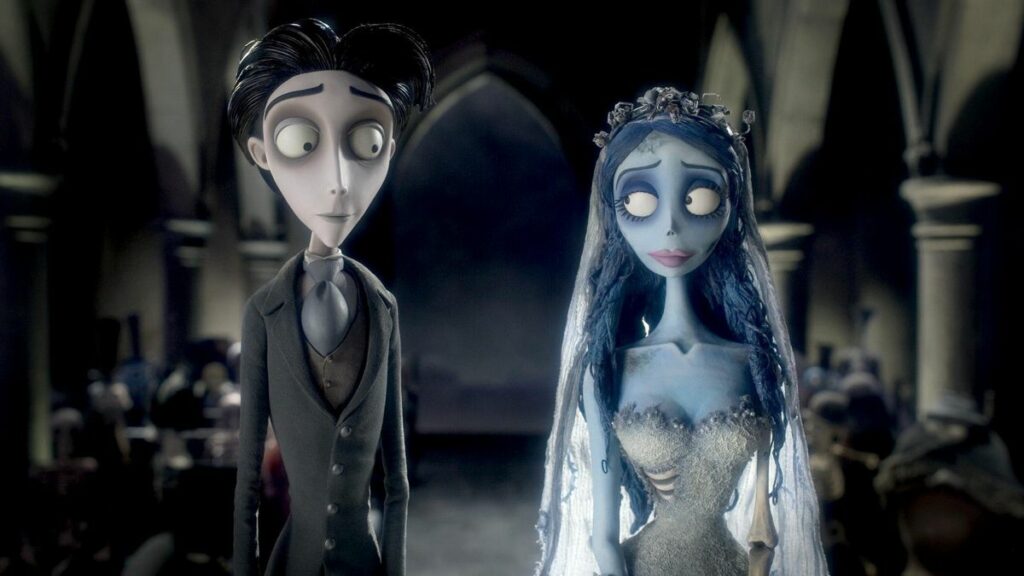 Corpse Bride is another movie featuring Johnny Depp, who has made eight films with Tim Burton so far. "It doesn't happen often in life that you meet someone and immediately feel a total connection," says Tim Burton about his first meeting with Johnny Depp. The understanding between the two has become a deep friendship that goes beyond filmmaking. But in this case, Johnny only lent his voice, as Corpse Bride is Tim Burton's second stop-motion animated film, loosely based on William Shakespeare's 19th-century novel "The Adventures of Pericles".
Corpse Bride follows the story of Victor (Johnny Depp), the only son of a wealthy fish merchant couple, and Victoria (Emily Watson), the only daughter of a declining and penniless noble family. The two families arrange a marriage between the two who would rather have married for love but, surprise of surprises, when they meet each other it is love at first sight! Does it end there, then? Of course it doesn't! Although happiness is within reach, everything is in danger of blowing up because of Victor's clumsiness in front of the creepy priest (Christopher Lee), especially when, by mistake, Victor marries Emily (Helena Bonham Carter), a betrothed killed by the one he promised to love!
The movie is a paranormal love story, perfect for a romantic evening with a spooky theme. The story is exciting, each character is unique in form, movements, and expressions, and all is made more magical by Danny Elfman's music. Corpse Bride is the sublime embodiment of a possible and impossible double love that finds its fitting conclusion in the touching epilogue. The movie is suitable for those who are not fond of the horror genre, who will appreciate the sweetness and slight melancholy of this little love story.
---
7. SWEENEY TODD: THE DEMON BARBER OF FLEET STREET
(2007)
Cast: Johnny Depp, Helena Bonham Carter, Alan Rickman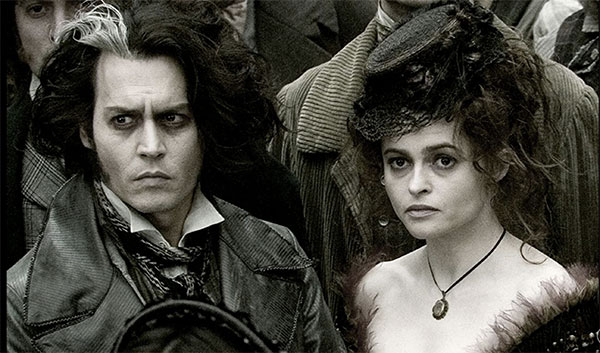 For those who want to keep the horrific atmosphere but at the same time see a musical, Sweeney Todd: The Demon Barber of Fleet Street is definitely the right choice. The film tells the story of the vengeful Benjamin Barker, unjustly arrested and sentenced to hard labour in Australia by a corrupt judge, who desires his virtuous wife. The character was born in 1842 from the pen of English playwright George D. Pitt; the musical, composed by Stephen Sondheim to a libretto by Hugh Wheeler, debuted on Broadway in 1979, then successfully moved to London several times until it landed (for the second time) on the big screen in Tim Burton's version (2007), starring Johnny Depp and Helena Bonham Carter.
The film follows the life and crimes of Sweeney Todd. Unjustly arrested and exiled to hard labour by Judge Turpin (Alan Rickman), who is interested in his wife Lucy, barber Benjamin Barker returns to his hometown after 15 years, under the name Sweeney Todd. Discovering that his wife has poisoned herself as a result of Turpin's violence, the demon barber plots revenge. The story sees him slit his customers' throats and then sell their bodies by giving them to his business partner Mrs. Lovett (Helena Bonham Carter), who uses the meat in her meat pie shop. The characters in this film are the lonely protagonists of their own stories, walking around colliding here and there with fate and their mistakes, and everything comes back like a boomerang. "Never forget, never forgive" is the key phrase of the film, and the barber is ready to follow it to the letter.
The choice of colour tones is excellent; Burton chooses a very bare use of colour, preferring to depict London, and its inhabitants, in shades of black and white, that makes the whole thing, if possible, even more grotesque. Like Sweeney Todd, viewers see London as a "cesspool in which the dregs of humanity dwell": this is, more or less, how the protagonist defines the metropolis. The only moments when the colour becomes defined and bright are when Mrs. Lovett imagines her future life with Todd, with whom she is secretly in love and for whom she would do anything. There is nothing left for you to immerse yourself in the rundown streets of 18th century London, and pray you don't encounter Sweeney Todd… but beware, one other recommendation, don't eat the meat pies!
---
FRANKENWEENIE
(2012)
Cast: Charlie Tahan, Martin Landau

Instead of celebrating in the company of witches, monsters and ghosts, why not do it with Victor Frankenstein and his adorable dog Sparky in the animated film Frankenweenie? The movieis the third stop motion in Tim Burton's work, an adaptation of a short film of the same name made by Burton himself in 1984, clearly inspired by Mary Shelley's novel "Frankenstein". It's a black-and-white animated comedy to watch with the family, and a very peculiar reimagining of the iconic monster.
Victor Frankenstein (Charlie Tahan) is a lonely boy, a science buff with few friends. The only one he really cannot do without and who is always with him is his dog Sparky, with whom he enjoys making short monster movies, even in 3D, which he then projects in his living room before the proud and amused eyes of his family. When his dog is hit by a car one day, Victor's brain is filled with all the notions he learned in Professor Rzykruski's (Martin Landau) latest science class on how a strong electrical discharge generates biological reactions in living things. Making the most of the typical thunderstorms in his town, he decides to try to apply this principle to his dog as well. Victor stitches up his friend, applying a few bolts to allow electricity to pass through. A little bruised, but Sparky is by his side again. But the whole town is aware of his death, so Victor must keep his little scientific prodigy a secret: different, you know, is not always taken the right way.
Fantasy, bullying, creativity, and affection represent the keys to the entire story, which is set in a typical Burtonian landscape characterized by gothic elements such as the dark landscape and death, treated with typical Black Humor that strips it of the role of sure triumphant. Both older and younger children will be able to get attached to Victor's adorable little dog, a bull terrier. A perfect movie to bring young spectators close to the horror genre, beginning their viewing with a film with macabre overtones but unlikely to scare them!
---
DARK SHADOWS
(2012)
Cast: Johnny Depp, Helena Bonham Carter, Eva Green, Michelle Pfeiffer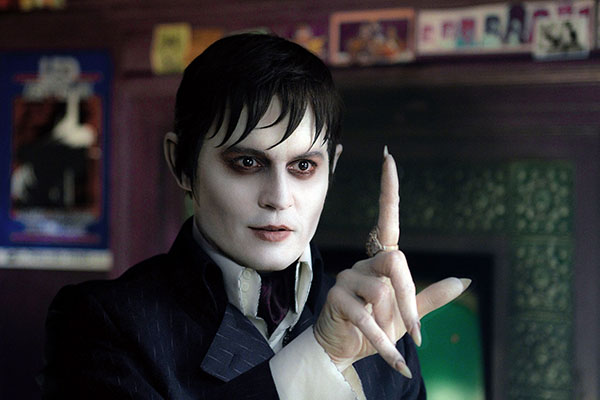 Raise your hand if you haven't grown fond of the bungling vampire Barnabas Collins. Dark Shadows is a 2012 movie adaptation of the '70s cult classic vampire soap opera TV series aired from 1966-1971. The film's predominantly light-hearted and funny tone takes on the right dark tints at times and the right amount of blood splatter that only a vampire can justify. At the same time, the ironic tone seems to prevail over the violent one and so, although macabre at times, the film can be considered an entertaining comedy for everyone, brought home by the fine performances of the actors.
The story begins in 1760, when Mr. and Mrs. Collins set out for the Thirteen Colonies with their young son Barnabas (Johnny Depp). Upon arriving in Maine, they build a mansion called Collinswood and establish a fishing business that, as it expands, will give birth to the town of Collinsport. Barnabas, meanwhile, grows up and becomes a real playboy but, the moment he breaks Angelique Bouchard's (Eva Green) heart, the latter begins to destroy his life in revenge, using black magic, turning him into a vampire, and then burying him alive. After spending years in his grave, Collins returns to the town of Collinsport in 1972, but struggles to adapt to "modern" times. Back in the family once again, Barnabas decides to restore the fishing business and Collinswood to its former glory by entering into competition with AngelBay, run by the witch Angelique. (nome dell'atrrice) This will be the beginning of a rivalry that will lead Barnabas to clash with the same witch who turned him into the blood-sucking monster.
For fans of the 1970s, amid psychedelic "peace and love" model atmospheres, backcombed hair and overly colourful outfits are the side ingredients of a film whose story, initially thought of as horror, manages to raise a smile thanks to its grotesque declination. Dark Shadows is not one of Tim Burton's most successful films, but, when looked at from a parody perspective, it succeeds in wringing genuine laughs. Between vampires, witches, legends and humour, Dark Shadow will keep you glued to your seat… or coffin!
---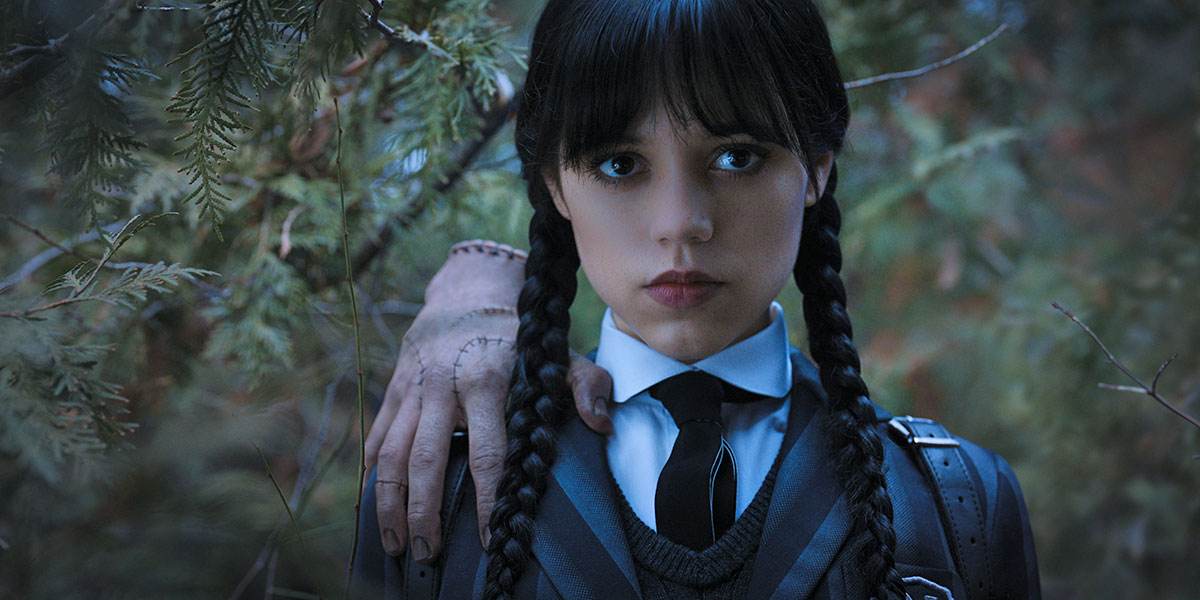 Tim Burton's series Wednesday was released globally on Netflix on November 23, 2022.