Venice Immersive: Virtual Reality Line-Up for Venezia 79 (2022)

Venezia 79: Venice Immersive Poster (ASAC / La Biennale)
Venice Immersive returns to Venezia 79 with 43 Virtual Reality projects from 19 countries. Discover the 2022 line-up and synopses!
The line-up for Venezia 79 has been announced yesterday morning, and we've written an article with the full list and synopses of all the films that will premiere at the 2022 Venice Film Festival. But today, it's time to talk about another reason why festivalgoers are looking forward to going to the Lido: Venice Immersive. The Virtual Reality section of the programme is always fantastic, containing some of the best VR and XR have to offer, but it's even more exciting this year as it's going back to the Lazzaretto Island – a place that used to be a leper colony and that has now been dedicated entirely to the festival's incredible VR experiences.
This year, the selection of projects for the XR – Extended Reality section of Venezia 79 is made of a total of 43 projects from 19 countries, as well as 32 works in the Worlds Gallery section, which you'll be able to experience on 1-10 September. The XR works in questions will range from 360° videos and interactive installations to live performances and virtual worlds, accessible on Meta's Oculus, and HTC Vive. Among these projects, 30 will be in Competition and 10 will be Out of Competition; two additional Special Events will be presentes in 7 Guided World Hops in 75' presentations, and one "Special Event – Out of Competition" screening of a film we absolutely loved this year.
Discover the full line-up of Venice Immersive works premiering at Venezia 79 below, and don't forget to follow us on our socials (Twitter, Instagram and Facebook) to be the first to find out when tickets go on sale, which celebrities will be at the festival, and get live updates from the 2022 Venice Film Festival!
---
VENICE IMMERSIVE 2022: IN COMPETITION
ASCENDERS
by JONATHAN ASTRUC, JONATHAN TAMENE
France, 35'
Plot: Ascenders is a virtual reality odyssey between contemplation and cooperation where participants try to escape their tragic fate on a mysterious island full of secrets. Read more.
STAY ALIVE, MY SON (TU VIVRAS, MON FILS)
by VICTORIA BOUSIS
Greece, USA / 35'
Plot: Stay Alive My Son is an immersive experience based on the internationally renown novel by Pin Yathay titled Stay Alive My Son (languages: FR, EN, KHM, MAN, KOR, GR). Read more.
REIMAGINED VOLUME I: NYSSA
by JULIE CAVALIERE, MICHAELA HOLLAND
USA / 15'
Synopsis: After losing her best friend/broom, a precocious young witch is guided by her familiar spirit through the depths of the dark migration where she must learn about fear and how to harness it in order to protect her village from the wrath of the evil Teemencaag. Read more.
RENCONTRE(S)
by MATHIAS CHELEBOURG
France / 15'
Synopsis: Welcome to 1921. You are going to travel back through time and play the role of Ernest Beaux, during an immersive, multi-sensory experience. You have an appointment with Gabrielle Chanel, so you can present her with your recent work perfume samples for which you would like her opinion. There are 5 of them. Read more. Keep an eye on this one, because director / immersive artist Mathias Chelebourg also wrote and directed the absolutely mesmerizing Alice, the Virtual Reality Play, which premiered at Venice Immersive a few years ago.
THE MAN WHO COULDN'T LEAVE
by CHEN SINGING
Taipei / 35'
Synopsis: not yet available.
ALL UNSAVED PROGRESS WILL BE LOST
by MÉLANIE COURTINAT
France / 10'
Synopsis: All Unsaved Progress Will Be Lost is a melancholic journey through a ghost town made of concrete and fog, based on the testimony of a woman who refused to evacuate her hometown village after a terrible disaster. Read more.
EURYDICE, EEN AFDALING IN ONEINDIGHEID [EURYDICE, A DESCENT INTO INFINITY]
by CELINE DAEMEN
Netherlands / 25'
Synopsis: A Virtual Reality opera, in which you follow Eurydice down an endless maze into the void. A hypnotic journey to an in-between space, between dust and eternity, where time fades and the laws of space become obsolete. Read more.
OKAWARI
by LANDIA EGAL, AMAURY BURTHE
France, Canada / 45'
Synopsis: Nothing is known about Okawari yet, but creator Landia Egal was also behind VR experience Umami, which premiered at the Venice Film Festival in 2018.
DAZZLE: A RE-ASSEMBLY OF BODIES
by RUTH GIBSON, BRUNO MARTELLI, ALEXA POLLMANN, BINE ROTH
UK / 25'
Synopsis: The exhibition combines dance with dazzling optical illusions. Recreating the optimistic, rebellious spirit of the 1919 Chelsea Arts Club Dazzle Ball at the Royal Albert Hall and featuring eye-catching costumes inspired by WW1 naval camouflage. The VR experience invites audience members to dance with performers shifting between virtual and live choreographies. In the worlds of the dazzling ball, dancing avatars meet against striking black and white backdrops. To enhance the exhibition, each audience member wears a zero-waste bespoke dazzle costume, complimenting the dancers' custom-designed mocap suits. The original Dazzle Ball reflected the popularity of Vorticism, futurism and dadaism — DAZZLE captures our post-internet, post-truth society, testing the boundaries of interactive performance. Read more.
PEAKY BLINDERS: THE KING'S RANSOM
by RUSSELL HARDING, TIM JONES, MARCUS MORESBY
UK / 30'
Synopsis: Infiltrate their criminal underworld, earn the Shelbys' trust and prove you have what it takes to join their brutal back-street gang in Peaky Blinders: The King's Ransom, an immersive narrative VR game launching worldwide in 2022. Read more.
FROM THE MAIN SQUARE
by PEDRO HARRES
Germany / 19'
Synopsis: VR Animation director Pedro Harres is back to the Venice Film Festival after his beautiful Castillo y El Armado experience in 2014. We don't know anything about From the Main Square yet, but keep monitoring Harres' site for updates.
SORELLA'S STORY
by PETER HEGEDUS
Australia, Hungary, Sweden / 15'
Synopsis: Sorella's Story explores the story behind a single atrocity photography of a group of women and 11-year-old Sorella, during the Holocaust, in an innovative 360 film. Buried by history, the 360 film brings to life a smuggled photograph, taken in December 1941, showing Latvian Jewish women and a 11-year old girl Sorella Epstein, being ordered to undress in freezing temperatures prior to mass execution in Liepaja, Latvia.
EGGSCAPE
by GERMAN HELLER, JORGE TERESO, FEDERICO HELLER
Argentina / 20'
Synopsis: We don't know anything about Eggscape yet, but German Heller, Jorge Tereso, and Federico Heller all work at VR studio 3dar, which gave us works such as Paper Birds (co-directed by German Heller) and the incredible Gloomy Eyes (co-written and co-directed by Jorge Tereso). Needless to say, we are excited.
TYPEMAN
by KEISUKE ITOH
Japan / 25'
Synopsis: Typeman has been needed by many human beings, sharing their hopes, joys, and sorrows, and spending time together. However, he has been forgotten by people and has lost the meaning of his existence. You will meet Typeman in a room of an old apartment building. When you encounter Typeman for the first time, what feelings will you have for him and how will you act toward him? When you notice the presence of someone else in the world, you will begin to think about the meaning of your being here. Read more.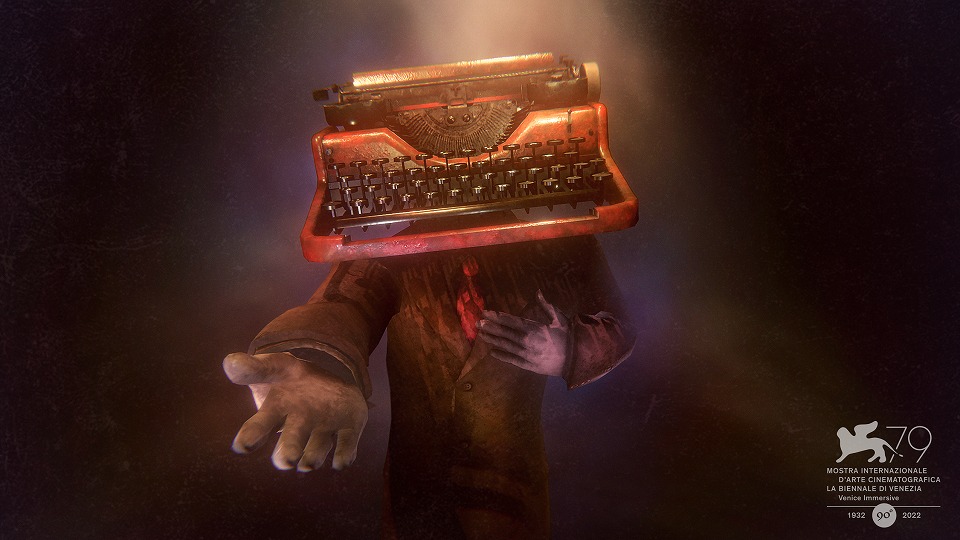 KINDRED
by BAMBOU KENNETH
UK / 9'
Synopsis: Based on the remarkable true story of an aspirational parent called Syd, and their ground breaking journey through the adoption process in the UK, experiencing first-hand the highs and lows of a dream shared by so many. After years of setbacks and rejections, Syd gets matched with a child, Ollie, and in the process helps redefine the meaning of family. Read more.
SHIINEUI BANG [POET'S ROOM]
by BOMSOK KU
South Korea / 23'
Synopsis: unknown
GUMBALL DREAMS
by DEIRDRE V. LYONS, CHRISTOPHER DAVIS
USA / 60'
Synopsis: You have been called by an alien creature named Onyx to a mythical planet on which they are living out their final days. You, and two others, are asked to help them transition from this reality to the next. But before Onyx can lay infinite wisdom at your feet, the weight of your spirit must be assessed. If found ready, you shall embark upon the journey of a lifetime, skipping among the stars, floating above the spheres, and remembering who you really are. Gumball Dreams is performed live with one actor playing multiple roles. Audiences can attend from anywhere in the world, as long as they have access to a VR headset. (Read more)
NAMUANKI
by KEVIN MACK
USA / 45'
Synopsis: unavailable yet. But Kevin Mack specialises in making abstract VR worlds and we're very excited to find out about his new project. Keep checking his site for updates.
TMÁNÍ [DARKENING]
by ONDŘEJ MORAVEC
Czech Republic, Germany / 25'
Synopsis: The short animated documentary uses virtual reality to address depression and the ways to cope with it. Through animation, combining a stylized form of Ondřej's environment and abstract images of his emotions, the viewers will experience and understand what it is like to live with this illness, how to tackle it and what mechanisms are used by people with depression to feel better. The second part of the Darkening project will be developed in collaboration with clinical psychologists as a therapeutic tool: the patients will enter VR to discover and recreate the landscapes of the mind to help them harmonize their minds. Read more.
ALL THAT REMAINS
by QUINTERO CRAIG
Taipei / 12'
Synopsis: We are comforted by facts, by the familiarity of things we know to be "true." The sun rises in the east. There are twenty-four hours in a day. I exist. These truisms simplify our lives, enable us to get through the process of living. We are not afraid to leap into the air, because we know we will land on the ground. All That Remains explores the possibilities that exist beyond these everyday patterns, that blur the lines between truth and fiction. (Read more)
ROCK PAPER SCISSORS
by ALEX RUHL
UK / 7'
Synopsis: unknown yet, but keep checking Alex Ruhl's socials and the production company's website.
THANK YOU FOR SHARING YOUR WORLD
by YU SAKUDO, TOSHIAKI HANZAKI
Japan / 33'
Synopsis: Thank you for sharing your world expresses the world of a blind boy in VR. Based on a interview where it was said that "a blind person actually lives in a colorful world full of imagination", this original story expresses the beautiful world where a blind boy lives with CG animation and interaction. Read more.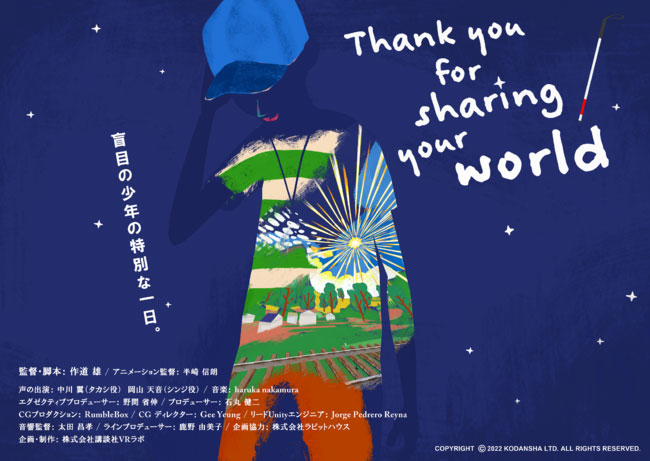 ETERNELLE, NOTRE DAME
by BRUNO SEILLIER
France / 45'
Synopsis: Eternal Notre-Dame is a great technological challenge that allows the visitors to dive into the Cathedral's history from the Middle Ages to our time. Read more.
FRAMERATE: PULSE OF THE EARTH
by MATTHEW SHAW, WILLIAM TROSSELL
UK / 20'
Synopsis: Framerate is a contemplative artwork, a pioneering research tool and a shared immersive experience. The work invites audiences to bear witness to landscapes in flux. We observe alterations caused by human-centred industry and the immense forces of nature; destruction, extraction, habitation, construction, harvests, growth, and erosion. Read more.
MRS BENZ: VOYAGE OF DISCOVERY
by ELOISE SINGER
UK / 45'
Synopsis: Set in Germany in 1888, Mrs Benz dives into the perspective of a courageous woman who invested her reputation and inheritance in her husband, Karl Benz, and his 'horseless carriage' invention. At a time when women were expected to adhere to the 3 Cs of Children, Church and Cooking, Bertha stole her husband's Motorwagen to travel 120km with her two children —making his car world-famous in the process. Read more.
UNCANNY ALLEY
by RICK TREWEEK
South Africa / 20'
Synopsis: Inspired by the Metaverse communities. Find out more on Uncanny Alley's Twitter account.
FIGHT BACK
by CELINE TRICART
France, USA / 40'
Synopsis: They learn karate to fight sexual aggressors in the shantytowns of Nairobi; participate in extreme survival camps in the Norwegian wilderness; patrol the streets of Delhi; and get concealed carry permits to protect themselves in the United States. But what do all these women have in common? They have chosen to use force to defend their rights. The right to exercise their chosen profession. The right to use their bodies as they see fit. The right to live. "Fight Back" is a documentary series about groups of women who literally fight for their rights. Read more.
TREASURE HEIST
by LUAN TRINH
USA / 60'
Synopsis: unknown
MANDALA – A BRIEF MOMENT IN TIME
by THOMAS VILLEPOUX
China, France / 45'
Synopsis:
By entering an ancient Buddhist temple, the spectators are offered the opportunity to create altogether a shape of light, a bright and colorful mandala. Depending on their movements, choices and collaboration, each drawing will be unique. The energy instilled in their mandala will awake fantastic creatures, heroes from a Chinese folktale: WuKong the monkey king and Erlang Shen, the heaven's soldier. They will guide the audience into the mandala, putting them to test and pushing them to reflect on their own life in the process. The fantastic characters are played by an actor in live motion-capture, delivering a unique, taylor-made and extremely immersive experience, using the Buddhist mythology as a background. Read more.
RED TAIL
by WANG FISH
Taipei / 20'
Synopsis: At a train station floating in the cloud, a mysterious red tail catches the boy's attention. Chasing the red tail, the boy travels through countless magical places, runs into bizarre creatures, and finally he meets the gentleman, who seems to know his secrets more than he does. When the red tail reminds the boy of his own memory and sadness, what are the secrets hidden behind, and where will they lead him next? Read more.

---
BEST OF VENICE IMMERSIVE – OUT OF COMPETITION
In the "Best of Venice Immersive – Out of Competition" strand of Venezia 79, the 2022 Venice Film Festival is showcasing an international selection of the best XR – Extended Reality projects.
ON THE MORNING YOU WAKE (TO THE END OF THE WORLD)
by MIKE BRETT, STEVE JAMISON, PIERRE ZANDROWICZ, ARNAUD COLINART
France, UK, USA / 42'
(HI)STORY OF A PAINTING: THE LIGHT IN THE SHADOW
by QUENTIN DARRAS, GAELLE MOURRE
UK / 15'
AREA MAN LIVES
by AMY GREEN, RYAN GREEN
USA / 90'
LUSTRATION
by RYAN GRIFFEN
Australia, USA / 32'
ALEX HONNOLD : THE SOLOIST VR
by JONATHAN GRIFFITH
UK, France, USA / 60'
SPACE EXPLORERS: THE ISS EXPERIENCE – EPISODE 3: UNITE
by FÉLIX LAJEUNESSE, PAUL RAPHAEL
Canada / 35'
SPACE EXPLORERS: THE ISS EXPERIENCE – SPACEWALKERS
by FÉLIX LAJEUNESSE, PAUL RAPHAEL
Canada / 20'
KINGDOM OF PLANTS WITH DAVID ATTENBOROUGH
by IONA MCEWAN
UK, USA / 15'
THE MIRACLE BASKET
by ABNER PREIS
Netherlands / 14'
SHORES OF LOCI
by ELLEN UTRECHT, JAMES SUNDRA, DANI BITTMAN, DAISY BERNS
USA / 120'
---
BIENNALE COLLEGE CINEMA VR – OUT OF COMPETITION
ELELE
by SJOERD VAN ACKER, producers: FIRAT SEZGIN, ECEGÜL BAYRAM
Netherlands / 6'
produced with a grant from Biennale College Cinema VR, 6th edition (2021/2022)
MONO
by CHIARA TROISI, producers: FEDERICO LAGNA, ALICE DRAGO, MATTEO FRESI
Italy / 14'
developed during the Biennale College Cinema VR, 4th edition (2019/2020)
CHROMA 11
by TSANG TSUI-SHAN, producers: KATTIE FAN, TERESA KWONG
Hong Kong SAR / 13'
developed during the Biennale College Cinema VR, 4th edition (2019/2020)
---
VENICE IMMERSIVE 2022: WORLDS GALLERY
DRIFT by M E R C
BAROQUE CATHEDRAL by OPCherry
CAVE OKINAWA by Tokoyoshi
CUE by 0b4k3
DISCONNECTED: VIDEO FEEDBACK WORLD by MomoTheMonster
DISTRICT ROBOTO by Fins
DREAM by Zanderthaw
DUBROVINIK MAIN STREET & OLD PORT by nobelchoco
FIRE TORNADO by BigChickenLover
FRACTAL EXPLORER by ikamon
FRACTAL EXPLORER 1001 by 1001
FRACTAL LOVE by pema99
FRICTION [!] FUNCTION – PARTICLE LIVE by Norimaki
I N I T I U M ⁄⁄⁄ イニシャルby Artsy Glitch
LLLL SILENT DAWN RELEASE PARTY by PK
MAGIC HEIST by Fins
NIGHT CHURCH by OPCherry
OLYMPIA NIGHTS by DrMorro
ORGANISM by DrMorro
OXYMORE by VRrOOm
PARTICLE LIVE FIXER by ฅらいちちゃんฅ
SHADOW FACTORY by emymin
THE DICE DIMENSION by FlyingFly
THE DINOSAUR BONE GALLERY MUSEUM by topgunsi
THE GREAT INVENTOR ESCAPE by FlowersRite花之祭P
THE RAT KING by _Digital
VENICE BASILICA SALUTE by nobelchoco
VENICE CANAL WIDMANN by nobelchoco
VMV CC TYPE 01 by skkn
ZENIARAI SHRINE CONNECTED WITH JAPANELAND by 龍 lilea
---
WORLDS GALLERY: SPECIAL EVENTS
SANCTUM by PammeMatth
SODA by Issit
---
SPECIAL EVENT – OUT OF COMPETITION
WE MET IN VIRTUAL REALITY
by JOE HUNTING
UK / 91'
Read our review: We Met In Virtual Reality (Review): The Modern Day Fairytale
---
The 2022 Venice Film festival will take place at Venezia Lido on August 31 – September 10, 2022. Read the full line-up of the 2022 Venice Film Festival, and keep checking this page for updates on Venice Immersive.