Venice Immersive 2023: Virtual Reality Lineup (Venezia 80)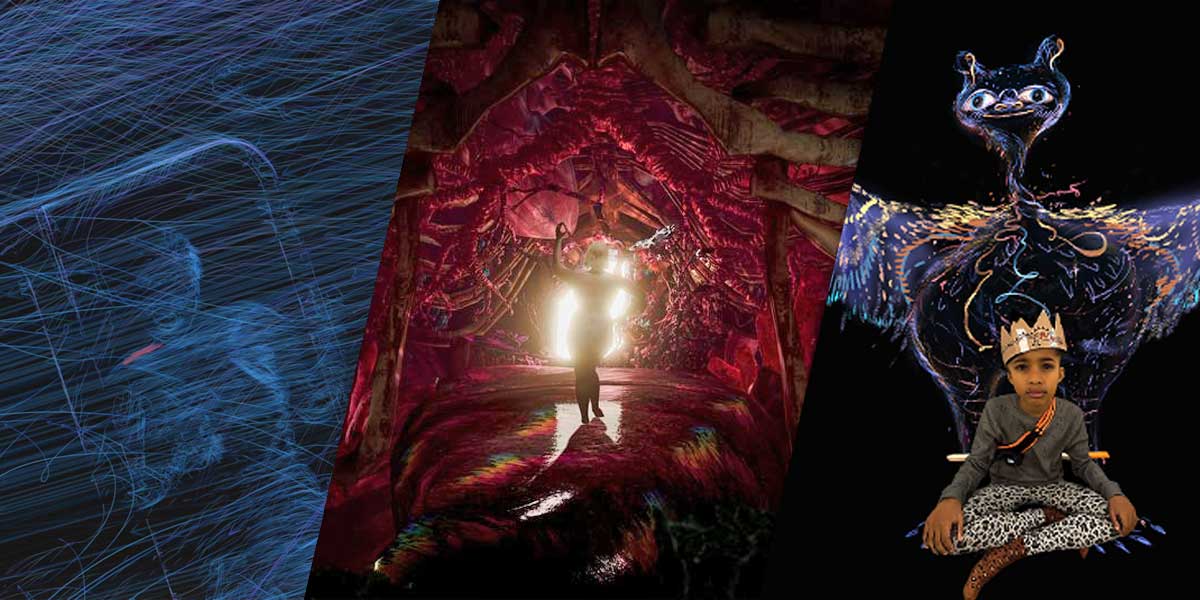 Flow, Body of Mine, The Imaginary Friend (Lokman Space, Studio Biarritz, Cameron Kostopoulos)
The official virtual reality lineup of Venice Immersive 2023 is here! Read our list of all 44 VR & XR projects premiering at the film festival this year, with plots, synopses and information.
We have a lineup for the Virtual Reality strand of Venezia 80! The 2023 Venice film festival has just announced the Venezia 80 lineup and the list of all the VR & XR projects we're going to experience at the Lido this year. And there's truly something for everyone, since it's a total of 44 projects from 25 countries, with 24 worlds in the Worlds Gallery. In this article, we made a list of all works in the Extended Reality section, with plot information, synopses and more. If you're wondering what to watch this year, you're in the right place.
Out of these 44 VR experiences, 28 will be in Competition, and 10 will be Out of Competition. 6 additional works were developed during the "Biennale College Cinema – VR: 1" project, and then there will be 24 worlds in the Worlds Gallery. The latter will be on VRChat, where you will also find a virtual version of the Lazzaretto Vecchio Island, which is where Venice Immersive 2023 takes place.
As always, Venice Immersive 2023 comprises all kinds of XR works, from 360° installations to interactive works and XR projects of various length. President Singing Chen, German Heller, and Pedro Harres make up the International Jury, who will award the Venice Immersive Grand Prize, Special Jury Prize, and Achievement Prize. For more information, visit the VR Lineup on the Biennale's website!
So let's look at the 2023 Venice Immersive lineup! Below is a list of all the Virtual Reality projects that will be at the Lido at the 80th Venice International Film Festival. Keep checking this page for updates, and don't forget to follow us on our socials for all things Venezia 80:
---
VENICE IMMERSIVE 2023: IN COMPETITION
EMPEREUR (EMPEROR)
by MARION BURGER, ILAN COHEN
France, Germany / 35'
Albyon Studio and Atlas V (the studio behind the excellent Gloomy Eyes, Madrid Noir, and many more) bring us "an interactive and narrative experience in virtual reality". In Empereur (Emperor), we will find ourselves inside the brain of a father who suffers from aphasia, a condition that impacts your speech.
The story mainly revolves around his attempts to communicate with others without being able to speak, and mainly centers around his relationship with his daughter, who doesn't really know who her father is since she never got to know him before the illness.
And, if that wasn't reason enough to experience Empereur, this VR project is also told in a monochrome aesthetic that blends traditional animation with surreal overtones – a style that should capture an illness we don't know much about.
SONGS FOR A PASSERBY
by CELINE DAEMEN
Netherlands / 25'
Songs for a Passerby is a Virtual Reality opera developed by transdisciplinary artist Celine Daemen, who teams up with Art Director Aron Fels, composer Asa Horvitz, and writer Olivier Herter to show us how we can connect with a world that's in constant movement. Songs for a Passerby will also be performed in Amsterdam in September: find out more!
TULPAMANCER
by MARC DA COSTA, MATTHEW NIEDERHAUSER
USA / 20'
Venice Immersive programmers Liz Rosenthal and Michel Reilhac told XR Must's Agnese Pietrobon that Tulpamancer is something we've never experienced before. What's new about it is that it makes use of artificial intelligence in VR in real-time, using your own experiences to craft something "poetic and emotional". Keep an eye on this one!
REMEMBER THIS PLACE: 31°20'46''N 34°46'46''E
by PATRICIA ECHEVERRIA LIRAS
Palestine, Qatar, Spain / 25'
Transformational coach, social innovation designer, and self-described life architect Patricia Echeverria Liras has made it her mission to experiment with creative mediums to tell stories about social justice and liberation. Last year, the Spanish artist told Society for Arts and Technology about two exciting virtual reality projects she was working on: a cultural repository for the future, and a project about Bedouin women exploring memories. The latter is Remember This Place, and we can't wait to find out more.
LETTERS FROM DRANCY
by DARREN EMERSON
USA, UK / 22'
The Illinois Holocaust Museum & Education Center and production company East City Films bring us a VR project that takes place during the Holocaust. The experience uses 360 video technology, motion capture, animation, 3D environments, and a spatial soundtrack to explore the bond between a mother and her daughter. Not only that, but it is based on the actual real memories Marion Deichmann, who last saw her mother when the Nazis took her from their apartment when she was 9 years old.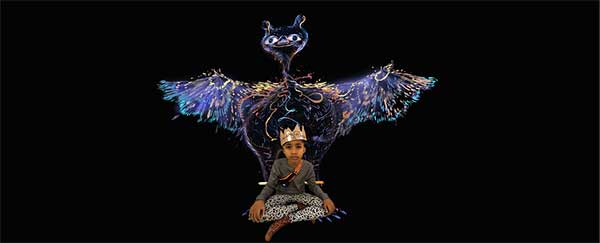 THE IMAGINARY FRIEND
by STEYE HALLEMA
Netherlands, Belgium, France / 26'
Studio Biarritz brings us an interactive project! The surrealistic The Imaginary Friend makes you become the protagonist of its story while also telling you the tale of a boy who's a little different. And you'll be – you guessed it! – the titular imaginary friend. The studio is an expert at telling stories about lesser heard communities, with experiences like Gay Simulator and the Day of the Dead-centered Floating with Spirits among their recent works. Which makes us very excited for The Imaginary Friend.
WALLACE & GROMIT IN THE GRAND GETAWAY
by FINBAR HAWKINS, BRAM TTWHEAM, LAWRENCE BENETT
France, UK / 60'
Even Virtual Reality beginners will be aware of Wallace & Gromit, the animation duo that has been bringing us on adventures for many years. At the 2023 Venice Immersive, we'll be able to experience said adventures in a Meta Quest interactive, narrative-led VR experience called Wallace & Gromit in The Grand Getaway!
SEN
by KEISUKE ITOH
Japan / 15'
Remember Keisuke Itoh, who gave us the fantastic Typeman last year? This year, he brings us a project about the tea ceremony (source: XR Must). We don't know anything else about it, but we'll be keeping an eye on Keisuke Itoh's website!
MY NAME IS O90
by SIYEON KIM
South Korea / 14'
The trailer for Siyeon Kim's My Name Is O90 introduces us to its titular character, which would appear to be a very unusual dog. The director dedicates this VR film "to all those lost things that have been forgotten, will be forgotten, must be forgotten or can't be forgotten, and to all the people remaining in this world", and we are intrigued.
COMFORTLESS
by GINA KIM
South Korea, USA / 15'
"Your silence is a mirror", reads the tagline of Gina Kim's 360-3D project Comfortless, which takes place in a brothel. But it was the U.S. Air Force Base in Kunsan, South Korea, that set up said brothel, back in 1969, calling it "American Town" because it was meant to provide what they called "US Military comfort women." In this Virtual Reality work, we get to experience it first in the 80s, when it is abandoned and empty, and then, at night, with the sounds from its past. Comfortless is without a doubt one of the most interesting projects at the 2023 Venice Immersive.
BODY OF MINE
by CAMERON KOSTOPOULOS
USA / 20'
This interactive VR installation from Cameron Kostopoulos is one of the most interesting projects at the 2023 Venice Immersive, because it explores "gender dysphoria, trans identity, and our individual relationships with our bodies." This timely project allows us to find out what it's like to assume the body of another gender, sparking a much needed conversation about gender identity and transgender rights. It won multiple awards including the Special Jury Award for XR Experience at SXSW, and it's at the top of our list for Venezia 80.
ONEROOM-BABEL
by SANGHEE LEE
South Korea / 15'
Here's another very promising project, this time from South Korea. "Oneroom" is the Korean word to describe an attic – a flat where the bedroom, kitchen, and living room are all in one room. In this project, we'll get to visit the many people who live in these rooms, and find out how they made use of their limited space. The project mainly focuses on the people who move away from home, such as young Koreans who temporarily move to big cities to study. Watch the trailer of Oneroom-Babel!
CHEN XIANG VR
by LIU YUEJUN, WU NANNI, SHI TAO, XU JINGQIU
China / 45'
Chen Xiang VR is an action game that uses a bird's eye view to immerse us in Chinese mythology. Its protagonist is the titular Chen Xiang, the son of the Three Holy Mothers, who uses martial arts to save his mother and defeat Buddhism. Visit Chen Xiang's (《太子沉香》) official Steam page!
FLOW
by ADRIAAN LOKMAN
Netherlands, France / 15'
This animated Virtual Reality short is one of the most visually compelling projects at the 2023 Venice Film Festival. Flow enable us to experience a turbulent day, floating like brushstrokes that symbolise "the most vital element surrounding us." Watch the trailer of Float on Lokman Space's site!
HOME
by TEMSUYANGER LONGKUMER
UK / 32'
British Indian interdisciplinary artist Temsuyanger Longkumer, whose works were exhibited at London's Saatchi Art, among other places, and who collaborated with the Biennale in the past (Rainbow Project) is back with a new experience called Home. We don't know anything about it yet, but watch this space!
PEUPLER (POPULATE)
by MAYA MOUAWAD, CYRIL LAURIER
France, Lebanon / 10'
Peupler is an immersive interactive room that raises awareness of ways in which we can cohabitate as humans.
FLOATING WITH SPIRITS
by JUANITA ONZAGA
Belgium, Luxembourg, Netherlands / 31'
Here's another exciting project, this time taking place in Mexico during the preparations for Day of the Dead! Floating with Spirits mainly revolves around two little sisters who remember the stories their shaman granny used to tell them when they were younger. If you liked Coco and want to find out about ancestors, nature, and the Mazatec community, don't miss this Virtual Reality work from Juanita Onzaga!
SYUHASUU (FREQUENCY)
by ELLIE OMIYA
Japan / 25'
Osaka-born writer, artist, director, and radio host Ellie Omiya is known for her exhibitions, artwork, live paintings, and performances that blend art, music, and more, which have been presented at art galleries all over the world. We don't know anything about Frequency yet, but we should be in for something special.
PEPITOS: THE BEAK SAGA
by RUXANDRA GABRIELA POPESCU
UK, USA / 13'
We are in love with Ruxandra Gabriela Popescu's visual style. The immersive media director has created VR chat rooms, dreamy animated stories and various VR projects in the past, and has recently brought REIMAGINED VOLUME II: MAHAL to Tribeca. We don't know anything about Pepitos yet, but we are very excited about her next creation.
JIM HENSON'S THE STORYTELLER: THE SEVEN RAVENS
by PAUL RAPHAËL, FÉLIX LAJEUNESSE
Canada, USA / 20'
The Storyteller: The Seven Ravens is an AR book, born out of the collaboration of two VR studios: Henson, and Felix & Paul. It's based on an anthology series of the same name and it's about a young girl on an adventure to save her brothers from a curse. There's plenty of folklore inThe Storyteller, executive produced by Neil Gaiman, who also narrates the AR version.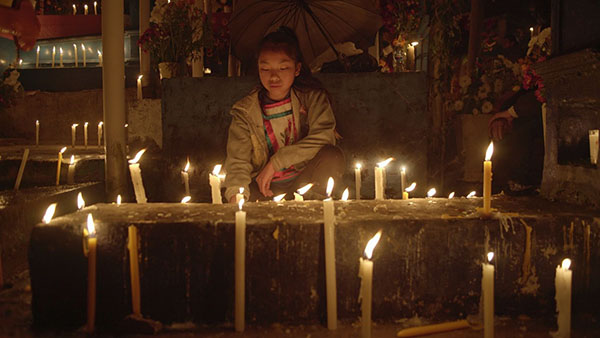 PERENNIALS
by ZOE ROELLIN
USA / 17'
Lucerne-based illustrator Zoe Roellin does many things, from VR Exhibits to live paintings with Oculus Quill and Tilt Brush, and her drawings are gorgeous. All we know about Perennials is that she has been working on it for over a year, and that a trailer is coming soon!
FINALMENTE EU (FINALLY ME)
by MARCIO SAL
Brazil / 14'
The 2023 Venice Immersive programmers told XR Must that Finalmente Eu is about "someone who has been living his whole life in hiding because he is physically very different from other people". That's all we know so far, but watch this space!
GARGOYLE DOYLE
by ETHAN SHAFTEL
USA, Argentina, Austria / 38'
Gargoyle Doyle, selected for last year's Venice Film Festival's Gap Financing Market, is an exciting project because it blends augmented reality and virtual reality, taking us back and forth between the two. Not only that, but it's also an interactive project! It revolves around a grumpy, self-centered gargoyle who was damaged in a fall and therefore sent to the place where "irregular" gargoyles go, with a chatterbox optimist and a decorative metal rain gutter as his only companions. Find out more on director Ethan Shaftel's site!
AUFWIND (UPWIND)
by FLORIAN SIEBERT
Germany / 28'
Düsseldorf-based production company Neonreal produced this immersive, multi-sensory VR film from director Florian Siebert. According to Film und Medienstiftung, Aufwind was recorded using Volume Capture, and tells the story of two aviation pioneers at the beginning of the 20th century.
HORSE CANYON
by NPROWLER
Canada / 60'
Nprowler crafted many VR Worlds for VRChat in the past, and while we don't know anything about Horse Canyon yet, we can expect it to be a VR World too.
SHADOWTIME
by SISTER SYLVESTER, DENIZ TORTUM
Netherlands, USA, Turkey / 20'
Shadowtime comes from the collaboration between research-based performer Syster Sylvester (aka Kathryn Hamilton) and immersive director ​​​​​​​Deniz Tortum. We'll update the article as soon as we know more!
COMPLEX 7
by FINS
USA / 30'
3D artist and World Creator FINS has created beautiful VRChat Worlds in the past, such as the gorgeous Hare's Diner and District Roboto. FINS' latest World, Complex 7, is three times the size of District Roboto, and we can't wait to explore!
SPOTS OF LIGHT
by ADAM WEINGROD
Israel, Canada / 14'
According to DOC Aviv, Spots of Light "describes the transition from darkness to light, from blindness to sight, from death to life." This Israeli-Canadian co-production already has our interest.
---
BEST OF VENICE IMMERSIVE – OUT OF COMPETITION
In the "Best of Venice Immersive – Out of Competition" strand of Venezia 80, the 2023 Venice Film Festival is showcasing an international selection of the best XR – Extended Reality projects.
ANOTHER FISHERMAN'S TALE
by ALEXIS MOROZ, BALTHAZAR AUXIETRE
France / 240'
DAVID ATTENBOROUGH'S CONQUEST OF THE SKIES
by LEWIS BALL
UK, USA / 22'
THE FIRST INGREDIENT: TALES FROM SODA ISLAND – CH. 7
by SIMONE FOUGNIER
USA / 17'
SPACE EXPLORERS: BLUE MARBLE – ORBIT 1
by FÉLIX LAJEUNESSE, PAUL RAPHAËL
Canada / 24'
THE UTILITY ROOM
by LIONEL MARSDEN
UK / 80'
CONSENSUS GENTIUM
by KAREN PALMER
UK, USA / 25'
FORAGER
by WINSLOW PORTER, ELIE ZANANIRI
USA / 8'
OVER THE RAINBOW
by CRAIG QUINTERO
Taipei / 11'
PIXEL RIPPED 1978
by ANA RIBEIRO
USA / 20'
GAUDI, L'ATELIER DU DIVIN
by STÉPHANE LANDOWSKI, GAËL CABOUAT
France, Japan / 17'
---
BIENNALE COLLEGE CINEMA VR – OUT OF COMPETITION
QUEER UTOPIA: ACT I CRUISING
by LUI AVALLOS producer: RODRIGO MOREIRA
Portugal, Brazil / 25'
developed during the Biennale College Cinema VR, 6th edition (2021/2022)
TALES OF THE MARCH
by STEFANO CASERTANO, producers: STEFANO CASERTANO, TIM DEUSSEN
Germany, Italy / 12'
developed during the Biennale College Cinema VR, 5th edition (2020/2021)
FIRST DAY
by VALERIY KORSHUNOV, producer: SVITLANA KORSHUNOVA
Ukraine / 15'
produced with the grant from Biennale College Cinema VR, 7th edition (2022/2023)
HUMAN VIOLINS – PRELUDE
by IOANA MISCHIE, producers: IOANA MISCHIE, SORIN BAICAN, JEREMY SAHEL & co
Romania, France / 19'
developed during the Biennale College Cinema VR, 5th edition (2021/2022)
ORIGEN
by EMILIA SÁNCHEZ CHIQUETTI, producer: EMILIA SÁNCHEZ CHIQUETTI
Brazil / 25'
developed during the Biennale College Cinema VR, 5th edition (2020/2021)
A VOCAL LANDSCAPE
by OMID ZAREI, ANNE JEPPESEN, producers: OMID ZAREI, ANNE JEPPESEN
Denmark, USA / 14'
developed during the Biennale College Cinema VR, 4th edition (2019/2020)
---
VENICE IMMERSIVE 2023: WORLDS GALLERY
A TRIP IN THE FOREST by Thrіll
BEYOND A BIT – 想像のちょっと先へ by EstyOctober
BREAK SET by PK
CLUB DEVIATE by TOTC
CUBES (EXPERIMENTAL) by phi16
CYBERLOVE OKINAWA ˸˸˸ 沖縄 by Artsy Glitch
DRAGON_TOWN by COMA.
EPILOGUE․ CHAPTER 1. by DrMorro
EPILOGUE․ CHAPTER 2. by DrMorro
EXHIBITION ⁄ LITTLE TRAITORS by haruki_haru
FATBOY SLIM – EAT, SLEEP, VR, REPEAT by Fatboy Slim, ENGAGE XR and Anglo Management
IY MMD WORLD by Iris Alias
LUMINESCENT LEDGE by Thorinair
PASS OF TIME by Karl Kroenen
REALITY IS WRONG by sɪᴍᴘʟᴇ – ᴡᴀᴛᴇʀ
STORM DRAIN by @CattusEx
TARRIED PRECIPICE by Karl Koronan
TERRA COTTA VALLEY by Octuplex
THAD MANDELBOX by Thad Gyther
THAD RECURSIVE GARDEN by Thad Gyther
THAD RECURSIVE ROOM by Thad Gyther
THE SPARK OF THE WORLD by TSMRE
VEINPRM0118 by VEIN_A
ZEP'S PARTICLE HELL by Zepwlert
---
The 2023 Venice Film festival will take place at Venezia Lido on August 30 – September 9, 2023. Venice Immersive will be open to the press from August 29, and to the public from August 31. Read the 2023 Venice Film Festival lineup with plots of all films and keep checking this page for updates on Venice Immersive.