Unpregnant (2020): Film Review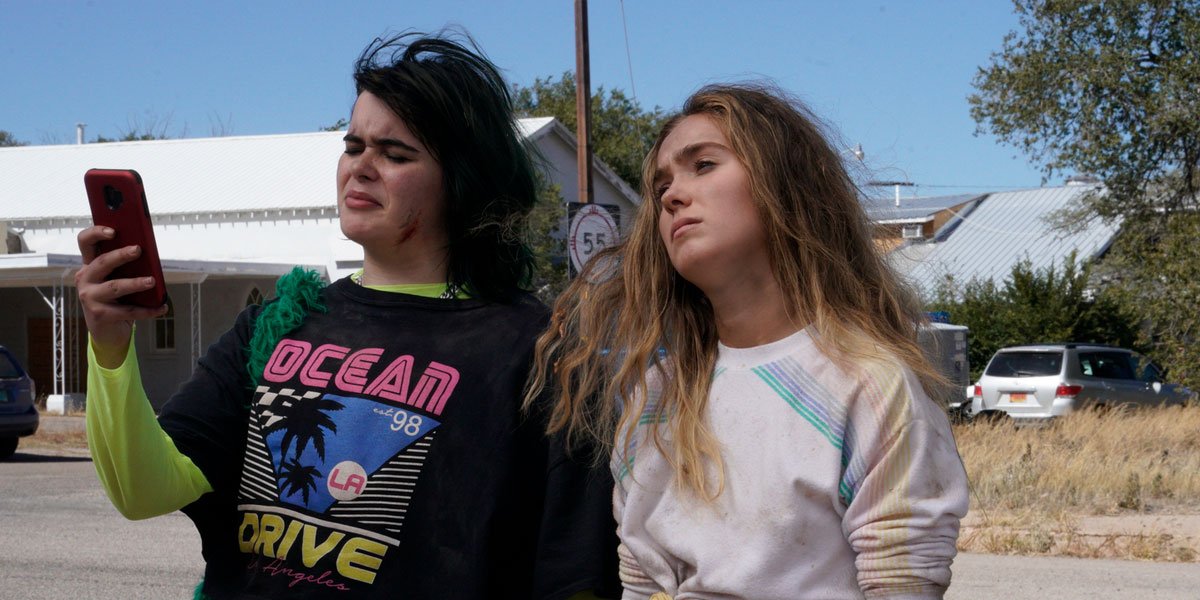 Haley Lu Richardson and Barbie Ferreira in Unpregnant (HBO Max / Courtesy of WarnerMedia)
Unpregnant tackles touchy topics with a buoyant balance of hilarity and heart, handled honorably by its two laudable leading ladies.
---

Earlier this year, critics across the globe were enamored with Eliza Hittman's empathetic and engrossing Never Rarely Sometimes Always, a drama centered on a pregnant Pennsylvanian teen's trek to New York City, where she is able to get an abortion without parental consent. With in-depth insight and striking sensitivity, Hittman shined a light on the loathsome lack of accessible abortion clinics for underage women and uncovered an unsettling unjustness that has been affecting a fair portion of our population for far too long. It was a worrying wake-up call, told with passion, patience, and precision.
I start this review by mentioning Never Rarely Sometimes Always, because, in many ways, HBO Max's Unpregnant is the most compelling companion piece possible to that tender triumph. Rachel Lee Goldenberg's adaptation of Ted Caplan and Jenni Hendricks' 2019 novel showcases a similar story – one in which a pregnant Missourian teen named Veronica (Haley Lu Richardson, of Five Feet Apart and The Edge of Seventeen) adventures to Albuquerque with her former friend Bailey (Barbie Ferreira, of HBO's Euphoria) when she's incapable of getting an abortion in her home state – but it cleverly counterbalances these real-world woes with comedy, adding an ample amount of authenticity to this anecdote.
Some may use this slight tonal difference to critique or favor one film over the other when comparing the two, but in reality, I find that their close releases and near-parallel plots actually strengthen each story, as these factors make each feature's central argument that much more captivating – young women across the country face these similar struggles each and every day, and though their singular stories may differ somewhat, they are always united by their undertakings to undermine this unfairness.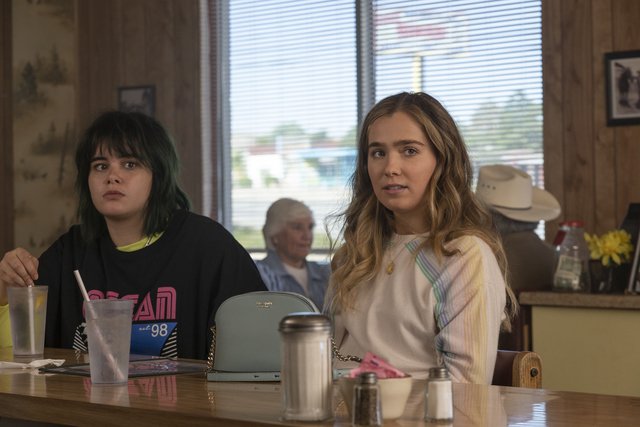 Luckily, Unpregnant is able to both slip out of the staggering shadow of Never Rarely Sometimes Always and still pay tribute to that film's pathos, and much of that is thanks to a shrewd and sweet screenplay that walks this tonal tightrope terrifically. For a script with five credited writers (Goldenberg, Caplan, and Hendricks, along with assists from William Parker and Someone Great's Jennifer Kaytin Robinson), this "coming-of-age" chronicle surprisingly never feels less than completely cohesive and coherent, beautifully balancing screwball subplots and set pieces with far more solemn and sentimental scenes.
Though the film isn't shy about its politics, it wisely refrains from openly associating itself with any particular party or politician, and, as a result, the picture never feels overly "preachy" by any means. Richardson's Veronica is given a few rousing rants about the misdeeds of the Missouri government, but these monologues feel more moving than manic (as they are composed to be character-driven), and overall, the film is very-much rooted in facts first and foremost, offering one of the most clear and comprehensive portrayals of the entire abortion process as a whole. Unpregnant does eventually stop to study the plentitude of people who are affected by such a procedure – a touching third-act talk between Veronica and her mother reflects on her religious concerns surrounding abortion with stunning sagacity – but it always acknowledges that this decision is Veronica's and Veronica's alone, and it's astounding to witness that type of agency being afforded to a teenage female protagonist.
Speaking of our star, Richardson remains as riveting to watch as always, grappling with the gravity of the role while never losing sight of the playfulness she's also asked to portray. Veronica has become so accustomed to attempting to meet everyone else's expectations of her – from her parents to her boyfriend to her school "posse" – that she's forgotten how it feels to be in control of the choices she makes in life, and her evolution is electrifying to behold. While never losing her "Type A" attributes, Veronica slowly but surely learns to loosen the reins a tad and put her own priorities first, and Richardson is just remarkable at diving head-first into this delicate character development. Though she's quite a commendable comedian as well, Richardson shines brightest in her most sobering sequences, such as the aforementioned meeting with her mother and her discussion with a doctor at the abortion clinic prior to her procedure. If Richardson wasn't already receiving an abundance of offers for future star roles, Unpregnant should most definitely shoot her to further success, if there were any justice in the world.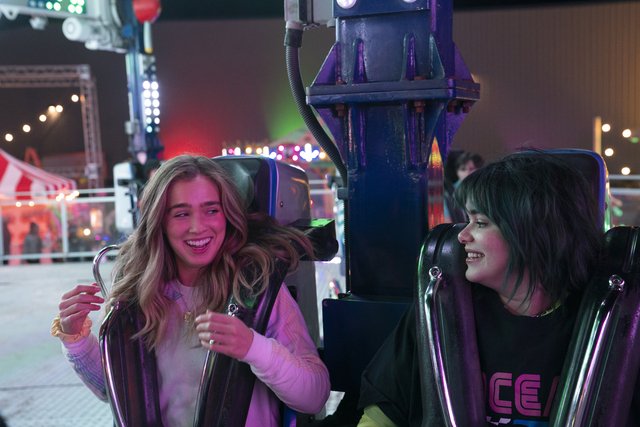 Not to be outmatched, Ferreira's Bailey is an equally fun and fearless foil to Richardson's Veronica, allowing the up-and-comer to play with a more peculiar and powerful personality than her coy character of Kat on HBO's Euphoria. Bailey is definitely the "rowdier" one in this relationship, but because Ferreira so completely commits to the comedy, her absurdist antics never come across as "annoying" or "aggravating" in any capacity. Often, she instead acts as an amusing audience surrogate, playing the role of the "voice of reason" and telling Veronica what she (and we) know she needs to hear but may not want to admit. Sure, the character occasionally falls into the clichés and conventions of the "loudmouth loner who hides from their past and their pain through humor," but Ferreira is so enormously engaging that she still sells these plot points perfectly, as predictable as some may be. In addition, the story even provides her with a short but sweet lesbian storyline that fantastically fills in some of the blanks of her background.
The film's supporting cast is quite strong across the board too, but Breckin Mayer (Clueless, Garfield) and Sugar Lyn Beard (For a Good Time, Call…, Mike and Dave Need Wedding Dates) leave the most lasting impression as two devoted and deceptive bible-beaters who try to put an end to the girls' expedition in one of the film's more "excessive" yet ridiculously entertaining bits. Alex MacNicoll (Vice, A-X-L) sometimes struggles to find the right angle to his role as Veronica's compulsive and clingy boyfriend Kevin, but he ultimately nails the attitude of the "nice guy" who's really only out for himself. Giancarlo Esposito (Disney+'s The Mandalorian, AMC's Better Caul Saul) even turns up in a quick but quirky turn as an eccentric, anti-government limo driver who helps the girls in the home stretch of their journey and delivers some jaded jokes along the way.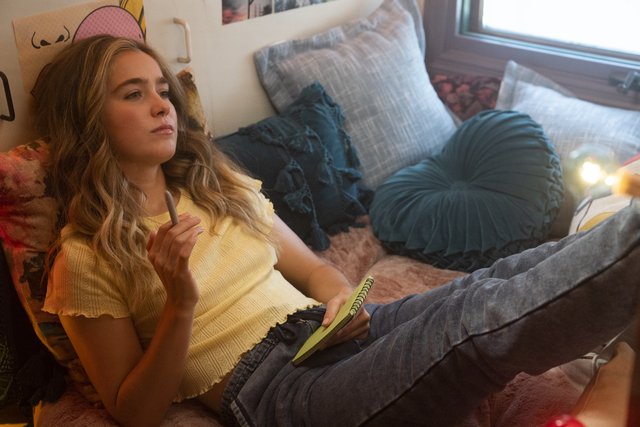 However, make no mistake – Unpregnant unquestionably belongs to Richardson and Ferreira, and their charming chemistry is the core of the film. Like last year's Booksmart, Unpregnant displays a female duo with such authentic affinity for one another that it seems as if the actresses themselves have been friends for years, just like their characters. The stars are simply always in sync, capably keeping control of the movie in spite of any chaos that occurs and acting as a singular unit from the first to final frame. Without the firm foundation of Veronica and Bailey's friendship, Unpregnant could easily become undone, but Richardson and Ferreira are more than capable of tackling this task with no difficulty whatsoever.
If HBO Max keeps releasing hilarious and heartwarming original films like Unpregnant, it'll soon assert itself as a "must-subscribe" streaming service. With the courage to confront contentious subject matter, a silly but sincere script, and two lovely leading ladies, Unpregnant is yet another achievement in the celebrated "coming-of-age" genre and an essential analysis of the access to abortion in America today.
---
Unpregnant is now available to watch on HBO Max, on digital and on demand.