The Unholy (Review): Familiar but Frightening Faith-Based Horror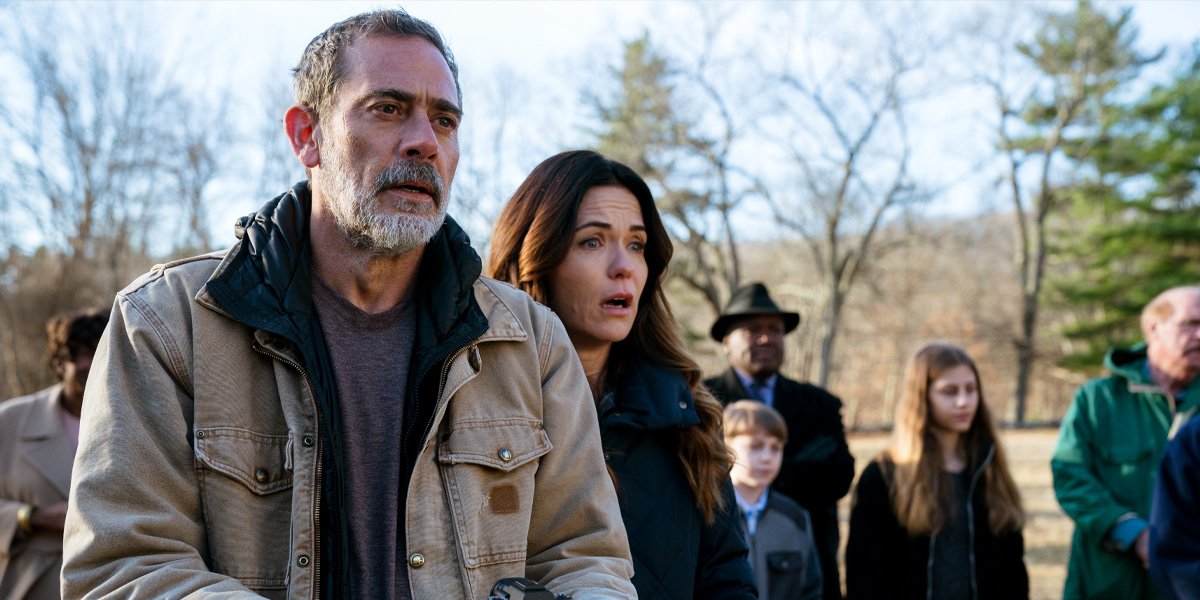 The Unholy (Screen Gems / Sony Pictures Entertainment)
The Unholy 's story is nothing we haven't seen before, but there are still more than enough "spooks" here to satisfy horror hounds.
---

After a year of struggle and suffering, the idea of meeting an individual who can manifest miracles is as enticing as ever, as it seems like we're all in search of someone to soothe our souls and put the pieces of our lives back together again. Regardless of whether you have religious faith or not, most everyone has experienced a moment where they wonder what they would do if someone simply waved all their woes and worries away, and Sony/Screen Gems' The Unholy plays into passions perfectly. What could've been a formulaic faith-based horror flick if released in a pre-pandemic cinematic marketplace now takes on new meaning, as its themes centering around the temptation of receiving a respite from today's troubles are more resonant than ever – that is, until writer-director Evan Spiliotopoulos (making his directorial debut here, after scripting The Huntsman: Winter's War and Disney's live-action remake of Beauty and the Beast) deviously deconstructs these desires.
Amusingly debuting on Good Friday, The Unholy – adapted from James Herbert's 1983 horror novel "Shrine" – is anchored by Jeffrey Dean Morgan's (Batman v. Superman: Dawn of Justice, Watchmen) Gerry Fenn, a disgraced journalist who finds himself in the small New England town of Banfield while following a flimsy lead for a story as he attempts to revitalize his flagging career by any means necessary. While this particular pitch falls through, Fenn stumbles upon a prospect for a far more promising piece after coming across a deaf-mute girl named Alice (Cricket Brown) wandering in a field late one evening. In a trance, Alice seems to be speaking to spirit in a tree, and when their conversation concludes, she faints, with no one there to find her except for the flummoxed Fenn.
After Fenn returns Alice to the care of her uncle, the local priest Father Hagan (William Sadler, of Bill & Ted Face the Music and Iron Man 3), and her doctor, Ms. Natalie Gates (Katie Aselton, of Bombshell and Silk Road), she appears to be safe, but when waking up the next day, the impossible occurs, and she somehow regains both her senses of speech and hearing – with an additional ability to heal the sick, as well. Fenn sticks around, hoping to document the developments of Alice's recovery, while those in the town are simultaneously alarmed by and in awe of this young girl's grand new "gifts." As the church contemplates the credibility of her capabilities, the rest of the world turns Alice into a social media star, and she restores the faith of many former non-believers. Unfortunately, when Fenn, Gates, and Father Hagan uncover sinister secrets relating to the source of Alice's recent rehabilitation, it becomes quite clear that these miracles may have occult origins.
Now, if you've seen one horror drama about demonic possession or other faith-based frights, you've frankly seen them all at this point, and admittedly, The Unholy doesn't do much to subvert your expectations associated with this subgenre, as many plot twists and turns can be predicted as soon as Alice's strife surfaces. However, with that being said, The Unholy still sets itself apart from similar films of years past thanks to its truly thought-provoking themes. As it tells a tale concerning the anarchy that can arise when worshipping invalid idols, we can perceive parallels between these problems and those we've seen in our own sociopolitical climate today. The run-down residents of Banfield are so desperate for someone to relieve them of their physical or emotional ruination that they don't think twice about placing all their trust in Alice, especially as she continually assures that she alone can solve all their sorrows as long as they never waver in their commitment to her cause – and doesn't that sound familiar? This cutting critique is at the forefront of the film until the very end, when a Bible verse succinctly states that one should "beware of false prophets, which come to you in sheep's clothing, but inwardly are ravening wolves."
Likewise, Spiliotopoulos is just as skillful at creating characters we come to care about considerably – and the film's compelling cast put in the work in these roles to increase our investment tenfold. Again, the arcs for Morgan's Fenn, Sadler's Father Hagan, or Brown's Alice won't necessarily take us on any novel journeys, but each individual's experiences are engrossing enough due to sturdily structured writing and passionate performances. Fenn starts off as a bit of a sleazy figure (which Morgan leans into magnificently), but as he inserts himself into Alice's life, he strains to support her at all costs, learning how to be selfless when he only thought he was searching for a story. Sadler is stirring as a man who strives to believe Alice's spiritual connection but struggles with distressing doubts, causing a crisis-of-faith that make him question who he is. And as the cursed child at the center of this catastrophe, Brown grounds the film with a genuine sincerity that constantly makes us reconsider her intentions – can we buy into her devoted demeanor, or is it all a façade for something far more fearsome? Brown abstains from offering any easy answers.
Though The Unholy has a bit of a sluggish set-up, the story soon gains steam as Alice's "evolution" is established, but even then, the film is rarely as scary as one would expect for its first two acts, prioritizing subtle suspense over non-stop scares. Still, Spiliotopoulos has a capable command over the entire eerie endeavor the whole way through, infusing even the most innocuous of scenes with an ill-boding intensity and assuring that his audiences' anxieties are amplified no matter how tranquil things may look at a given moment (while receiving an assist from The Conjuring and Insidious composer Joseph Bishara's spooky score). When the thrilling third act rolls around, fans get the supernatural skirmishes they've come to see, and aside from a few subpar VFX shots here or there, this chaotic climax should mostly satisfy horror hounds who are hungry for "in-your-face" frights, especially with such suitably spine-chilling imagery. A few situations require some "suspension of disbelief," and the film's ultimate conclusion may feel too "clean," but, for the most part, this ghastly denouement gets the job done.
The Unholy may not be a new horror classic, nor does it rewrite the rule book for religious-based horror, but for those searching for a straightforward, solidly constructed "scary movie," Evan Spiliotopoulos's frightful film should fit the bill. With some stimulating social commentary brewing beneath the surface and compelling characters that viewers can really root for, there's enough supplemental substance to The Unholy to set it apart from the horror pack, but if all you're looking for is terrifying thrills and chills, you'll still walk away wholly satiated as well.
---