The Metamorphosis of Birds (Review): Peaceful, Sensory Reflection

The Metamorphosis of Birds (New Wave Films)
Striking in its abstract form and hypnotic in its unique compositions, The Metamorphosis of Birds is a deeply personal consideration of life, death and the natural world.
---

The Metamorphosis of Birds is one of those films that elevates your cinematic experience to an otherworldly plain. It's as sensory as an Apichatpong Weerasethakul film (Memoria), as religiously complex as something Terrence Malick (The Tree of Life) would make, and just as unflinching in its portrayal of death and grief as modern masterpieces such as Drive My Car (2021). Catarina Vasconcelos' first feature film differs from these aforementioned works in its documentary format, chronicling the lives of her parents, grandparents, uncles and aunties. On first impressions, The Metamorphosis of Birds might seem challenging in its abstract tone – vignettes, close-ups of eyes and nature, no strict narrative, overlapping voiceovers – but it quickly becomes an absorbing, intoxicating experience, and one which is so very beautiful in how undoubtedly personal it is to Vasconcelos.
The first eyes we see are those of Vasconcelos' grandfather Henrique, an elderly man who, we learn from a voiceover, is now in a care home and spends his days reflecting on his past whilst his body ails and ages. His main memories – ones which form the basis of the documentary – are of his wife Beatriz (often shortened to Triz) and their six children. Through a series of thematically connected scenes, we learn that Henrique was often out at sea as a sailor during their childhood. Shots of the ocean are genuinely jaw dropping, enhanced by expert framing choices – DOP Paulo Menezes shooting a sailor out of focus looking to the horizon or capturing the sea through a small cabin window – and highly poetic, reflective voiceovers written by Vasconcelos. She shows a great affinity and respect for nature throughout The Metamorphosis of Birds, in one instance reflecting on the vastness of the ocean and how it can be a harbour for memories and lives, a living breathing organism which is just as rich as humans.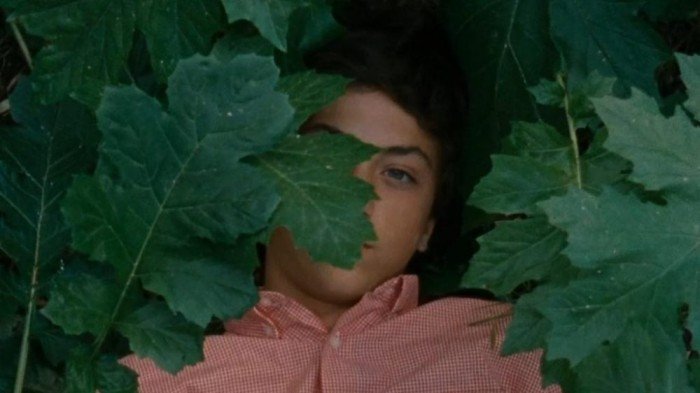 Vasconcelos' focus also shifts to her own father, Jacinto, who is the eldest of the six children and as a child dreamed of being a bird. The Metamorphosis of Birds expertly handles several interlinking themes but perhaps most of all, it is a thorough examination of motherhood, and in particular a moving ode to Vasconcelos' mother and grandmother. The director finds time for humour amongst the arthouse sensibilities, listing traditional duties of women in society before a woman with a hairdryer drowns the voiceover out as it begins to list those of men. Her own mother died when she was 17 years old, and Jacinto's mother Beatriz when he was young too, this shared loss and emotional mourning heightening their father-daughter relationship.
The Metamorphosis of Birds is also simultaneously a celebration of life and a sombre hymn of death, with Vasconcelos juggling and linking the two concepts and their subsequent emotions with a wonderful gracefulness. Monologues about death are mirrored with shots of Beatriz in a river, committing her back to nature as she passes away, or they play over pictures of a birth, celebrating the cycle of life but also recognising the pain of it. Death is referred to by Jacinto as a "mole on the skin" that can never reach the brain, speaking to the impossibility of ever truly accepting or understanding the loss of someone close to you. The Metamorphosis of Birds might not be a film that educates or acts as a ground-breaking exposé, but these themes and how expertly they are handled really mark it out as a piece of work that shows the almost infinite possibilities of the documentary format.
The narrative looseness of The Metamorphosis of Birds gives Vasconcelos an almost uninhibited range to play with her ideas and feelings, which allows for great formal liberties and a plethora of striking images. The religious grandeur of the documentary remains accessible, thanks to the grounded, personal angle it is given. As abstract and experimental as it is, The Metamorphosis of Birds never feels disconnected in its scenes or ideas, always driven by an unwavering intimateness and a sound design that seems to move with the rhythm of the film. Perhaps the most moving and eloquent part of The Metamorphosis of Birds is in its notion that death is not the end, with Vasconcelos beautifully enforcing the point through flowers blooming in time-lapse sequences. The hue of nostalgia entrances from the first scene, and The Metamorphosis of Birds' eloquent qualities are sure to shift and shape your outlook on life and death by its conclusion.
---
The Metamorphosis of Birds will be released in cinemas in the UK on 11th March, 2022.
---
JOIN US!
Don't miss our monthly updates with film news and exclusive content! You'll only hear from us once a month. #nospam