The Conjuring: The Devil Made Me Do It (Review): A Tiresome Threequel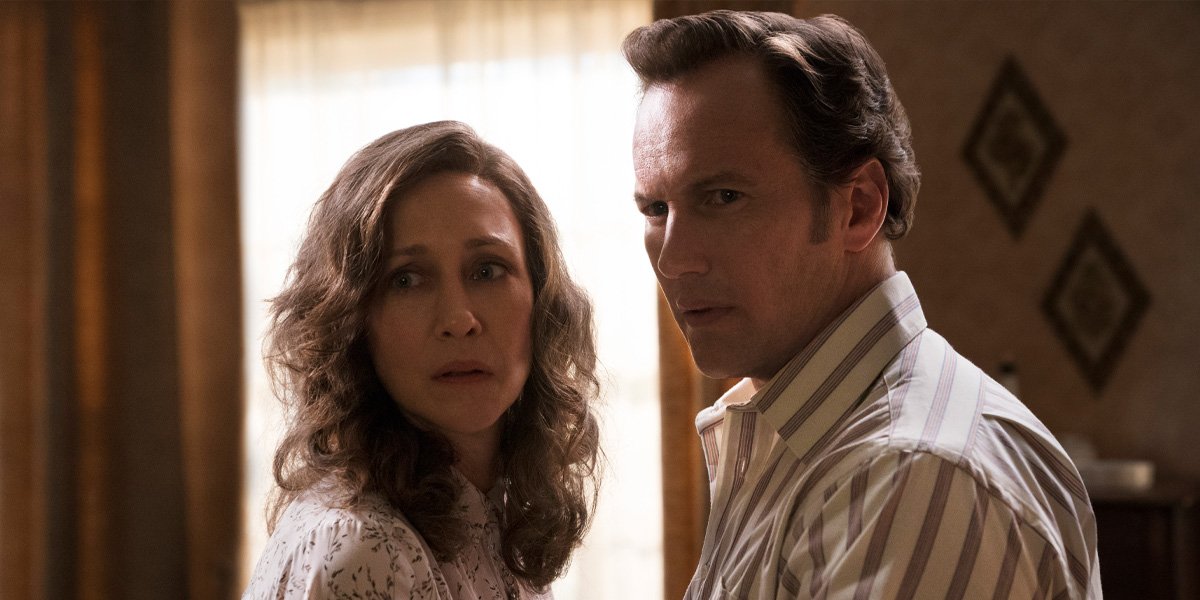 Vera Farmiga and Patrick Wilson in The Conjuring: The Devil Made Me Do It (Ben Rothstein © 2021 Warner Bros. Entertainment Inc.)
The Conjuring: The Devil Made Me Do It can't recapture the spooky spark that made the series so special, despite the efforts of Vera Farmiga and Patrick Wilson.
---

Though many franchises have tried, few have been able to authentically launch a cinematic universe in the wake of Marvel's staggering success over the years. The DCEU is a bit of a chaotic cluster at the moment, tied up in a seemingly infinite number of alternate timelines, while Universal's "Dark Universe" never even made it past its first movie, 2017's ill-advised The Mummy reboot. Meanwhile, as all of these series struggle, Warner Bros. "The Conjuring Universe" has slowly but surely set up its own shared universe of supernatural storytelling – centered around the case files of paranormal investigators Ed and Lorraine Warren – with wondrously rewarding results. The secret behind this critical and commercial sensation? Director/producer James Wan (Saw, Aquaman) and Warner Bros. didn't try to design a cinematic universe before they had a solid foundation to stand on, with the franchise only expanding after the towering triumph that was 2013's The Conjuring. Sure, reviews have varied from entry to entry – with spin-offs like Annabelle and The Nun not generating near as much acclaim as the core films/Wan's contributions – but crowds keep showing up nonetheless, and now, the franchise has grossed a combined $1.9 billion against a combined budget of $139.5 million with just seven features released over eight years.
Originally slated for release in September 2020, the third title in The Conjuring trilogy has now finally arrived after a lengthy delay caused by the coronavirus pandemic, and the passion is positively palpable. While Patrick Wilson (Aquaman, Watchmen) and Vera Farmiga's (Godzilla: King of the Monsters, Bates Motel) Ed and Lorraine Warren showed up for a couple quick scenes in 2019's Annabelle Comes Home, The Devil Made Me Do It represents their "official" cinematic comeback after six long years away from the silver screen, and how could a Conjuring fan not be thrilled by that?
To make matters even more exciting, this threequel tackles the infamous "Devil Made Me Do It" case, depicting the 1981 murder trial of Arne Cheyenne Johnson (Ruairi O'Connor, of Teen Spirit and The Spanish Princess) – the first time in U.S. history where a murder suspect claimed "demonic possession" as a defense in a court of law. Those in Johnson's small town initially balk at such a story, but sure enough, the Warrens soon discover a sinister Satanic plot that has placed poor Arne and the family of his girlfriend, Debbie (Sarah Catherine Hook), right in the middle of this mayhem – and as Arne faces the death penalty, the Warrens only have a limited amount of time to prove his innocence and free him from the demonic force that currently controls his soul.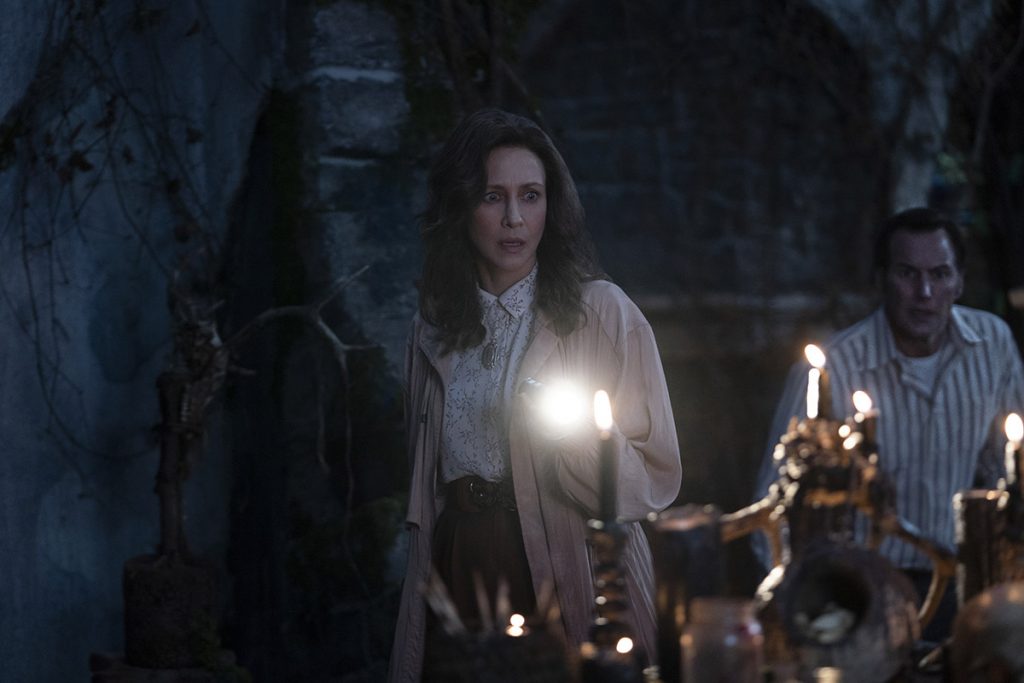 The Conjuring: The Devil Made Me Do It has so much going for it – and so much residual goodwill from the first two films in this series – that it almost seems impossible that it'd be anything but another rock-solid horror story from this cast and crew. The fact that James Wan stepped back to only serve in a producorial capacity for this installment gave us some pause, but surely he'd still be able to steer this ship into winning waters regardless, right? Unfortunately, Wan's absence actually does astronomically diminish the effectiveness of this Conjuring entry, as, right off the bat, it's instantly apparent that The Devil Made Me Do It lacks the finesse that Wan brings to his filmmaking. A petrifying prologue – exhibiting the exorcism of Debbie's brother David (Julian Hilliard, of WandaVision) and the subsequent assault on Arne's soul – leads one to believe that the picture has more potency than it ultimately possesses, since no setpiece that follows is anywhere near as animated or anxiety-inducing, to say nothing of their complete inability to even come close to matching the might of Wan's past work. Director Michael Chaves – captaining a core Conjuring film after cutting his teeth on The Curse of La Llorona – captures some inspired occult imagery throughout, and he has an astute grasp on atmosphere, but, sadly, he can't recreate the style Wan employs when setting up and structuring his scares, which is a significant component of a successful Conjuring movie.
To be fair, most of The Conjuring: The Devil Made Me Do It's shortcomings lie less with Chaves' still-diligent direction and more with its subpar screenplay, which shortchanges the tantalizing true-life tragedy it takes its name after in favor of stereotypical Satanist shenanigans that feel like they could have come from any formulaic and forgettable spiritual horror film from the past decade. Despite also scripting 2016's terrific The Conjuring 2 (alongside Wan, Chad Hayes, and Carey W. Hayes, natch), screenwriter David Leslie Johnson-McGoldrick (Aquaman, Orphan) struggles to sufficiently synthesize this sequel's factual and fictional elements, making for the most preposterous Conjuring picture yet. We've always known that the series has stretched the truth a bit, but the prior two movies still managed to keep their stories rooted in reality for the most part, avoiding any overly fantastical additions to the narrative. This time around, it seems as if all restraint has been removed entirely. Lorraine's visions – which have just barely managed to retain their authenticity over the course of the series so far – are almost superhuman now, and her clairvoyance is comically exaggerated. Likewise, the abilities of the film's antagonist are equally embellished, and without convincing character development to offset these overwrought choices, The Devil Made Me Do It's "Occultist" (Eugenie Bondurant, of The Hunger Games: Mockingjay – Part 2) ends up being a flat – instead of fearsome – foe.
See Also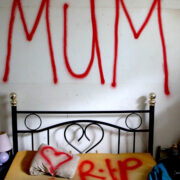 You have to admire the Conjuring crew's commitment to shaking up the franchise's formula by taking the Warrens out of a solitary setting (typically a "haunted house" in pictures past) and engineering a more expansive story for this threequel, but that choice too ends up backfiring, as The Devil Made Me Do It spends too much time focused on the scattered and poorly paced pursuits of the Warrens on their "demon detective" trail instead of on the trouble and turmoil that Arne has been swept up in – particularly in the chilling court proceedings. Prior Conjuring films thrive when investigating the interactions between the Warrens and the afflicted individuals they are assisting; here, the Warrens are often on their own and away from Arne except for the very beginning and very end of the film, and, as a result, their searches feel separate from the narrative as a whole, and we come away not knowing much more about "The Devil Made Me Do It" case that wasn't already common knowledge. At one point, Wilson's Ed states that "the court accepts the existence of God every time a witness swears to tell the truth" and "it's about time they accept the existence of the devil," and one can't help but think that a tale centered around the Warrens convincing a courtroom of Arne's "condition" would have been more compelling than the conventional "cult chase" we're left with.
Despite all of these storytelling deficiencies, The Conjuring: The Devil Made Me Do It does still have one ace up its sleeve, and it's the captivating chemistry of Wilson and Farmiga's Ed and Lorraine Warren. Though their affection isn't quite as affecting as it was in the last sequel (who could forget Ed's charming impromptu Elvis crooning?), Wilson and Farmiga remain as faithful to this supernatural frenzy as ever, and their reverence for the Warrens' relationship is still a stupendous highpoint for the series, anchoring the unfolding anarchy in their all-too-real adoration of one another and assuring audiences that, at the end of the day, love truly can conquer all, even in the face of unimaginable odds. Even when the material they're working with isn't near as polished as what they've played off of in the past, Wilson and Farmiga never give anything less than their best, and if The Devil Made Me Do It is involving at all, it's almost entirely due to their devotion to these roles.
If you're already a fan of "The Conjuring Universe," there's probably very little someone can say to dissuade you from giving this latest entry a glance. Still, while there are enough solid elements here or there that allow one to see the bones of a more brilliant film (Chaves' direction, Wilson and Farmiga's performances, the creepy case itself), The Devil Made Me Do It simply doesn't come together in fulfilling form when all is said and done. It won't tarnish The Conjuring brand by any means, and you'll likely leave the theater still invested in the next installment, but given the towering heights of the two films that came before, this tiresome threequel could've – and should've – been a lot better.
---