All Conjuring Universe Films Ranked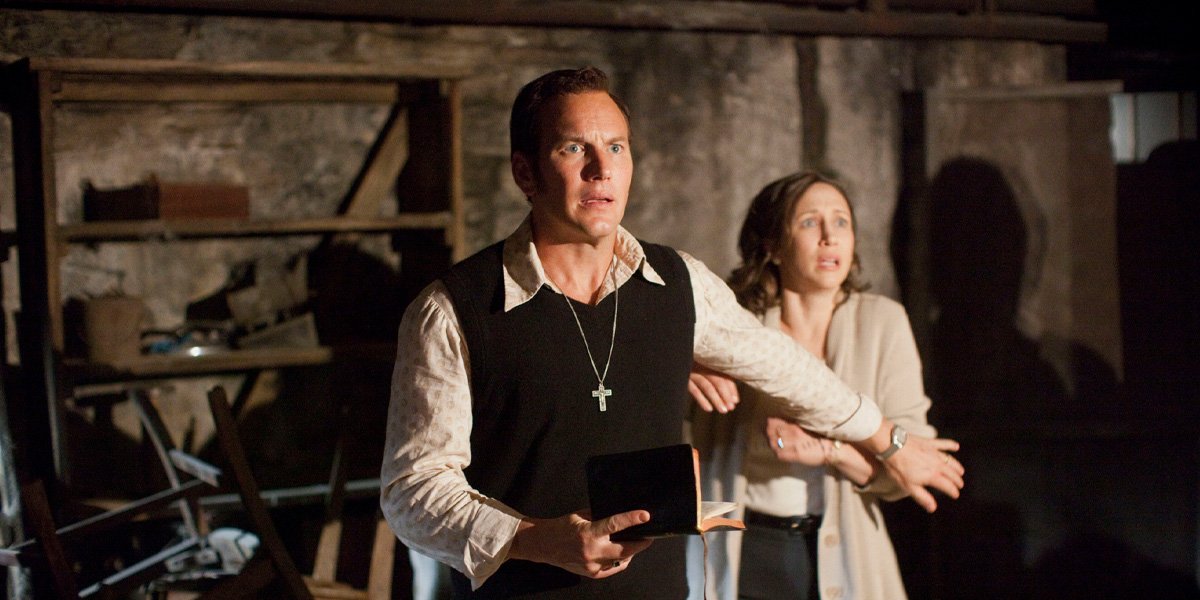 The Conjuring (New Line Cinema)
Since The Conjuring series returned to the big screen last summer, we ranked every eerie entry in the hit horror franchise so far.
---
We may have had to wait almost half a decade to see the hotly anticipated sequel to 2016's spine-tingling The Conjuring 2, but that moment finally arrived last summer with the long-delayed release of The Conjuring: The Devil Made Me Do It. And, although The Curse of La Llorona's Michael Chaves subbed in for James Wan to handle directorial duties this time around (with the latter only serving in a producorial capacity), Vera Farmiga (Godzilla: King of the Monsters, Bates Motel) and Patrick Wilson (Aquaman, Watchmen) were still thankfully back as everyone's favorite pair of paranormal investigators, Ed and Lorraine Warren, in this terrifying threequel, returning to the series after being absent since that aforementioned 2016 sequel (save for a brief stint in 2019's spin-off, Annabelle Comes Home). 
Furthermore, the case that Wan and screenwriter David Leslie Johnson-McGoldrick (Aquaman, Orphan) chose to adapt was one of the most eerie experiences that the Warrens ever endured. Based on the trial of Arne Cheyenne Johnson, The Devil Made Me Do It depicted the first time in U.S. history where a murder suspect claimed "demonic possession" as a defense in a court of law, keeping us on the edge of the seat to see how this shocking story ends.
To celebrate The Conjuring's cinematic comeback, what's better than revisiting every other entry in this spooky saga? Below, we at Loud and Clear have decided to do just that, offering our own opinion on all The Conjuring Universe films thus far, ranked from worst to best.
---
8. ANNABELLE
2014
Director: John R. Leonetti
Starring: Annabelle Wallis, Tony Amendola, and Alfre Woodard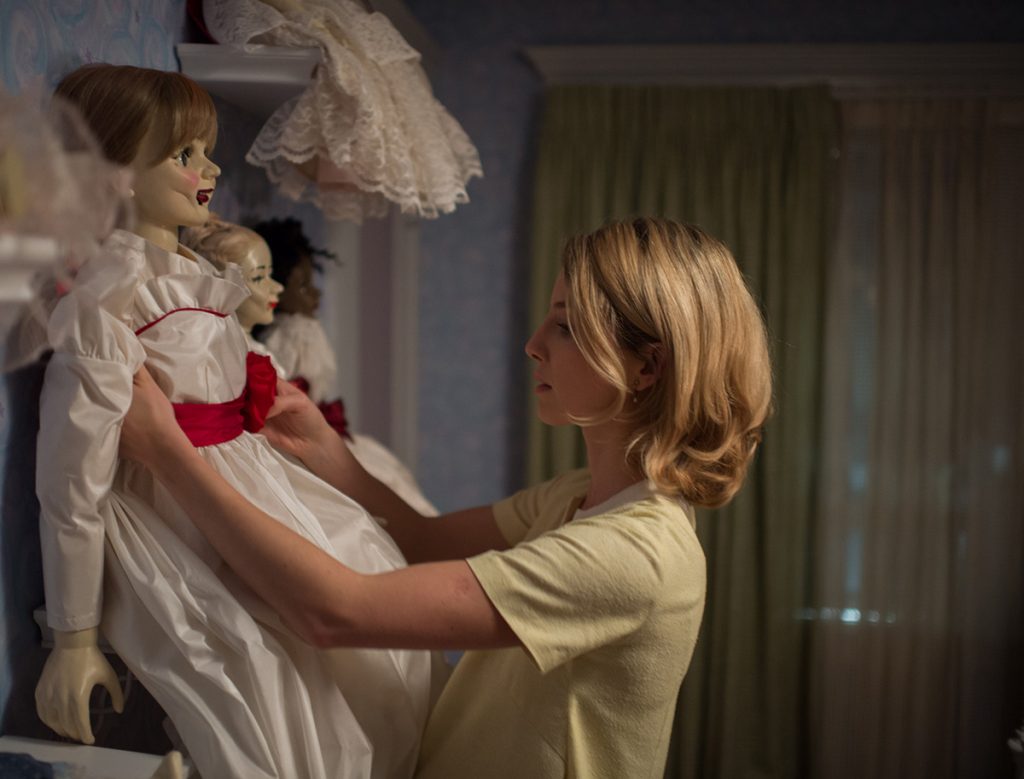 Prior to Annabelle's release, expectations for the spin-off were sky-high. The Conjuring had just captivated critics and crowds the year before – almost instantly becoming one of the most acclaimed films in horror history – and the anxiety-inducing Annabelle doll contributed significantly to the scare-factor of that series starter.
The film's petrifying prologue detailed the doll's emotional assault on two terrified college girls, and from that alarming anecdote alone, we were hooked, and we simply had to see more. Cue production on Annabelle, which told the tale of how that demon doll came to be possessed in the first place. With James Wan producing, his frequent cinematographer collaborator John R. Leonetti (The Conjuring, Insidious) directing, and a debut date just weeks ahead of Halloween, Annabelle was primed to be the next big horror hit.
Unfortunately, for fans expecting a repeat of The Conjuring's chills and thrills, Annabelle fell short. While not unwatchable, the story is stretched far too thin (even with a relatively expedient 98-minute runtime), and, aside from a few inspired beats (such as that basement scene in which Annabelle Wallis' Mia scuffles with a specter) it's largely devoid of the skillfully staged scares that made The Conjuring stand out a year before. Later spin-offs in The Conjuring Universe would fine-tune this formula, but this was not a strong start.
---
7. THE CONJURING: THE DEVIL MADE ME DO IT
2021
Director: Michael Chaves
Starring: Patrick Wilson, Vera Farmiga, Ruairi O'Connor
Full Review: The Conjuring: The Devil Made Me Do It: A Tiresome Threequel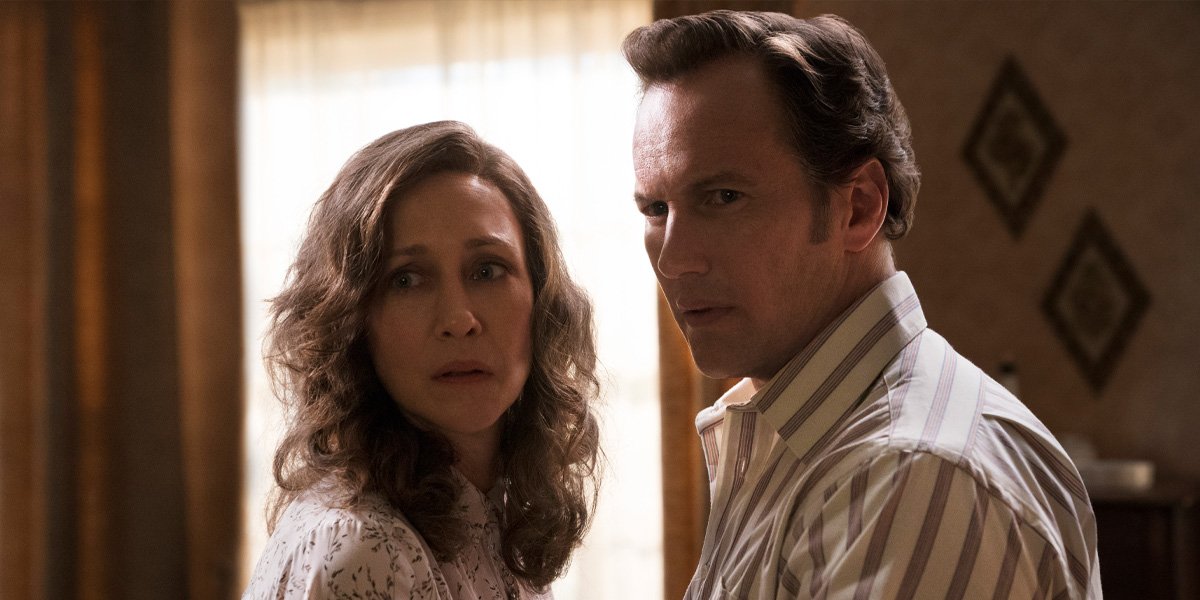 The Conjuring: The Devil Made Me Do It has so much going for it – and so much residual goodwill from the first two films in this series – that it almost seems impossible that it'd be anything but another rock-solid horror story from this cast and crew. The fact that James Wan stepped back to only serve in a producorial capacity for this installment gave us some pause, but surely he'd still be able to steer this ship into winning waters regardless, right? Unfortunately, Wan's absence actually does astronomically diminish the effectiveness of this Conjuring entry, as, right off the bat, it's instantly apparent that The Devil Made Me Do It lacks the finesse that Wan brings to his filmmaking.
A petrifying prologue leads one to believe that the picture has more potency than it ultimately possesses, since no setpiece that follows is anywhere near as animated or anxiety-inducing, to say nothing of their complete inability to even come close to matching the might of Wan's past work. Director Michael Chaves – captaining a core Conjuring film after cutting his teeth on The Curse of La Llorona – captures some inspired occult imagery throughout, and he has an astute grasp on atmosphere, but, sadly, he can't recreate the style Wan employs when setting up and structuring his scares, which is a significant component of a successful Conjuring movie.
However, it's actually the screenplay where most of The Devil Made Me Do It's shortcomings lie, laying the foundation for a formulaic and forgettable spiritual horror film that not even franchise faves Vera Farmiga and Patrick Wilson can save.
---
6. THE NUN
2018
Director: Corin Hardy
Starring: Demián Bichir, Taissa Farmiga, and Bonnie Aarons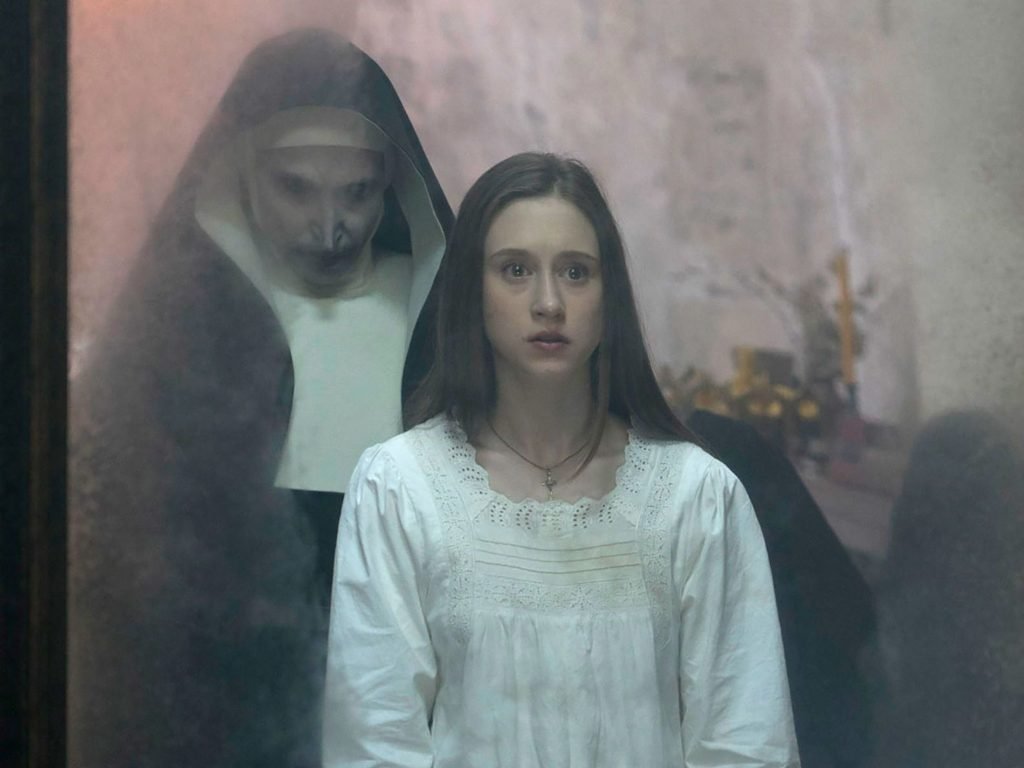 Purely from a plot-focused perspective, there's not much "there" in The Nun. The film has a spooky set-up – in which a priest with a haunted past (Godzilla vs. Kong's Demián Bichir) and a timid novitiate on the threshold of her final vows (American Horror Story's Taissa Farmiga) are sent to a cloistered abbey in Romania to investigate the suspicious suicide of a young nun – but that's about as far as the story goes, despite the promises in the film's ad campaign to analyze the history of Bonnie Aarons' (The Princess Diaries, Silver Linings Playbook) "demon nun" Valak from The Conjuring 2.
Likewise, the character work for Bichir's Father Burke and Farmiga's Sister Irene is similarly shorted, making the entire affair feel very "empty" as a result. However, for all these storytelling shortcomings, The Nun still has one thing going for it that keeps it afloat regardless – the diligent direction of Corin Hardy (The Hallow, Gangs of London). While he's no Wan (who is?), Hardy's masterful grasp on mood suffuses The Nun with a sinister sense of suspense throughout the whole movie, and he takes full advantage of this spine-chilling setting (brought to life with pristine production design) to keep us on the edge of our seats with his scares, even if the script can't compare to what's come before in The Conjuring series.
A commoving – if campy – conclusion ends the picture on a high point as well (harkening back to classic Hammer horror adventures), and the postscript, which ties this tale into the Warrens' troubles, is particularly inventive. The Nun isn't a home run, but ultimately, it gets the job done.
---
5. THE CURSE OF LA LLORONA
2019
Director: Michael Chaves
Starring: Linda Cardellini, Raymond Cruz, and Tony Amendola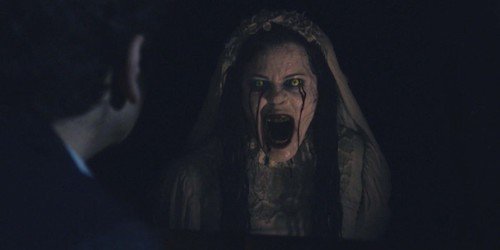 Though it was originally marketed as a standalone film, The Curse of La Llorona revealed itself to be tied to The Conjuring series when Annabelle's Tony Amendola (The Mask of Zorro, Once Upon a Time) surprisingly reprised his role as Father Perez, offering assistance to Linda Cardellini's Anna (Avengers: Endgame, Scooby-Doo) as she struggled to save her children from the grasp of the titular spirit.
It feels like a bit of a cheat to include it on this list – since there are no real appearances from the Warrens, Annabelle, Valak, or any other pernicious poltergeists from the franchise so far – but because it's directed by The Devil Made Me Do It's Michael Chaves (in his feature film directorial debut) and ends up being just as eerie as any other entry in The Conjuring Universe, it earns its place here. Chaves, like Corin Hardy before him, has an admirable understanding of atmosphere, but he's also aided by a much stronger story than the one Hardy worked with.
Sure, the narrative is nothing new, but Cardellini is compelling in the lead role nonetheless, and there's an unnerving urgency present in her pursuit to protect her children. You could also say that the horror sequences here aren't quite as cleverly crafted as they are Wan's contributions to the series (with a bit of an overreliance on jump scares), but no matter – The Curse of La Llorona is still an efficiently unsettling experience when all is said and done.
---
4. ANNABELLE COMES HOME
2019
Director: Gary Dauberman
Starring: Mckenna Grace, Madison Iseman, and Katie Sarife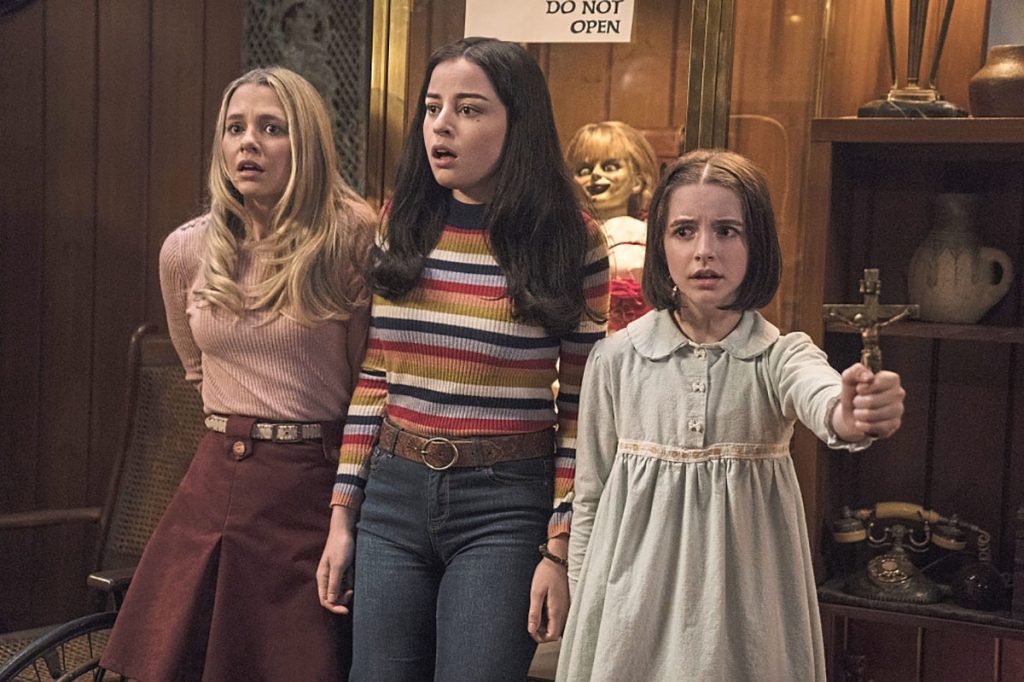 Annabelle Comes Home can most adequately be described as "Haunted House: The Movie." The "story" here (if you can call it that) is rather simple. After Patrick Wilson and Vera Farmiga's Ed and Lorraine Warren head off for a weekend of work, they call upon Madison Iseman's (Jumanji: Welcome to the Jungle, Goosebumps 2: Haunted Halloween) Mary Ellen to babysit their daughter, Mckenna Grace's (Captain Marvel, I, Tonya) Judy.
However, when Mary Ellen's best friend – Katie Sarife's (Supernatural, Girl Meets World) Daniela – arrives unannounced with the intention to toy with Ed and Lorraine's haunted artifacts for personal reasons, she sets off a chain of events that may prove deadly to the trio. From there, the movie avoids getting preoccupied with the minutiae of the plot – well aware of how stereotypical this set-up is – and instead focuses on simply scaring the shit out of viewers.
Director Gary Dauberman (writer of all other Annabelle films and the It duology) does a decent job placing you directly in each's character's shoes as they experience the horrors of the Warren household – from the devilish doll herself to a fearsome ferryman to a wicked werewolf-of-sorts and so many more – and while it is admittedly more fun to walk through a horror attraction for yourself instead of watching others take part in the terror, this works well enough as a spooky substitute.
---
3. ANNABELLE: CREATION
2017
Director: David F. Sandberg
Starring: Talitha Bateman, Lulu Wilson, and Anthony LaPaglia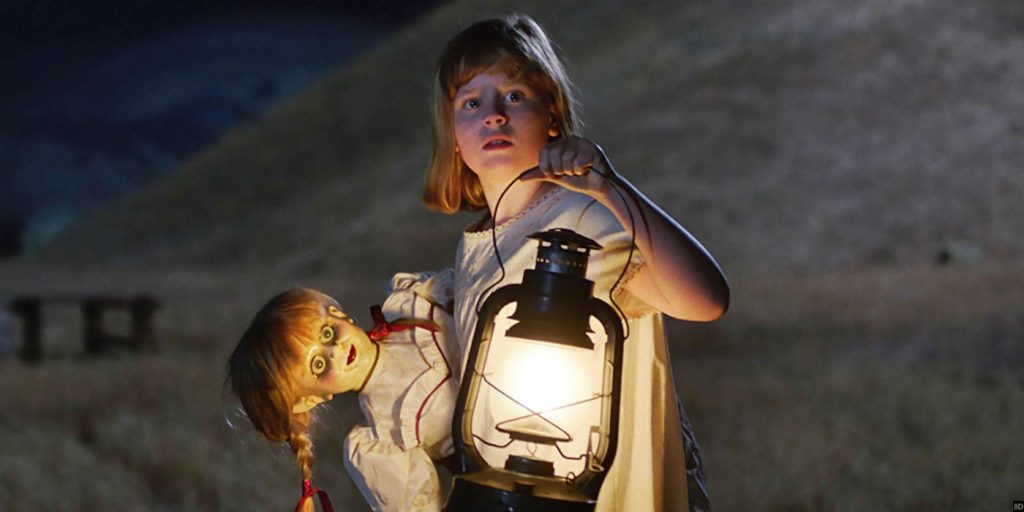 Without a doubt, the best title in the Annabelle trilogy – and the strongest entry in The Conjuring Universe so far, aside from the movies in the main series – is Annabelle: Creation. Funnily enough, before the film hit theaters, many moviegoers weren't sure what warranted its existence; the first Annabelle was widely seen as a subpar effort at cashing in on The Conjuring craze, and, since Creation was yet another prequel, it seemed like the filmmakers were really stretching for a story. Yet, when crowds actually saw Creation for themselves, all those doubts dissipated.
Not only was there certainly more to explore with Annabelle's mythos (with the connection to its predecessor proving particularly creative), but the script was also far more solid this time as well, gifting director David F. Sandberg (Lights Out, Shazam!) with a stellar start to craft his chiller around – one that showcased how a nun and several girls from a shuttered orphanage were terrorized after taking refuge in the home of a doll maker and his wife (and how the couple's previous attempts to bring their deceased daughter back to life brought Annabelle into being).
Sandberg – who instantly asserted himself as the most innovative auteur to work within the franchise since Wan – made the most of the film's frightening foundation and its startling setting, finding spots to scare us all over this locale (that barn scene!) and tying sentiment into the story at every turn, too. It's truly too bad this was his only Conjuring contribution, as he set the standard for the quality of the spin-offs – and no one has surpassed him since.
---
2. THE CONJURING
2013
Director: James Wan
Starring: Vera Farmiga, Patrick Wilson, and Lili Taylor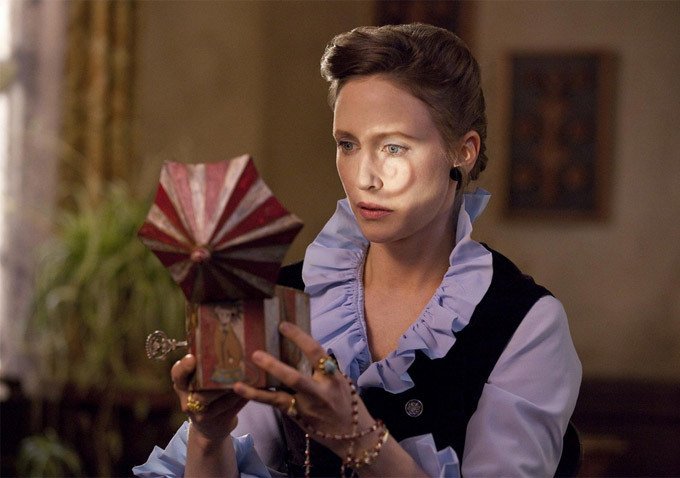 Despite being almost a decade old, 2013's The Conjuring remains one of the most riveting horror films of the past decade – and probably of the genre's entire history as well. Upon reading the story's synopsis, one might wonder what all the fuss is about. A family moves into a new house and has to enlist the help of paranormal investigators when a demonic threat starts terrorizing their family? That's a plot reminiscent of Poltergeist with elements of The Exorcist thrown in in the end for good measure.
However, it's not The Conjuring's set-up that makes it stand out – it's the synthesis of a sterling script from Chad and Carey Hayes (House of Wax, The Turning), which audaciously adapts the true-life perils of the Perron family, and the awe-inspiring artistry of James Wan's direction. Together, this trio terrifically works in tandem to assure that The Conjuring is no mere "retread"; the Hayes brothers take the time to properly make us care for the Perrons (led by matriarch Lili Taylor, of Maze Runner: The Scorch Trials, and patriarch Ron Livingston, of Office Space), and therefore, when Wan starts to scare the living daylights out of them in his shrewdly structured setpieces, the fear of any harm befalling this family is absolutely agonizing.
And scare them Wan does, delivering instantly iconic shocks scene-after-scene (Hide-and-clap! Bathsheba on the wardrobe! The "laundry ghost"!) with such a masterful control of the film medium that every director should be envious of. What's most remarkable about The Conjuring is its longevity; even eight years later, it hasn't lost any of its luster.
---
1. THE CONJURING 2
2016
Director: James Wan
Starring: Vera Farmiga, Patrick Wilson, and Frances O'Connor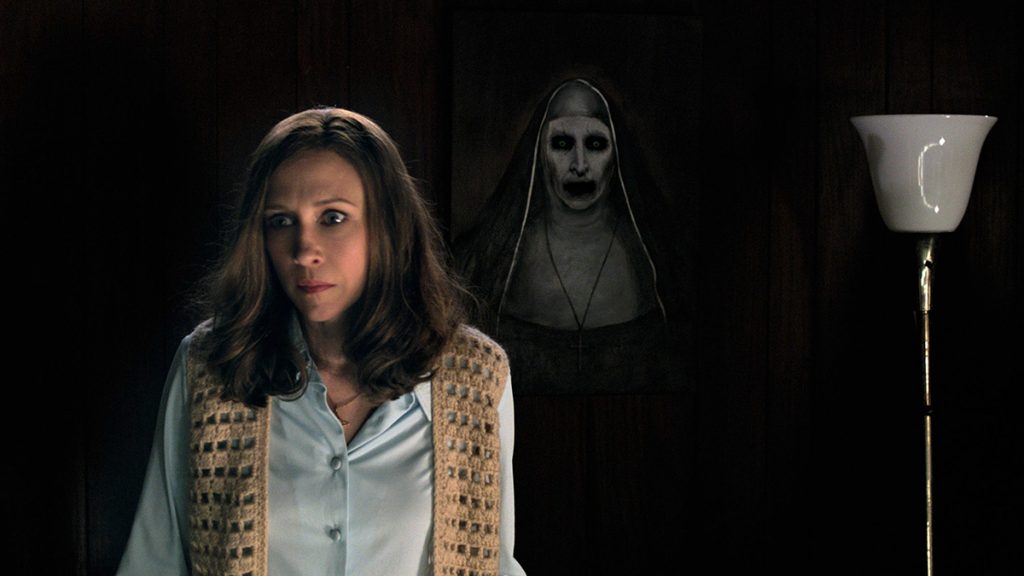 Horror is a genre infamous for shoddy sequels (Halloween: Resurrection, Jason X, Saw: The Final Chapter, etc.), so there was certainly reason for concern when The Conjuring 2 was announced. How would a second film ever reach the horrifying heights of its predecessor or surpass its staggering success? Simply put, you bring back the crew that knocked it out of the park on the first go-round (Wan, the Hayes brothers, Farmiga, and Wilson), and you hope for the best.
Given that the first Conjuring was such a terrifying treat, we shouldn't have ever expected anything less than excellent from this team, but few anticipated just how astonishing its follow-up would be. Not content to merely mirror the story of the first film (albeit in a new location) Wan and the Hayes brothers upped the ante considerably, chronicling an expansive horror epic that started with the Amityville hauntings and subsequently explored the evil of the "Enfield poltergeist," simultaneously charting the continued antagonism of Valak – the demon nun later depicted in The Nun – on the Warrens throughout their pursuits with the paranormal.
Such scopious storytelling increased the stakes in this sequel significantly, and while Wan's scares were somehow even stronger as well (from the petrifying portrait of Valak that comes to life to that monstrous "Crooked Man"), it was the richer emotional resonance in the Warrens' romance that moved us most, taking characters we already loved and giving us even more reason to root for their well-being – something few horror films devote time to. Ultimately, we're left with a ferocious feat of filmmaking that not only stands as one of the greatest horror sequels ever made, but one of the greatest sequels ever made period.