Succession Season 4 Episode 8 Review

Succession Season 4 Episode 8 (David Russell/HBO)
Season 4 Episode 8 of Succession is a flawless addition to this high-octane story, displaying just how far these characters will go to win.
---
This review contains spoilers for Season 4 Episode 8 of Succession.
After last week's episode was a slightly underwhelming entry in Succession 's intense conclusion, Season 4 Episode 8 brings the show back to heights that it's only seen in its very best episodes. The day has finally come for the highly-anticipated election that will see the future of Ameirca in the Roy family's hands, and "America Decides" really pushes the boundaries of how low Kendall (Jeremy Strong), Shiv (Sarah Snook), and Roman (Kieran Culkin) will stoop to bend the narrative to their will.
When Season 4 of Succession first kicked off all those weeks ago, the big question on everybody's minds was which of the Roy siblings would take over when Logan (Brian Cox) inevitably steps out of the ring. However, the media tycoon's death in Episode 3 and the brothers' promotion to co-CEOs quickly resolved that question and revealed the true purpose of this entire season, illuminating the question that it's really trying to answer: what happens now? Now that Logan is gone, now there's nobody to restrict the ambitions and powers of these dysfunctional siblings, how will they cope with all the power that lies at their fingertips? Season 4 Episode 8 really pushes into this idea, seeing all three siblings (and plenty of other characters) abandon their morals and reveal just how selfish and detached they can be.
The central conflict of the episode is simple: the election is here, and it's Jimenez (Elliot Viliar) vs Menken (Justin Kirk). The former is a liberal, agreeable polician who prefers to keep his personal life separate from business. Menken, however, is an unapologetically right-wing extremist with no limits to how far he'll go in his search for power. He's also promising to save Waystar's future and sabotage the GoJo deal in support for ATN's bias in their coverage of the election – leaving Kendall and Roman to decide exactly how much they value their morals over their business.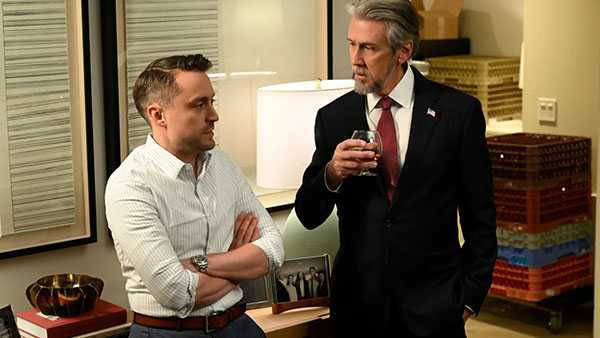 It's high-stakes, single-location episodes like this that really make Succession soar to the highest of heights. After taking a simple concept that's laid out in the first few minutes, the next hour is spent following these characters as they grapple with their conflicting beliefs and display just how twisted and immoral these political games can quickly become. Season 4 Episode 8 also has the advantage of being incredibly timely, highlighting just how strongly the electoral process can be swayed and influenced by large media corporations that have their own stakes in the winning party. It's dirty and ruthless, and it's impossible not to see a smeared image of our own society in the reflection of this story.
Another thing that Season 4 has done immaculately (like each season to come before it) is the progressive characterisation of the show's central characters. Kendall, Shiv, and Roman have all walked along their own separate paths in Season 4, and the way the show's writers are bringing their journeys together and making everything so believable is really a powerful accomplishment. The Roys all make shocking decisions in this episode that would've felt wrong and unwarranted at the beginning of the season, but thanks to Succession's precise character work and well-plotted development, everything that they do feels warranted and accurate. They've been through so much in the past few weeks, and Succession has cooked a perfect blend of trauma and desperation that's really pushing them to their limits and exposing their true selves.
Looking back at the hopeful beginnings of Season 4 almost feels like a taunt now. The days when Kendall, Roman, and Shiv found themselves working together to acquire PGN and rid themselves of their family's tainted history feel so hazy and distant, with the events of this season breaking them apart and setting them against each other again for these final two episodes. There's no coming back for the Roys, and after the truly despicable choices that were made in this episode, it's hard to imagine that they'll be able to put their differences aside for the sake of the family. This story can't end without a winner, and they won't be able to win without burning some others to the ground. It's just a game of who wants it the most.
---
Season 4 Episode 8 of Succession is now available to watch on HBO Max.