Succession Season 4 Episode 9 Review
Season 4 Episode 9 of Succession (David Russell/HBO)
Season 4 Episode 9 of Succession finally sees the siblings say goodbye to their father, though some are much more prepared than others.
---
This review contains spoilers for Season 4 Episode 9 of Succession
The funeral of Logan Roy (Brian Cox) was among the most hotly-anticipated episodes of Succession's fourth season, and as most fans had anticipated, the show took a noticeable step back from the grand scale of last week's political plotline for a much quieter, more intimate reflection on the media mogul through the eyes of his children. Over the course of this final season, the Roy siblings have navigated their own complex journeys of grief, power, and ambition that have seen them at their highest highs and their lowest lows – but Episode 9 strips back the glamorous facade of success and presents them at their most human and vulnerable.
It's unbelievable to think about how much Kendall (Jeremy Strong), Roman (Kieran Culkin), and Shiv (Sarah Snook) have experienced since the beginning of season 4: not only have they collectively lost their father, but they've also suffered through their own marriage breakdowns, parenting troubles, and immense power trips that have totally transformed the way they interact with the world. And yet, in the face of such drastic character development and almost unrecognizable transformations, everything has remained incredibly authentic and believable throughout. It makes complete sense that these characters would respond to their situations in the way that they have, which is the real magic of Succession's precise storytelling – but this week, it's Roman that finds himself falling to his lowest moment.
Beginning the episode in his high-rise New York apartment, and ending it beneath the feet of protesters after suffering an emotional breakdown in front of everybody he knows, Roman's temporary power trip is finally coming to an end. "America Decides" saw the CEO ditch all his morals and attempt to make his late father proud, but Episode 9 proves that despite the high-stakes storytelling and commercial jargon, Succession's characters are just regular humans dealing with terrible situations. It's easy to look at Roman's behavior from the previous episode and completely turn on him, but when he's crying into his siblings' arms at his father's funeral the very next day, it reminds you exactly why we care so much about this family.
And the same applies for Kendall and Shiv: they're not always sympathetic characters, and they make countless mistakes, but it's Succession's more grounded episodes that offer a little more humanity to them. They're being forced into positions that none of them are ready for, and while that doesn't excuse the countless horrible things they've done, it offers a little more insight into why they're this way, allowing them to at least remain compelling and interesting as protagonists.
See Also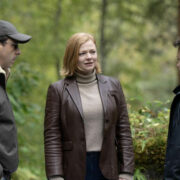 The only negative of this intense characterisation of the Roy siblings in season 4 is the consequent sidelining of the supporting cast, which has been overwhelmingly evident in the past few episodes. It's incredibly rewarding that we're getting so much time with Kendall, Roman and Shiv as they stories ultimately come to a close, but it's admittedly felt like characters such as Greg (Nicholas Braun), Gerri (J. Smith-Cameron), and sometimes even Tom (Matthew MacFadyen) have been replaced with the relative newcomers Mattson (Alexander Skarsgård) and Mencken (Justin Kirk). While this decision is making the central plot much richer and fast-paced, it's a shame that it has to come at the expense of a more rewarding conclusion for these fan-favorite characters that have been there since the beginning.
The final fifteen minutes of Season 4 Episode 9 are incredibly effective at setting the scene for the encroaching finale, establishing the central conflict and covering each character's motivation to save some time next week. Succession is shaping up to conclude with a straightforward battle between Kendall, Roman, and Shiv, with the victor ultimately holding control over their family's legacy. That's not to say it's going to be simple (maybe Mattson has other plans, or there's even another candidate for that CEO position), but all those emotional payoffs and unravelings seem to have been covered this week, clearing the ring and getting things ready for that final fight.
---
Season 4 Episode 9 of Succession is now available to watch on HBO Max.