Stowaway (Netflix) Review: A Tension-Filled Treat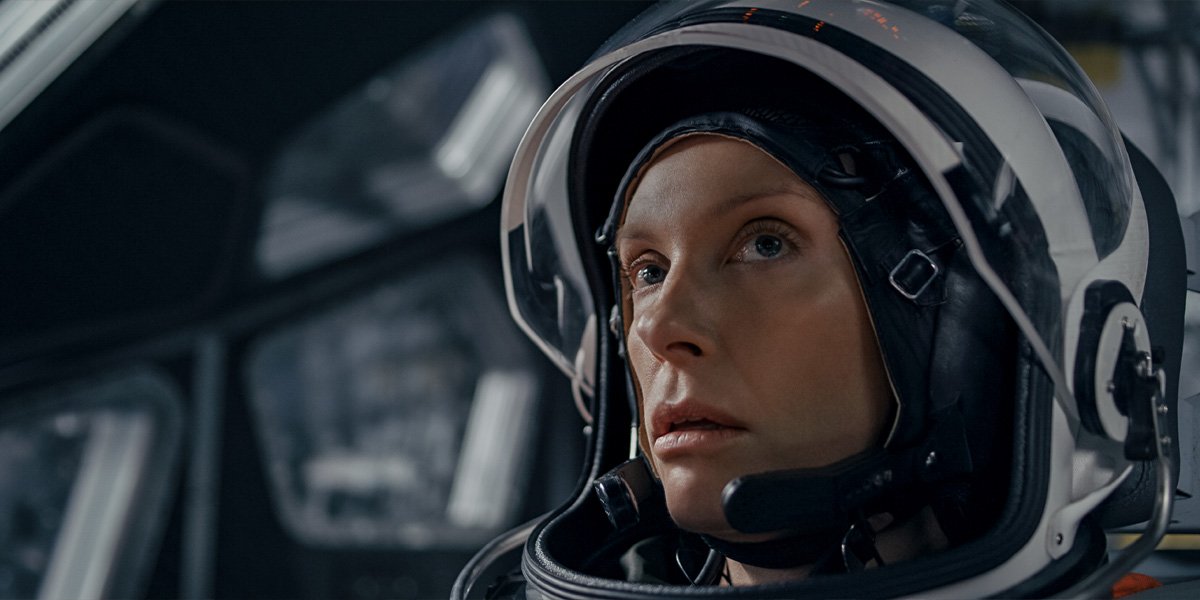 Toni Collette in Stowaway (Courtesy of Netflix)
Stowaway blends genre thrills with true tragedy, as Anna Kendrick, Toni Collette, and Daniel Dae Kim deal with moral dilemmas whilst soaring through space.
---

It's become a bit of a trend in recent years for filmmakers to fling A-list actors into space and force them to endure emotional trials and tribulations, all in the name of experiencing a rousing existential realization of some kind. Gravity saw Sandra Bullock (Bird Box, The Blind Side) stranded amongst the stars whilst simultaneously grappling with the grief over her late daughter's death, Interstellar captured Matthew McConaughey's (Dallas Buyers Club, Dazed and Confused) contrasting commitments to both his family and the future of mankind throughout his travels in different dimensions, and The Martian showcased Matt Damon's (Good Will Hunting, Ford v. Ferrari) struggles with surviving on Mars as he attempted to maintain his humanity above all else. This time around, Joe Penna's (Arctic) Stowaway sends Anna Kendrick (Pitch Perfect, Twilight), Toni Collette (Hereditary, Knives Out), and Daniel Dae Kim (Raya and the Last Dragon, The Divergent Series) to the skies above, asking the trio to confront impossibly complicated moral concerns – and highlighting how true-life tragedies can be far more troubling than any of the extraterrestrial threats we've come to associate with the sci-fi genre.
Stowaway starts as Collette's Marina Barnett sets off a manned mission to Mars, acting as her ship's chief commander and taking Kendrick's Zoe Levenson – a medical researcher – and Kim's David Kim – a biologist – along with her, after both were chosen from thousands of applicants of accomplished academics. In total, the trio will spend two years away from their loved ones whilst on this trip, but following much mental and physical training, the three feel fit for the arduous journey ahead. Unfortunately, when the crew stops at a space station to perform routine safety checks, Barnett makes a dismaying discovery – a unconscious man has accidentally "stowed away" on their ship. The man – whose name is Michael (Shamier Anderson of Wynonna Earp and Destroyer) – is a launch plan engineer who seemingly passed out prior to lift-off while assuring the ship's safe ascent into the stars, and through this conundrum, he's been critically injured.
Furthermore, because Michael's engineer harness was wrapped around a pipe attached to the ship's CDRA (Carbon Dioxide Removal Assembly), both he and this device are damaged – with the latter directly affecting the crew's life support. As there isn't enough fuel to turn back, Michael joins with the trio in completing daily tasks on board and working to remedy the ruined CRDA, but over time, it proves to be a bigger problem than anyone could have ever imagined, and tough decisions have to be made. When their resources start to run out and they're faced with a potentially fatal outcome, Barnett contacts mission control, asking for assistance of any kind. Sadly, she's given only one response – with oxygen levels dropping, it's not feasible for all four individuals to make it to Mars, and therefore, only three can be allowed to live.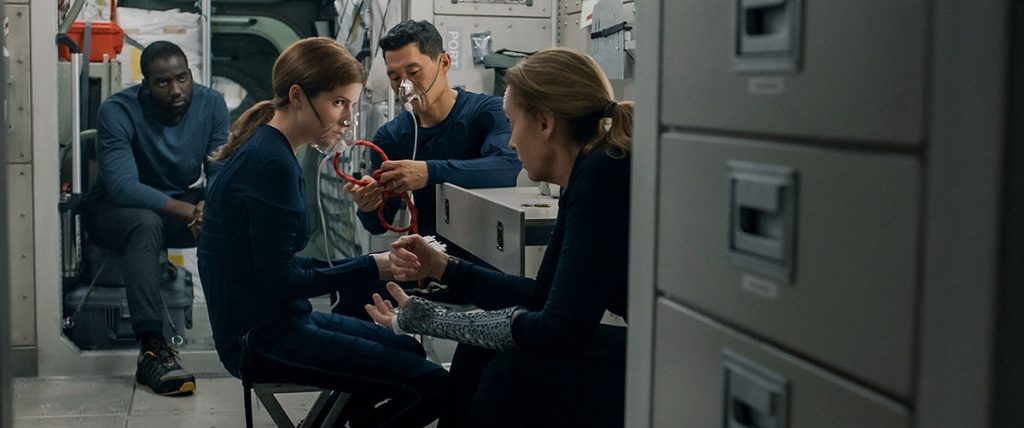 With a suspenseful set-up like this, one would think that Stowaway would lend itself well to a thriller-esque execution, with terrifying twists and turns and an eerie exploration of the horrors of human nature, as Marina, Zoe, David, and Michael fight for their chance to remain on the ship instead of ceding to the likelihood of their imminent demise. However, what Penna and his co-writer Ryan Morrison (also of 2018's Arctic) have cooked up here is far more cerebral and compelling than a basic sci-fi "B-movie." Now, make no mistake – Stowaway is a tantalizingly tense film, and one will be left breathless while waiting for its story's moral quandaries to be solved in a timely manner, as the ship's oxygen is steadily depleted. And yet, with that being said, Penna and Morrison never take the "easy way out" and turn any of their characters into "aggressive antagonists" or "vindictive villains" of any kind. The concern at the core of Stowaway is cautiously considered from all angles and perspectives, and every individual is acutely aware of the intense emotional burden that arises from what they have been asked to do, making the movie much more multidimensional and meaningful in the end.
There is no scene in which Marina, Zoe, or David try to "sneakily slay Michael in his sleep" or even one in which they turn on one another in outrage, sparing their stowaway but deeming another crew member worthy of death instead. And, while it is suggested by mission control that Michael be the one to "take one for the team, for lack of a better term – given how much Marina, Zoe, and David matter to the mission – this isn't an action that is looked upon lightly. It's a dilemma that causes debilitating duress for all three, and most of the film's suspense stems not from intense in-fighting, but through their impassioned efforts to find any other way to save their ship without resorting to murder. Given the traumatic times we live through today, it may seem optimistic that three people would try this hard to look after another man's life instead of simply submitting to their selfish desires, but this is a storytelling decision that pays off in spades, as it not only makes us care about these compassionate characters even more, but it also eschews our expectations for a film of this kind.
Every actor in Stowaway's electrifying ensemble cast is at the top of their game, and it's near-impossible to select a standout in any way. Kendrick, as affable as ever, brings her personable pluckiness to her part as the zealous Zoe, a hard worker with an honorable heart. As the youngest and most inexperienced member of the crew, she's also the one who struggles most with the idea of "doing away with" Michael despite its essentiality to the effectiveness of their mission, and, as such, it is she who spends most of the movie strenuously searching for any other solution in order to save this stowaway's life and prevent the worst possibility from coming to pass. Collette's Marina is a level-headed leader who sticks to science and strains to accept the actuality of these calamitous circumstances, but even she is given the space to share her painful emotional plight when asked to commit such an appalling act, dropping her valiant visage even if just for a brief second to hone in on her humanity.
See Also

Kim's David tries to be the most "realistic" member of the trio – given his status as the ship's biologist (which makes him most aware of the hazards headed their way) and his role as a husband and father to a family back on Earth that he desperately hopes to see again one day – but even he can't tolerate objectivity in this scenario the whole way through, allowing sadness to shatter his composure from time to time to devastating effect. As for Anderson's Michael, while we won't spoil his ultimate fate here, it must be stated how perceptive his personification of this character is, as he makes Michael into a multifaceted being who can't simply be disregarded as a "hardship" to be hastily "dealt with." He suffuses the role with such a soulful sincerity, tenderly texturing his personality and past (including his affecting attachment to his young sister back home), causing the prospect of his perishment to be as tormenting for us as it is for our core trio. Likewise, his eventual response to the plot's central problem is dramatically disarming, only further complicating the crisis and injecting more stirring substance into the story.
Those who turn on Stowaway expecting non-stop sci-fi thrills may need to keep their expectations in check, as what writer-director Joe Penna has crafted here is slightly slower-paced and certainly more methodical than similar films about space-related strife such as Gravity, Interstellar, or The Martian. Nonetheless, if they stick around, they will be rewarded with a rich and resonant drama about imperfect individuals straining to subvert certainty in the most impossible of circumstances, buoyed by a sensitive script, astute acting, and deftly discerning direction. If you like your sci-fi "smart," you can't do much better than the thoroughly thought-provoking Stowaway.
---
Stowaway is now available to watch on Netflix.