Raya and the Last Dragon: An Action-Packed Animated Epic (Review)

()
Raya and the Last Dragon is a visually striking spectacle with equally effective emotional resonance – in short, another win for Walt Disney Animation Studios.
---

Over time, animation fans – and Disney devotees in general – have become conditioned to expect a flashy new animated feature from the Mouse House almost every year. From the songful spectacle of the Disney Renaissance (Beauty and the Beast, Aladdin, The Lion King) to the recent tune-filled triumphs (Tangled, Frozen, Moana) and expansive epics (Wreck-It Ralph, Zootopia) of the Disney Revival, it simply doesn't feel right to let a year pass us by without an original cinematic adventure courtesy of Walt Disney Animation Studios – and yet, after Raya and the Last Dragon was tossed from Thanksgiving 2020 to Spring 2021 due to concerns regarding the coronavirus outbreak across the globe, such was the case. While the move was wholly understandable, many cinephiles were unable to shake the feeling that something was missing from 2020's movie schedule. Sure, we had Pixar's Soul to get us by in the meantime, but there's a specific delight that true-blue Disney animation brings to audiences that can't be replicated by anyone else – and thankfully, our long wait is over.
Arriving in both US theaters and on Disney+ with Premier Access this weekend, the rollicking Raya and the Last Dragon is a truly formidable feat of filmmaking from these ardently adored animators, easily earning its place alongside cherished classics of years past. Our story starts with a powerful prologue, detailing how the film's Southeast Asian-inspired setting of Kumandra came to be the chaotic wasteland we perceive in the present. 500 years prior, sinister spirits known as "the Druun" began to ravage the land, turning humans to stone after absorbing their souls. The dragons of Kumandra were the world's last hope, sacrificing their lives to combine their magic and create a gem that would not only ward off the Druun for good, but return the stone humans to their corporeal form. Unfortunately, as Kumandra recovered from the ruination of the Druun, they soon turned on one another, dividing the population into tribes (Fang, Heart, Tail, Spine, and Talon) and fighting to gain control of the gem – which eventually came to reside with Heart.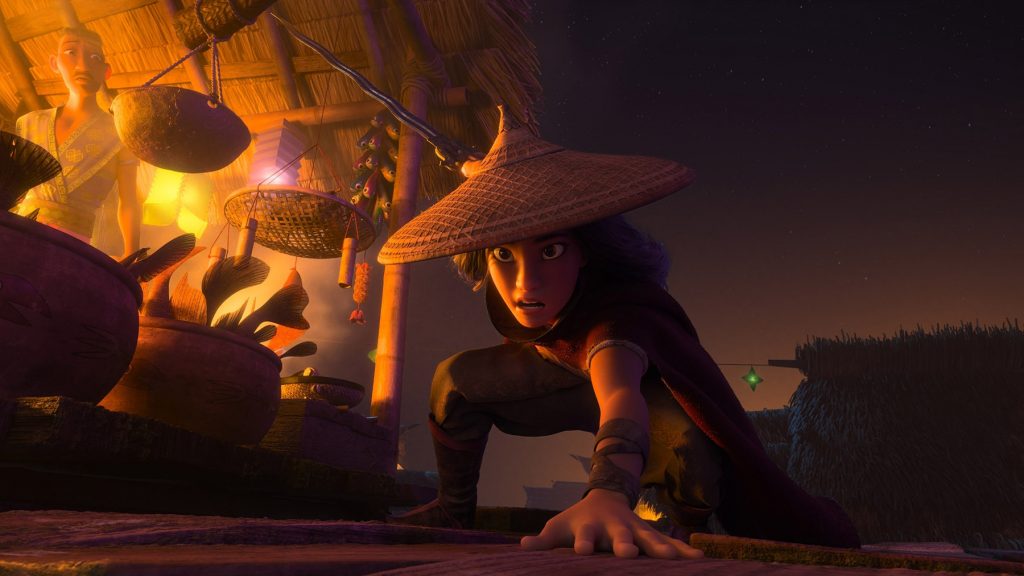 In the time since, Chief Benja of the Heart Tribe (Daniel Dae Kim, of The Divergent Series: Insurgent and Hellboy) lorded over the land with benevolence, additionally training his daring young daughter Raya (Kelly Marie Tran, of Star Wars: The Last Jedi and The Croods: A New Age) to one day defend the Dragon Gem on her own. Benga believed the tribes could one day live in peace again, but upon inviting them all to the Heart Land for a feast, a fierce warrior princess from Fang named Namaari (Gemma Chan, of Crazy Rich Asians and Captain Marvel) befriended and later betrayed Raya, using her to get access to the gem and subsequently causing a clash in which all tribes attempted to retrieve this ancient artifact. In the scuffle, the gem shattered, unleashing the Druun once more, as each tribe took a piece of it for themselves before hastily leaving the Heart Land. Benja stayed behind, trying to duel the Druun before turning to stone himself and leaving young Raya orphaned. As she aged, Raya made it her mission to track down the last dragon, Sisu (Awkwafina, of Ocean's 8 and The Farewell), put the gem together again, defeat the Druun once and for all, and bring her father back.
As one can surmise only from that short synopsis, the dense mythology of Raya and the Last Dragon can certainly seem daunting at the start, but screenwriters Qui Nguyen (Netflix's The Society) and Adele Lim (Crazy Rich Asians) elegantly elaborate on this exposition in a manner that is both easy-to-understand for average audiences and still ambitiously awe-inspiring, with some of the most wonderfully immersive world-building in any Disney animated feature. The two are obviously expertly assisted by the visually arresting animation on display that deftly depicts these tribes and their lively locales, but, as the originators of this odyssey, Nguyen and Lim deserve profuse praise for creating such a genuinely compelling adventure and atmosphere all on their own – while also infusing every inch of the story with their respect and reverence for Southeast Asian culture.
Likewise, Nguyen and Lim's thematic work in Raya and the Last Dragon is just as thoughtfully textured, as the two tell a tale that society needs now more than ever. As Raya repeats over and over to Sisu throughout the course of the movie that "the world's broken" and "you can't trust anyone," it's hard not to relate to her resignation, especially after the anarchy we've witnessed in our own sociopolitical climate over the past few years. And yet, time and time again, Sisu fires back with a retort that leads both us and Raya to a resonant realization – "Maybe the world's broken because you don't trust anyone." Raya is understandably upset at being backstabbed by Namaari, but during her search thus far, she's never stopped to consider what would have led Namaari to such an act – she's been so caught up in her rage that she refuses to ever even talk with Namaari before the two engage in combat, choosing war over their words.
The narrative never makes any excuse for Namaari's – or any other character's – actions, but through Sisu, Raya and the Last Dragon seems to argue that humans overcomplicate matters by emphasizing differences and domination over the similarities we share in the struggles we all suffer through. We fall back on surface-level stereotypes and prioritize our own safety and security even at the detriment of our fellow man, when, in actuality, empathetic unity would make for a better environment for all. And, if we get stuck in the cycle of arguing over "who should be the first to reach out" (as Raya does) we'll never get anywhere. Nguyen and Lim call on their protagonist – and audiences around the world – to swallow their pride at times and make the active effort to engage with those we may regard as our "irredeemable enemies," because if someone doesn't take that initial step, we'll forever be stuck at this standstill.
As the titular plucky princess of the Heart Tribe, Kelly Marie Tran once again affirms that she has a bright future in animation (following her terrific turn in last year's The Croods: A New Age), instilling Raya with an inspirationally stirring spirit but also efficiently embodying the whole range of her emotions as well. As strong as she may be, Raya is no perfect person by any means, though even when we disagree with her deeds, Tran founds these feats in honest feelings – whether they relate to her dad's demise or Namaari's deception – which allows us to empathize with and understand her nonetheless. Awkwafina turns in identically intricate voice work, capably handling the comic relief as the side-splitting Sisu (a sidekick who can surely stand alongside Robin Williams' Genie and Eddie Murphy's Mushu) while simultaneously perfectly personifying her pain over the sacrifice of her siblings and the state of society in Kumandra today.
See Also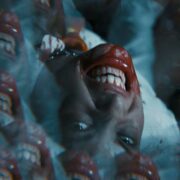 Amongst the supporting cast, Chan is a standout, making the most of Namaari's harrowing history and anchoring this antagonist in ambiguity instead of painting her as plain-old one-dimensional adversary. There's a realistic and riveting complexity to Namaari's character, and Chan's commitment to her complications help Raya and the Last Dragon's finale feel as poignant as possible. Furthermore, even in his short screen time, Kim is also a pleasant presence as Raya's idealistic father, empowering everyone he meets to be better and cut through the conflict to preserve peace.
In addition, acclaim must be afforded to directors Don Hall (Big Hero 6, Winnie the Pooh) and Carlos López Estrada (Blindspotting) – along with their entire team of animators – as the striking action spectacle showcased here is stunning to say the least, featuring fight sequences that rival recent non-animated "masterpieces" of the medium. The attention to detail is outright astounding, and the fluidity of the camerawork in these feuds provides the film with a pulse-pounding potency that powers audience engagement until the very end. It doesn't hurt to have iconic composer James Newton Howard (The Dark Knight, The Hunger Games) scoring your saga with what may very well be one of his best soundtracks yet either.
All-in-all, Raya and the Last Dragon can proudly stand alongside recent sensations of the Disney Revival, giving fans a hearty new heroine to hold dear and a delightfully diverse and entirely original environment to explore as well. With some of the best action that big-screen entertainment can deliver and a timely, touching message for the masses, Raya succeeds by being both visually stimulating and emotionally stirring at the same time – a family-friendly formula with something for all audiences to appreciate.
---
Raya and the Last Dragon is currently showing in US cinemas, and available to watch worldwide on Disney+ with Premier Access from March 5, and for free from June 4, 2021.
---
WATCH RAYA AND THE LAST DRAGON: