Scoob!: Scooby-Doo and the Case of the False Marketing Campaign (Review)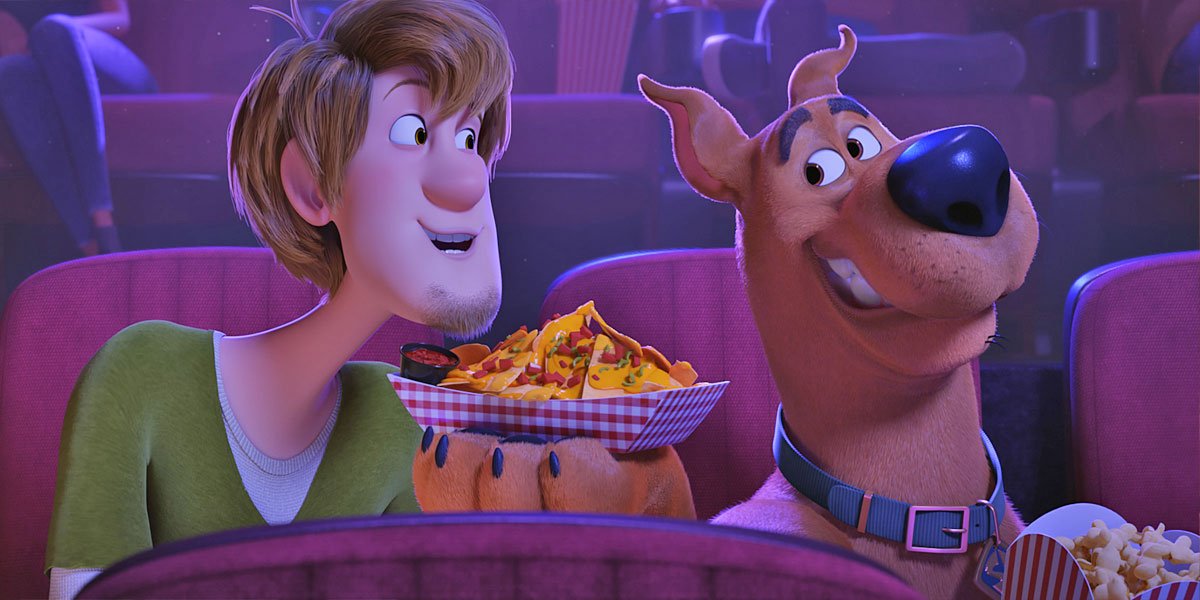 Will Forte and Frank Welker in "SCOOB!" (Courtesy of Warner Bros. Pictures)
Scoob! sees Warner Bros. waste the opportunity of a Scooby-Doo reboot on the introduction of an unwanted and unnecessary Hanna-Barbera Cinematic Universe.
---

I grew up watching old Scooby-Doo cartoons with my mom. The show's comfortable formula saw our heroes dragged to a remote locale to investigate some supposed haunting and, by the end of each episode, a real person in a costume was revealed as the source of the disturbances. While the show would occasionally dabble in real monsters, it was at its best using the simple formula. The trailer for Scoob! sold the movie as an origin story for the beloved characters brought into the modern era. It was an appealing premise with a trailer nicely structured around the core Shaggy-Scooby relationship. I was excited by the chance to introduce my son to a new take on the classic Scooby-Doo formula.
Movie trailers, however, are a tricky business. In less than 150 seconds, an editor needs to introduce a potential viewer to a film's stars, tone, and premise. It is the first impression of a film for most viewers and a driving force in their eventual decision to engage with the product, or not. A skilled trailer editor can make a very bad movie look palatable; an unskilled one can render a masterpiece unmarketable. As is the case with all marketing, sometimes a trailer attempts to sell you a movie very different from the one you will actually see in theaters.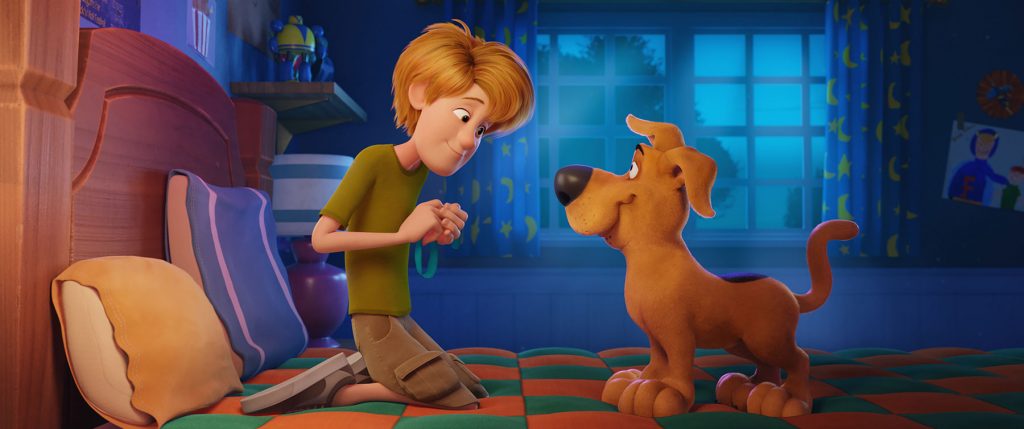 The actual product Warner Bros. has delivered is quite different than the "Scooby-Doo as a puppy" story they sold. And the sad reality is that what they have created is more "product" than film. The childhood origins of Mystery Inc. and Scooby's relationship with Shaggy are dispensed in just a few short minutes of a cold open. The classic formula of the show is dispensed in a short montage winking at a number of its most famous villains. Soon, unfortunately, the grinding gears of world building see Scooby and Shaggy dragged into a series of increasingly outlandish superhero adventures. And thus, Scoob!'s focus shifts away from Fred, Daphne, and Velma to a whole mess of Hanna-Barbera C-listers including Blue Falcon, Dynomutt, Dee Dee Sykes, and Dick Dastardly drawn from a whole mess of mostly forgotten TV shows including Captain Caveman and the Teen Angels and Dynomutt, Dog Wonder.
While the characters are voiced by famous, talented performers like Mark Wahlberg (The Departed), Ken Jeong (The Hangover), Kiersey Clemons (Hearts Beat Loud) and Jason Isaacs (the Harry Potter series), I signed up for a Scooby-Doo movie. Instead, we get the most obnoxious cinematic universe building since Justice League. Let's take Dynomutt, a robot dog hybrid superhero, by way of example. I consume an awful lot of content and, while I am vaguely aware of the character's existence, it is downright strange to see the character treated as someone I should already know well by the filmmakers (similar to Marvel's treatment of Spider-Man in Captain America: Civil War).
Scoob! presupposes not only that the viewer knows who this strange looking character is, but also that we treat his appearance with a level of reverence and glee. This particular character has, as best I can tell, appeared in one 2012 Scooby-Doo episode and one 2013 Scooby-Doo straight-to-video release since his show was cancelled after just 20 episodes in 1978. I am confused by the generational gap too. I was born in the mid-80s and my son is 2. I do not suspect that many folks born in the late 60 or early 70s – and thus of cartoon watching age when Dynomutt, Dog Wonder originally aired – are taking their young children to see Scoob!. The problem pervades all these characters.
But the biggest tragedy is that all this franchise building sidelines most of Mystery Inc. for the bulk of the film's run time. It is not as though there is no precedent for the sort of crossovers scene here in Hanna-Barbera animation. The shows found time to mix everything from Yogi Bear to Hong Kong Phooey. And the direct-to-video Scooby movies over the years have seen our heroes mixed with characters ranging from WWE wrestlers to Godzilla. The filmmakers made the choice to call this movie Scoob! and not Scooby-Doo and the Hanna-Barbera Cinematic Universe. It is frustrating because our heroes are well cast. Will Forte (MacGruber) brings the right mixture of goofiness and heart to Shaggy. Zac Efron (Neighbors), Amanda Seyfried (Chloe), and Gina Rodriguez (The CW's Jane the Virgin) bring a modern, effective feel to Fred, Daphne, and Velma. Frank Welker, who originated Fred in Scooby Doo, Where Are You? cartoons and has played Scooby for the last two decades, brings his usual amiable gruffness to the role.
See Also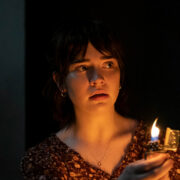 Scoob! even takes the time to wise introduce Fred, Daphne, and Velma through the outfits they wear the first Halloween night they meet Shaggy and Scooby: Fred is dressed as a white knight, Daphne as Wonder Woman, and Velma as Ruth Bader Ginsberg. It is a smart shortcut to introduce the viewers to the characters' core traits. I cannot help but wonder where that level of care was when introducing the characters that the audience does not already know. The animation is theatrical quality but clearly lacks the sense of life, quality, and style you might see in a Pixar movie. The scenes – rare as they may be – that see the core team brought together to work on solving mysteries actually work well. They speak to what could have been if the filmmakers had the faith that an audience would accept a classic Scooby-Doo story in the era of Marvel hegemony.
---
Scoob! is now available to watch.
---
STREAM SCOOB!:
---
JOIN US!
Be among the first to receive our monthly updates with film news, movie-inspired recipes and exclusive content! You'll only hear from us once a month. #nospam