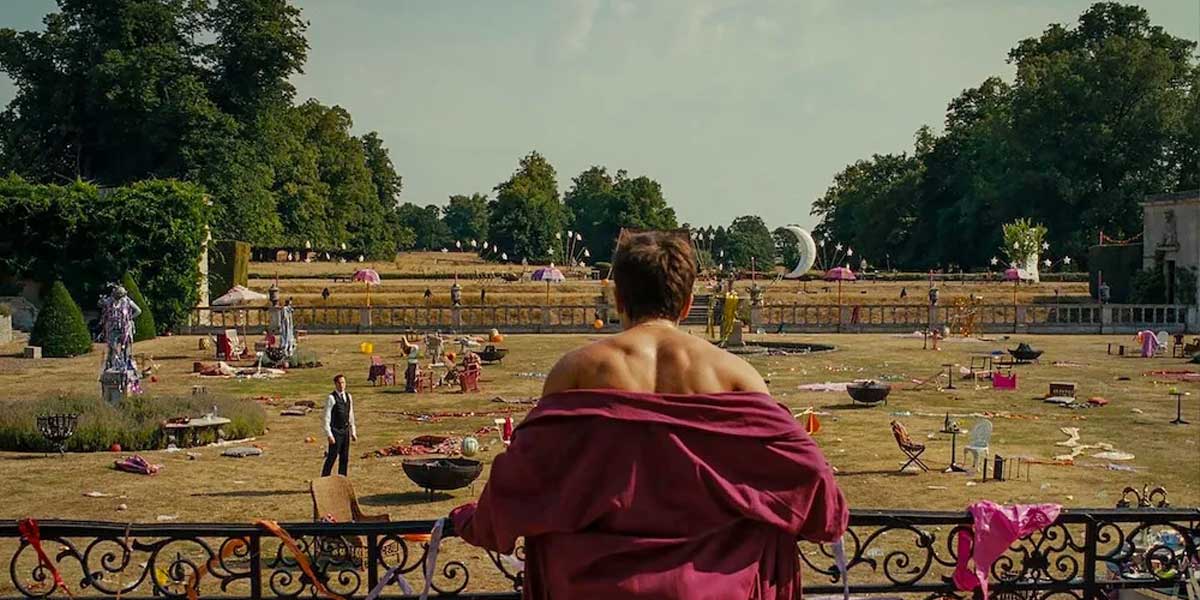 (MGM)
With Saltburn, Emerald Fennell tells a tale of privilege, desire, and deception with a magnificent visual style.
---

Saltburn kicked off the 2023 London Film Festival, and what a great beginning it was. When it was first announced, Emerald Fennell's newest film quickly became one of my most anticipated movies of the festival, if not of the entire year. Three years after the success of Promising Young Woman, Fennell is back with her newest feature, and I am happy to say that it does not disappoint.
This time, Fennell turns to a British setting: Saltburn is set in the mid-2000s at Oxford University, where Oliver Quick (Barry Keoghan), a young student, struggles to find his place at the prestigious university. When his schoolmate, wealthy aristocrat Felix Catton (Jacob Elordi), invites him to spend the summer at Saltburn, the Catton's family estate, he is quickly drawn into Felix's eccentric world made up of privilege and desire. There, he meets the entire Catton family, including Elsbeth Catton (Rosamund Pike), Felix's mother, Sir James Catton (Richard E. Grant), his father, Felix's sister Venetia (Alison Oliver), and their American cousin Farleigh (Archie Madekwe).
The film is very clearly situated in place and in time through the costumes, which perfectly recreate 2000s fashion, the British accent and slang used in the film, and the song choices. The mid-2000s posh Britain that the movie analyses comes to life throughout Saltburn from its opening sequence, with a tracking shot following Oliver as he arrives to Oxford and moves into his dorm. Much like in her previous film, Fennell delivers her story with an impressive and captivating style defined by an ever-present tension, conveyed through the fast-paced crescendo musical score by Anthony Willis, and visually by vivid colours, the symbolism of which would need an entire rewatch to fully understand.
Saltburn is a poignant satire of our society: from privilege to class struggle, the film highlights important issues we are more than familiar with today and points out the inherent contradictions within our world. In this sense, Fennell's latest film can be seen as a 21st-century British version of Pasolini's Teorema, with social commentary focused on the fleeting and yet ever-present modern aristocracy and their ostentation of wealth, which is particularly evident in the third act of the movie, when we see the aftermath of a party at Saltburn.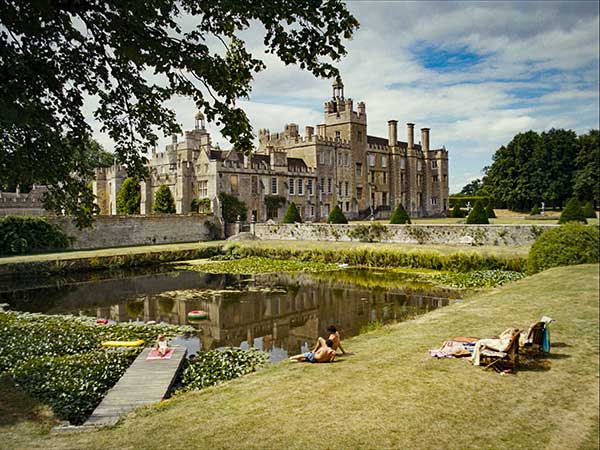 Part of the charm of Saltburn comes from the actors and how well they all work with each other, creating believable family dynamics from which Oliver seems to be inevitably excluded. As "a scholarship boy who buys his clothes from Oxfam," it seems like he could never be a part of this eccentric world, no matter how hard he might want to. Saltburn is a masterclass in acting by everyone involved, with an exceptional performance by Barry Keoghan that hooks you in and never lets you go until the very last shot of the film. Jacob Elordi is also incredibly compelling as Felix, delivering his most impressive performance when acting opposite Keoghan.
See Also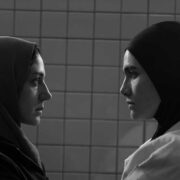 Fennell is able to create a mesmerizing film that successfully merges tragedy and humour, thriving in the combination of opposites during its entire runtime. Saltburn is an intricate maze of secrets, drama, and passion. In the first half of the movie, one of the characters states that "people get lost in Saltburn," and this is true for the audience as well: as the film goes on, we desperately want to get lost in Saltburn ourselves the more it dives into the complexities of its plot. But as the final act triumphantly unfolds, we cannot help but wonder: do we really want to know what lies at the centre of the maze?
---
Saltburn had its International Premiere at the 2023 BFI London Film Festival on October 4 and will be released in select US theaters on November 17 and nationwide on November 22, 2023. Read our list of 25 movies to watch at the 2023 London Film Festival!