Reality (2023): Film Review
Reality (Vertigo Releasing)
Sydney Sweeney shines as real life whistleblower Reality Winner in Reality, Tina Satter's taut chamber piece adaptation of her award-winning play.
---

A whistleblower named Reality Winner sounds fake, but it's completely true; in fact, Tina Satter's tense docudrama Reality takes the "Based on a true story…" concept to the next, most rigid level. Her tightly driven chamber piece is so firm with the truth that its dialogue is taken from a real FBI transcript, with almost every cough, stutter and chuckle accounted for. The result is something tensely surreal and completely special, but more importantly, it holds a tremendous relevance to American society and the recent Trump era. Satter's film, adapted from her 2019 stage play Is This a Room, is a unique snapshot of a unique era – one whose effects still remain.
On a normal Saturday afternoon in 2017 in a suburb of Georgia, FBI agents arrived at Reality's home. A normal, innocuous woman who loves her pets and keenly runs exercise classes, Reality seems like the least suspicious suspect you could think of. Across the 83 minutes of Reality, we witness how her actions – leaking a classified document regarding Russian interference in the 2016 election – on one day at her job as an NSA translator led the FBI to question her and search her home. Reality unfurls like a mystery (unless, of course, you know the full true story), bringing with it a subtle but riveting power that expands slowly but surely.
Much of this intrigue and watchability is owed to the lead, Sydney Sweeney (Euphoria, The White Lotus), and the two main supporting roles, Josh Hamilton (Eighth Grade) and Marchánt Davis (The Day Shall Come) as the questioning agents. Sweeney is fantastic as the titular Reality, giving glimmers of the secrets and emotions she is harbouring as the tense interrogation builds, whilst also capturing the understandable frustration with the Trump era. Hamilton and Davis bring a strange amiability to the interrogation, but also signal the darker, more dangerous side of their FBI background. They are splendid as the often blundering agents who muddle their way through this important day.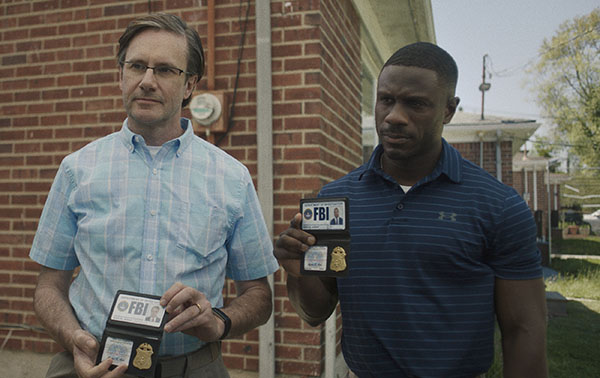 The engrossing nature of Reality is driven further by a buzzy original score by Nathan Micay (Industry), which reminds us that the film is a reenactment of a real recording. Furthermore, Satter's background in theatrical directing is obvious, with expert blocking enhancing the impact of numerous scenes. Much of Reality takes place in a single room, with only Sweeney, Hamilton and Davis, but Satter's exquisite staging and Paul Yee's (Joy Ride) claustrophobic cinematography amplify and draw out the potential of this single setting. The camera rarely leaves Reality's side, the pressure on her increasing, giving the viewers a sense of how caged she would have felt in this situation.
Aside from the scintillating way Satter guides us through this single day, there is also room for swift and sharp commentaries on not just Trump and the US legal system, but broader topics such as truth and power too. Reality is thrilling, but also moving and melancholic. It even highlights the very masculine edge of this interrogation, with odd questions and domineering personas hovering over Reality. Satter and co-writer James Paul Dallas' screenplay is trimmed to a zippy but substantial 83 minutes, highlighting expertise in what needed leaving in or cutting from the real transcript.
See Also

We see enough in Reality to understand her character, but some inevitable frustration comes in the lack of fallout we see after the events. Reality's captions at the end which explain the whistleblower's conviction suffice, and ultimately, Satter's film is so fastidiously focussed on this single day that this lack of context matters little. Reality is one of the most engrossing cinematic journeys you could take in 2023, but despite coming for the magnetic performances and absorbing subject matter, the striking questions the film poses are what will stick with you the most afterwards.
---
Reality will be released in UK & Irish cinemas from June 2, 2023. In the US, the film will be streaming on Max from May 29.