Peter Rabbit 2: The Runaway: A Hare-Raisingly Hilarious Hoot (Review)
Columbia Pictures' PETER RABBIT 2: THE RUNAWAY (Sony Pictures © 2020 CTMG, Inc.)
Peter Rabbit 2: The Runaway is another win for the family-friendly franchise, capturing the same comedic charm that made the first film such a success.
---

While several movies have been negatively impacted by complications surrounding the coronavirus pandemic, none have shifted around the release schedule more than Sony's Peter Rabbit 2: The Runaway. Three years ago, the first Peter Rabbit became a bit of a surprise success, shocking many by grossing $115 million at the domestic box office – around 4.6x its $25 million opening weekend – and $351 million worldwide, making a sequel almost inevitable. Unfortunately, Peter Rabbit's return to the big screen has been anything but simple, with The Runaway encountering unforeseen obstacles at every turn due to the continuing threat of COVID-19, which caused the film to debut 16 months after its initial release date of February 7, 2020, following ten delays over the course of the last year. Leaning into its release schedule struggles, the film now arrives with the amusing tagline, "In theaters. Finally." However, can any movie possibly live up to the expectations associated with such a protracted wait, or is this too little too late for Peter Rabbit 2: The Runaway?
Rest assured, it takes little time for Peter Rabbit 2 to prove its worth, instantly re-immersing audiences in the silly, slapstick-filled setting that captivated so many crowds years ago by revisiting the comedic conflict between Peter (James Corden, of The Prom and Into the Woods) and the now tranquil Thomas (Domhnall Gleeson, of Star Wars and Harry Potter), who have reached a truce-of-sorts as the latter prepares to marry his beloved Bea (Rose Byrne, of Insidious and X-Men), Peter's owner. Believing himself to be recently "reformed," Peter tries to turn a new page in his life, but he soon realizes that it's much harder to escape his mischievous reputation than he once thought, with both his family – Flopsy (Margot Robbie, of I, Tonya and Birds of Prey), Mopsy (Elizabeth Debicki, of Tenet and Guardians of the Galaxy), Cottontail (Aimee Horne, subbing in for Daisy Ridley), and Benjamin (Colin Moody, of The Chronicles of Narnia) – and Thomas still regarding him as a troublesome ruffian.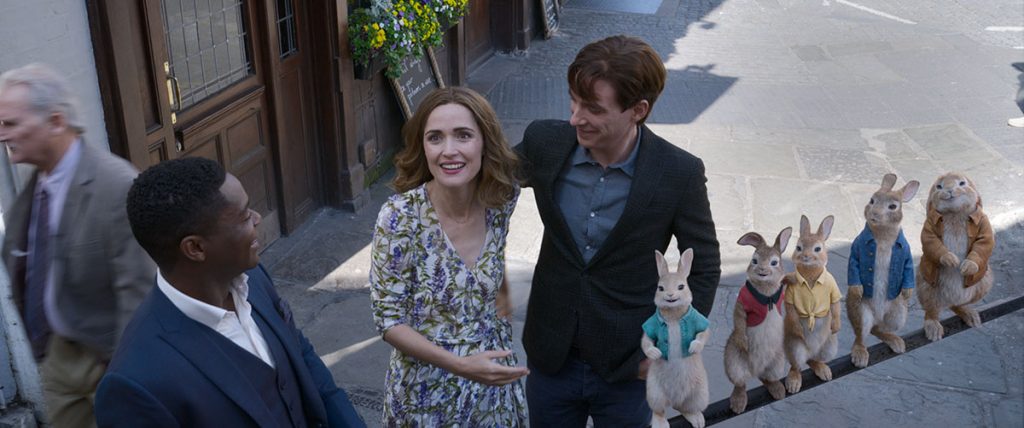 Likewise, when Bea meets with book publisher Nigel Basil-Jones (David Oyelowo, of Selma and Chaos Walking) to discuss the development of a series of stories centered around Peter and his pals, Nigel produces a marketing plan honing in on Peter's propensity to be the "bad seed," and then and there, Peter decides enough is enough, taking off on his own to discover what kind of bunny he wants to be. Almost immediately, he bumps into a rabbit street thief named Barnabas (Lennie James, of The Walking Dead and Blade Runner 2049), who claims to have been a friend of Peter's late father. Attracted to Barnabus' "no-nonsense" attitude, Peter joins him on his schemes, eventually meeting his crew of fellow animal criminals – Samuel Whiskers (Rupert Degas, of Evil Dead and Planet 51), Tom Kitten (Damon Herriman, of Once Upon a Time in Hollywood and Mortal Kombat), and Mittens (Hayley Atwell, of Captain America and Cinderella) – as well. Together, this ragtag team plots to pillage the local farmer's market for their "big score," but when learning of Barnabas' occasionally malicious methods, Peter has to decide if this is really the life he wants to lead.
Director Will Gluck (Easy A, Annie) returns to do double duty as screenwriter again – alongside Eternals' Patrick Burleigh – and, as expected, this sequel retains its predecessor's convivial charm, sufficiently synthesized with an unexpectedly emotional core that furthers the arcs for these characters without betraying the progress they've made in the past. Sure, Peter may have put aside most of his differences with Thomas and tried to be more pleasant for Bea's sake, but when the world still treats him as no more than a nuisance, at one point do you just give up and give in to that perception? It's a rather mature meditation for a kid's movie, but one that's dealt with delicately by Gluck and Burleigh, giving the thematic material the gravity it deserves while keeping the film light-hearted enough so as to not lose the attention of families in the audience in the process. For a continuation that could've simply cashed in on a quick retread of the same story beats and setpieces of what came before, it's impressive that Gluck was able to actually justify The Runaway's existence and advance the narrative in an authentic – and affecting – way.
As was the case the first time around, the voice cast gives Peter Rabbit that special spark, led by the ever-charismatic James Corden as the titular troublemaker. Like Gluck, it would've been so easy for Corden to keep things close to the vest and phone his vocal work in, but he's nevertheless just as endlessly entertaining here as he is in his physical performances (and as he was in The Runaway's predecessor), and it's his continual commitment to the character that makes the movie's comedic beats work as well as they do. However, even aside from Corden, there truly isn't a weak link in the entire ensemble. Robbie and Debicki are a delightful dynamic duo as Flopsy and Mopsy, Moody plays the bumbling Benjamin with puckish panache, and James all but steals the show as the bad-natured Barnabas, shifting from skillful sarcasm to sinister spite almost on a dime, keeping viewers on their toes when we start to feel as if we can trust the tempting street thief. Byrne, Gleeson, and Oyelowo all do decent jobs as the film's live-action leads (especially the latter, who has a blast as Bea's pretentious book publisher), but Peter Rabbit 2 really belongs to the animals at the end of the day, with each actor knocking their part out of the park.
There's little in Peter Rabbit 2's plot that will feel "new" to filmgoers familiar with modern-day family friendly entertainment, and it's unlikely that the sequel will have much staying power or be seen as a new shining standard for the subgenre in a few year's time, but all that matters at the moment is that it delivers diverting fun for the time being, and on that front, The Runaway succeeds splendidly. Here's hoping we don't have to wait another three years for another amusing adventure with Peter and his garden gang, as Sony has struck gold with a series that not only keeps kids happy, but has some pleasures for parents to appreciate as well.
---
Peter Rabbit 2: The Runaway is now available to watch in theaters worldwide.
---
JOIN US!
Don't miss our monthly updates with film news, movie-inspired recipes and exclusive content! You'll only hear from us once a month. #nospam