Palmer (Review): Timberlake is Terrific in Touching Redemption Tale

Justin Timberlake and Ryder Allen in "Palmer" (Apple TV+)
Palmer 's narrative is nothing new, but Justin Timberlake 's passionate performance makes this movie a must-watch regardless.
---

Despite starring in modern-day cinematic classics such as David Fincher's The Social Network and the Coen Brothers' Inside Llewyn Davis – to say nothing of his wonderful voice work in the fan-favorite Trolls franchise – it's often easy to overlook Justin Timberlake's abilities as an actor and solely see him as the superstar singer/songwriter who got his start with beloved boy band NSYNC, even all these years later. Part of this can be partially attributed to his status as an illustrious icon in the music industry – after achieving so much success as a songsmith, it can be difficult to separate this persona from the parts he's played in the movies mentioned above. How can we possibly see anyone but JT?
Therefore, in Apple TV+'s Palmer, Timberlake sets off to show that he's far more than the "Prince of Pop," shedding his star image and wholly humbling himself to embody the titular embittered ex-con, an average everyman of Middle America whose soul is slowly softened as he befriends a bullied young boy and stumbles upon a second chance in life. Thanks to Timberlake's remarkably raw realization of this character and his skillful subtlety, he anchors Palmer with an admirable authenticity and makes this sentimental character study a must-see.
Palmer begins as Eddie Palmer (Timberlake), a former college football star, returns to his hometown after 12 years of imprisonment. Though the circumstances that led to his incarceration are initially unknown to the audience, the crushing impact it had on his life is immediately clear – not only did Palmer see his dreams of a sports career shattered, but he also can't go anywhere in town without combating the contempt of old neighbors and friends. For the time being, Palmer is able to live with his grandmother, Shelly (June Squibb, of Nebraska and Hubie Halloween), but he's subsequently surprised by the appearance of a third member in their household – a young boy by the name of Sam (newcomer Ryder Allen), who has been abandoned by his junkie mother, Vivian (Juno Temple, of Apple TV+'s Ted Lasso and Maleficent).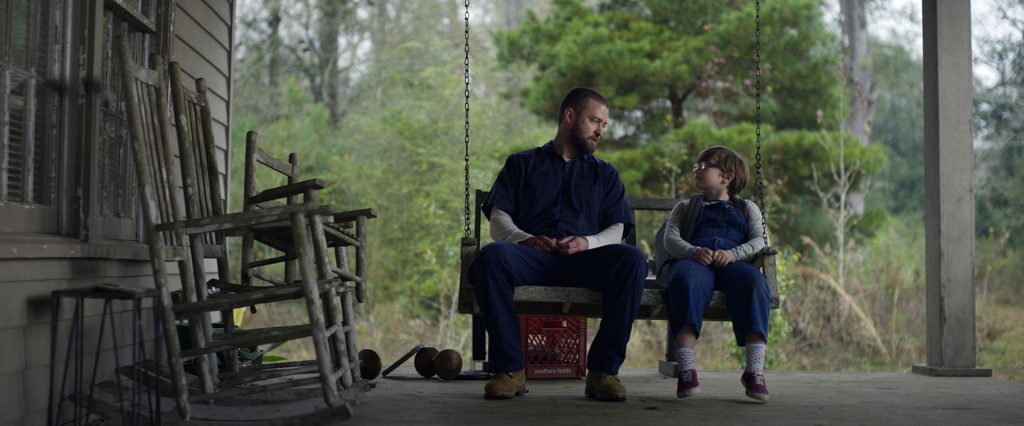 Right off the bat, Palmer struggles to connect with Sam; as a real "man's man," there's precious little he has in common with his child companion, who fancies fairy dolls and princess dresses. However, after an unexpected tragedy, Palmer and Sam end up having no one to lean on but each other, and, as a result, a rewarding relationship arises. In Sam, Palmer finds a new purpose and makes it his mission to protect this lively little kid from those who would terrorize him for being "different" than other boys, and in Palmer, Sam finds the father figure he's been forever lacking. While also possibly striking up a relationship with Sam's teacher, Maggie (Alisha Wainwright, of Shadowhunters and Raising Dion) and mending other messes from his time pre-prison, has Palmer truly found a chance at a new future, or will his past rear its ugly head and ruin everything?
Some may be quick to label Palmer's story as "predictable" – especially given the stereotypical set-up – but the beauty of the film lies in its frankness as opposed to any narrative innovation. While sentimental, Cheryl Guerriero's script is stunningly sincere, mostly avoiding mawkishness and melodrama in favor of a plot that emphasizes credible and convincing emotion above all else, never straining to earn our sympathy but rather eliciting investment through its truthfulness. Even when the obligatory tear-jerking beats arrive in the third act, our empathy feels earned, because Guerriero has taken the time to fully flesh out both Palmer and Sam's individual arcs and their affecting attachment to one another. There may be little about Palmer's storyline that truly surprises us, but when a movie resonates as much as this one does, this familiarity is less of a detriment than it would be otherwise.
More than anything, Palmer's primary strength is the sterling performance of star Justin Timberlake, who abandons all of his celebrity allure to inhabit this character and pay respect to his plight with riveting reputability. Truth be told, there's never a moment in which Timberlake isn't completely in tune with Palmer's emotional evolution, first representing his rage and resentment with ravishing realism and later slowly showcasing his previously concealed compassion as Sam chips away at his capriciousness. Again, this narrative is nothing new, but Timberlake's honest humanism is earnest enough to engage us in spite of these conventional story choices. His range in this role truly must be seen to be believed, and those who still refuse to acknowledge his aptitude as an actor will be in for quite the shock. Without a doubt, studios should be striving to snap Timberlake up for any and all high-profile projects in the near future, as he demonstrates a bright future in film, if Palmer is any indication.
Aside from Timberlake, Allen is the other striking standout in Palmer, holding his own against the A-lister and expressing an energetic and infectious exuberance throughout the entire movie. Thankfully, Palmer refuses to label the flamboyant Sam's gender or sexuality in any regard, allowing him to live life as himself free of any constraining classification or categorization, and Allen jumps on this opportunity with joyousness and joviality. Frankly, it doesn't matter who or what Sam is or isn't – simply put, he deserves to act as he pleases free of prejudice, and as Timberlake's Palmer grows fonder of his flashiness, he becomes our audience surrogate, putting the bullies in their place and protecting this splashy little soul no matter what. At the same time, Allen manifests a maturity far beyond his years, reminding audiences to release our inhibitions and pay no mind to others' misjudgments. Others are quite excellent in Palmer's ensemble as well – Temple brings depth to her part as a drug-addicted mother, Wainwright is a flirtatious foil for Timberlake – but Allen's charm is the most alluring of all.
In the end, while perhaps nothing new, Palmer is a warm and winning watch all the same, telling a touching tale of redemption that is powered by poignant performances across the board and a story free of any artificiality. Justin Timberlake delivers the best work of his career thus far – demonstrating more dimension than any would've expected from the former NSYNC star – while Ryder Allen nearly runs away with the whole show. With the world embroiled in so much disarray on a daily basis, a small-scale, sweet-natured story like this may be just what we need.
---
Palmer premieres globally January 29, 2021 on Apple TV+.
---
JOIN US!
Don't miss our monthly updates with film news, movie-inspired recipes and exclusive content! You'll only hear from us once a month. #nospam