Only Murders in the Building Season 2 Review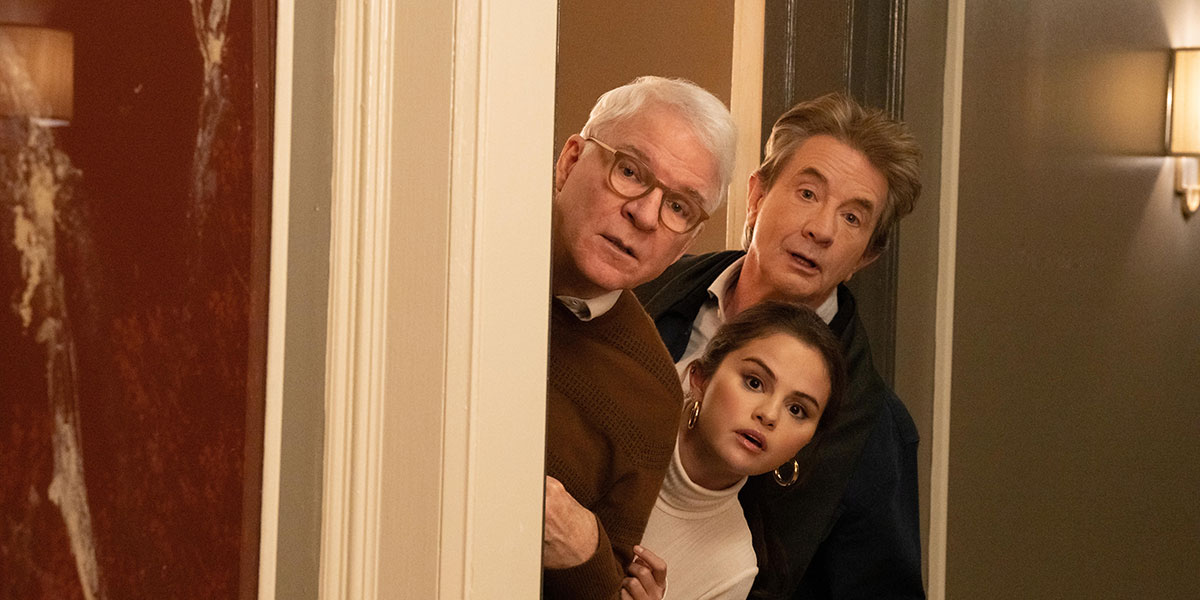 Season 2 of Only Murders in the Building (Craig Blankenhorn/Hulu)
Only Murders in the Building is back, and season 2 is as tongue-in-cheek and fun as the first, even if it has lost its freshness and suffers from a weaker beginning.
---

This review was written having seen 8/10 episodes of season 2 of Only Murders in the Building.
The cultural obsession with true crime is still alive and kicking: from documentaries to conventions, from podcasts to books, we're still obsessed with all things murder and mystery. On the heels of its fun first season, Only Murders in the Building returns to our screens for a second kick at the can, and our charming central trio once again find themselves right at the centre of another murder investigation.
Season 2 picks up right where we left off: Mabel (Selena Gomez) is covered in blood, standing over a body, while Charles (Steve Martin) and Oliver (Martin Short) look on horrified. All three are immediately arrested, but while they have plenty of connections to the murder victim – building manager Bunny (Jayne Houdyshell) – there is little concrete evidence and they're soon let go. Despite being warned off using it as fodder for their podcast by police contact Det. Williams (Da'Vine Joy Randolph), the trio forge ahead with a sequel and try to solve the murder, figure out who's trying to frame them, and also confront several aspects of their pasts that complicate matters.
While the first season was fun, frothy and focussed primarily on solving the murder of Tim Kono (Julian Cihi), the second leans more into developing its characters, exploring Mabel, Charles and Oliver and giving them some more 'dramatic' material. It still works with the overall context of the show – a relatively light tone, despite all the murders – but feels a little less immediately compelling. It feels slightly slower to get going and takes some detours that, while eventually relevant, feel a little distracting when the camaraderie between Gomez, Martin and Short is so engaging, and it's that aspect of the show you want to spend the most time with.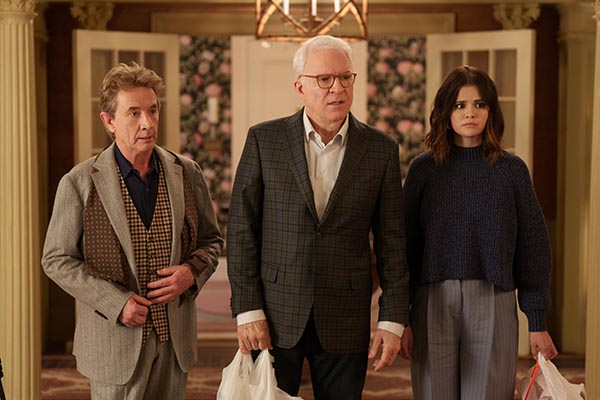 This season also continues the tradition of having each episode bookended by a side character's narration, which offers some fun insights into the lives of those outside the central trio. But there's no stand out episode like the near silent one ('The Boy from 6B') from season one. James Caverly's Theo does make a reappearance, and the show is still commendable for its inclusion and the respect it places on deafness and disability as it doesn't ever treat its deaf character as 'other'. It's also quite nonchalant in its introduction of bisexuality; it doesn't make a production of having a character 'come out' but rather suggests they have been living authentically the whole time, just without any explicit reference to it. It's another example of how Only Murders in the Building is a lot cleverer than it lets on and that its writing is subtle but layered in a way that feels in on the joke as well as the message.
There are some new characters introduced this season, as well as a host of returning faces. Those joining the cast include Cara Delevigne as mysterious artist Alice, Michael Rapaport as their not-so-nice police contact Det. Kreps, Amy Schumer as a heightened version of herself (think Sting in season one) and Jane Lynch as Sazz Pataki, Charles' very committed stunt double. Some work well within the show's dynamic, while others not so much, (Schumer's is a presence that could have been lost without much trouble) but introducing new characters, suspects and dynamics keeps the show from feeling stale when the premise hasn't changed from the first season.
Ultimately though, the draw here is its central trio and Oliver and Gomez, Martin and Short are still a really charming triple act. The dynamic feels comfortable now, but there's still that element of discord that makes for some of the series' more awkward moments of comedy. The chemistry between the three is really strong, but this season gives each character a side plot that allows them to explore different aspects of themselves. Mabel's past is still somewhat of a mystery, and while Gomez doesn't use histrionics, there's a troubledness – and an aloofness – to Mabel that feels compelling and interesting. Charles is still struggling to be Charles and not Brazzos, and this season explores his relationships – romantic, familial and platonic – with Martin's subtle humour and wit. Oliver's main subplot centres around his being a dad, and Short's brand of over-the-top, sightly more physical comedy is reined in a bit but still really effective. Although these side plots don't always feel as exciting as the moments when the trio are together, it does help develop the characters in ways that ultimately helps the main dynamic. With their energies bouncing off each other the show still feels pacey – the half an hour episodes are back and still very much welcomed – and fun, and it's easier to forgive some of the show's weaker moments when the central trio are as compelling as they are.
Season 2 is still funny and still has its tongue firmly in its cheek. And while it has lost the 'freshness' of season one, it feels like a more confident show, a show more inclined to explore its quirks and shrewdly comment on its own format. What is particularly clever about Only Murders in the Building is that it has a firm grasp on the bizarre nature of true crime having become something relaxing and enjoyable for people – rather than something horrifying and frightening – and imbues the show with that spirit, but also doesn't lose sight of the fact that, at the end of the day, these are still awful tragedies. It doesn't linger on the darker side, but it lets its audience know that it's not unaware of it. It utilises its comedy exactly right, and doesn't ever feel mocking or salacious. It's still a tad cheesy, but it feels like that's part of the fabric of the show and pretty inescapable, and it never feels like 'too much'.
Overall, season 2 of Only the Murders in the Building is an enjoyable successor to a fun first season, even if it doesn't feel as fresh. There are some new aspects that work and some new aspects that don't, but it's still funny, tongue-in-cheek and well aware of its own cultural commentary. The draw is still Gomez, Martin and Short, an established comedy duo that's firmly becoming a comedy trio and fans of true crime capers are more than welcome to join us all in the Arcadia; it's not all doom and gloom, we promise.
---
Season 1 of Only Murders in the Building was released on June 28, 2022 on Hulu in the US and on Disney Plus' Star in the UK, Europe, and select territories. Read our review of Season 3 of Only Murders in the Building!