Only Murders In The Building Season 3 Review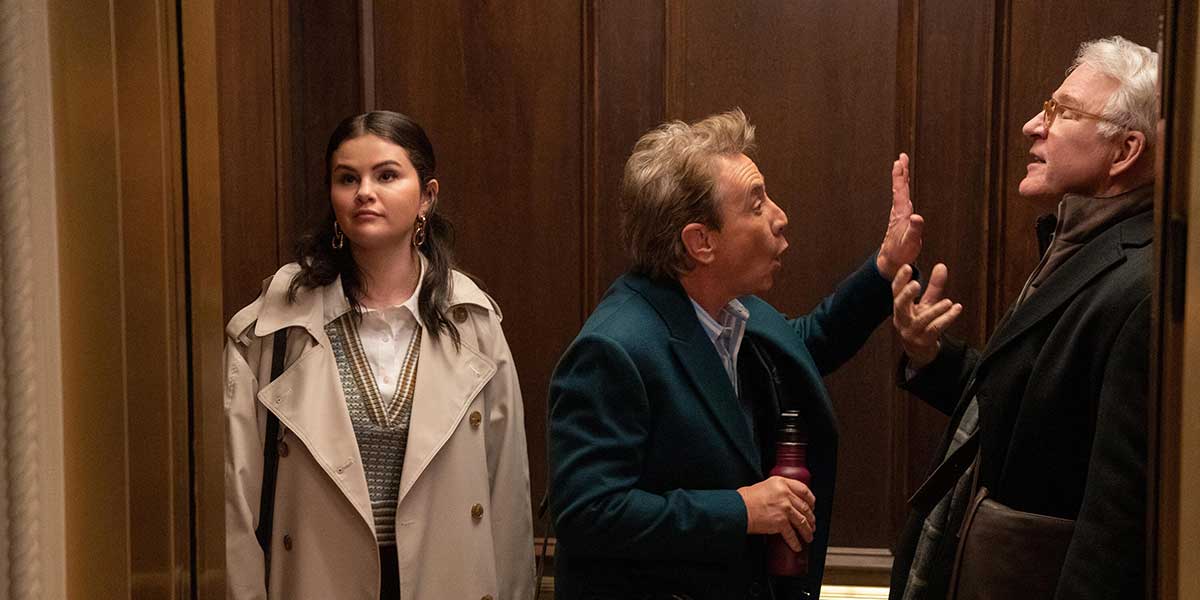 Only Murders In The Building Season 3 (Hulu)
Only Murders In The Building season 3 boasts a very impressive supporting cast that doesn't overwhelm what makes the heart of this show so special.
---

If you can get Meryl Streep in your show, then get Meryl Streep in your show. That's exactly the attitude true crime caper Only Murders In The Building has taken for season 3, boosting its charming central trio's shambolic sleuthing with an impressive supporting cast. Its tried-and-true conceit still works, and this season is as fun, genuinely hilarious and surprisingly clever as ever.
We begin where the finale of season two left off, on opening night of Oliver's (Martin Short) Broadway play where lead actor Ben Glenroy (Paul Rudd) has dramatically collapsed on stage. But it isn't until they all return to the Arcadia, the apparent murder capital of New York City, that he is officially and totally dead. Mabel (Selena Gomez) and Charles (Steve Martin) are as enthusiastic about solving the case as they are about a new season of their podcast, but Oliver is somewhat distracted by the effect Ben's death is having on his play, as well as a budding romance with his star newcomer Loretta (Meryl Streep).
As with its previous two seasons, Only Murders In The Building's main selling point is its central dynamic, and Gomez, Martin and Short are delightful as always. For this third kick at the can, the show seems determined to keep them apart for the vast majority of screen time, giving each character a concurrent subplot to alleviate their attention. And for the most part it works well, giving them more agency outside the central construct of their podcast. But it also means the show teeters on the edge of being spread too thin, as inevitably audiences will care more about one plotline over another and some valuable parts of each may end up feeling a little underused.
Which feels like a great time to mention the GOAT in the room. Meryl Streep, somewhat ironically, plays a jobbing actress desperate for her big break. She seems to revel in the bumbling innocence of her undiscovered star with a secret, and the show's energy seems to lift whenever she appears. It's a little baffling that she's kept as a sideline character for most of the episodes shown to us so far, but it definitely will not be surprising if she's let loose a little more for the finale. She shares most of her scenes with Martin Short, and their relationship is delightfully tender, and Streep genuinely seems to be having fun here – as does the entire cast. But there may be no such thing as too much Streep, and it seems as though the show could have utilised her considerable presence a little more.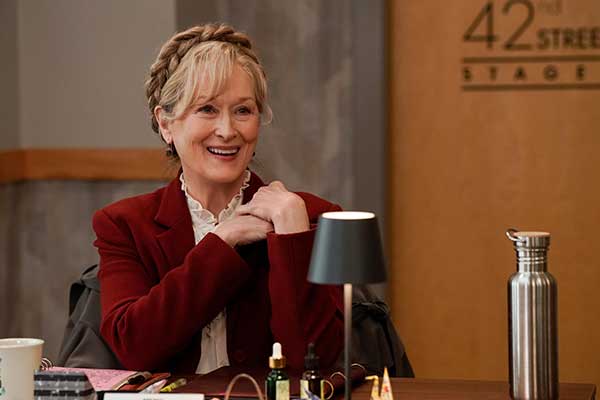 But that's not to say everyone else is lacking. As the murderee, Paul Rudd's a**hole actor feels ripped straight from the pages of an Agatha Christie whodunnit. His face – plastered on an array of delightfully camp movie memorabilia – looms over the show, and it feels like he's in on the joke and enjoying it too. Jesse Williams' enigmatic documentarian Tobert – yep, like 'Robert' with a 'T' – feels like more than just a new love interest for Gomez, and it'll be interesting to see which side of the coin he falls on by the end of the season. And then there's the recurring cast, from Michael Cyril Creighton's overly keen Howard to Jackie Hoffman's acerbic neighbour Uma, who are all given a moment to shine. Only Murders in the Building is genuinely an abundance of acting riches, and it's a show that keeps on giving.
And yet, while the cast list increases, the show doesn't ever really lose sight of the gang at the heart of it. Gomez, Martin and Short have really settled in to their roles as neighbours-turned friends, podcasters-turned amateur detectives, and season 3 really gives them the opportunity to develop further as individuals. Charles is dealing with anxiety and self-realisation, Oliver's desperation for a hit musical may well prioritise everything else, and Mabel is reflecting on her changing circumstances. They all make for interesting journeys and some will connect with audiences more than others, but the show just about manages to keep them all in check. It's a lot more show this time around, a lot more hangs in the balance as they stumble their way through a murder investigation than just getting people to listen to their podcast.
It's a sign of confidence that Only Murders In The Building is able to add so much background noise and not overwhelm the central track. It teeters on the edge, sure, but there is truly something for everyone here, not just those who were lured in by the true crime connection. It's still a little wacky, still peppered with laugh-out-loud moments, and still manages to throw in some poignancy every once in a while. Gomez, Martin and Short really are on to a winner here, and it feels like the only way is up – in an elevator that has seen more than its fair share of bodies.
Season 3 retains the magic that made Only Murders In The Building such a surprise hit, and amps it up with a veritable who's who of acting talent. It's definitely going to appease those already invested, and might just convert the remaining cynics along the way.
---
Only Murders In The Building season 3 will be available to watch on Hulu in the US and on Disney+ in the UK & Ireland and various countries from August 8, 2023. Read our review of season 2 of Only Murder in the Building!