Old Henry Revives The Western Genre (Film Review)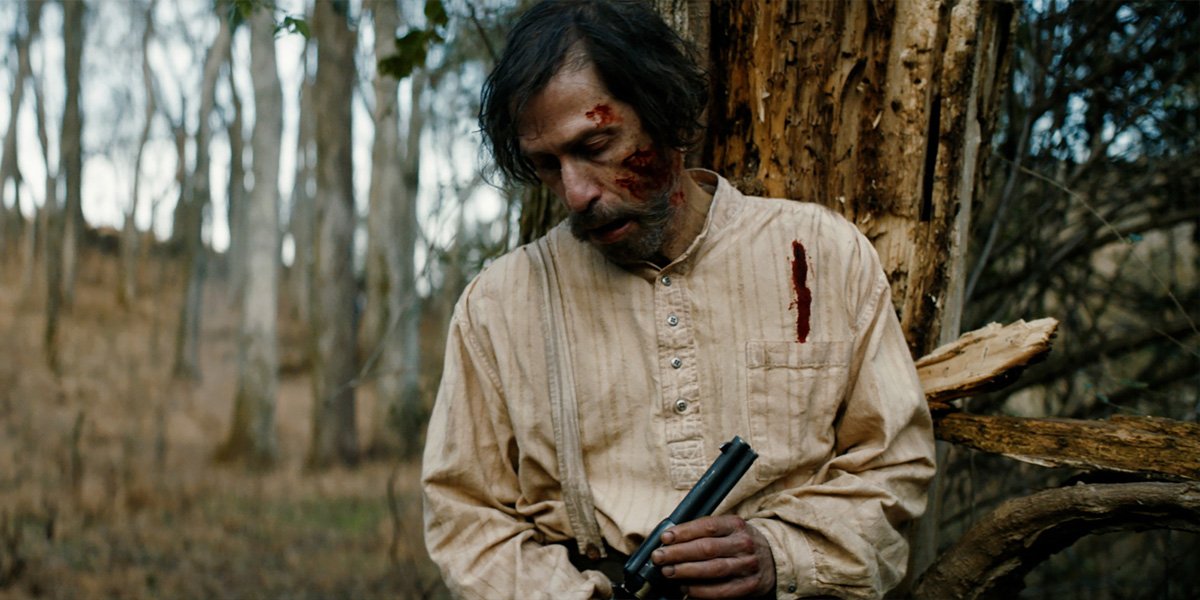 Tim Blake Nelson in Old Henry (Shout Studios & Hideout Pictures)
Tim Blake Nelson shines in Old Henry, a riveting, slow-burning western that pays homage to the great classics from the past while also reviving the genre.
---

Great western classics from the past are defined by certain elements. They usually take place against the backdrop of a romanticized version of the American West – a vast, lawless landscape whose wilderness and isolation reflect the qualities of its resilient inhabitants. Our lone, emblematic hero is usually a man of few words but of high moral virtue, who is more than capable of being violent but who always acts according to his own code of honour, and responds to provocations with a good dose of dark humour. A complex, timeless figure who conveys an idea of heroism and invulnerability with his actions alone, presenting us with a very specific ideal of masculinity through violent acts that are justified by a strict moral code that they embody at all times. At some point in the narrative, our hero is required to fight an adversary that is nearly as skilled as he is, and, though the villain is normally defeated, there's usually a high price to pay for this victory.
There's a universal appeal to westerns that goes beyond a simple liking for the genre: no matter how removed the film's actions and setting might be from our own reality, there are certain ideals we immediately find familiar. We are so engrossed in the narrative because we recognise the struggles the film's characters go through, and we are rewarded by witnessing the hero right the world's wrongs with epic action sequences and iconic, witty exchanges. In the past decades, many have attempted to replicate the winning formula of films like The Treasure of the Sierra Madre (1948), The Searchers (1956) and The Good, the Bad and the Ugly (1966), but few succeeded. Yet, there are certain films that managed to conjure the same atmosphere and ideals of timeless western classics while also modernizing the genre: among those films are Clint Eastwood's Unforgiven (1992) and Potsy Ponciroli's Old Henry.
Set in Oklahoma in 1906, the film stars Tim Blake Nelson (of O Brother, Where Art Thou?, also one of the film's executive producers) as Henry McCarty, a widowed farmer who lives in an isolated ranch with his teenage son Wyatt (Gavin Lewis, of Little Fires Everywhere), and who mostly keeps to himself, in order to avoid attracting unwanted attention. One day, Henry finds an injured, unconscious man not too far from his house, and, though the man appears to be carrying a gun and a mysterious satchel full of cash that may mean trouble, the farmer decides to take him in and tend to his wounds. But the man, whom we'll later come to know as Curry (Scott Haze, of Child of God and Minari), isn't inclined to tell Henry and Wyatt who he is, and, when five men, led by the ruthless Sam Ketchum (Stephen Dorff, of Embattled), show up at his door looking for the money and claiming to be the law, Henry must decide whom to trust, and keep himself and his son alive in the process.
But Henry is no ordinary farmer, and it's in his own house – a house that soon becomes a character of its own in the film, acting both as a shelter and as a battlefield – that he keeps his secrets hidden, and a wooden panel in the back of a room conceals a box with remnants of a past that he has been able to conceal for all these years, even to his own son. Curry's arrival is what breaks the balance in Henry's carefully constructed world – an almost ideal place that he built to give his son a normal life. But, if Wyatt couldn't be further away from the western heroes we're accustomed to, he's also a clever, resourceful young man who is curious enough to have found a way to uncover some of his father's secrets, and independent enough to be willing to play his own part in the narrative. As the truth is slowly revealed, one secret at a time, the tension rises, until the time comes for our protagonist to make a choice, and even more secrets are revealed.
Old Henry begins as a slow-burning western that takes its time immersing us into its captivating world with stunning cinematography (John Matysiak, of Two Shadows), an appropriately eerie score, effective sound design (Casey Barker, of The Expanse), and camerawork that never strays from the characters. If the film's protagonist is immediately reminiscent of enigmatic heroes from western classics, Wyatt, his son, brings modernity into the equation, making this not only the tale of a man who'd like to raise his son as far as possible from the kind of life that he used to have, but also a coming-of-age story that shows us a teenager who grows into a man when the future of his family is theatened. More than that, Old Henry is also the beautiful, meaningful tale of a father and a son who might not know a lot about each other, but who are clever enough to pay attention to the things that are unsaid, and be stronger as a result.
To say anything more about what happens in Old Henry would ruin your experience of watching a film that cleverly blends history and fiction, surprising you till the very end with twists you absolutely won't see coming. Suffices it to say that writer and director Potsy Ponciroli (Howard's Mill) has crafted a highly immersive world that shines with authenticity, inhabited by characters that feel as instantly iconic as the great cowboys from your childhood, and where the moments of tension and violence are effectively interwoven with emotion and dark humour. The acting is also exceptional in the film, and Tim Blake Nelson shines as a charismatic man we come to know one layer at a time, his facial expressions alone hinting at a past that's bigger than himself, attuning us to his emotions and personality throughout the movie. As the film's main antagonist, Stephen Dorff has our attention in every single scene he's in, imbuying the character with the right combination of arrogance and sarcasm to make us shiver one minute, and laugh to the point of tears the next: his Ketchum is one of those characters we love to hate, and this makes for many highly entertaining scenes. Scott Haze excels at showing us a man we can never quite figure out, which makes the central mystery of the film even more intriguing, and Gavin Lewis embodies his instantly likeable character with confidence, immediately earning our sympathies and getting us more invested in the narrative.
Both a tense, action-packed western and a meditative tale about a father and a son, Old Henry is reminiscent of great western classics in the best possible way, but it's also a gem of a movie that revives and modernizes the genre while preserving the authenticity of its setting and characters. Starring a superb Tim Blake Nelson in a career-defining role, Old Henry will have you go through a rollercoaster of emotions one reveal at a time, all while keeping you entertained with well-paced action scenes, hilariously timed exchanges and a story that becomes more complex and enthralling as the narrative unfolds. Not to be missed.
Old Henry premiered at the 2021 Venice Film Festival on September 7, 2021. The film will be released in US theaters on October 1, and on Digital Platforms in the UK on November 8.