Let Him Go: Costner and Lane Wow In Tense Western Thriller (Review)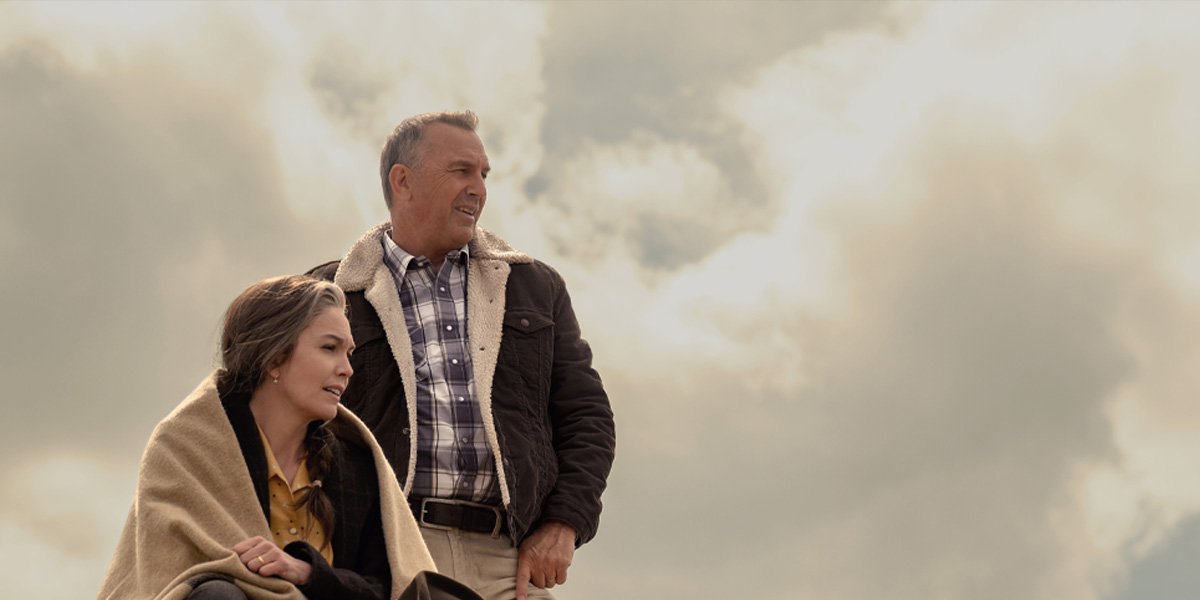 Diane Lane and Kevin Costner in LET HIM GO (Kimberley French / Focus Features)
Let Him Go is an emotional and engaging Western epic that succeeds due to a stirring script and powerful performances – namely, a maniacal Lesley Manville.
---

For many, there is nothing more important than family. As famed French author André Maurois once said, "Without a family, man, alone in the world, trembles with the cold." Family members often provide us with our first friendships in life, and they can be some of our most staunch supporters throughout the trials and tribulations of our existence on this Earth. Family can catch us when fall and cheer us on when we get back up, pushing us towards peace and prosperity as we pursue our own individual paths in this world. There is little that can replace the love and loyalty in our families, and this touching theme is at the heart of Thomas Bezucha's (Monte Carlo, The Family Stone) Let Him Go.
Let Him Go focuses first and foremost on the Blackledge family, primarily on patriarch George (Kevin Costner, of the Oscar-winning Dances with Wolves and DC's Man of Steel) and matriarch Margaret (Diane Lane, also of DC's Man of Steel and its sequel-of-sorts, Batman v Superman: Dawn of Justice). Saddened by their son James' (Ryan Bruce, of Amish Abduction and Obsession: Her Final Vengeance) shocking death as a result of a horse-riding accident, George, a retired sheriff, and Margaret, a headstrong housewife, nevertheless continue to care for their devoted daughter-in-law, Lorna (Kayli Carter, of Netflix's Private Life and Hulu's Mrs. America), and their grandson, Jimmy, on their ranch in Montana despite James' demise. Three years later, the widowed Lorna has decided to remarry with a local man by the name of Donnie Weboy (Will Brittain, of Kong: Skull Island and Everybody Wants Some!!), moving out and taking Jimmy with her, much to Margaret's dismay. Adding fuel to her fears of her daughter-in-law's suspicious new spouse, when driving through town one day, Margaret comes across the young couple on a walk and witnesses Donnie strike both Lorna and Jimmy out of rage – and it doesn't seem like it's the first time, either.
Maddened, Margaret heads over to Donnie and Lorna's home to confront her daughter-in-law's horrid new husband, but she comes to discover that the two have up-and-moved to Donnie's family home in North Dakota, seemingly overnight. With George's support, Margaret schemes to drive after the duo and rescue Lorna and Jimmy, but when they come face-to-face with the wretched Weboys – including the head of the family, the beastly Blanche Weboy, who is played to perfection by the lovely Lesley Manville (Phantom Thread, Maleficent) – things take a turn for the worst, and the two families find themselves embroiled in a chaotic conflict for control over the freedom of Lorna and Jimmy, with an explosive end in sight.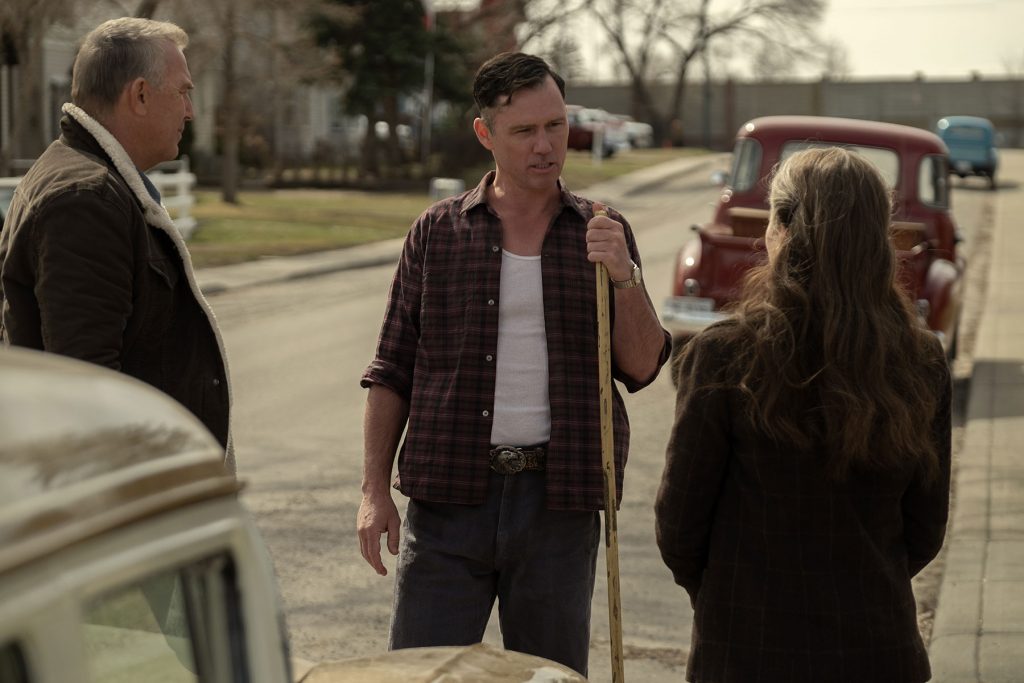 Though the story of Let Him Go is somewhat simplistic and straightforward on the surface, the film is still supremely stirring, thanks to Bezucha's ability (on top of his directorial duties) to additionally shape a script – based on Larry Watson's 2013 novel of the same name – that avoids exaggerated emotions and remains rooted in reality the whole way through. With a movie like this, there are most certainly many moments where one could make use of magnified "melodrama," but Bezucha trusts his thespians enough to instead explore the passion at the heart of the plot more intimately and intricately. Let Him Go does indeed grow more intense as we head towards its taut third act, but, for most of the film, fraught feelings like regret and remorse are dealt with in subtle scenes brimming with delicate dialogue that never appear artificial by any means. Bezucha's suspenseful saga is a bit of the slow-burn at the start – with the real riveting resonance only striking from the second act on – but much of this thoughtful table-setting is pivotal to perceiving the pains and personalities of George and Margaret, which helps to establish our engagement in their efforts as well.
Speaking of the compassionate couple at the core of this chronicle, Bezucha is blessed to have such admirable actors as Costner and Lane, who beautifully bring his words to life and capably convey the characterizations he has so carefully crafted. George is a much more internalized individual, burying his bereavement (as he was the one who discovered his dead son when he was thrown from a horse) and never letting his emotions explode to the surface. Costner can commendably sell this steely stoicism in his sleep, but he still completely commits here and ultimately finds ways to showcase George's suffering in spite of his character's stiffness.
Meanwhile, Lane's Margaret is much more openly expressive in her heartbreak, and her undying dedication to her grandson is always authentically affecting. From her surprise and subsequent seething upon spotting Donnie lash out at her loved ones to her caustic conversations with Blanche about Lorna and Jimmy's future, Lane spectacularly shares almost every sentiment imaginable with the audience, tethering us to her character's temperament. It also shouldn't come as a shock to say that, together, Costner and Lane have a wholly convincing connection in each and every one of their exchanges too, especially given that they've already accomplished this "Midwestern husband-and-wife" act in Man of Steel, seven years ago.
The aforementioned Manville is a histrionic hoot as the commander of the Weboy clan, chewing the scenery like it's an all-you-can-eat buffet. And yet, despite her bombastic behaviors and her delirious depravity, Manville never lets Blanche become a cheap "caricature" or sleazy "stereotype" – this is a woman whose preening and pernicious persona is almost preposterous, but Manville makes certain that we know this spectacle is all a show, and the internal insidiousness is only loosely "locked away" until she's pushed to protect her family and oppose outsiders by any means necessary. The story simply sparks to life when Blanche forces her way into the frame, and it cannot be overstated how efficient Manville is at making us fully feel the fear of George, Margaret, and Lorna in her presence. The rest of the supporting cast is sufficient enough – Honest Thief's Jeffrey Donovan is another harrowing highlight of the woesome Weboys while Booboo Stewart (X-Men: Days of Future Past, Disney Channel's Descendants) is sharp while his subplot about the strife of Native Americans is unfortunately shortchanged – but it is Manville's aberrant antagonist alone who will remain on your mind as you make your way out of the movie theater.
Bezucha dynamically directs Let Him Go just as he sharply scripts the entire endeavor, capturing both the wonder and the wildness of his Midwestern landscapes, and he is aided admirably by cinematographer Guy Godfree (Maudie, Buffaloed), who shoots these settings with pristine precision and poise. We are enveloped in these elements right alongside George and Margaret, equally exposed to the evils of their human enemies and of the environments they traverse. Michael Giacchino's stellar score also aptly accompanies the amplifying anarchy unfolding onscreen, gradually growing from a comforting composition in Let Him Go's earliest scenes to an instigator of intensity by the film's disordered denouement.
Let Him Go is a traditional tale, but it is authentic and admirably made adult entertainment through and through, and even if it doesn't explore much new ground for the Western genre, its stimulating and suspenseful story is satisfying enough to hold your attention for at least two hours. With sympathetic subject matter and adept acting across the board – from Costner, Lane, and especially Manville – Let Him Go is a terrific and thoughtful thriller that is well-suited for a wonderful night out at the theater.
---
Let Him Go is currently showing in US cinemas, and will be released in the UK on December 4, 2020.
---
JOIN US!
Don't miss our monthly updates with film news, movie-inspired recipes and exclusive content! You'll only hear from us once a month. #nospam