Minions: From Silly, Simple-Minded Sidekicks to Spin-Off Sensations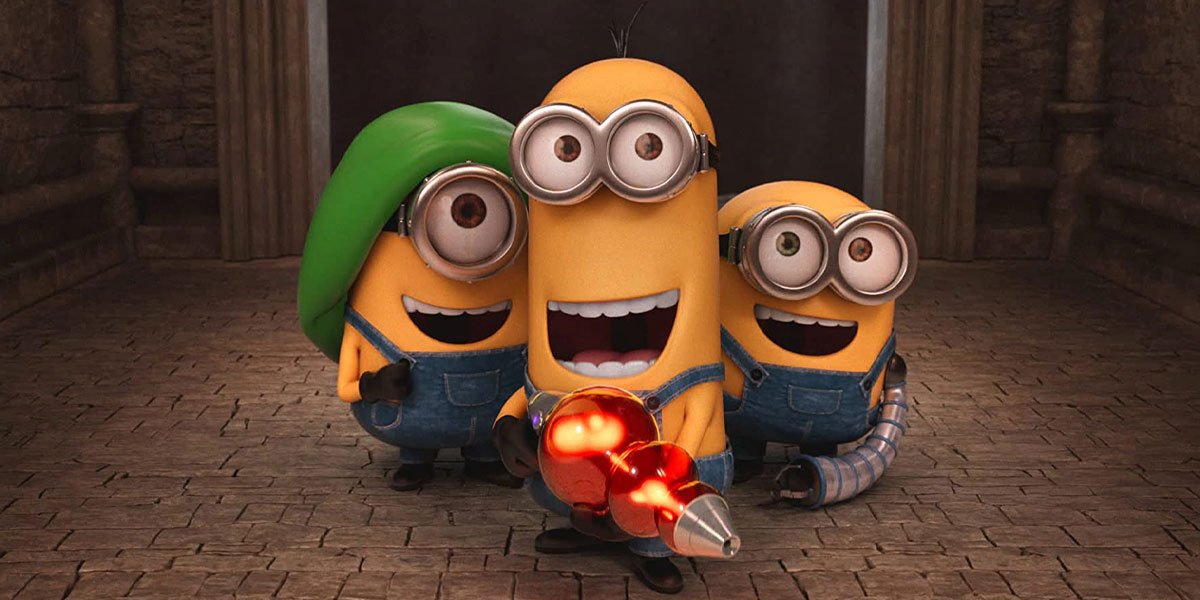 Minions (Illumination Entertainment)
Minions officially turned these pill-shaped stooges into the stars of the Despicable Me series, but why are these buffoons so beloved?
---

Although the glowering Gru and his adorable adopted daughters Margo, Edith, and Agnes are "technically" the protagonists of the Despicable Me series, upon the first installment's release in 2010, it was the mob of moronic and mischievous "Minions" that won over the world. Adored for their awkwardness and cherished for their clever comedic antics, the Minions almost outright stole the spotlight from their human co-stars, as they became perpetually parodied throughout pop culture and made into every sort of merchandise imaginable (from toys to t-shirts to Tic Tacs, and more!). Naturally, this sudden stardom was not ignored by the team behind the Despicable Me franchise, and, as a result, the Minions received a much larger presence in 2013's Despicable Me 2, even scoring their own significant subplot outside of the film's main storyline. However, during the end credits of that ferociously fruitful follow-up, Illumination Entertainment tantalizingly teased what would eventually become their most profitable picture to date – a spin-off set solely around the shenanigans of these simpletons, to be released in the summer of 2015.
For this fifth edition of "Flashback Films," because we are unable to catch the most current capers of these pint-sized pranksters in the prequel-sequel Minions: The Rise of Gru (now postponed until July 2021), we are instead inspecting the imperishable influence of the Minions by studying the success of their titular spin-off and pondering their path to prominence. After a playful prologue examines the Minions' evolution throughout history and highlights the many masters they've worked for (from a terrifying Tyrannosaurus Rex to the conniving Count Dracula to the nefarious Napoleon), 2015's Minions sees three members of this silly squad – known as Kevin, Stuart, and Bob – set off on an expedition outside of their self-imposed isolation to find a new scoundrel to serve, when others seemingly have no hope left. When this trio arrives in the anarchy of New York City, they stumble upon an ad for a colossal convention for contemptible supervillains taking place in Orlando, Florida, entitled "Villain-Con." Here, they are stupefied by the sinister Scarlet Overkill (Sandra Bullock, of The Blind Side and Gravity) and strive to make her their new master, with less than rewarding results.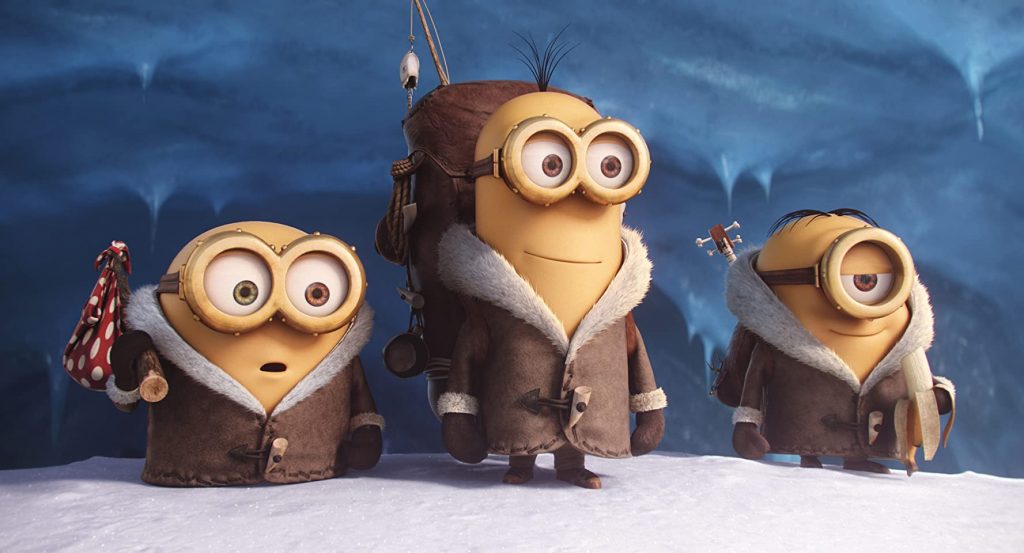 After months of ardent anticipation (and a multi-faceted marketing campaign that hit the ground running all the way back in November 2014), Minions was released in July 2015 to middling marks from critics but instant adoration from audiences, earning an outrageous opening weekend sum of $115.8 million – the second largest opening weekend for any animated film ever at the time – and an affectionate "A" CinemaScore. Though it faced fierce competition from Disney/Pixar's Inside Out (which was released three weeks prior), the two films were able to coexist somewhat civilly, and Minions ended up grossing a gargantuan $336.1 million domestically (almost 3x its opening weekend) and an astronomical $1.159 billion worldwide. Steve Burke, the senior executive vice president of Comcast and chairman of NBCUniversal, even labeled the feature as "the most profitable film in Universal history."
It was clear by now that the Minions had most definitely made a name for themselves with audiences around the world, but even though this spin-off had an absorbing and all-inclusive advertising campaign that grew throughout the global marketplace for months and exponentially escalated expectations, in many ways, the groundwork for this film's financial gains was laid all the way back in July 2010, with the release of the original Despicable Me. As soon as that treasured tale took theaters by storm, so too did the might of the Minions materialize. However, the Minions' "magic" is no mere miracle; instead, it is the product of persistent pursuits by director Pierre Coffin to craft cute, comic comrades that captivate crowds across all cultures and capture the charming chaos of childhood.
Initially, the Minions were devised to be depicted as domineering defense for Gru, with more muscles and much less levity. Fortunately, Coffin soon noticed that these troublesome "thugs" were not only unpleasant themselves, but also causing Gru to come across as a lousy lead as well. To make Gru more sympathetic, Coffin invented an idea to have Gru know his helpful henchmen by name, signaling his softer side. In consequence, these lackeys needed a new look, and Coffin came to construct creations that had an adult absurdity but a child-like comicality, as it was important that they also appeared as a fill-in "family" for Gru to foreshadow his later fatherhood. Coffin amalgamated these aspects of their personalities by animating moppet-esque midgets with the traits of toddlers and the garb of grown-ups.
Coffin then candidly channeled the characteristics of children in his Minions by using his own offspring as inspiration for their horseplay and hijinks. A father of two, Coffin felt there was no better way to please the public than by making the Minions' misbehavior mirror the mischief of human children, in order for onlookers to see their own families in the farce onscreen. He even tested some of the Minions' tomfoolery on his kids, aiming to study what scenes produced snickers and what wisecracks weren't working; this feedback helped him fine-tune both Minions and his prior films in the Despicable Me series.
To further the Minions' foolishness, Coffin formulated a language for the lovable lunks that incorporated a deluge of dialects from around the globe. Although their speech was senseless and scattered, it was delivered with such delirious drive and expressed so much erratic emotion that it continually caused countless chuckles. Even if audiences couldn't understand what they were saying, the Minions were simply so mesmerizingly manic when they spoke that this senselessness proved to be shockingly side-splitting.
See Also

While a Minions spin-off wasn't always in the cards, Coffin was confident that he had constructed a compelling concept, and when the first Despicable Me started to soar on the box office charts, it was clear that moviegoers wanted more of these munchkins. By stretching out their screen time in that film's sequel, Coffin was leisurely laying the foundation for a Minion-centric feature in the near future (so that audiences would be more accustomed to these clowns as lead characters), and the payoff was quite prosperous.
By planning the 2015 picture as a prequel, Minions was allowed to exist separate from Gru's slapdash schemes, and this structure helped the peculiar protagonists stand on their own. Furthermore, by focusing the film on only three Minions as opposed to the whole horde, Coffin made it much easier to invest in these idiosyncratic individuals and come to care for these creatures as characters instead of just as comic relief. Sure, Minions may have been a bit simplistic and straightforward, and the story may have seemed like a string of screwball skits stitched together, but these tyke-ish tricksters were given just enough personal "pizzazz" to leave a lasting impression and to keep viewers vitalized.
The spin-off also shined because of Illumination's abnormally anarchic animation, as the film's gaudy gags were always both exceptionally exciting to the eye and crazily creative (with a loopy lunacy reminiscent of Looney Tunes). Kids were knocked out by the kineticism without a doubt, but even adults found as much to appreciate in the animated insanity as well, with enough ingenious innuendos to acquire their attention. Though Minions didn't approach the heartwarming weight of either Despicable Me or Despicable Me 2, it was still an effortlessly entertaining experience on its own, and for most, that's all that mattered.
On the surface, Minions may look like a corporate-driven cash grab with little to offer outside of obscene profits. And yet, even if the film lacks the pensive plotting of a Pixar film or the wondrous world-building of a work from Walt Disney Animation, Illumination Entertainment specializes in a style of strange but satisfying slapstick that satisfies and succeeds nonetheless. To dismiss Minions as dimwitted "dreck" simply because it may not be as "smart" or "sophisticated" as stories from other studios is to dismiss the clever creativity and characterizations from Coffin and co., who propitiously produced a planet-wide phenomenon. Minions may not have the thought-provoking themes of other titles in the animation genre, but it's incontestably left an immense impact on the industry with its hyper humor and its absurdist antics, and that impression cannot be ignored.