Minions: The Rise of Gru Review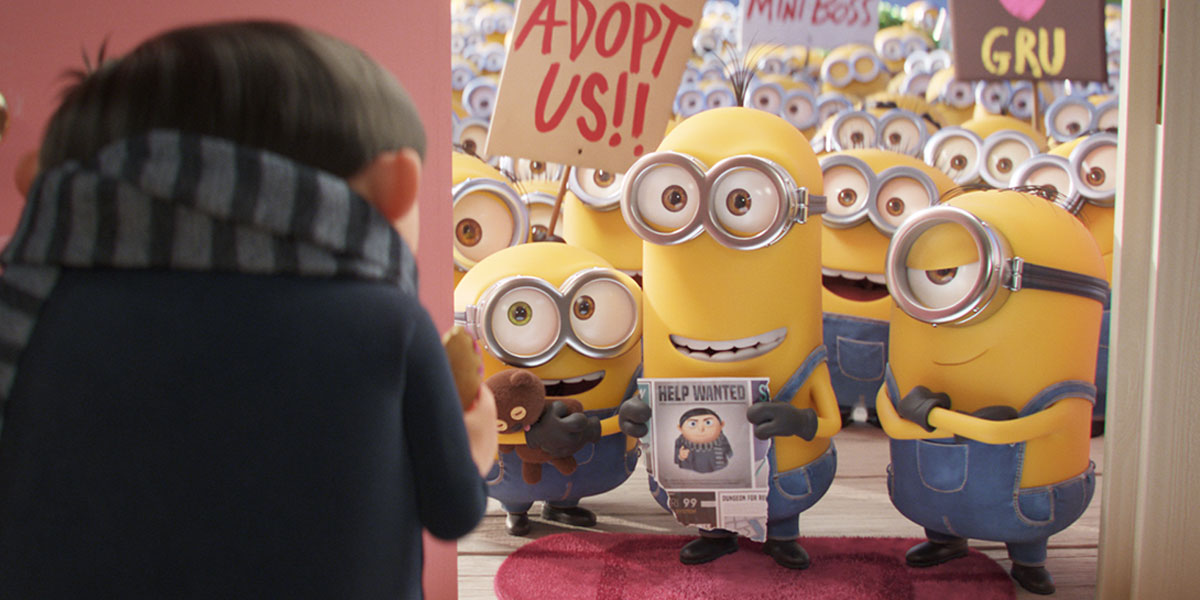 Minions: The Rise of Gru (© 2021 Illumination Entertainment & Universal Studios.)
Minions: The Rise of Gru delivers precisely what one would expect, for better or worse – mindless plot strands with chaotic slapstick sequences.
---

Nobody thought that the small yellow creatures known as the minions from the Despicable Me animated franchise would take over the world as they are doing. The minions are deemed annoying by many (to quite a large extent) yet still capture the hearts of many children, and even adults, from all countries. The Despicable Me franchise started by showcasing a quartet of charismatic characters – Gru (Steve Carell), Margo (Miranda Cosgrove), Edith (Dana Gaier), and Agnes (Elsie Fisher) – creating memorable moments, like the one at the theme park, where Agnes gets a stuffed unicorn as quotes "It's so fluffy, I'm going to die!". But it has shifted now toward the yellow sidekicks and forgotten the rest. That may be for a couple of reasons, the first being that they have run out of ideas for the family element of that narrative. The second is far simpler and more logical in the eyes of the studio: it's far more bankable. Gru isn't the face of the franchise anymore; it has shifted towards the minions now. People are going crazy for them, and it generates the studio lots of money if they give the people what they want. Hence the creation of their solo film, Minions, back in 2015. Now, seven years after its release, a sequel arrives to create a "proper" introduction to Carell-voiced villainous character with Minions: The Rise of Gru. 
And to be quite frank with you, I think it's the second-best installment in the franchise since the original Despicable Me in 2010. Despite having plenty of narrative faults, it delivers exactly what it says on the tin, which is the usual Minion craze and randomness via some slapstick-like sequences, yet more polished in a comedic sense, compared to the other installments. The film is set in the late 70s, specifically 1976, and we begin to see how Gru, the greatest villain in the world (or so he claims), came to be. When he gets the opportunity of a lifetime, joining his favorite villains' squad, the Vicious 6, Gru tries his best to impress them. However, they think "villainy is for adults", and put him to the side. So, in order to prove them wrong, Gru steals a powerful stone that will provide great power to the beholder on Chinese New Year's Day. But like everything involving him and the yellow creatures, it doesn't go to plan, and the stone goes missing immediately.
While one of the minions, Otto (who's often rejected because he talks too much), searches for said stone, the other three go to San Francisco to find Gru, who was kidnapped by Wild Knuckles (Alan Arkin), the founding member of the Vicious 6. What happens next? A rare division of slapstick-inspired comedic sequences that have little narrative structure on their own but are quite entertaining to watch, and moments that focus on the human characters. This division both makes and breaks the film as a whole for plenty of reasons.
Those slapstick sequences are pretty darn entertaining to watch, mainly because they are inconsequentially chaotic in their nature. There's little to no logic to them; things just happen for the sake of it. Its narrative is pure randomness for its short ninety-minute runtime, especially during its last fifteen minutes when one couldn't even begin to explain what happens. It doesn't make sense at all, and the story could have been far more interesting. Finally, the paths it takes are questionable because you'd be to think that it would include more moments between Gru and the classic minion quartet.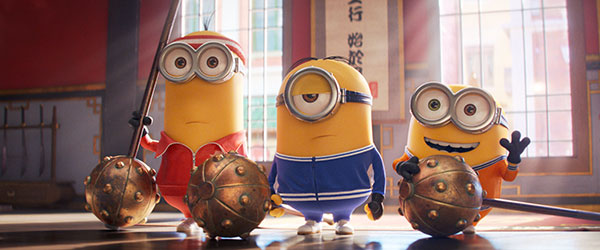 Even if one is in utter confusion regarding what's happening, there's a sensation of enjoyment. You'll laugh more than you'd expect and jam to that juicy 70s soundtrack, including tracks like Lipps Inc.'s 'Funky Town' and Patrick Hernandez's 'Born to Be Alive'–they wasted the chance to include Gábor Szabó's 'San Franciscan Nights'. Albeit there's a disparity between the laughs because the film would have needed to set up the story's human characters. Those scenes are the movie's weakest part. It makes sense to have developed the Vicious 6 and the rest of the human characters in order to move the narrative around in some way, shape, or form. Nevertheless, that extensive development makes the titular minions sidekicks in their own picture. These scenes with them are highly enjoyable, and reminded me of some of that comedic absurdity and silliness that arose from shows like Looney Tunes and Tom and Jerry. 
Of course, not to the same degree as the former at least (no disrespect to Tom and Jerry, I wasn't a big of a fan as a kid), but they hold their own weight because those comedic scenes land most of its jokes and quickly reference plenty of films (Airplane!, Enter the Dragon, James Bond, amongst others). You don't go to see Minions: The Rise of Gru for the plot or the lack thereof, but for these quick and chaotic, as well as ridiculous (in all aspects of the word), moments. Unlike its predecessor, the 2015 Minions, this isn't cringe-worthy or highly obnoxious; it's just innocent and harmless. Its purpose is to make us, the audience, fall in love with these characters as we explore their beginnings and initial projects, even if Gru and company are separated from each other for ninety percent of the picture. Minions: The Rise of Gru is crisply animated, and its laugh-inducing set pieces are well-made, but there isn't anything else on here that might grab your interest. 
---
Minions: The Rise of Gru will be released globally in theaters on July 1, 2022.