Menus Plaisirs Les Troisgros: NYFF Film Review

We are a fly on the wall in Frederick Wiseman's Menus Plaisirs – Les Troisgros, learning and remaining in awe of the talent of these high-end culinary maestros.
---

After starting his filmmaking career with a fictional feature film, Frederick Wiseman has spent most of his time creating detailed documentaries on the nuances of life in American institutions such as prisons, hospitals, high schools, and government halls. The most important aspect of his filmmaking and vision is that he approaches each work as if he were writing an essay precisely structured by segments, as if each chapter centered around a different topic, instead of going back and forth on the same things throughout its runtime. While most of his work, specifically in these last two decades, is quite demanding due to its length and the honest depictions of their respective subject matters, Wiseman is one of the best and most well-respected documentarians ever to grace cinema. And even at ninety-three years old, Wiseman is still going at it as he presents his latest documentary, Menus Plaisirs – Les Troisgros, in the Spotlight section of this year's New York Film Festival.
After his quick return to fiction filmmaking with A Couple, Wiseman returns to documentaries, delivering a four-hour chronicle of the day-to-day activities and inner workings of a Michelin three-star restaurant in rural France, La Maison Troisgros. Titled Menus Plaisirs – Les Troisgros, Wiseman gives us one of the best documentaries to grace your screen this year. Not only do you get his classy and bold directorial touch across the multiple hours contained within this doc, but you also sense his curiosity-driven and patient eye leading the way – experiencing the talents of these excellent cooks and being left in constant awe. While it may not feel like an urgent call to action or contain the impact of his best projects, this is still a genuinely exquisite viewing from a master documentarian.
In Menus Plaisirs – Les Troisgros, Frederick Wiseman acts like a fly on the wall and makes the viewer follow suit. As with most of his work, he wants us to stand back and learn about what we will be watching. Without much narration or interviews, we travel through the kitchens, dining rooms, farms, and the grounds of the Michelin 3-star La Maison Troisgros. This restaurant has been run by the same family for almost four generations and is considered one of the best in the world. We get to see each stage of the process of their most regarded (and mouth-watering) dishes. Plenty of scenes show the background operations of this place, where they pick the fruits and vegetables from their neighboring farm and how they produce their meats and cheeses.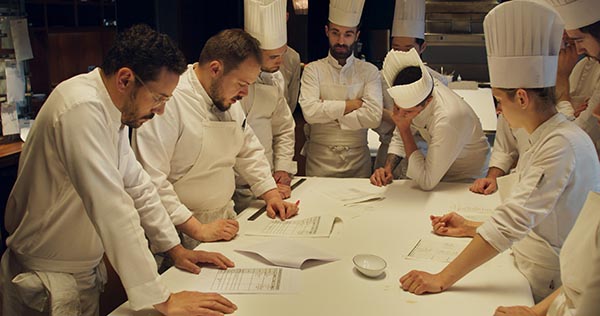 Even as I'm writing this review, my mind is going back to those dishes, as I hope to one day be able to at least grab a bite out of one of those desserts. Although most of us watching will never be able to attend such a high-end and prestigious establishment, as a diner for two will run up the bills to the thousands, this is the closest we will get. And let me tell you, it almost feels as if you were there. You sense the tension that arises from the cooks' precision in their craft, the delicacy of how they handle the food, and the aroma of each dish. This is more than just food-porn; it is an immersive and delectable experience for everyone, whether you are an aspiring chef and food lover or not.
The film also comes at a perfect time due to the plenty of shows about cooking, like The Bear and F*ck That's Delicious with Action Bronson, and social-media influencers who dedicate themselves to preparing delicious, easy-to-make dishes for the viewers. And what's great about that is seeing how all of these shows or people have their way of expressing their passion for food and love for feeding the ones they love. With Menus Plaisirs – Les Troisgros, Wiseman does all those things and also gives a portrait of a group of people searching for perfection. This perfection applies to all aspects of the restaurant experience, from how the tables are set and the symmetry of their placement to the best way to feed the cattle and cherry-pick the best ingredients.
See Also

Although it wasn't in a high-end eating establishment, I worked as a waiter for almost a year while looking for a job related to my chemical engineering degree. After such a stint, I grew more appreciative of the mechanics of how a restaurant is run, both from the kitchen and floor side of things. You end up being more respectful and understanding to those who deal with hangry customers and the general public for lengthy shifts. Watching this documentary afterward made me feel the same way as my real-life experiences, but on another level, due to the chaotic upscale setting. I know that this isn't the main point that Wiseman wants the audience to take away from his latest documentary. But you can see it as a bonus reason to watch it.
Immediately after watching four hours' worth of construction and deconstruction of what we know of culinary experiences, you begin to think about the documentarian's filmmaking technique and how it parallels the cooking in this restaurant. In the grand scheme of things, both of these arts rely on ingenuity, calmness, precision, a keen eye for refinement, and a stated hierarchy, making each position a very important one. Both Head Chef Michel Troisgros and Frederick Wiseman are artists who are always on the lookout for that special thing that will make their respective projects come closer to perfection, whether it is a slight camera movement or the inclusion of a spice. They both deliver a delectable picture that will give you a closer glimpse into the chaos and joy of high-end cuisine, motivate you to start cooking different things, and make you hungry.
---
Menus Plaisirs Les Troisgros will have its US premiere at the New York Film Festival on October 7-9, 2023, and its UK premiere at the BFI London Film Festival on October 10-11. The film will have a limited theatrical release on November 22.