The Taste of Things (The Pot Au Feu): Film Review

The Taste of Things (IFC Films / BFI London Film Festival 2023)
Starring Juliette Binoche and Benoît Magimel, Tran Anh Hung's The Taste of Things (The Pot Au Feu) is a French foodie period drama that is simply magnifique.
---

France, 1885. As dawn breaks over a large manor, cook Eugénie (Juliette Binoche) is gathering ingredients from the garden. She works for the renowned gourmet Dodin Bouffant (Benoît Magimel), described as "the Napoleon of the culinary arts" (though he isn't a fan of that moniker). Their days usually consist of them making incredible meals alongside helper Violette (Galatea Bellugi) and her niece Pauline (Bonnie Chagneau-Ravoire), who could be a gourmet in the making. Having worked together for 20 years, Eugénie and Dodin have formed a deep relationship with an understanding of each other's palettes. Sometimes, if he comes knocking, they sleep together. Yet she has politely refused every one of his marriage proposals, content with the freedom she possesses. Besides, as she says following his latest offer: "Aren't we happy like this?"
Meanwhile, Dodin is invited to dine with the Prince of Eurasia. Though the menu is mediocre – overstuffed and unorganised – he plans to return the favour and cook for the Prince. His choice of showstopper? A pot-au-feu. However, Eugénie is beginning to feel unwell more often, which causes great concern for Dodin. Will the pair admit their mutual attraction before it is too late?
There was some light controversy recently when The Pot Au Feu (originally titled La Passion de Dodin Bouffant, retitled The Taste of Things for the US) was chosen over Justine Triet's Anatomy of a Fall for France's International Feature Oscar pick. But having now seen it, the choice was more than merited. Taking light inspiration from the 1924 novel by author Marcel Rouff, this new film from French-Vietnamese director Trần Anh Hùng (The Scent of Green Papaya) is a period love story that also manages to present haute cuisine at its finest. It is a film that looks delicious and is completely engrossing.
Trần won Best Director at Cannes earlier this year for his work here. And like Park Chan-wook last year with Decision to Leave, it is deserved precisely because of the craftsmanship on display. The Taste of Things is full of precise filmmaking from the start, with the extended prologue showing the making of a multi-course feast from garden patch to plate. Jonathan Ricquebourg's camera covers every corner of this kitchen and makes exceptional use of natural lighting. And thanks to gastronomical consultant Pierre Gagnaire (with Michel Nave preparing the meals on-set), the food creations – from the veal to the crayfish, the truffle-stuffed birds to the turbot – are extraordinary.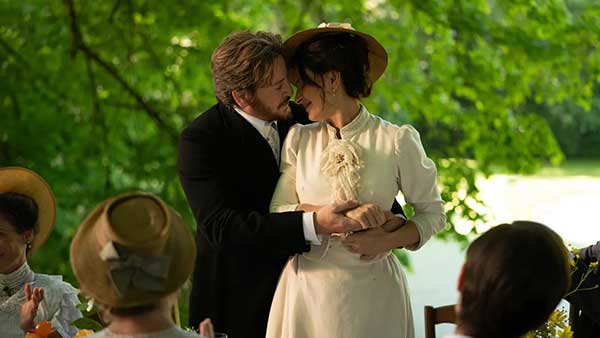 Trần vividly emphasises the happiness they bring, as evidenced by the opening meal with Dodin and his confidants (played by Emmanuel Salinger, Patrick d'Assumçao, Fréderic Fisbach, and Jan Hammenecke). We see Dodin's satisfaction at the group's enjoyment as they ooh and aah at the incoming food like a crowd watching a fireworks display. Moreover, in a film that fires up all the senses, the sound design is one of a kind. It takes the place of a conventional score, allowing you to hear every bit of the mashing, the searing, the glugging of liquids and the crunch you get from slicing vegetables or tucking into a creamy vol-au-vent.
Eugénie downplays any link between what she and Dodin do and artistry or poetry. However, it is fair to argue that it is scientific. After all, gastronomy is the science of good eating. When a Baked Alaska is served at the end of that introductory meal, Doctor Rabaz (Salinger) explains how the beaten-up egg whites in a meringue are an excellent insulator for ice cream. And there is evident chemistry both in the food and between the chefs.
See Also

Former real-life partners Binoche and Magimel are remarkable together, both showing their characters' collective experience in food and love. The effervescent Binoche illuminates every scene as the modest Eugénie, whereas Magimel's Dodin is slightly more bristled, though that comes with utter devotion to his two loves. Theirs is an autumn romance, which means there is a heartbreaking event along the way. Magimel subtly conveys the grief and loss of joy when something loses its colour because it reminds you of a loved one you used to share it with. It also leads to a final act where Dodin begins teaching the wide-eyed Pauline, opening her mind to the taste of things. A sign that passion never has to fizzle out.
With The Taste of Things, Trần Anh Hùng has cooked up a spectacular film that takes its time, placing the central relationship on a gentle simmer. The dialogue is urbane and aphoristic, with often elaborate phrasing. There is an enthusiasm for the culinary and a delicacy to how these delicacies are filmed by Ricquebourg, with long takes moving back and forth. However, what stands out is Trần presenting the sensation of cooking and food as a force to communicate something. Dodin cooks for Eugénie because it is the simplest and most appropriate expression of his love for her. Serving a half-century-old bottle of champagne and watching her eat only reinforces that. The Taste of Things is romantic. It's tragic. It's simply magnifique.
---
The Taste of Things was screened at the 2023 BFI London Film Festival and will have a qualifying run in LA on December 15 ahead of its limited release on February 9, 2024 and nationwide release on February 14.