Boiling Point (Film Review): Sizzling One Take Restaurant Drama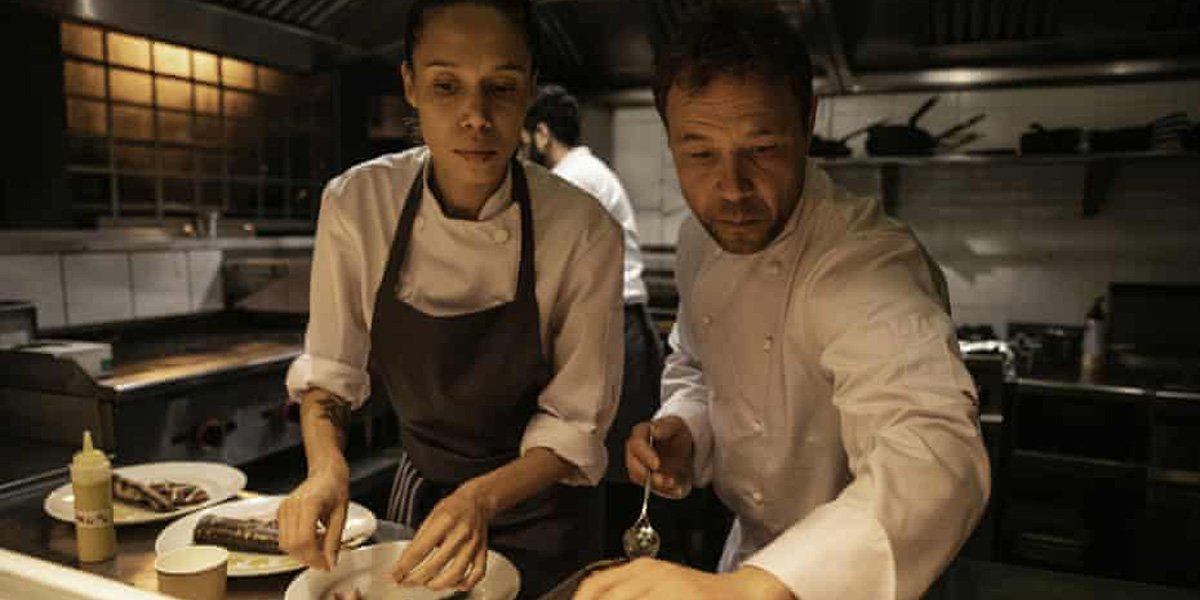 Boiling Point (Vertigo Releasing)
Consistently captivating, Boiling Point serves up a main course of tension with side portions of humour, effective drama and memorable acting.
---

Boiling Point is 92 minutes of pure adrenaline and is an explosion waiting to happen, but never in a gleeful, unsavoury way. There's a terrific sense of realism to proceedings, aided by the decision to capture everything in one take (no clever cuts here, Roger Deakins) and anchored by Stephen Graham (This Is England, The Irishman, Line of Duty), who shines as the lead amongst a very strong ensemble cast. And in addition to the searing on-screen drama, Boiling Point will make you spare a thought for the chef or waitress next time you're at a restaurant as it shines a light on the intensity of the industry and the stress and abuse within it.
Philip Barantini (Villain) might have been forgiven for leaving the single-shot concept for Boiling Point at the door following his successful short of the same name in 2019. 22 minutes is hard enough to pull off in one take, even more to do it for four times as long. It's a testament to the skill of the crew – namely DOP Matthew Lewis (Villain) – that 2021's Boiling Point still has that breathless, relentless one take concept to it and it is also cause for celebration.
There are enough clever tricks out there, namely ones used by master DOPs such as Roger Deakins (Blade Runner 2049, 1917) and Emmanuel Lubezki (Birdman, Children of Men), to imply a one take feel but to actually do it for real infuses a film with a rawness and authenticity rarely seen on-screen.  Lewis ensures the camera never remains static for too long either, constantly circling around the action and flowing through the open-plan restaurant. Boiling Point follows Graham's Andy Jones, a talented but alcohol- and drug-addicted head chef, at a top London restaurant for one night only, starting with him outside the building prior to his shift and sticking with him right to the bitter end. It's peppered with moments of quiet ambience, plenty of shouting matches and a fair amount of humour too amidst the intensity.
After an apologetic phone call from Andy to his (assumedly) separated-from wife, Barantini treats us to a delightfully fraught but light opening; commendably it doesn't delve into the more serious side of things too quickly. Thomas Coombes' (Small Axe, Save Me) aptly named Mr. Lovejoy is in the middle of a health and safety inspection when Andy enters. It's a wonderfully amusing cameo (one of many in Boiling Point): Mr. Lovejoy clearly enjoys the power and picks up on absolutely every little thing. Even when he knocks a knife off a restaurant table, he can't resist advising that it will need to be replaced with a clean one. When his work is done (or not, considering Andy's disinterested manner), we are treated to a staff team meeting before the restaurant opens, which sets up the dynamics between the table and kitchen staff and between the different managers.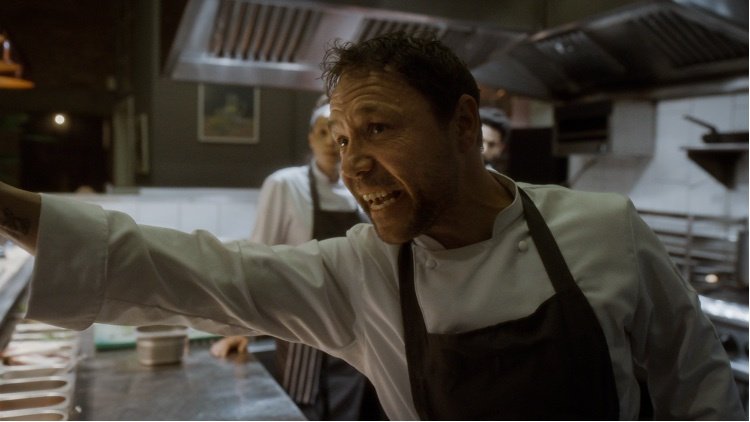 Over the course of the next 80 minutes or so, Barantini treats us to a whole host of clashes, between customers and waitresses, the kitchen team, and more. They are, for the most part, wonderfully written and admirably staged, without ever feeling like a play as opposed to a film. Assistant Head Chef Carly has one memorable blowout, with Vinette Robinson (Sherlock) showcasing her considerable acting talent with a raging, emotional tirade aimed at the restaurant's manager, Beth, played by Alice May Feetham (Save Me). The always enjoyable Jason Flemyng (Lock, Stock and Two Smoking Barrels, The Curious Case of Benjamin Button) treats us to more of the humorous moments, playing a pompous, self-centred celebrity chef called Alastair Skye (full name only please). Flemyng captures the well-written arrogance of his character from the screenplay and flavours it with smarmy smiles and dramatic gestures. In fact, all of the ensemble cast more than hold their own in the presence of Graham, who inevitably has the most to work with and the most depth behind his character.
Inevitably Boiling Point lacks some characterisation. Andy gets the most, of course, but even then there are more questions than answers, only hints dropped along the way about his stress, mental health and addiction issues. It's difficult to mark this down as a weakness though, considering any time spent on furthering the characters would possibly diminish the one take, breathlessness of it all. It might lack in resonance after the credits and days have passed, but what Boiling Point sets out to do, in terms of creating a pressure cooker atmosphere, it does very, very well indeed. A couple of dips of energy, which again are to be expected, never detract from the overall atmosphere, and even in the quieter moments, there is great joy to be found in listening to the ambience of the restaurant, from the shouts of "Yes, Chef!" to the clinking of cutlery.
For the most part though, Boiling Point grabs and holds you over a hot hob until you feel the pressure and heat as much as the characters do in the film. Barantini shines a light on an industry very much at its own boiling point and a people at severe risk of burning out. Shot at Jones & Sons in Dalston – a restaurant wonderfully scouted given its flowing interior and spacious exterior – there is rarely a moment to breath. So much goes wrong and true its title, Boiling Point ends with a true sucker punch of an ending. And perhaps the biggest takeaway for audiences will be to show some understanding and be nice to your table and kitchen staff; rude customers be damned.
---
Boiling Point was screened at the London Film Festival on 11-12 October 2021, and is now available to watch on digital and on demand.