Wakanda Forever Review: The King is Dead but Black Panther Lives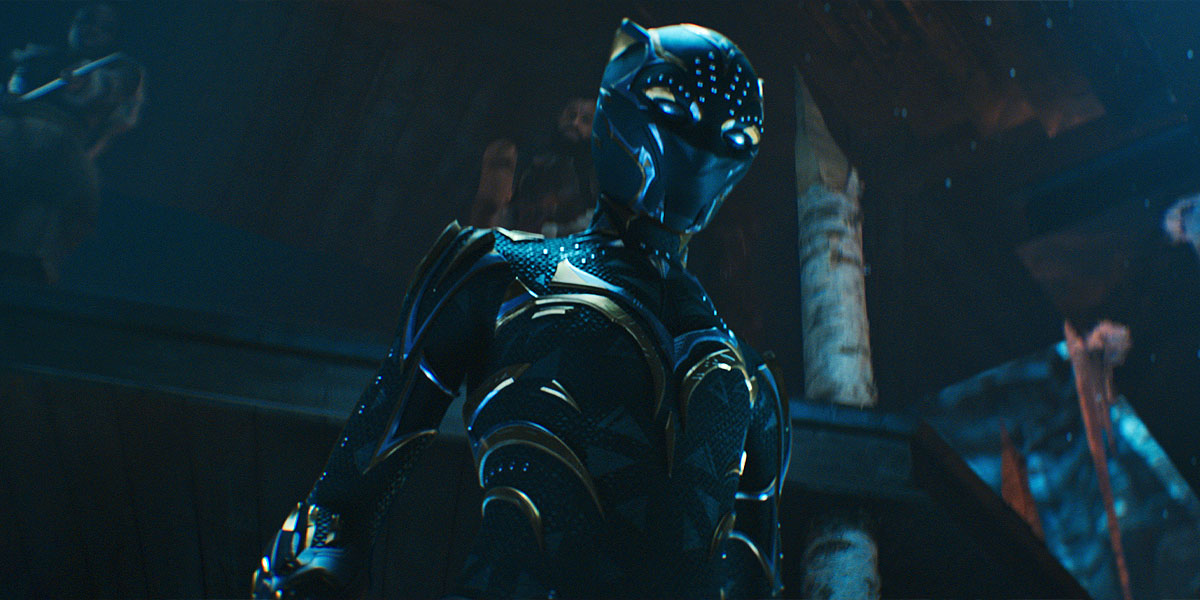 Black Panther: Wakanda Forever (Marvel Studios)
Wakanda Forever is the best Black Panther sequel it could have been, acting both as a tribute to Boseman and a poignant story about change and rebirth.
---

King T'Challa is dying, and not even his sister can save him. Black Panther: Wakanda Forever doesn't waste any time letting us know how writer and director Ryan Coogler (Black Panther, Creed) and co-writer Joe Robert Cole (Black Panther) decided to handle Chadwick Boseman's absence: right away, we find out that T'Challa's heart is failing, and not long after that, the King is dead. Wakandians carry the coffin in a procession, dressed in white, dancing and chanting along in celebration. "We free you, glory of the ancestors:" these words are spoken, and we know that they're not just a tribute to a beloved character from a movie, but they mean so much more than that. Right there and then, we can't help but think of Chadwick Boseman, wondering if, wherever he is, he knows that he's remembered, and that he's missed.
And fiction matches reality, since not only is Black Panther dead in Wakanda Forever, but the Kingdom itself has run out of the heart-shaped herb that they'd need to find a successor, and Shuri (Letitia Wright), the only person who might be able to grow some more, is more preoccupied with creating new technology to keep Wakanda safe. And with good reason: now that the world knows about vibranium, most nations are against the Kingdom, with Queen Ramonda (Angela Bassett) refusing to give in to the United States' request to share it with them and help them make more weapons of mass distruction, and many threats of war on the horizon.
But finding a new Black Panther, alone, won't solve these issues: Wakanda Forever shows us a kingdom that doesn't know how to grieve its former ruler and learn from that loss, letting it remind them to be open to change and build bridges towards peace instead of burning down the world in anger. And, in the middle of all that, are at least five Wakandians who have lost a great deal: not only Shuri and Queen Ramonda, who are grieving their brother and son, but also Nakia (Lupita Nyong'o), M'Baku (Winston Duke), and Okoye (Danai Gurira), three strong fighters who have lost their balance when T'Challa passed away.
All of this would have been gripping enough on its own, with the United Nations threatening Wakanda for the strongest weapon in existence and building machines to search for vibranium outside Wakanda, reminding us of the impending war looming over us, with the world's most powerful nations threatening each other for control and the collateral damage that comes with their violent acts. But Coogler throws one more variable into the equation: another kingdom is threatening to burn the world down, and they might be even stronger than Wakanda.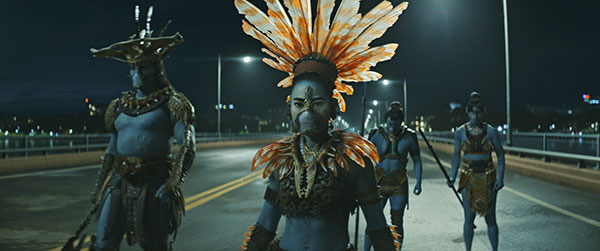 If you've seen the trailer, you know that I'm talking about an underwater kingdom whose ruler goes by many names – mainly, Namor and "K'uk'ulkan" (Tenoch Huerta Mejía, of The Forever Purge), which means "feathered serpent god". And if you're expecting to find a Little Mermaid meets Pirates of the Caribbean sort of scenario, with mermaid-like, superpowered combatants that use water to hide in plain sight, you're not entirely wrong: the trailer already gives us a glimpse of the "Talokonil," who are indeed impossibly strong and skilled, led by a "serpent god" who also has the ability to fly. But what the trailer doesn't show you is that the people of Talokan are not as one-dimensional as the villains the Black Panther franchise has gotten us used to in the past.
Though Namor and the Talokonil are, indeed, a threat to Wakanda, it's also easy to understand their motives and even find their predicament relatable, so much so that, with the CIA also moving in on Wakanda and its people themselves not always agreeing with Queen Ramonda's decisions, it's not always easy to tell who the main antagonist of the story really is. On top of that, we have a young Princess who doesn't know how to exist in a world without her brother, but who is still curious enough to make good, brave choices that lead to unexpected scenarios and, eventually, growth. And then there are a Dora Milaje General who's a little too attached to tradition, a Queen who's not doing too well despite her poised façade, and a resourceful tech genius named Riri (Dominique Thorne) who suddenly finds herself in the midst of it all.
Black Panther: Wakanda Forever 's screenplay is not revolutionary, and there are definitely a few developments that you'll have seen coming and a couple of moments when some of our protagonists turn a little one-dimensional. But it's also a film that will make you incredibly emotional (if your eyes are still dry as the end credits roll, wait for the post-credits scene), and that gives you a genuinely gripping story with a lot of heart. If the CGI suffers from some of the same issues as its predecessor when it comes to the look of Wakanda, the events in the film make us envisage improvements in the sequel, and Namor's kingdom also makes up for the visuals that Wakanda lacks. On top of that, the costumes (Ruth E. Carter) are gorgeous, and both Shuri's new creations and Namor's wardrobe choices will have your eyes glued to the screen.
See Also

The acting is also exceptional, and not only are Letitia Wright, Danai Gurira and Angela Bassett undoubtedly the standouts, but Wright and Gurira are also a great comedic duo, providing much-needed comic relief. There are throwbacks to 2018's Black Panther and unexpected character returns that you'll appreciate, but what Wakanda Forever also does really well is give every single one of its characters time to shine, ensuring each of them has enough screentime to make a mark. Winston Duke's M'Baku, Lupita Nyong'o's Nakia, Florence Kasumba's Ayo, Martin Freeman's Everett Ross, Dominique Thorne's Riri and Tenoch Huerta Mejía's Namor are all essential to the film's success, and each performer makes their character's appearence truly memorable. The action scenes are as gripping as the movie's more emotional scenes, and there is a good balance between them that ensures you're never bored while watching it.
Black Panther: Wakanda Forever is not revolutionary when it comes to its narrative developments, but, given the need to adjust the film's storyline to take Chadwick Boseman's passing into account, it's absolutely the best possible Black Panther sequel it could have been. Credit goes to Ryan Coogler for bringing us a film that is not only constantly engaging, but also thoroughly affecting from beginning to end. Wakanda Forever is not only an improvement on its predecessor and the perfect tribute to both T'Challa and Boseman, but also an epic, often surprising film that perfectly sets up it sequel, all while teaching you about change, growth, rebirth, processing grief, and letting go.
---
Black Panther: Wakanda Forever was released globally in theaters on November 11, 2022. Is Black Panther (2018) overrated? Find out here.