Maggie Moore(s): Tribeca Film Review

Maggie Moore(s) ( / 2023 Tribeca Film Festival)
John Slattery's Maggie Moore(s) had its premiere at the Tribeca Film Festival, and it is a tonally confused movie that doesn't seem to know what it wants to be.
---

Murder mysteries are such an overplayed sub-genre in film. We all know the clichés, twists and turns, leaving each individual filmmaker with the task of finding ways to make their projects feel as original as humanly possible. Younger audiences may know him best for his role of Howard Stark in the Marvel Cinematic Universe, but John Slattery is diving back to the director's chair with Maggies Moore(s), after directing episodes of the critical TV darling Mad Men.
Small-town police chief Jordan Sanders (Jon Hamm, Top Gun: Maverick) is faced with the murders of two women who share the same name, Maggie Moore. From cheating husbands to nosy neighbors and mercenaries for hire, Sanders must put together the pieces of this tricky case, while dealing with a lonely heart.
The concept of the movie is basic enough, though there is a lot of room to make this fascinating. You have Jon Hamm playing the straight man with Nick Mohammed (Ted Lasso) being the comedic relief. Hamm's chemistry with Tina Fey (Only Murders in the Building) is also a highlight, as it is very fun to watch their romantic tension play out.
But this becomes a problem when the tone of this storyline clashes with the murder mystery aspect of the film. Weirdly enough, the synopsis makes you assume the protagonist will be Hamm, when he's often pushed to the side in favor of Micah Stock's (Kindred) Jay Moore. He's quickly the first suspect of his wife Maggie's murder, thus becoming the center character of the movie.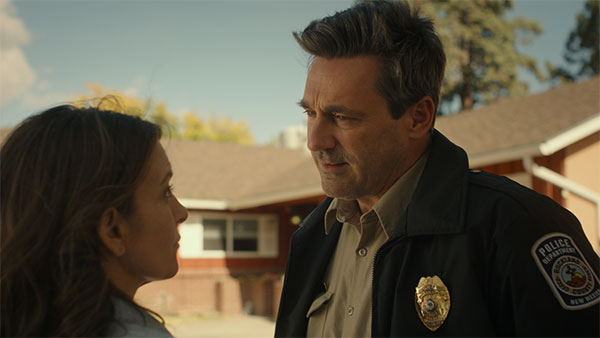 Satire is a phenomenal avenue to provide meaningful commentary while delivering an engaging story. Recently, we saw Succession end the journeys of very despicable characters, but characters you sympathized with and were entertained by. Maggie Moore(s) is a completely different story, but it does attempt to do something similar by following unlikable protagonists while trying to humanize them. Unfortunately, this does not work because screenwriter Paul Bernbaum and director John Slattery do their best to make Jay into an irredeemable guy. Although it is easy to understand what they were going for by portraying Jay as a mess of a human being, this makes spending time with him very unpleasant and not in an entertaining way.
As you can imagine, the contrast between this and a rom-com like vibe in Hamm and Fey's arcs makes the movie incredibly jarring to watch. The film's tone is all over the place. One minute you'll see a private hitman going after both Maggies and killing them, the next Hamm and Fey are seen trying to have sex in a quirky sequence of events. Trying to approach this project with these different tones isn't necessarily the issue: the problem is its execution.
Despite its structural and tonal dilemmas, Maggie Moore(s) is kind of entertaining to watch. Its problems are so apparent that it makes the entire thing engaging to see unfold. It hits a point where the plot becomes almost unpredictable due to its bizarre nature and you stop worrying about the issue and start enjoying the film for what it is. For what is worth, the cast seems to be having a blast bringing this story to life and that aspect is almost intoxicating. This is in no way the best the Tribeca Film Festival has to offer, but if you want to turn your brain off and have a good time this might just be the movie for you.
---
Maggie Moore(s) premiered at the 2023 Tribeca Film Festival and will be released in US theaters on June 16, 2023. Read our list of 15 films to watch at the 2023 Tribeca Film Festival!