Living (2022) Film Review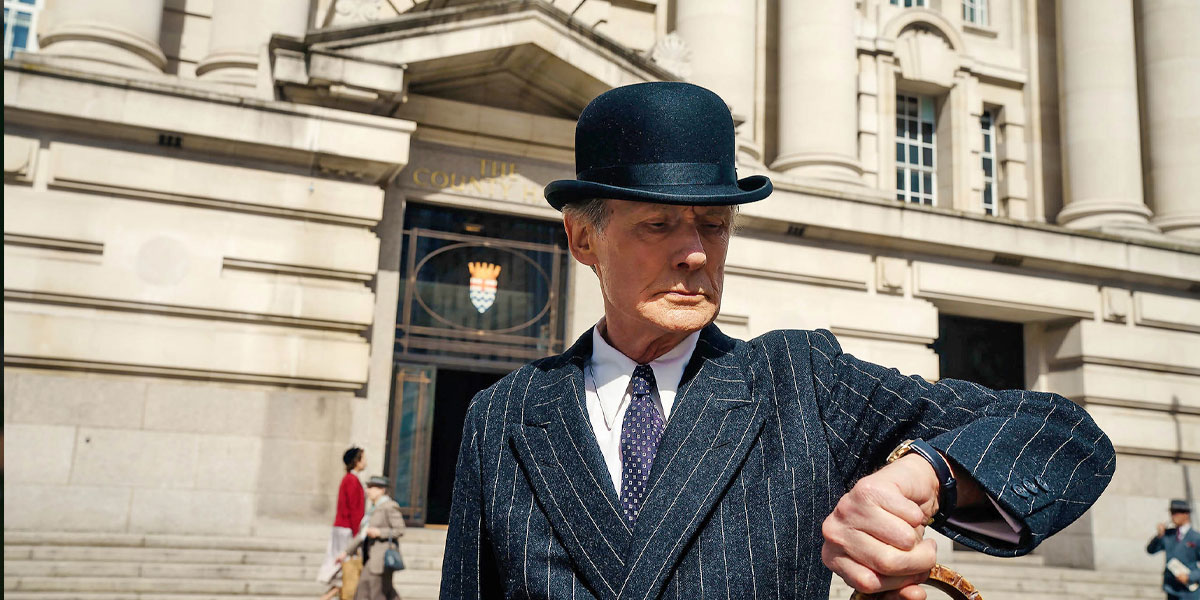 Living (Sony Pictures Classics | 2022 Venice Film Festival)
Bill Nighy is superb in Living, a Kurosawa adaptation that manages to be both enjoyable and heart-wrenching, and reminds us that it's never too late to start living.
---

As Oliver Hermanus' (Moffie) Living begins, the screen comes alive by means of desaturated hues of blue and red, with a condensed aspect ratio and grainy film that convey all the intimacy and beauty of the movie we're about to watch. It's 1950s London, and it's the first day of work for the young Peter Wakeling (Alex Sharp, of The Trial of the Chicago 7), who has just met his new County Hall colleagues – Mr. Middleton (Adrian Rawlins), Mr. Rusbridger (Hubert Burton), and Mr. Hart (Oliver Chris). The four gentlemen exchange pleasantries at the train station and board the steam train to London, and it's all well and good until the subject of their manager comes up. "You'll need to get on the right side of the old man," one of the men observes, and, right on cue, he appears, outside the train's window, and raises his arm to wave at them, with a stern expression on his face and an air of severity about him.
It's not long till we get acquainted with "the old man," whose name is Mr. Williams (Bill Nighy, of Love Actually), and we realise that he's a man who has resigned himself to living an ordinary, repetitive life. As paperwork piles up on everyone's desk at County Hall – a sign that they all have "important things to do," as Ms. Harris (Aimee Lou Wood, of Sex Education), another coworker, explains – the days go by, and nothing useful gets done. On Peter's first day, a group of women are petitioning to get County Hall to build a children's playground to replace a flooded bomb site, and he is sent to deliver their papers to another office in the building. Of course, no one takes responsibility at County Hall, and the papers are passed along only to eventually land back on the man's desk. "We can keep them here," Mr. Williams says, "There's no harm."
And so, their monotonous routine continues as the days go by, and, as they go through the motions, they forget to live, stuck in an endless cycle of bureaucratic laziness and promise unfulfilled. Until, one day, something unexpected happens: Mr. Williams doesn't show up at work. When we see him, a few scenes later, he's in Brighton, on a quest to find meaning that leads him to strike a conversation with a bohemian writer in a restaurant. The writer, Sutherland (Tom Burke, of The Souvenir), tells him about his past, and it's to this stranger that Mr. Williams eventually opens up, confessing something that he has just found out, and that he hasn't even told his son (Barney Fishwick's Michael) and daughter-in-law (Patsy Ferran's Fiona): "the doctors have given me six months."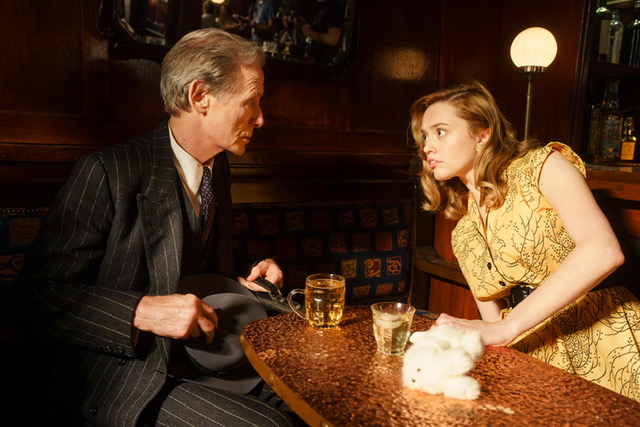 From that premise alone, you might expect a certain kind of film, and you might be partially right: yes, of course, Living is absolutely heart-wrenching. But it's also a darkly funny, unexpectedly enjoyable watch that will surprise you in many ways. The film was adapted from Akira Kurosawa's 1952 classic Ikiru by writer Kazuo Ishiguro ("The Remains of the Day"), who also wrote the screenplay, and the author's touch can be perceived at all times. In the best Ishiguro tradition, Living revolves around a very clear matter – that of a good man who has been reduced to non-existence and who is desperately trying to live what's left of his life, and leave behind a legacy of sorts – but there's also a certain something that's left unsaid, and that's just as important.
Living isn't just about Mr. Williams: it's also about the many people who change him, and whose lives he'll change in return. Every single one of these characters brings something more to the story, and the result is a film that brims with authenticity but is never sentimental, filled with absurd situations that will make you laugh, incredibly powerful scenes that will give you goosebumps, and clever character moments that are bound to affect you emotionally.
At the centre of it all is a chance encounter between the disheartened Mr. Williams and the larger-than-life Ms. Margaret Harris, a former employee who has just found employment somewhere else. When the two run into one another, it soon becomes clear that they're polar opposites, as one is full of life and the other has very little of it left. But Margaret is the first person who can get Mr. Williams to laugh again, and there's an earnestness in their exchanges that enables the man to rediscover the person that he used to be. Margaret has a nickname for everyone, and the one for Mr. Williams is "Mr. Zombie", which she explains is someone who's "sort of dead but also not dead" – a definition that's oddly appropriate to describe our protagonist, who not only appreciates the irony of it all but is also able to accept his fate, and do something to find himself again.
The rest of the journey is something that's best left unspoiled, but the film ends on a note that's both incredibly touching and surprisingly uplifting, and is made even more memorable by an unconventional structure that brings attention not just to Mr. Williams' life (or what's left of it) but also to his legacy.
Bill Nighy excels in his portrayal of a man who has lost his balance, and a scene in particular will leave you absolutely speechless, bringing even more layers into the equation. Not only that, but his physical acting is also impressive, as Mr. Williams often comes across as someone who's barely able to stand, crushed by the weight of a life not lived and the things he wishes to say to his family but doesn't know how to. Aimee Lou Wood and Alex Sharp are also essential to this story, each bringing just as much emotion into it and each carrying their own histories and ideals.
There's an aftertaste that can always be perceived in Living, and loss and grief are among the many themes the film touches upon, with more than one quiet yet incredibly powerful scene that will have a huge emotional impact on you. But it's also ultimately a movie about life, that reminds us that meaning can be found in what we already have, and it's never too late to start living.
---
Living premiered at the 2022 Venice Film Festival on September 1, 2022, and will be released theatrically in the UK & Ireland on November 4 and in New York and LA on December 23.
Read the complete 2022 Venice Film Festival line-up, discover the "Venice Immersive" virtual reality strand of the programme, and take a look at our list of films to watch at Venezia 79!