How The King of Staten Island's Judd Apatow Forever Changed 21st Century Comedies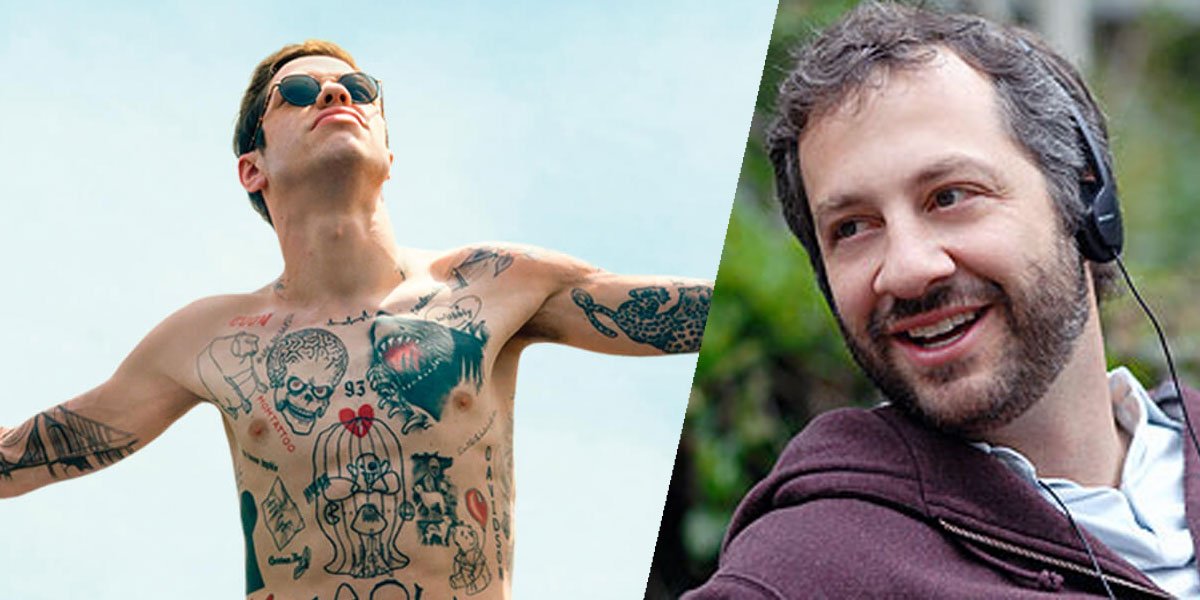 The King of Staten Island, Judd Apatow (Universal Pictures/Alamy)
Ahead of the release of The King of Staten Island, we take a peek at the past and examine Judd Apatow's commendable command over the modern-day comedy genre.
---

For much of the new millennium, if you caught a comedy in theaters, chances are Judd Apatow was involved in the production in some respect. While Apatow himself has only personally directed five feature films (with a sixth, The King of Staten Island, debuting on PVOD this Friday), he has written and/or produced an additional 23 movies over the past 20 years, extending his immense influence throughout the entire industry. For stars such as Steve Carell, Seth Rogen, and Amy Schumer, Apatow's films have served as launching pads to further fame and fortune, and as he prepares to offer that same opportunity to SNL superstar Pete Davidson, it feels fitting to evaluate his effect on Hollywood and recognize his arduous ascension as an artist.
Apatow has had a talent for tickling audiences' funny bones throughout his entire life, but he was able to first exercise this expertise when he started performing stand-up comedy during his senior year of high school. From there followed an array of life-altering experiences and encounters, including enrolling in the screenwriting program at the University of Southern – California, briefly living with Adam Sandler (after meeting at the Hollywood comedy club known as The Improv), producing The Ben Stiller Show, writing for The Larry Sanders Show, and eventually founding his own production company, Apatow Productions, in 1999. Though Apatow Productions' first two projects – Freaks and Geeks and Undeclared, two short-lived but critically successful TV shows – were swiftly canceled after one season each, both developed a niche following and allowed Apatow the chance to gain experience as a writer, a producer, and a director, all at the same time.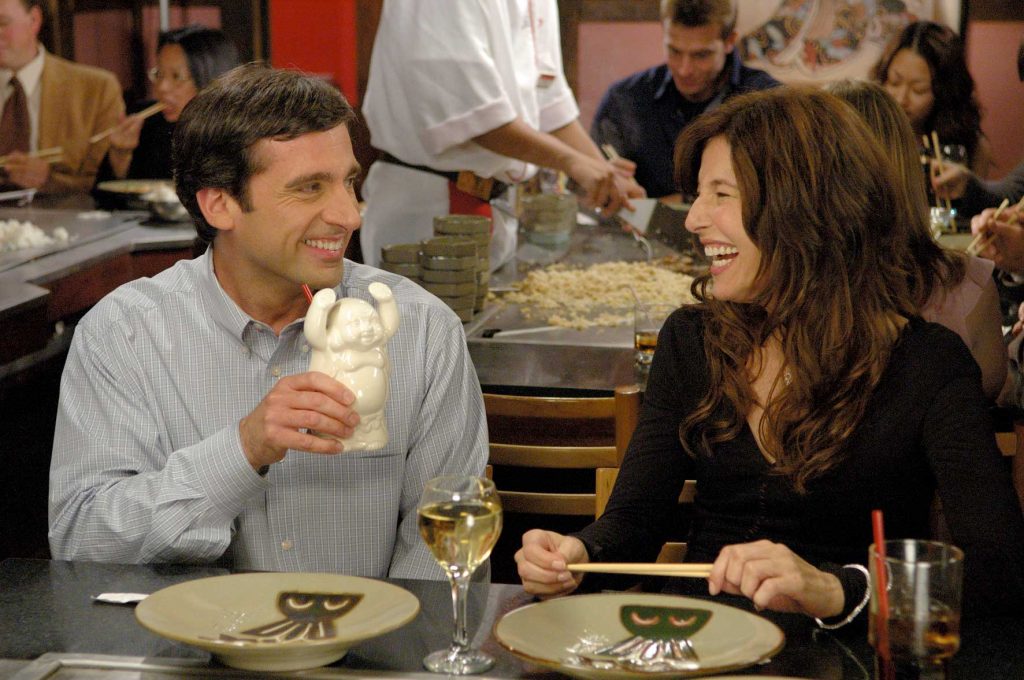 After producing his first feature film in 2004 with Adam McKay's Anchorman: The Legend of Ron Burgundy, Apatow made his cinematic directorial debut with 2005's The 40 Year-Old Virgin. Thanks to a sidesplitting script penned by Apatow and lead Steve Carell (based on a sketch Carell had previously created as a part of an improv comedy troupe) that followed the stunted sexual life of a middle-aged man, The 40 Year-Old Virgin quickly earned commendation and chuckles from critics and crowds alike. The film soon became a stunning sleeper hit, ending its domestic run with $109.5 million dollars (which was more than five times its $21.4 million opening weekend). Awards bodies offered additional acclaim, as the American Film Institute chose the comedy as one of the ten best movies of the year and the Writers Guild of America rewarded Apatow and Carell with nominations for Best Original Screenplay.
Due to this dynamite debut, Apatow became a household name almost overnight, but he didn't attain this title on his comedic chops alone. Surprisingly, in spite of all the riotous R-rated raunch, The 40 Year-Old Virgin's dominant draw was its shockingly sweet-natured story, which was convincingly told thanks to the charming chemistry between Steve Carell and Catherine Keener (who portrayed his primary love interest). Esteemed film critic extraordinaire Roger Ebert was even quoted praising the film and noting how "surprised" he was by "how wise the movie really is" in regard to the relationship between Carell and Keener. Apatow often notes the influence that actor Garry Shandling has had on his work, but perhaps no advice has impacted him more than a statement he said on the set of The Larry Sanders Show about art: "The more personal it is, the more universal it is."
Apatow continued this fusion of humor and heart with his follow-up film, Knocked Up, which was released in 2007. While Apatow's lively lewdness was most certainly not absent, he doubled down on the drama in his second feature (in line with Shandling's aforementioned quote), sidestepping the so-called "sophomore slump" by telling a wholesome but wonderfully witty tale about a one-night-stand between a sleazy slacker (played by Seth Rogen) and an uptight entertainment news anchor (played by Katherine Heigl) and the unexpected pregnancy that follows. Though the two could not be more different, hilarity ensues as they try and re-evaluate their relationship in the wake of this abrupt announcement and make sense of what this means for the futures that they had planned for themselves.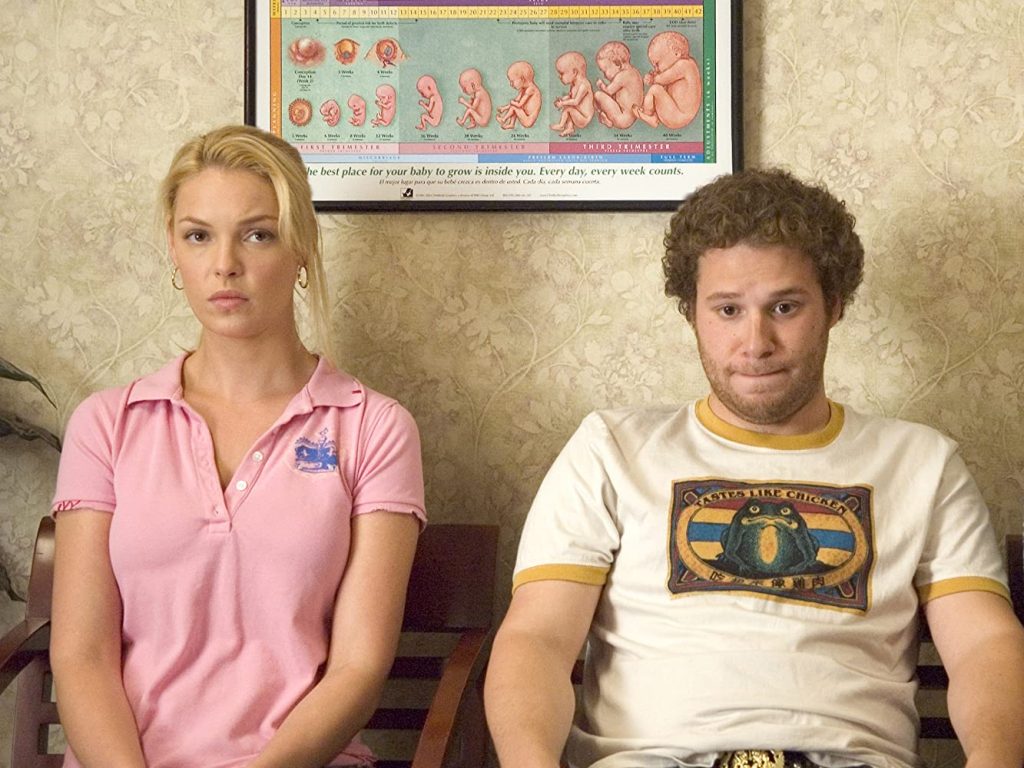 Viewers vivaciously responded to the picture, powering it to a $148.8 million domestic cume (off of a $30.7 million opening weekend) which handily surpassed The 40-Year Old Virgin. Furthermore, once again, Apatow's work was recognized by the American Film Institute as one of the ten best movies of the year, and he received his second nomination for Best Original Screenplay from the Writers Guild of America. Although some individuals (including Katherine Heigl herself) took issue with the portrayal of Heigl's character, Alison Scott, deeming it a "shrewish" and "sexist" depiction of working women, Knocked Up remains widely regarded as Apatow's best work, and its complex characterizations of both Rogen's Ben Stone and Heigl's Alison Scott continue to offer considerable commentary on heterosexual relationships to this day.
In fact, one of Apatow's greatest strengths has always been his ability to continually create characters who were simultaneously both singular, idiosyncratic beings and still instantly identifiable for individuals around the world. This dedication to compelling character development helped to make the even his most coarse comedic beats as amusing as possible (since we found more satisfaction watching these specific characters engage in salacious scenarios), and it drove home the thematic gut punch that was always awaiting in the third act. From Steve Carell and Catherine Keener's Andy and Trish of The 40-Year Old Virgin to Seth Rogen and Katherine Heigl's Ben and Alison of Knocked Up, these duos demanded your attention from the moment they appeared onscreen, both because of their unique quirks and because of the qualities we saw in them that mirrored aspects of our own personalities. Whether they were engaged in profane pursuits or sentimental reconciliations, we were emotionally engrossed in their entire journeys, and while some of that credit goes to the actors, Apatow's adept authority cannot be overstated.
Bolstered by the success of his first two feature films, Apatow began to develop his domination over studio comedies by operating as a producer on projects such as Superbad (co-written by his Knocked Up star, Seth Rogen), Forgetting Sarah Marshall, Step Brothers, and Pineapple Express. With Apatow's guidance, each story contained its fair share of gross-out gags, but these outlandish antics were always offset by a compassionate core. Rather than using "dirty" humor to detract or distract from the plots of the pictures he directed or produced, Apatow took what he learned from The 40-Year Old Virgin and Knocked Up and wove this ribaldry into the very fabric of these films, and the results were always rivetingly rewarding and relatable. More than a few of these features additionally aided Apatow in bringing the "bromantic comedy" to the mainstream, as he (raunchily) retrofitted tropes of the romantic comedy genre to fit in movies with two mismatched male leads who continuously and comically clash prior to eventually coming together in companionship before the credits roll. This formula was so successful that it would later be replicated by filmmakers such as Todd Phillips (The Hangover, Due Date) and Phil Lord and Chris Miller (21 Jump Street, 22 Jump Street).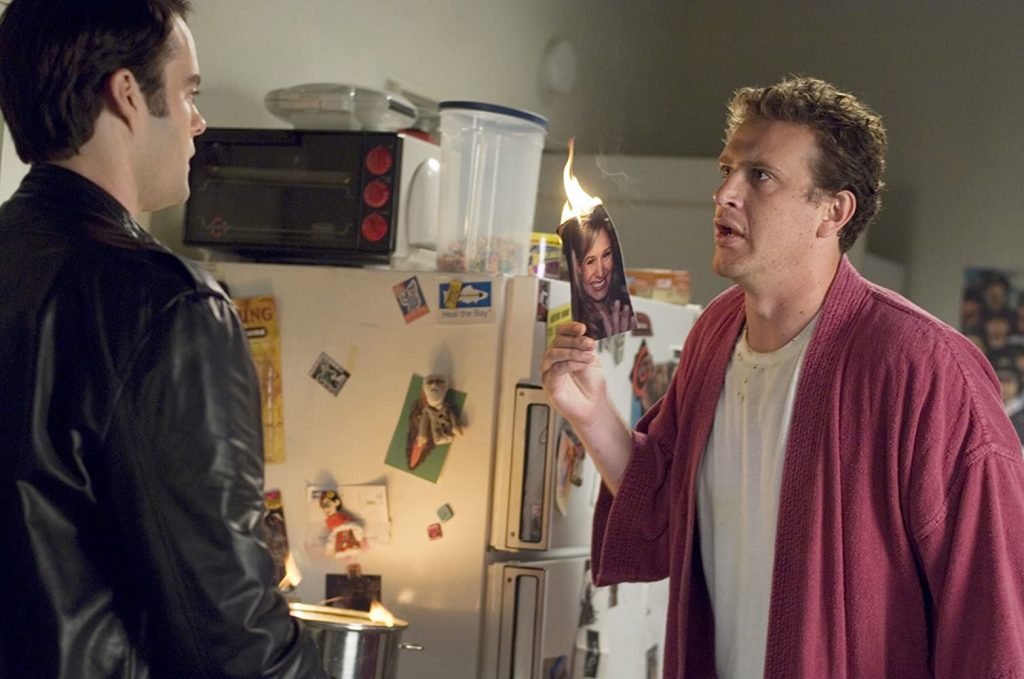 Unfortunately, Apatow hit a bit of a roadblock with his third directorial feature, Funny People, which dove even deeper into drama but lacked the warmth and wit of his prior two films. The 2009 dramedy – centered around a cancer-stricken comedian (played by Adam Sandler) who tries to reconnect with his now-married ex-fiancée (played by Leslie Mann) in the last stretch of his life while also tutoring an aspiring stand-up artist on the rise (played by Seth Rogen) – was deemed by many to be overindulgent (due to its elongated 146-minute runtime) and overly morose. Though Apatow's prior films hadn't shied away from some serious subject matter, they still had a sense of levity that wasn't present in this more sardonic story. Some critics were able to walk away content, but audiences were less enthused, and Funny People ended its box office run with $51.9 million.
In the wake of the film's financial failure, Apatow prioritized his producing efforts once more, and he played a crucial part in the outrageous overperformance of 2011's Bridesmaids, directed by Paul Feig, his former partner on Freaks and Geeks. Apatow attempted to make a directorial rebound in 2012 with This Is 40, a spin-off of Knocked Up that focused on a relationship on the rocks between the sister of Katherine Heigl's character (played by Leslie Mann) and her hapless husband (played by Paul Rudd). Sadly, even though the film grossed more than Funny People (with a $67.6 million cume), its box office still paled in comparison to Apatow's first two triumphs, and both audiences and critics weren't overly enthralled with this mediocre continuation of a comedy classic.
After taking some time off to relax and refuel, Apatow returned with a vengeance in 2015 with Trainwreck, and his partnership with up-and-comer Amy Schumer proved to be the perfect plan to grasp his former glory. Written by Schumer, Trainwreck charts the trials and tribulations of a commitment-phobic thirty-something whose world is upended when she finds herself falling for a softhearted sports doctor (played by Bill Hader). The film was a smashing box office success, sailing past the century mark towards an eventual $110.2 million cume (off of a $30.1 million opening weekend), and it earned raucous raves from both the critical community and consumers. With Apatow only doing director duty this time around, Schumer's sharp screenplay (which was nominated for Best Original Screenplay by the Writers Guild of America) brought a fresh feminine perspective that some of his previous pictures lacked, offering audiences an imperfect but endlessly intriguing female protagonist who was forced to confront a lot of the same concerns that plagued the male leads in Apatow's other movies.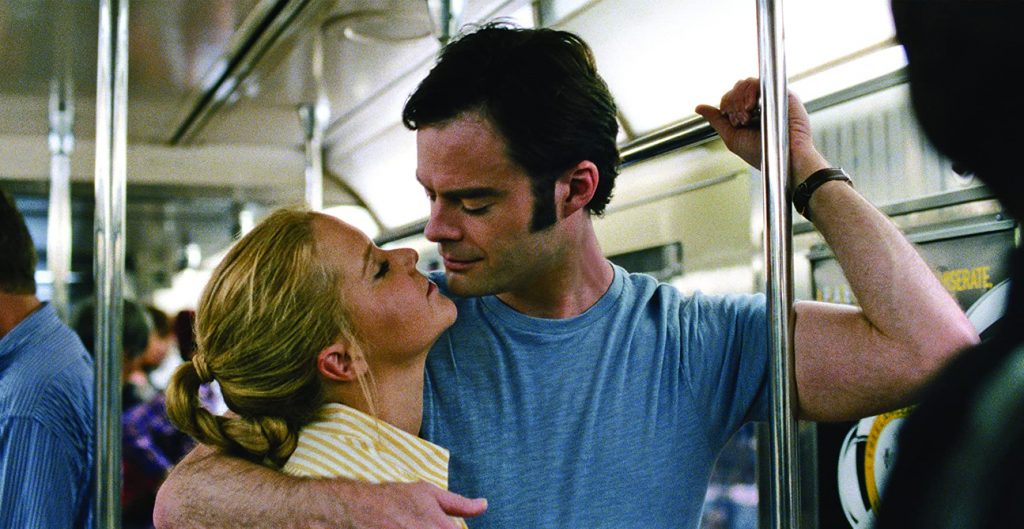 Trainwreck flipped the script on romantic comedy clichés, serving as almost an inverse of the dynamic seen in Knocked Up (with Schumer standing in for Rogen and Hader representing Heigl's role), but it still settled into that Apatow sweet spot in between sentimentality and salacity. In her first starring role, Schumer certainly capitalized on her comedic instincts, but she also showed deft dramatic range as an actress, and she earned a Golden Globe nomination for Best Actress in a Motion Picture – Musical or Comedy as a result. The film itself was also recognized by the Golden Globes with a nomination for Best Motion Picture – Musical or Comedy, a feat never before achieved by any of Apatow's other features.
Though it's been five years since we were last able to witness new work from Judd Apatow, his presence has been felt either through his producorial efforts (with films such as 2016's Popstar: Never Stop Never Stopping or 2017's The Big Sick) or through pictures that pay homage to his storytelling sensibilities (including 2018's Blockers and 2019's Long Shot – incidentally also starring Seth Rogen). While one hopes that Apatow continues his artistic endeavors for years beyond The King of Staten Island's release this Friday, he's most definitely left behind a laudable legacy that will continue to influence and inspire creators until the end of time. Apatow's instantly iconic balance of blue humor and humanism invigorated the industry, and his indelible impact truly cannot be exaggerated enough.
---
The King of Staten Island will be available to watch on Demand everywhere this Friday.
---
STREAM THE KING OF STATEN ISLAND:
---
JOIN US!
Don't miss our monthly updates! Sign up for CineMonth and get free movie-inspired recipes, exclusive content and film news: you'll only hear from us once a month. #nospam