Freaky: Brilliant Body Swap Slasher Comedy is a Blast (Review)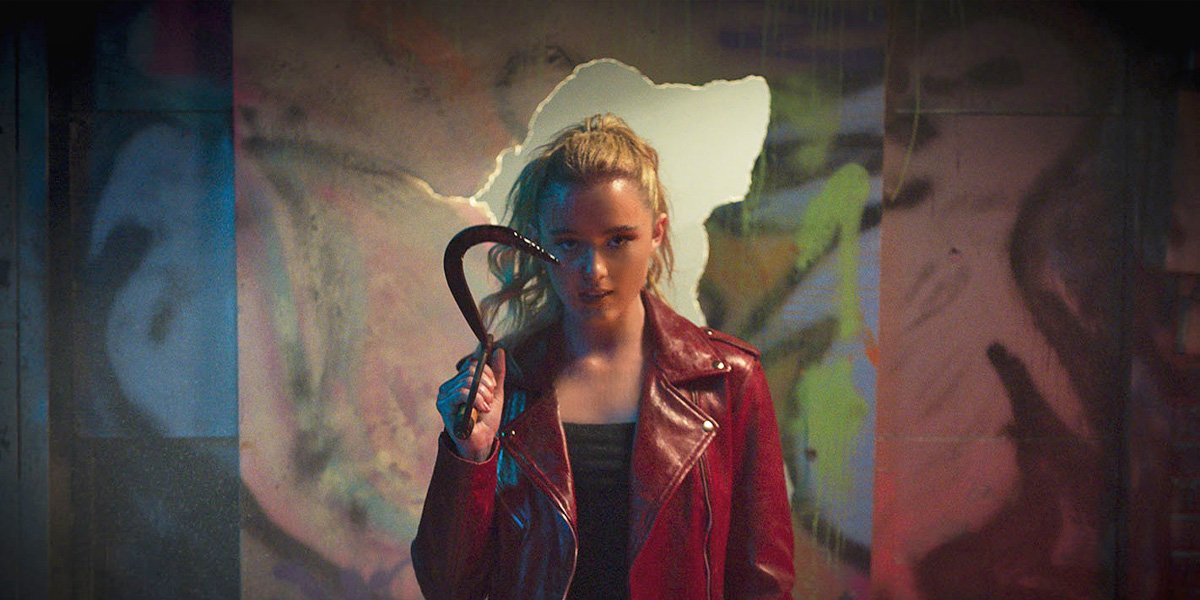 Millie Kessler (Kathryn Newton) in Freaky (Universal Pictures)
Freaky is another wicked win for Happy Death Day's Christopher Landon, who blazingly balances horror and humor in this subversive slasher.
---

Body swap comedies are a dime a dozen these days. Though the surrealist subgenre of sorts kicked off over four decades ago with 1976's Freaky Friday (starring a young Jodie Foster in one of her first leading roles), relatively few films have ever been able to freshen up the tried-and-true formula. Some movies have attempted to make their mark with compelling casting choices (as was the case in the 2003 remake of Freaky Friday, starring Jamie Lee Curtis and Lindsay Lohan – for which Curtis damn well deserved an Oscar nomination!), some have had their protagonists not just swap bodies but genders as well (such as 2002's The Hot Chick), and some have occasionally incorporated other genres – such as romance – into their storytelling (2006's It's a Boy Girl Thing). Regardless, in spite of all these new narratives, it's clear that this capacious collection of body swap comedies could use some new blood – maybe even literally. Enter Christopher Landon's Freaky.
Landon, the meta mastermind beyond the modern-day slasher classic Happy Death Day and its sillier – yet still splendid – sequel Happy Death Day 2U, makes use of the same irreverent spirit he siphoned to shape those two horror comedy triumphs here in his fifth directorial feature, and, in doing so, he brings the body swap comedy subgenre into exciting and enormously entertaining new territory. Freaky – once even titled "Freaky Friday the 13th" – focuses on Millie Kessler (Kathryn Newton, of HBO's Big Little Lies and Blumhouse's Paranormal Activity 4), a spiritless high school student currently dually grappling with the recent loss of her father and the usual belligerent bullies who hover about the halls of Blissfield High. Meanwhile, the brutal Barney Garris (Vince Vaughn, of Wedding Crashers and DodgeBall: A True Underdog Story), better known as "The Blissfield Butcher," tramps about the town at night, surreptitiously searching for his next victim. When he sets his sights on the meek Millie and seeks to slaughter her with an ancient Aztecan dagger that he stole from a mansion whose inhabitants he massacred the night prior, this encounter backfires entirely, as the "wizardry" of this weapon causes the two to shockingly swap bodies.
Now, Millie, whilst inhabiting the body of this hulking 6'5" serial killer, has until midnight to reverse the curse, recruiting the assistance of her friends Nyla (Celeste O'Connor, of Selah and the Spades and the upcoming Ghostbusters: Afterlife) and Josh (Misha Osherovich, of The Goldfinch and AMC's NOS4A2). At the same time, the entire police force – including Millie's older sister, Char (Dana Drori, of Straight Up and Hulu's High Fidelity) – is tasked with hunting down the Butcher, putting a wrinkle in this trio's plans, and Barney-as-Millie has started slaying the students of Blissfield High one by one, with Millie particularly worried about her beloved crush, Booker (Uriah Shelton, of Disney Channel's Girl Meets World and A&E's The Glades).
Following his breakout horror hit Happy Death Day, Landon has been slowly but surely asserting himself as one of the most valuable voices in the genre. His scripts may not have the scathing social commentary of those written by Jordan Peele (Get Out, Us), and his direction may not be as "distinguished" as James Wan's (The Conjuring, Insidious) or Ari Aster's (Hereditary, Midsommar), but his storytelling sensibilities are so singularly subversive that he's still been able to carve out a space for himself in today's cinematic landscape nonetheless, and Freaky may just be his sharpest and most successful work to date. Here, Landon – along with screenwriter Michael Kennedy (One Man Out, The Swordsman) – comes close to perfecting his captivating combination of horror and humor while also carefully crafting a clever and cunningly creative ode to seminal slashers of horror history that simultaneously keeps one foot firmly in the present to play with the tropes of today. If that seems like a tall task for any auteur to take on, have no fear – Landon's 101-minute feature accomplishes all it sets out to do without breaking a sweat or stalling in any regard, efficiently earning our snickering and shrieking in equal measure and never tripping throughout this tricky tonal tightrope act.
Freaky shamelessly wears its influences on its sleeve – the film begins with a petrifying prologue is clearly meant to ape the classic opening carnage of Wes Craven's Scream – but it never feels like a mere mishmash of half-baked homages, as Landon provides us with compelling original characters to connect with and ingeniously innovative (and gloriously gory) moments of murderous mayhem that are bound to be celebrated by horror hounds for years to come. Altogether, Freaky simply has an ageless appeal and a contemporary charm concurrently, offering ample amusement for audiences of all ages. In addition, while the film is full of stupendously spine-chilling sequences of suspense and a superabundance of sidesplitting, self-aware satire, Landon is also able to mine the material for significantly stirring substance, especially as Millie (as "The Blissfield Butcher") has to learn how to evolve past her pain and discover a dauntlessness that has eluded her elsewhere. Much of this character arc actually occurs while she is in The Butcher's body, but rather than mocking Millie's meaningful conversations with her mother (Katie Finneran, of You've Got Mail and Bewitched) or Booker whilst in this form, Landon leans into the emotion behind these exchanges, and his earnest writing makes them all the more effective.
Newton is a devilish delight as the maniacal Millie, diabolically dispatching her peers without a care in the world, but it is Vaughn who completely carries the twisted tale thanks to his daring depiction of a teenage girl trapped in this middle-aged murderer's beastly body. With shades of Jack Black's stellar supporting turn in Jumanji: Welcome to the Jungle but far more profundity than could be found in that comparatively surface-level sidekick part, Vaughn capably delivers on the comedic front while additionally wholly channeling the core of Millie's character and showing sincere reverence for her relationships with her friends and family. It's no secret that Vaughn is a conspicuously capable comic – and he certainly lands some of the largest laughs of his entire career in this role – but it's a genuine shock to see how strong he is with the sentimental story beats as well, anchoring those aforementioned impassioned interactions with the loved ones in Millie's life and somehow almost bringing the audience to tears – in this otherwise lightweight horror comedy, no less! Simply put, Vaughn just courageously commits and never acts as if he's "above" the movie by any means, allowing for a pure-hearted portrayal that is always authentic instead of absurd and satisfyingly silly without ever seeming "stereotypical."
Freaky is strengthened by its spectacular supporting cast, particularly O'Connor and Osherovich, who have convincing chemistry with both Newton and Vaughn. O'Connor is a playful pleasure as the most "PC" member of this trio, while Osherovich synchronously submits to and subverts the standards of "gay best friend" in what should be a star-making moment for the actor. Even if Freaky didn't include the added anarchy caused by a chaotic killer on the loose, the riotous repartee between Millie, Nyla, and Josh would've been engrossing enough to support an entire feature film. Kudos too for having a friend group that actually resembles the diverse makeup of a modern-day high school student body.
See Also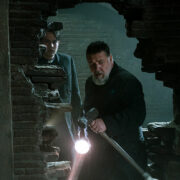 From a technical perspective, Freaky is, once again, tremendously terrific. Landon's direction has perhaps never been as fascinatingly fluid, frenetic, and fearless as it is here, with the scariest and most well-structured setpieces in any film he's shot thus far, and he's aided by expedient editing from Ben Baudhuin (Happy Death Day 2U, Colossal), who keeps Landon's commoving chronicle moving at a clip with an emphasis on the film's electrifying energy. Bear McCreary's (10 Cloverfield Lane, Happy Death Day) spirited score also injects intensity into the unease unfolding onscreen, amplifying the audience's collective anxiety.
Though Freaky may have begun as a self-aware homage to the slashers of the genre's past, when all is said and done, it's clearly earned its place alongside those classics in the horror canon, managing to bring charming new characters into the mix and kinetic kills that become instantly iconic in their own right. Thanks to a smart, subversive script and a valiant Vince Vaughn in the lead role, Freaky offers fun, fresh, and frightening festivities for horror fans young and old.
---
Freaky opened in select cinemas worldwide on Friday, November 13.
---
JOIN US!
Don't miss our monthly updates with film news, movie-inspired recipes and exclusive content! You'll only hear from us once a month. #nospam