Fingernails (Apple TV+): Film Review

(Apple TV+)
Christos Nikou's Fingernails fails to delve into the themes that make its premise so interesting, but it's still an enjoyable, gripping watch.
---

Have you ever started seeing someone and found yourself more confused than ever about whether or not you actually liked them, constantly analysing your every feeling to the point of going insane? Have you ever been in a relationship for so long that you've settled into a routine, and found yourself wondering if this is what love is supposed to be like as we grow older, or if it's your own feelings that have changed? Both situations come to mind when thinking of Christos Nikou's Fingernails, and they're as familiar to us as the fears and insecurities that accompany them: Does love even exist? Are we the ones to blame for our lack of emotional involvement? Are we destined to be alone?
But what if there was a way to find out the answers, and immediately remove any and all self-doubt from our existence? What would society look like, then? The premise behind Fingernails is fascinating, giving the Apple TV+ film the potential to really explore the social dynamics and expectations that shape our relationships. What a pity, then, that the writer-director's second feature after his acclaimed Apples (2020) doesn't really delve into any of that.
Fingernails revolves around a woman named Anna (Jessie Buckley, of Women Talking). Not long after the film has begun, she goes for a job interview and notices that the woman she's talking to has a plaster wrapped around one of her fingers. "How did it go?," she asks her, apologising for the "personal" question. "Not so well, actually," the stranger responds, and asks her if she's ever taken the test herself. "We're positive," Anna responds, with a smile.
Not long after that, we discover what the test is: Anna and her husband live in a not-so-distant world where people can, to use the words of Love Institute Founder Duncan (Luke Wilson, of Miranda's Victim), "take the risk out of love". All it takes is the quick moment of intense pain that comes with the removal of one of your fingernails — an essential part of the process — and you can instantly find out your score. The scores vary from 100%, meaning that both partners are in love, 50% if only one of them is, and 0% if all trace of love is gone.
Anna's husband, Ryan (Jeremy Allen White, of The Bear), seems to have a fairly healthy attitude about love. "Even if sometimes our relationship settles into routine, we don't need to question that," he tells a friend at dinner, explaining that finding out that he and Anna tested "positive" wasn't as life-changing to him. But Anna is thinking about their relationship much more than he knows, so much so that, unbeknownst to him, she decides to take a job at the Love Institute.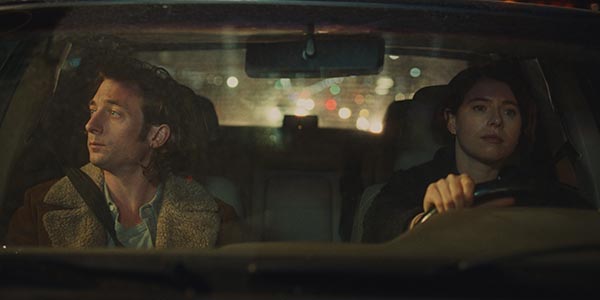 For the first half of the film, we mainly follow Anna at work, as her job consists of so much more than just ripping out fingernails to test compatibility. The institute has developed a series of bonding exercises that each couple has to complete before taking the test, and they are hysterically funny. Writer-director Christos Nikou and co-writers Stavros Raptis (Apples) and Sam Steiner's commentary really shines through here, from the paradoxes of the tests themselves — one of them requires one of the partners to electrocute themselves the moment their better half leaves, so they would train themselves to miss them more, and then there's the whole obsession with French songs and Hugh Grant movies — to the posters at the clinic that hilariously deliver the film's message.
"Experts agree that getting your love validated leads to fewer divorces," reads one of them, and, if one takes the phrase "love hurts" to the letter, it's ironic that validation should come through an act of self-mutilation. During her first weeks at the institute, Anna shadows one of their "most successful instructors," Amir (Riz Ahmed, of Sound of Metal), and we see them embark on a journey with the couples they're assigned that will eventually lead to each of them taking the test. But there's another journey taking place beneath the surface, and it's that of Anna and Amir, who are quickly falling for one another.
Up till this moment, Fingernails is a fantastic, gripping watch. Watching Anna and Amir falling in love is effortless, and there's a beautiful blend of tension and tenderness delivered through intimate camerawork, gorgeous cinematography (Marcell Rév, of Malcolm & Marie), and fantastic performances from Jessie Buckley and Riz Ahmed, whose chemistry is immense. At the same time, we are always aware of Anna's husband back home, and we know that our protagonist will eventually have to make a choice, and someone will suffer for it.
See Also

Soon, the film starts to move away from its compelling premise and focus on Anna's doubts, which leads to a frustrating, painfully predictable second half that leaves us confused by the time the credits roll. What starts as a promising meditation on the nature of relationships, the existence of love, and the pressure and expectations places on us by society that make us feel the need for validation soon becomes a "should I stay or should I go?" kind of movie, where all we care about is whether or not Anna will leave her husband for Amir.
Fingernails is not a bad film: I would still absolutely recommend it as soon as it hits Apple TV+, as the great performances, stunning visuals, and tense atmosphere alone make it worth the watch. It's just such a shame to see a film with this much potential fail to really delve into the most interesting aspect of its premise. Is it possible to have a relationship where no one needs validation? Does love always come with loneliness and sacrifice? Does it even exist, in the first place? Though Fingernails doesn't really answer any of these questions, it will certainly make you think about them, making for a film you'll enjoy even if it doesn't live up to its full potential.
---
Fingernails will be screened at the 2023 BFI London Film Festival on 9-12 October. The film will debut in Los Angeles and New York theaters on October 27, 2023 and will premiere globally on Apple TV+ and in additional select theaters on November 3, 2023.
Read our list of 25 movies to watch at the 2023 London Film Festival!